'Rosie the Riveters' Storm National Zoo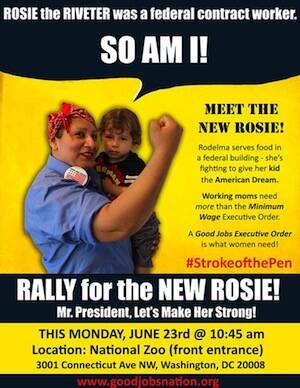 President Barack Obama is facing a coordinated pressure campaign to take additional steps to improve labor protections and basic benefits for workers employed indirectly by the federal government. The campaign — backed by the Change to Win labor federation and the Congressional Progressive Caucus—is an extension of an earlier push that led up to Obama's Feb. 12 executive order raising the minimum wage to $10.10 an hour for the employees of federal contractors.
A small group of Washington, D.C.-area workers punctuated the campaign this week with demonstrations at the National Zoo and several other sites. As in the previous demonstrations over the past year, the workers called attention to the low pay and meager benefits offered at the fast food outlets and cleaning services that operate at federal installations nationwide. The latest iteration of the campaign puts special emphasis on how female workers suffer disproportionately from such labor conditions, with some National Zoo strikers adopting ​"Rosie the Riveter" costumes in an effort to link contemporary employment issues with patriotic themes from the past.
Worker advocates backed up their argument for presidential with a report released last week from the pro-labor think tank Demos, ​"Underwriting Good Jobs: How to Place Over 20 Million American on a Pathway to the Middle Class Using Federal Purchasing Power." The report argues that Obama can use pro-worker, pro-union executive orders to improve the lives of millions without the debate needed to pass legislation. Among the suggestions were new requirements that federal contractors provide good quality benefits to employees (including paid sick leave and paid family leave); that the government establish higher standards for compliance with existing workplace health and safety regulations; that limits be placed on executive compensation at companies that rely on government contracts; and that the federal contractor workforce become more broadly unionized.
The report is the third in a series from Demos on the theme of reforming federal government contracting procedures as a way to boost pay and benefits for low-wage workers. Moreover, the report advocates punishing bad employers, says Demos spokesperson Elektra Gray. ​"This has been an important issue for us for a while," she says, noting that a number of progressive and labor groups have been disappointed that the Obama White House had abandoned in 2010 its so-called ​"High Road Contracting" initiative that would have tackled many of the same issues studied in the Demos reports.
Rep. Keith Ellison (D‑Minn.), co-chairman of the Congressional Progressive Caucus, endorsed the recommendations of the Demos report and said his group would push the White House to issue the needed executive order, just as it had pushed for the executive order on the $10.10 minimum wage. ​"The Progressive Caucus is all on board," with Demos and the Change to Win-sponsored Good Jobs Nation campaign, Ellison stated during a Demos-sponsored press call for news reporters on June 18.
​"As a member of Congress, I can tell you that we are not going to see any pro-worker legislation passed this year," Ellison added. ​"If the Congress won't do it, the President must" by using his authority to issue executive orders," the Congressman said.
Ellison also told reporters in a Demos-sponsored conference call June 18 that there had been no clear signal from the White House on how Obama is responding to the calls for a new executive order. ​"The President is well aware of what we are after," but ​"they haven't shown us their cards. They have not given us any definitive statement on where they stand," he said. Ellison added that such reticence is not unusual for White House aides, and that they had been similarly non-committal about the minimum wage executive order for months before finally deciding to go ahead and issue the order early this year.
Liz Watson, an officer of the National Women's Law Center, also endorsed the Demos report. ​"With his agenda blocked in Congress, it's time for [Obama] to lead by example," she said during the June 18 press call. An executive order would be especially impactful for women employed in the federal contractor workforce, she said, because of the higher proportion of women at the low end of the wage scale. Furthermore, she asserted, ​"Unions shrink the wage gap for women [compared to men] by 50 percent."
Robert Hiltonsmith, co-author of the report along with Lew Daly, said that the new research by Demos takes a broad view of the ​"federal purchasing footprint" to estimate the benefits of a new executive order. By including workers not included in reports from other organizations, Demos estimate that an Obama order could raise wages and benefits for as many as 8 million individuals in the ​"federally supported workforce." By including the family members of the 8 million, the researchers reached the estimate of more than 20 million beneficiaries claimed in the report's subtitle, he said.
Limited time: $10 gift subscriptions
We've made it easier and more affordable to give the gift of In These Times than ever. Give a shining example of a free, independent press to all the progressive thinkers on your gift list. For a limited time, 12-issue gift subscriptions are just $10.
Bruce Vail
is a Baltimore-based freelance writer with decades of experience covering labor and business stories for newspapers, magazines and new media. He was a reporter for Bloomberg BNA's Daily Labor Report, covering collective bargaining issues in a wide range of industries, and a maritime industry reporter and editor for the Journal of Commerce, serving both in the newspaper's New York City headquarters and in the Washington, D.C. bureau.
Special Offer: Gift subscriptions for just $10
For a limited time, you can give a gift subscription to In These Times magazine for just $10.