Obama's Burden
From Israel to Afghanistan, foreign policy challenges will test the new administration.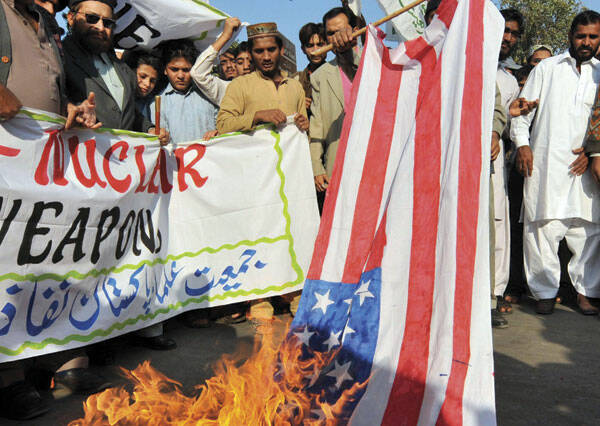 For those appalled by the arro­gant uni­lat­er­al­ism of the Bush era, the Oba­ma admin­is­tra­tion will be a relief. But for those who believe that Amer­i­can pol­i­cy in South and South­west Asia was mis­guid­ed in the decades before Pres­i­dent Bush, they shouldn't expect any­thing too dif­fer­ent from Oba­ma and what the Wall Street Jour­nal calls ​"Obama's War Cabinet."
Distinguishing Obama's campaign rhetoric—calculated to protect his right flank—from what he might do in office is like trying to discern patterns in shifting sands.
Pres­i­dent-elect Barack Oba­ma will have to deal with a mis­shapen glob­al war on ter­ror­ism and two failed wars: In Iraq, Bush's adven­tures in empire-build­ing have left an uneasy cease­fire and a seething mess of well-armed ene­my mili­tias that could explode into renewed vio­lent civ­il war at any moment. In Afghanistan, the U.S.-NATO occu­pa­tion, besieged by a pow­er­ful Islamist insur­gency, is los­ing the war.
In Pak­istan, a shaky civil­ian gov­ern­ment is fac­ing an Islamist-inspired insur­gency of its own, one that may or may not be allied to Pakistan's own intel­li­gence service.
A resur­gent Iran has built a net­work of allies – overt and covert in Iraq, Lebanon and Pales­tine – and is push­ing ahead with its nuclear enrich­ment program.
In Lebanon, new elec­tions could cat­a­pult the Iran­ian-allied Hezbol­lah par­ty into pow­er. The Israel-Pales­tine dead­lock has cal­ci­fied, made worse by the pos­si­bil­i­ty that Feb­ru­ary elec­tions in Israel could bring Bibi Netanyahu, the hard-line leader of the right­ist Likud bloc, back to power.
Deal­ing with just one of these crises would be a chal­lenge for any admin­is­tra­tion. But deal­ing with all of them is a huge­ly com­pli­cat­ed prob­lem. In his first six months, Oba­ma won't be able to avoid hav­ing to con­front them – per­haps all at once.
Shift­ing sands
On the pos­i­tive side, an almost gid­dy sense of antic­i­pa­tion has spread glob­al­ly about Obama's pres­i­den­cy. The ran­cor that marked U.S. rela­tions with the Mus­lim world for the past eight years still lingers, but most gov­ern­ments – and most cit­i­zens – in the Mid­dle East seem will­ing to give Oba­ma the ben­e­fit of the doubt.
He has made a com­mit­ment to with­draw U.S. com­bat forces from Iraq on a 16-month timetable, and he has promised to open a high-lev­el dia­logue with Iran. He has also pledged to end tor­ture and close the prison at Guan­tá­namo Bay. To sig­nal that he plans to aban­don the Cru­sade-like rhetoric of Bush's war on ter­ror, Oba­ma has stat­ed plans to deliv­er a major speech on the future of U.S.-Muslim rela­tions in an Islam­ic coun­try ear­ly in his presidency.
But Oba­ma has also promised to esca­late the war in Afghanistan, and he has made it clear that he won't shy away from attack­ing al Qae­da and Tal­iban bases in Pak­istan. Despite his open­ness to nego­ti­a­tions with Iran, he has refused to rule out the use of force to stop Iran from build­ing a nuclear weapon. On Iraq, despite his pledge to ini­ti­ate a with­draw­al of Amer­i­can troops, he has hedged by say­ing that he will lis­ten to the advice of the com­man­ders on the ground and that he is pre­pared to adjust or halt the with­draw­al if things go awry. And, so far at least, he has shown no incli­na­tion to step away from the litany of pre­dictably pro-Israeli posi­tions that he adopt­ed dur­ing the campaign.
But try­ing to dis­tin­guish between his cam­paign rhetoric – often cal­cu­lat­ed to pro­tect his right flank against Repub­li­can crit­i­cism – and what Oba­ma might actu­al­ly do once in office is like try­ing to dis­cern pat­terns in shift­ing sands.
'

Surge and negotiate'

The first cri­sis Oba­ma will face – pro­vid­ed Iraq isn't engulfed in vio­lence ear­ly in 2009 – may be in Afghanistan and Pakistan.

Dur­ing the elec­tion, Oba­ma pledged to send two to three addi­tion­al U.S. brigades into Afghanistan, and he refused to crit­i­cize the Bush administration's pol­i­cy of launch­ing Preda­tor drone mis­sile strikes at sanc­tu­ar­ies in Pakistan's trib­al areas.

"If we have Osama bin Laden in our sights and the Pak­istani gov­ern­ment is unable or unwill­ing to take them out, then I think that we have to act and we will take them out," Oba­ma said in the sec­ond of his three pres­i­den­tial debates with Sen. John McCain (R‑Ariz.). ​"We will kill bin Laden. We will crush al Qaeda."

But that hard line could drag him deep­er into the Afghan morass. Over the past year, a con­sen­sus has emerged in Europe and the Mid­dle East that the only way out of Afghanistan is to nego­ti­ate with rep­re­sen­ta­tives of the Tal­iban – and allied right-wing Islamists and war­lords – on a pow­er-shar­ing deal in Kab­ul. That approach is begin­ning to sink in with U.S. offi­cials, as well as with Obama's advisers.

But Gen. David Petraeus, the head of U.S. Cen­tral Com­mand, believes that before any nego­ti­a­tions can take place, the mil­i­tary must sta­bi­lize Afghanistan. As in Iraq, Petraeus has pro­posed a surge of up to 20,000 more U.S. troops in that country.

In inter­views, many of Obama's Afghan advis­ers have accept­ed the idea of a ​"surge and nego­ti­ate" strategy.

"I don't see that you have any cred­i­ble chance of per­suad­ing even a small num­ber of Tal­iban to break," says Bruce Riedel, who led Obama's task force on Pak­istan and Afghanistan. ​"They think they're win­ning, and if you look at the num­bers, you can make a pret­ty con­vinc­ing case."

But more troops isn't the answer. By esca­lat­ing the war, the Unit­ed States is like­ly to enflame the sit­u­a­tion, strength­en­ing the insur­gency. Many Afghan watch­ers con­sid­er the war unwinnable, point­ing out that in the ​'80s, the Sovi­et Union had far more troops engaged in a bru­tal coun­terin­sur­gency war, and lost.

British Ambas­sador Sir Sher­ard Cow­per-Coles, in a cable leaked in ear­ly Octo­ber, warned against pre­cise­ly the esca­la­tion that Oba­ma and Petraeus advo­cate: ​"It is the Amer­i­can pres­i­den­tial can­di­dates who must be dis­suad­ed from get­ting fur­ther bogged down in Afghanistan. [Send­ing more troops] would have per­verse effects: It would iden­ti­fy us even more strong­ly as an occu­pa­tion force and would mul­ti­ply the tar­gets [for the insurgents]."

British Brig. Gen. Mark Car­leton-Smith told the Sun­day Times of Lon­don on Oct. 6: ​"We're not going to win this war. … It's about reduc­ing [insur­gency] to a man­age­able lev­el that's not a strate­gic threat."

As a result, Great Britain and France have qui­et­ly encour­aged Sau­di Ara­bia to host talks involv­ing for­mer Tal­iban and rep­re­sen­ta­tives of the Afghan and Pak­istani governments.

Near­ly all of Obama's Afghan advis­ers rec­og­nize that the war won't be won mil­i­tar­i­ly. They've advo­cat­ed for region­al diplo­mat­ic efforts to nego­ti­ate a set­tle­ment – pos­si­bly one under­writ­ten by pow­ers such as India, Rus­sia and even Iran – and for stepped-up eco­nom­ic aid to Afghanistan and Pakistan.

But in the mean­time, Obama's com­mit­ment to beef­ing up U.S. forces in Afghanistan could wors­en that war. And unless Pak­istan is han­dled with extreme care, that coun­try could explode, as well.
A shaky Pakistan
Pak­istan faces a crip­pling eco­nom­ic cri­sis, and it is ruled by a shaky civil­ian gov­ern­ment that could fail, pre­cip­i­tat­ing the fifth mil­i­tary coup d'etat in five decades.
By demand­ing that Pak­istan esca­late the war in its Islamist-dom­i­nat­ed trib­al areas, and by strik­ing repeat­ed­ly across the Afghan bor­der into Pak­istan against Tal­iban and al Qae­da sanc­tu­ar­ies there, Oba­ma will run the risk of desta­bi­liz­ing Pak­istan by alien­at­ing the gov­ern­ment from the pop­u­la­tion, which deeply resents America's role.
Pakistan's gov­ern­ment is trapped between its own army and U.S. pres­sure to crack down on mil­i­tants in remote trib­al areas in the north­west. For half a cen­tu­ry, the Pak­istani army and its Inter-Ser­vices Intel­li­gence (ISI) direc­torate has been a fief­dom inde­pen­dent of civil­ian con­trol, and so far, Pak­istan Pres­i­dent Asif Ali Zardari – the wid­ow­er of the mur­dered for­mer Prime Min­is­ter Benazir Bhut­to – has been unable to wrest con­trol of nation­al secu­ri­ty from the army-ISI bloc. The ISI, in turn, has long sup­port­ed Islamist mil­i­tan­cy. In the ​'90s, the ISI fos­tered the Tal­iban as a tool to dom­i­nate Afghanistan. And Indi­an and U.S. intel­li­gence reports sug­gest­ed the ISI might have had a role in the Mum­bai ter­ror­ist attacks in late November.
For the Unit­ed States, the only prac­ti­cal solu­tion in Pak­istan is to step back, allow the civil­ian gov­ern­ment to build cred­i­bil­i­ty and to gain trac­tion, while let­ting the army know that Wash­ing­ton will not sup­port yet anoth­er coup d'etat.
But the cross-bor­der attacks rile up Pakistan's pop­u­la­tion and make the civil­ian gov­ern­ment look weak and feck­less. Rather than squeez­ing Pak­istan by pres­sur­ing Islam­abad to join the U.S. war on ter­ror­ism, Oba­ma needs to ease the pres­sure and give Pak­istan room to solve its own problems.
The play­ers
Obama's nation­al secu­ri­ty team, announced on Dec. 1, is a most­ly con­ser­v­a­tive, cen­trist and pro-mil­i­tary group, rein­forc­ing the idea that, except per­haps in Iraq, Oba­ma isn't plan­ning sig­nif­i­cant changes in America's pos­ture in the Mid­dle East. It includes Sen. Hillary Clin­ton (D‑N.Y.) at the State Depart­ment, retired Marine Gen. James E. Jones as nation­al secu­ri­ty advis­er, and Pres­i­dent Bush's sec­re­tary of defense, Robert Gates, stay­ing on at the Pentagon.
Jones, who served as NATO com­man­der until 2006, pushed the alliance to extend its reach into the Mid­dle East and Per­sian Gulf as part of a strat­e­gy aimed at secur­ing oil sup­plies from the region. And both he and Gates have been deeply involved in plans to expand the U.S. pres­ence in Afghanistan.
What's strik­ing, how­ev­er, about Clin­ton, Gates and Jones is that none of the three have been par­tic­u­lar­ly close to Oba­ma. And, among those who have been inti­mate advis­ers of the pres­i­dent-elect on nation­al secu­ri­ty, vir­tu­al­ly none have been immersed in Mid­dle East pol­i­cy and pol­i­tics dur­ing their careers.
Susan Rice, a for­mer assis­tant sec­re­tary of state for African affairs, appoint­ed by Oba­ma to serve as ambas­sador to the Unit­ed Nations, and Scott Gra­tion, a retired Air Force major gen­er­al and a flu­ent Swahili speak­er, are Africa specialists.
"Rice, espe­cial­ly, is viewed with some sus­pi­cion in the Mid­dle East because of her fer­vent calls for inter­ven­ing mil­i­tar­i­ly in Dar­fur," says one vet­er­an Mid­dle East spe­cial­ist, in an inter­view just after Obama's election.
Oth­ers in the inner cir­cle of Obama's for­eign pol­i­cy team are Richard Danzig, a for­mer sec­re­tary of the Navy; Antho­ny Lake, who was Pres­i­dent Clinton's nation­al secu­ri­ty advis­er; and Gre­go­ry Craig, a lawyer who was part of Pres­i­dent Clinton's defense team dur­ing impeach­ment. None of them have a rep­u­ta­tion for their Mid­dle East expertise.
Two oth­ers are Denis McDo­nough – a for­mer aide to Sen­ate Major­i­ty Leader Tom Daschle of South Dako­ta – and Mark Lip­pert – the chief for­eign pol­i­cy aide on Obama's Sen­ate staff. Nei­ther one has a back­ground in the Mid­dle East and South Asia (although Lip­pert, a reserve lieu­tenant in the Navy SEALs, served in Iraq in 2007 and 2008).
On for­eign affairs, Oba­ma trusts no one as much as, per­haps, Lip­pert. Accord­ing to those who've worked close­ly with him, Lip­pert is a con­ser­v­a­tive, cau­tious cen­trist who often pulled Oba­ma to the right on Iran, Iraq and the Mid­dle East, and who has been a con­sis­tent advo­cate for increased defense spending.
"Even before Oba­ma announced for the pres­i­den­cy, Lip­pert want­ed Oba­ma to be seen as tough on Iran," says a lob­by­ist who has worked the Iran issue on Capi­tol Hill. ​"He's clear­ly more hawk­ish than [Oba­ma]."
Dur­ing the cam­paign, after Oba­ma declared his readi­ness to meet with Iran­ian Pres­i­dent Mah­moud Ahmadine­jad, Lip­pert was among sev­er­al Oba­ma advis­ers who urged the Illi­nois sen­a­tor to backpedal, sources say. ​"He want­ed Oba­ma to pull back, but it was Oba­ma him­self who said no," says one insid­er, an Iran specialist.
In the Arab world, Obama's appoint­ment of Rep. Rahm Emanuel (D‑Ill.), for­mer Clin­ton chief of staff, as his White House chief of staff caused a degree of consternation.
Emanuel, an unflinch­ing par­ti­san for Israel, is the son of a for­mer fight­er in the anti-British ter­ror­ist group, the Irgun Zvai Leu­mi. Emanuel's father, who emi­grat­ed from Israel and now lives in a Chica­go sub­urb, caused a stir when he com­ment­ed on his son's appointment.
"Obvi­ous­ly he will influ­ence the pres­i­dent to be pro-Israel," he told a reporter. ​"Why wouldn't he be? What is he, an Arab? He's not going to clean the floors of the White House." (After­ward, Emanuel was forced to apol­o­gize to an Arab-Amer­i­can orga­ni­za­tion for his father's racist comments.)
Most wor­ry­ing to Oba­ma-watch­ers is advis­er Den­nis Ross. In the ​'80s, Ross helped found the Amer­i­can-Israel Pub­lic Affairs Com­mit­tee (AIPAC), the hawk­ish, pro-Israel lob­by­ing group. In the ​'90s, he served as Clinton's spe­cial envoy to the Mid­dle East. Since then, Ross has been at the Wash­ing­ton Insti­tute for Near East Pol­i­cy, a neo­con­ser­v­a­tive research group close­ly tied to the Israeli right.
"Over the past 12 years, he's played an incred­i­bly destruc­tive role when it comes to the issue of Pales­tine," says a lead­ing Arab scholar.
Last sum­mer, Ross helped write Obama's speech to AIPAC.
"As pres­i­dent, I will nev­er com­pro­mise when it comes to Israel's secu­ri­ty," Oba­ma said, stat­ing that he will sign a mem­o­ran­dum of under­stand­ing to pro­vide Israel with $30 bil­lion in mil­i­tary aid over the next 10 years to ​"ensure Israel's qual­i­ta­tive mil­i­tary advan­tage." He promised nev­er to nego­ti­ate with Hamas and Hezbol­lah, and added that while he will talk to Iran, ​"I will always keep the threat of mil­i­tary action on the table."
Through­out the cam­paign, Oba­ma nev­er veered from ortho­doxy in sup­port of Israel. When advis­ers – such as Zbig­niew Brzezin­s­ki, Pres­i­dent Carter's nation­al secu­ri­ty advis­er, or Robert Mal­ley, who was part of Pres­i­dent Clinton's Mid­dle East team – strayed from Obama's cam­paign line, they were exiled.
Still, in speak­ing with a range of for­mer State Depart­ment offi­cials, Arab diplo­mats, and region­al experts, the con­sen­sus is that Oba­ma, the pres­i­dent, may be more even-hand­ed than Oba­ma, the candidate.
"I'm very opti­mistic," says Jere­my Ben-Ami, exec­u­tive direc­tor of J Street, a peace-ori­ent­ed Jew­ish group. Like many oth­ers, Ben-Ami dis­counts much of Obama's cam­paign boil­er­plate as rhetoric designed to appeal to con­ser­v­a­tive Jew­ish voters.
Part of that opti­mism is because two of Obama's key advis­ers on the Mid­dle East are seen as fair in their approach: Daniel Kurtzer, an Ortho­dox Jew who served as ambas­sador to Egypt and Israel, and Dan Shapiro, a for­mer Nation­al Secu­ri­ty Coun­cil offi­cial and ex-Capi­tol Hill staffer. Both are high­ly regard­ed in Wash­ing­ton as mod­er­ate and sen­si­tive to the nuances of Mid­dle East talks.
"I have the high­est regard for Dan Kurtzer," says David Mack of the Mid­dle East Insti­tute, an Ara­bist-lean­ing think tank in Wash­ing­ton, who is a for­mer U.S. ambas­sador to the Unit­ed Arab Emi­rates. ​"He's in the top 10 of peo­ple I worked with."
In an inter­view held before Obama's vic­to­ry, Shapiro told In These Times that Oba­ma will take an activist role in seek­ing to bro­ker a deal in Palestine.
"He's com­mit­ted to a much more ener­getic form of help­ing Israel and the Pales­tini­ans reach an agree­ment," Shapiro says. He adds that Oba­ma would also step in to assist the peace talks between Israel and Syr­ia. ​"The Pales­tini­ans need a state that is con­tigu­ous and cohe­sive and the abil­i­ty to chart their own des­tiny," Shapiro says.
One issue that remains radioac­tive with­in the Oba­ma camp is what to do about Hamas. In the 2006 elec­tion, the group won the right to gov­ern the Pales­tin­ian Author­i­ty (PA), and then it seized con­trol of the Gaza Strip in a mini-civ­il war with Fatah, the main­stream lead­er­ship of the PA and the Pales­tine Lib­er­a­tion Orga­ni­za­tion. Oba­ma has giv­en no hint that he would talk to Hamas.
But anoth­er Oba­ma advis­er, John Bren­nan, a long-time CIA offi­cer who head­ed the Nation­al Coun­tert­er­ror­ism Cen­ter, sug­gests that once the elec­tion dust set­tles, Oba­ma might very well be pre­pared to talk not only to Hamas, but also to Hezbol­lah, the Iran-backed orga­ni­za­tion that is angling for pow­er in Lebanon, as well. Bren­nan, who had the inside track to become a top intel­li­gence offi­cial under Oba­ma, dropped out of the run­ning in late November.
In the end, how­ev­er, it may be Iraq that trips up Pres­i­dent Obama.
Polit­i­cal risks
Per­haps no oth­er cam­paign pledge by the pres­i­dent-elect is as well known as his com­mit­ment to with­draw U.S. forces on a timetable, pulling out one to two brigades of com­bat forces every month. That's rough­ly com­pat­i­ble with the timetable that many Iraqi lead­ers, includ­ing Prime Min­is­ter Nouri al-Mali­ki, sup­port, and it has been the core promise of the Oba­ma cam­paign since 2007. He used his anti­war stand effec­tive­ly against Clin­ton in the pri­maries, and, against Sen. John McCain (R‑Ariz.), Oba­ma was clear­ly seen as the dove. Vot­ers who strong­ly opposed the Iraq War vot­ed 8 to 1 for Oba­ma, accord­ing to exit polls.
But toward the end of the cam­paign, Oba­ma down­played his exit strat­e­gy for Iraq. And because the finan­cial cri­sis emerged as issue num­ber one for most vot­ers, it might com­pli­cate Obama's abil­i­ty to claim that the elec­tion was a man­date for his Iraq policy.
The ques­tion of Obama's man­date on Iraq is impor­tant because Oba­ma will face enor­mous pres­sure to back down from his pledge. That pres­sure will come from the mil­i­tary, includ­ing Petraeus, the Joint Chiefs of Staff, and Gen. Ray Odier­no, the U.S. com­man­der in Iraq. It will also come from Demo­c­ra­t­ic Par­ty hawks, con­ser­v­a­tives and neo­con­ser­v­a­tives in the GOP, think tanks, and edi­to­r­i­al boards at the Wash­ing­ton Post and the Wall Street Jour­nal. And Robert Gates, who presided over the 2007 – 2008 ​"surge" of U.S. forces in Iraq, is like­ly to coun­sel Oba­ma to go slow when it comes to with­draw­ing com­bat forces.
Oba­ma will also have to con­front seri­ous polit­i­cal risks. If he begins to with­draw forces and the unsta­ble sit­u­a­tion in Iraq blows up, he will have to weath­er with­er­ing crit­i­cism that he squan­dered the gains sup­pos­ed­ly achieved dur­ing the 2007 – 2008 surge.
But those gains are most­ly illu­so­ry, as the surge hasn't healed the deep divi­sions with­in Iraq among com­pet­ing pow­er blocs and mili­tias. And Iran, which has accu­mu­lat­ed huge influ­ence inside Iraq, might choose to aban­don its cur­rent sta­bi­liz­ing role in Iraq and, instead, fuel more vio­lence there as a way of putting pres­sure on the Unit­ed States.
The pri­vate views of most of Obama's inner cir­cle of advis­ers aren't well known. But dur­ing the cam­paign, he assem­bled a group of 10 to 20 experts and out­side advis­ers on Iraq, and their views are diverse.
Per­haps the clear­est divide is between peo­ple such as Lar­ry Korb and Bri­an Kat­ulis at the Cen­ter for Amer­i­can Progress – who sup­port­ed an uncon­di­tion­al with­draw­al of all U.S. forces from Iraq, includ­ing all mil­i­tary train­ers and coun­tert­er­ror­ist units – and peo­ple like Col­in Kahl at the more cen­trist Cen­ter for a New Amer­i­can Secu­ri­ty, who wants the with­draw­al to be con­di­tion­al, tied to pol­i­tics and secu­ri­ty in Iraq, and who has pro­posed leav­ing 50,000 to 70,000 troops in Iraq for at least sev­er­al more years.
Obama's web­site endors­es the need for some of these so-called resid­ual forces, although he has been vague on specifics. And, though his ear­ly pol­i­cy seemed to endorse the idea of an uncon­di­tion­al with­draw­al, Oba­ma lat­er sug­gest­ed that he's open to the notion of adjust­ing or halt­ing the with­draw­al if vio­lence esca­lates again in Iraq.
Because of his cam­paign pledges, Oba­ma may feel com­pelled to car­ry out his with­draw­al plans. If so, he will need all the polit­i­cal sup­port he can get from the many mil­lions of anti­war vot­ers who cast their bal­lot for him. He will also need to accom­pa­ny the with­draw­al with a skill­ful diplo­mat­ic effort to per­suade Iraq's fac­tions to rec­on­cile, as well as a par­al­lel effort to work with Iraq's neigh­bors – includ­ing Iran and Syr­ia – to sup­port the emer­gence of a tru­ly inde­pen­dent and sta­ble Iraq, free of the U.S. occupation.
All in all, it's a tall order, and it's hard to know where to begin. In the end, it may not be up to Pres­i­dent Oba­ma, since one or anoth­er of the crises in the Mid­dle East and South Asia may force him to start there.
A year from now, fix­ing the econ­o­my may look like the eas­i­er of Obama's challenges.
Robert Drey­fuss
is an inde­pen­dent jour­nal­ist based in Alexan­dria, Va. He is a con­tribut­ing edi­tor at the
Nation
, where his blog, The Drey­fuss Report, appears reg­u­lar­ly. He is author of
Devil's Game: How the Unit­ed States Helped Unleash Fun­da­men­tal­ist Islam
.