Obama's Cuba Visit Reflects Shift of Cuban-Americans Away From the GOP
Younger Cuban Americans are radically departing from the political views of their elders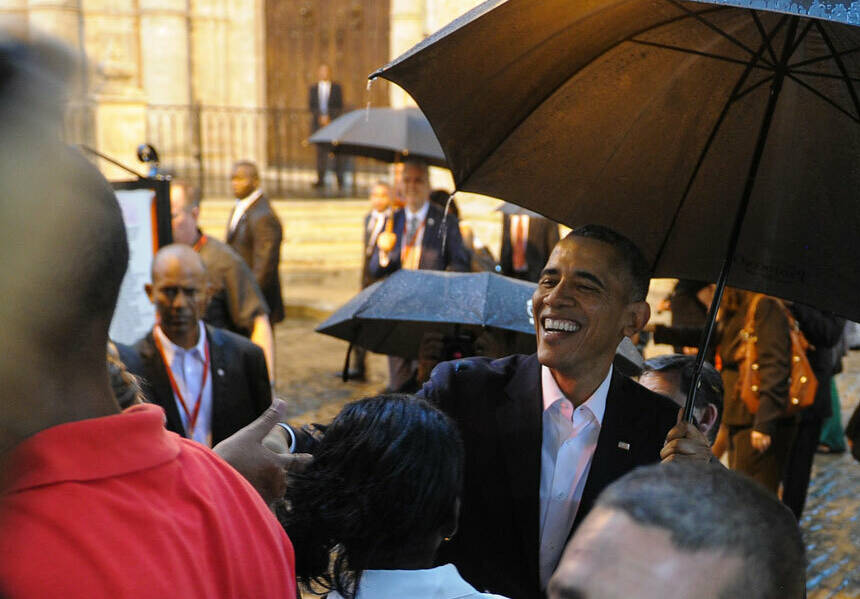 On Sun­day, after Pres­i­dent Barack Oba­ma land­ed in Cuba, a video sur­rep­ti­tious­ly shot from a Cen­tral Havana rooftop showed his motor­cade mak­ing its way through the most­ly wet, emp­ty streets, then stop­ping to let him out at the exclu­sive Pal­adar San Cristóbal. That's when a curi­ous thing hap­pens: The Cubans on the rooftops — includ­ing the now shaky cam­era oper­a­tor — start scream­ing, ​"Oba­ma! Obama!"
Younger Cuban Americans, beneficiaries of American education and civil society, and less personally invested in the pros and cons of the Cuban Revolution, are slowly taking control.
Dozens of sim­i­lar videos post­ed online showed Obama's car­a­van glid­ing through the city as ordi­nary Cubans enthu­si­as­ti­cal­ly chant­ed his name and shout­ed ​"USA! USA! USA!"
Even on a com­put­er screen from thou­sands of miles away, hear­ing Cubans cheer­ing Oba­ma out­side the Plaza of the Rev­o­lu­tion, where Fidel Cas­tro railed against Yan­kee impe­ri­al­ism for half a cen­tu­ry, was jar­ring. Even more unset­tling, per­haps, has been find­ing Cubans and Cuban Amer­i­cans from all sides of the polit­i­cal spec­trum sud­den­ly hope­ful that, though it won't be easy, Obama's efforts will, even­tu­al­ly, help bring gen­uine change to U.S. rela­tions with Cuba.
But vision­ary as Oba­ma seems right now, he is less the author of a his­toric realign­ment than the ben­e­fi­cia­ry of extra­or­di­nary devel­op­ments among Cubans, and per­haps more impor­tant­ly, among Cuban Americans.
Where once Cuban Amer­i­cans seemed almost uni­ver­sal­ly opposed to any efforts to bet­ter rela­tions with the island (and held Amer­i­can for­eign pol­i­cy hostage because of their out­sized influ­ence in Elec­toral Col­lege-rich Flori­da), the major­i­ty now sup­port it.
The chasm between Cubans on and off the island has been slow­ly dimin­ish­ing, thus the embrace of Obama's vis­it by Cubans and, sig­nif­i­cant­ly, the major­i­ty of Cuban Amer­i­cans. In recent years, Cuban Amer­i­cans have been pour­ing mon­ey into Cuba, more than $1 bil­lion annu­al­ly accord­ing to some sources, and open­ly — although not nec­es­sar­i­ly legal­ly — invest­ing in a lot of new busi­ness in part­ner­ship with rel­a­tives and friends on the island.
In fact, in a March 2015 sur­vey of Cuban Amer­i­cans by the firm Ben­dix­en & Aman­di, 67 per­cent said they were plan­ning an upcom­ing trip to Cuba — a con­fes­sion that in the past could have got­ten you killed on Miami's Fla­gler Street.
Why the big change? Part of it is gen­er­a­tional. The old­er, more entrenched Cuban-Amer­i­can com­mu­ni­ty has been slow­ly, and lit­er­al­ly, dying off. That's the gen­er­a­tion that was blow­ing each oth­er up in Mia­mi in the 1970s over who was more anti-Cas­tro, and which loud­ly sup­port­ed the U.S.'s eco­nom­ic embar­go on Cuba.
Its coun­ter­part gen­er­a­tion in Cuba — the mil­i­tants, or come­can­de­las, as they're fre­quent­ly called — have also been dying, or retir­ing, allow­ing for the pos­si­bil­i­ty of greater open­ings. Even though Raúl Cas­tro is hard­ly a spring chick­en, it's his ascen­sion to pow­er after the old­er Fidel Cas­tro stepped down — and his delib­er­ate recruit­ment of younger Cubans into the country's admin­is­tra­tion — that has allowed for mar­ket reforms and the licens­ing of small entrepreneurs.
Raúl's offi­cial suc­ces­sor, and the next pres­i­dent of Cuba, Miguel Díaz-Canel, was born after the tri­umph of the Rev­o­lu­tion — as is the case with the major­i­ty of Cuban pop­u­la­tions on both sides of the Straits of Flori­da. Though Fidel is said to sup­port the renew­al of diplo­mat­ic ties with the Unit­ed States, it's almost unimag­in­able that it could have hap­pened on his watch.
In the Unit­ed States, younger Cuban Amer­i­cans, ben­e­fi­cia­ries of Amer­i­can edu­ca­tion and civ­il soci­ety, and less per­son­al­ly invest­ed in the pros and cons of the Cuban Rev­o­lu­tion, are also slow­ly tak­ing con­trol. Chil­dren of the first gen­er­a­tion of exiles make up an ever-grow­ing share of the Cuban-Amer­i­can vote. And that vote — sup­ple­ment­ed by new­er arrivals from Cuba who tend to have a less politi­cized atti­tude — has been increas­ing­ly more open to dia­logue and reform in U.S. pol­i­cy toward Cuba. Hell, there was even a Cuban-Amer­i­cans for Bernie Sanders ral­ly in Mia­mi this month — mind­blow­ing when just a gen­er­a­tion ago, being accused of being a social­ist was as bad an insult as could be hurled among Cuban Americans.
Prac­ti­cal­ly speak­ing, this has meant a move away from the Repub­li­can Par­ty and toward the Democ­rats. It's been grad­ual: from 25 per­cent of the Cuban-Amer­i­can vote in 2000, to 29 per­cent in 2004, to 35 per­cent in 2008, to 48 per­cent in 2012. And it's pre­cise­ly this trend that has per­mit­ted an Amer­i­can pres­i­dent to recon­sid­er the Unit­ed States' his­toric — and hos­tile — ties to Cuba.
Sure, there are still rem­nants of the old guard, like Mar­co Rubio, the Cuban-Amer­i­can sen­a­tor and erst­while sav­ior of the Repub­li­can Par­ty, who was recent­ly embar­rassed out of the Repub­li­can pres­i­den­tial race after he lost all but one of Florida's coun­ties (Mia­mi-Dade) to Don­ald Trump. Though demo­graph­i­cal­ly younger than most Cuban-Amer­i­can hard­lin­ers, Rubio has railed against Obama's reforms. Rubio is so hard­core that he has even spite­ful­ly put a Sen­ate hold on Rober­ta Jacob­son, the pro­posed U.S. ambas­sador to Mex­i­co, because, as assis­tant sec­re­tary of state, she helped nego­ti­ate Obama's Cuba opening.
But Rubio was a last gasp for the old guard. Con­sid­er this: In Mia­mi-Dade Coun­ty, where the Lati­no pop­u­la­tion is over­whelm­ing­ly Cuban, there were 256,407 reg­is­tered His­pan­ic Repub­li­cans and 126,255 His­pan­ic Democ­rats in 2006. By Feb­ru­ary of this year, His­pan­ic Repub­li­cans had edged up to 256,479 while His­pan­ic Democ­rats grew to an astound­ing 209,504. In oth­er words, many Cuban Amer­i­cans were prob­a­bly more inter­est­ed in the Clin­ton-Sanders race than in Rubio's.
Cuban-Amer­i­can aban­don­ment of the Repub­li­cans means Flori­da (if not Cuba, as the hard­lin­ers would pre­fer) is lib­er­at­ed, and U.S. politi­cians and gov­ern­ment offi­cials are final­ly free to make Cuba pol­i­cy based on U.S. and Cuban mutu­al interests.
No, Obama's speech in Havana this week won't make much dif­fer­ence right away to the dai­ly lives of Cubans on the island. And, yes, there are plen­ty of things that need to be dealt with that he didn't touch upon and won't like­ly act on before he leaves the White House — such as Guan­tanamo, the Cuban Adjust­ment Act and the embar­go — that are cru­cial for an hon­est rela­tion­ship of equals. But Obama's new atti­tude is impor­tant not just to the Unit­ed States and Cuba, but to the rest of the West­ern Hemi­sphere, which has long strug­gled with how to han­dle the bit­ter­ness between the two countries.
Most impor­tant­ly, the speech went a long way to remove the threat of the Unit­ed States from Cuba's hori­zons, and to empha­size that the Unit­ed States knows the future of Cuba depends sole­ly on Cubans, both on and off the island. And that cer­tain­ly was some­thing to cheer about.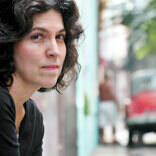 Achy Obe­jas

, a Havana-born mem­ber of the

In These Times

Board of Edi­tors, is the author of

Ruins

(Akashic

2009

,

akashic​books​.com

) and

Aguas

&

Otros Cuen­tos

(Edi­to­r­i­al Letras Cubanas,

2009

). A for­mer staff writer for the

Chica­go Tri­bune

, she is also the trans­la­tor, into Span­ish, of Junot Diaz's Pulitzer Prize-win­ning

The Brief Won­drous Life of Oscar Wao

(River­head

2008

). She is cur­rent­ly the Dis­tin­guished Vis­it­ing Writer at Mills Col­lege, Oak­land, Calif.