Occupy DC Celebrates First Birthday With Shutdowns and Solidarity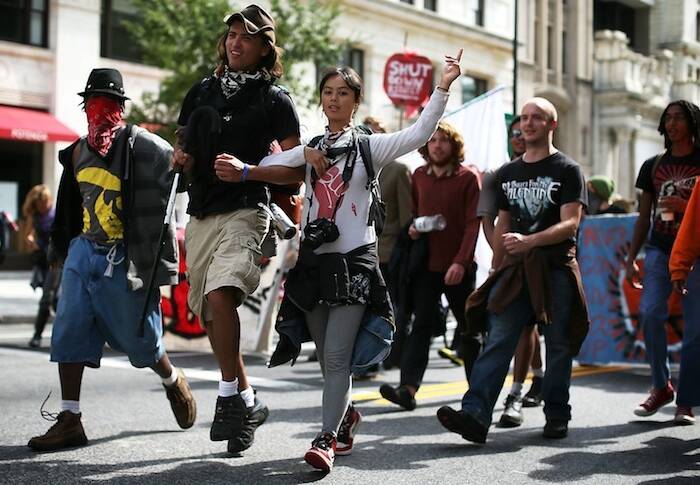 Two weeks after Occupy Wall Street's September 17 anniversary actions in New York, Occupy DC celebrated its own first birthday this weekend by taking the streets and shutting down banks.
Though energetic, DC's occupation has always been smaller-scale, and their numbers at the anniversary were only somewhat diminished from the fall. Last year, roughly 150 Occupy DC protesters shut down several intersections on K Street; on Monday morning, about 100 marched to various corporate and lobbying headquarters downtown. On Saturday, roughly the same number split up into groups to protest a foreclosure by shutting down 11 Bank of America branches.
​"It's a little more sophisticated than our K Street actions last year," said Occupy DC member Sam Jewler of Monday's march. Organizers planned a lengthy list of targets ahead of time, and marchers stopped to mic check specific reasons why their targets deserve protest — say, the Douglas Development Group for its role in gentrification, the Podesta Group for oil lobbying, or the American Legislative Exchange Council for sponsoring disenfranchising voter ID laws.
While mostly peaceful, the October 1 actions did bring their share of chaos and rabble-rousing. Several times, activists tried to storm the doors of targeted buildings only to be pushed back by police and security. One protester with a cane was seen nursing a newly injured leg, allegedly after she was knocked down by police. Some chants skewed inflammatory — ​"Fuck the police" or ​"Obama is a fucking traitor."
​"It's all just part of the package," said protester Eric Lotke. ​"If they only did what was polite, it wouldn't be something."
Lotke showed up with a sign reading, ​"Middle-aged, middle class, also occupying," hoping to counter the media image of protesters as exclusively young radicals. He said he'd never slept in the parks, but helped in any way he could because the economy is just as broken for people in his more comfortable position as it is for the rest of the country.
Along with righteous anger came moments of levity and unity. Several families with babies and young children ("Occupy Kindergarten," read the hoodie of one) safely took part in the march. A cluster of birthday balloons attached to a banner was released into the sky. And when they passed a group of picketers from the Mid-Atlantic Regional Carpenters, the occupiers stopped to cheer, sing ​"Solidarity forever," and talk to the members about their grievances.
Solidarity with a local reverend facing foreclosure fueled Saturday's Bank of America shutdowns, and showed how Occupy DC can use its small numbers to get big results. Groups of roughly 10 people each shut down all 11 Bank of America branches open on Saturday with ​"Occupy" caution tape and ​"foreclosed" signs. Some branches closed voluntarily upon seeing the ruckus, and some merely delayed opening until police forced protesters to allow patrons inside the bank.
Reverend Robert Micahel Vanzant joined the protest at the Columbia Heights branch. Vanzant, a 65-year-old pastor who started a church for LGBT people, had reached out to Bank of America to renegotiate his mortgage when he went on disability. The bank didn't return his calls until Occupy Our Homes DC got involved, but it still won't offer Vanzant a modification.
The action at the Columbia Heights branch seemed highly effective at reaching community members. It was visible, protesters presented a clear message to passersby, and many of those passersby expressed support for the cause after leaning what was at stake.
Columbia Heights resident Ebony Washington got to the bank early to cash a check, but she wasn't angry to be turned away. ​"I'm not surprised at the frustration of homeowners at all, and the irresponsibility of banks," she said.
​"I do not agree with what Bank of America is doing," said Laura Acuna after walking by and learning the story. ​"My heart goes out to [Vanzant]."
Most occupiers believe their movement has done much good for the national dialogue in a year, and that while the sweeping national energy from the fall has passed, Occupy isn't going anywhere.
​"All movements have their flashpoints," Occupy DC member Lacy MacAuley said. ​"Ours was last year, and we might have another one. … But the movements that matter take time."
Be one of the first
Help kick off the new era of In These Times! Without a media that brings people together and creates a written record of the struggles of workers, their voices will be fragmented and forgotten.
The mission of In These Times is to be that written record, and to guide and grow those movements.
We have a lot of work ahead of us, and that work starts today. Early support is the most valuable support, and that's why we're asking you to pitch in now. If you are excited for this new era of In These Times, please make a donation today.
Emily Crockett
is a DC-based writer. As a Campus Progress reporter, she has extensively covered the Occupy movement and a range of other topics, including civil liberties, reproductive health and student debt.