Occupy Nigeria Faces Police Violence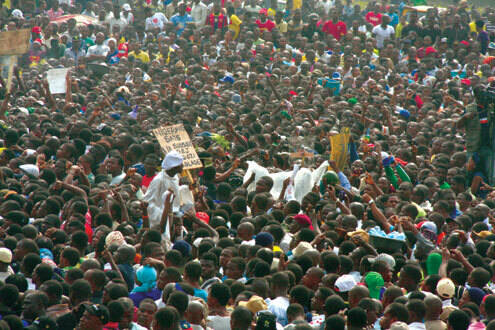 The uprising that erupted in Nigeria this month follows a familiar narrative. Disenchanted and marginalized youth (75% of the population is under the age of 30) have gathered to demand change from their government.
This time, the issue is centred around President Goodluck Jonathan's New Year's decision to remove a fuel subsidy, which effectively doubled the price of fuel for Nigerians overnight.
But really, the fuel issue was simply the spark that set off a movement for much larger change.
​"Really from our perspective it was just a trigger," said [Yemi Adamolekun, Executive Director of Nigeria's ​'Enough is Enough' coalition] of the end of the fuel subsidy. ​"Nigerians have been very quiet for so long. The corruption in the system is known at home and abroad. Lack of infrastructure, rising costs of goods and services."
The grievances sound familiar to any follower of the Arab Spring or Occupy Wall Street. In fact, Nigerians adopted the ​"Occupy" title for their own movement, while emphasizing the need to specify demands for their own country: reinstating the fuel subsidy, reducing the overall cost of government, and addressing corruption in the oil sector.
Youth from all over Nigeria walk as long as two hours to join the protests (Nigeria is a massive country, twice the size of California and larger than any country in Europe). The protests are also credited with bringing together Muslims and Christians.
​"We've had places from Kano and various places around the country – even in Lagos – where Muslim brothers would be praying and Christians would stand guard," said Adamolekun. ​"In Niger State two days ago Muslim brothers went around the church to protect the worshippers while they were there."
Casualties
During a Jan. 9 Occupy Nigeria protest, two men were allegedly shot dead by police. One man is identified as Ademola Aderinde and the other individual remains unidentified.
Nigerian Entertainment Today posted a series of disturbing photos showing Aderinde being grabbed by police and dragged away before he was reportedly shot and killed.
The first person killed in the nationwide protest reportedly was 23-year-old Muyideen Mustapha, who was allegedly shot by the Nigerian Police Force Jan. 3 in Ilorin, Kwara State.
Police claim Mustapha was not shot by forces, but rather stabbed by other protesters for not joining the protest. It remains to be seen if there was ever an examination of Mustapha's body, but it seems unlikely given he was buried the following day, according to Islamic rites.
Al Jazeera devoted a long segment reporting on the strong coalition of unions and protest groups gathering at Occupy Nigeria.
As in the cases of other uprisings in the Middle East, UK, and US, social media played a large part in the organizing leading up to Occupy Nigeria. The hashtags #occupynigeria and #fuelsubsidy became popular Twitter searches as a large swathe of Nigeria's 150 million citizens documented the protests. Now, the movement even has its own Wikipedia page, which is ever-evolving with updated information.
More photos of the Occupy Nigeria protests can be seen here.
Socialism ... Seriously
"The most fun and accessible introduction to socialist ideas I've ever read."—Anand Gopal
For a limited time, when you donate $20 or more to support In These Times, we'll send you a copy of the new, expanded edition of Socialism ... Seriously by Danny Katch.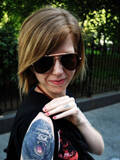 Allison Kilkenny
is an
In These Times
Staff Writer and the co-host of the critically acclaimed radio show
Citizen Radio
. Her blog for
In These Times
,
Uprising
, focuses on efforts around the world to address the global economic crisis.