'To Preserve the Future of Our Past': Tribes Work for World Heritage Designation of Ohio Earthworks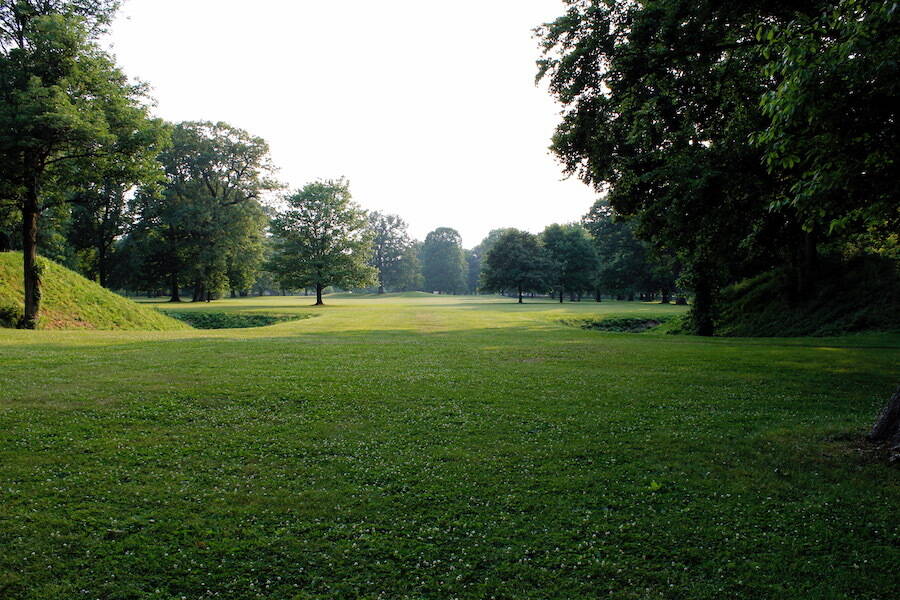 In Octo­ber, Chief Bil­ly Friend of the Wyan­dotte Nation addressed a crowd in Dublin, Ohio. It was a cel­e­bra­tion of the city's new Fer­ris-Wright Park, which fea­tures exam­ples of the ancient geo­met­ric earth­works and mounds, or arti­fi­cial hills, that dot the state.
A new­ly appoint­ed mem­ber of the board of trustees of the state's his­to­ry agency, Ohio His­to­ry Con­nec­tion, Chief Friend greet­ed the throng and intro­duced him­self in the Wyan­dot lan­guage. He then shift­ed to Eng­lish, explain­ing that trib­al elders chose his name.
"It means ​'he who talks a long time,'" he quipped. Respond­ing to ner­vous laugh­ter, he assured lis­ten­ers that his remarks would be brief.
Ances­tors of today's Native peo­ple built the earth­en sites between about 100 BC and 400 AD, pri­mar­i­ly along trib­u­taries of the Ohio Riv­er. Sev­er­al of the most mon­u­men­tal and mag­nif­i­cent instal­la­tions — includ­ing the Newark Earth­works, which cov­er four and a half square miles in Newark, Ohio — were select­ed for poten­tial des­ig­na­tion as World Her­itage Sites. In 2013, Chief Friend and Chief Glen­na Wal­lace of the East­ern Shawnee Tribe of Okla­homa joined UNESCO offi­cials to tour var­i­ous earth­works as part of the eval­u­a­tion process.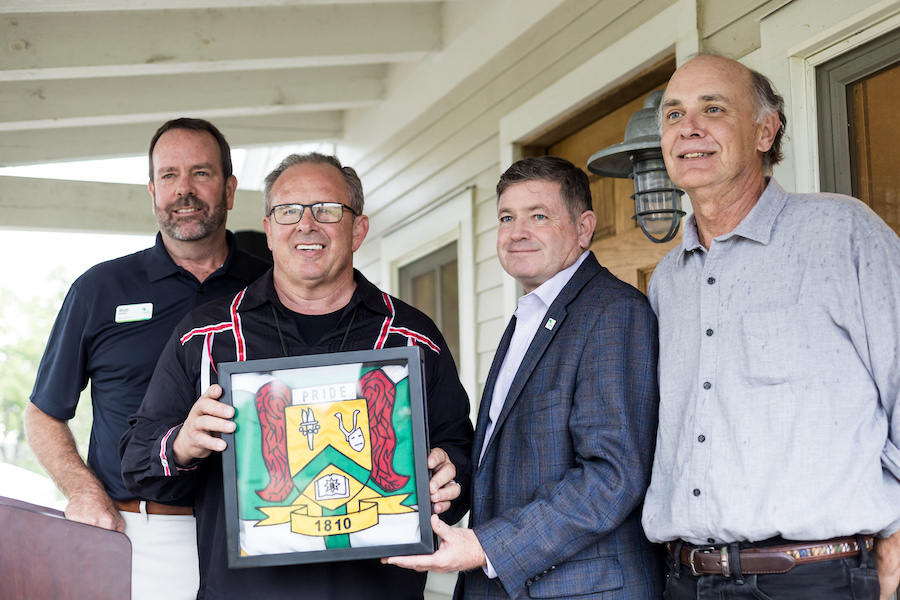 Wyan­dotte Nation Chief Bil­ly Friend, sec­ond from left, receives the city flag of Dublin, Ohio. (Pho­to by Joseph Zummo)
Though lit­tle known by the gen­er­al pub­lic, schol­ars con­sid­er the earth­works to be won­ders of the ancient world. So writes retired Ohio State Uni­ver­si­ty pro­fes­sor Lind­say Jones in his intro­duc­tion to a book edit­ed with emer­i­tus pro­fes­sor Richard D. Shiels, The Newark Earth­works: Endur­ing Mon­u­ments, Con­test­ed Mean­ings. Despite cen­turies of plow­ing and devel­op­ment, sev­er­al of the approx­i­mate­ly 600 com­plex­es and the many free­stand­ing mounds, built about 2,000 years ago, can still be iden­ti­fied. In the com­ing months, UNESCO is expect­ed to announce whether the Ohio sites will join some 1,000 cul­tur­al and nat­ur­al places world­wide — among them, the Great Wall of Chi­na, Stone­henge and the Parthenon — that it has found have ​"out­stand­ing uni­ver­sal val­ue."
The Newark Earth­works are mas­sive, while Fer­ris-Wright Park fea­tures one of the region's small­er sites, with earth­en struc­tures cov­er­ing a frac­tion of a square mile. Vis­i­tors to the park's Octo­ber fes­ti­val viewed the earth­works, saw ancient flint arrow­heads and oth­er his­tor­i­cal items, tried their hand at throw­ing her­itage-styled spears, and watched Dublin offi­cials bestow a city flag on Chief Friend.
Chief Friend called his Ohio trips learn­ing expe­ri­ences. Now head­quar­tered in Wyan­dotte, Okla­homa, his tribe was one of Ohio's orig­i­nal peo­ple. In the 19th-cen­tu­ry, the tribe was forced out of Ohio on an ardu­ous jour­ney that took them to Kansas then Okla­homa. Oth­er tribes expelled from Ohio includ­ed the Shawnee and the Miamis. The Wyan­dot were the last to leave the state, accord­ing to Chief Friend.
In an inter­view, Chief Friend said that over the last 15 years, Ohio has warm­ly wel­comed back its indige­nous peo­ple and ensured that Native sacred sites and oth­er places are respect­ed and cared for. In addi­tion to appoint­ing Chief Friend to its board, the Ohio His­to­ry Con­nec­tion has cre­at­ed an Amer­i­can Indi­an Rela­tions divi­sion, with a direc­tor and edu­ca­tion­al and research resources. At Ohio State Uni­ver­si­ty, Amer­i­can Indi­ans run its Newark Earth­works Cen­ter, a research and study insti­tute; the direc­tor is John Low, of the Pok­agon Band of Potawato­mi Indi­ans, and the asso­ciate direc­tor is Mar­ti Chaat­smith, who is Comanche and Choctaw. The Uni­ver­si­ty of Cincin­nati offers an engag­ing web­site for earth­works vis­i­tors, ancien​to​hio​trail​.org.
"[Ohio] is where my ances­tors stood, par­took of cer­e­monies, and fought," Friend told me. He stressed the impor­tance of reaf­firm­ing his­to­ry. ​"Our trib­al mis­sion is to pre­serve the future of our past."
With that in mind, he takes Wyan­dot high-school and col­lege stu­dents on bus tours of their her­itage Mid­west home­lands. In Sep­tem­ber 2019, he and fel­low trib­al mem­bers attend­ed a cer­e­mo­ny in San­dusky, Ohio. At the event, the Methodist Church returned land the tribe gave it as it left the state in 1843. The Wyan­dot did this so the church could pro­tect buri­als on the now-repa­tri­at­ed tract. Look­ing back, Friend told the Wash­ing­ton Post, it was the ​"best thing" the tribe did in those dif­fi­cult times.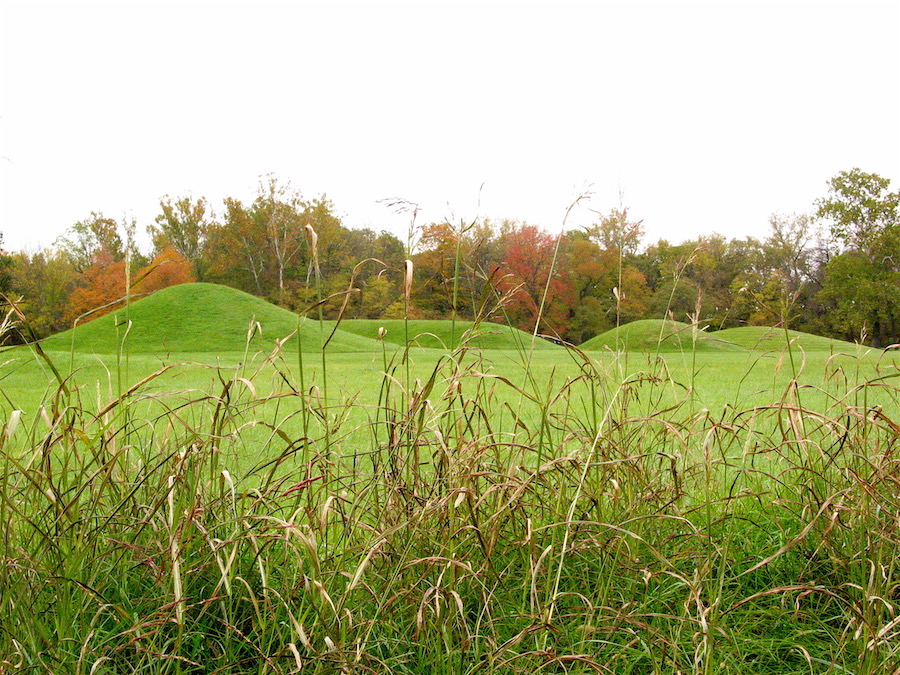 This pho­to shows the Hopewell Cul­ture Nation­al His­tor­i­cal Park, a Nation­al His­toric Site, in Chill­i­cothe, Ohio. (Pho­to by Joseph Zummo)
The earth­works' builders were skilled archi­tects, geome­ters, and astronomers. They cre­at­ed mas­ter­pieces of sub­tle­ty, with earth­en-walled squares, cir­cles, octagons and oth­er forms ris­ing gen­tly from their sur­round­ings. Even with walls that may be 14 feet high, the places are dif­fi­cult to com­pre­hend ful­ly from the ground. Pre­cise­ly aligned walls and per­fect­ly posi­tioned open­ings mark impor­tant points in the solar and lunar cycles. These include sol­stices, equinox­es, and the north­ern lunar stand­still. The last is the north­ern­most point of the moon's oscil­lat­ing ris­ing points, occur­ring every 18.6 years.
Though the ancients lived in small, decen­tral­ized ham­lets, they man­aged to build many large, com­pli­cat­ed, and remark­ably con­sis­tent places through­out Ohio. They accom­plished this with­out the rulers or cen­tral­ly direct­ed con­struc­tion meth­ods that, for exam­ple, the Egyp­tians used to build the pyramids.
"Archae­o­log­i­cal evi­dence shows these earth­works were made in a peace­ful way, not in an author­i­tar­i­an, hier­ar­chi­cal way," said Chaat­smith, of the Newark Earth­works Cen­ter, on a tour of the Newark Earth­works in Sep­tem­ber 2019.
They were also expert crafts­peo­ple with an extrav­a­gant mate­r­i­al cul­ture. Among the many items they fab­ri­cat­ed were stone stat­u­ary and pipes, cop­per trum­pets, pot­tery, and ghost­ly open hands made from sheets of translu­cent mica. They cre­at­ed jew­el­ry with fresh­wa­ter pearls and adorned buri­als with thou­sands of them, accord­ing to Chaatsmith.
We do not know what the ancients called them­selves. Archae­ol­o­gists dubbed them ​"Hopewell," after the own­er of the farm on which a site was iden­ti­fied. Aca­d­e­m­ic researchers con­tin­ue to try to deter­mine the earth­works' exact func­tion, or func­tions. Were they pil­grim­age sites, astro­nom­i­cal obser­va­to­ries, cer­e­mo­ni­al grounds, trad­ing posts, ceme­ter­ies, or some com­bi­na­tion of those … or some­thing else?
Chief Friend point­ed out that the Wyan­dot lan­guage, like that of oth­er indige­nous peo­ple, is built on verbs, not nouns. The earth­works, built by the dis­tant ances­tors of numer­ous mod­ern-day tribes, may not have been designed for a sta­t­ic pur­pose that could be named by a noun, or adjec­tive-noun pair, he said. The places may have been intend­ed to present the activ­i­ties of life more broad­ly, he said.
He gave a con­tem­po­rary exam­ple of what he felt was like­ly the ancient earth­works builders' sense of flu­id­i­ty. When speak­ing Wyan­dot today, Chief Friend explained, ​"Even an ani­mal or a type of kin­ship isn't a rigid thing des­ig­nat­ed by a noun. Like these earth­works sites, they have life."
Time may have also fig­ured in the orig­i­nal mean­ing of the earth­works, Friend sug­gest­ed. Instal­la­tions that mark the moon's gen­er­a­tion-long cycle, such as the one in Newark, may have host­ed large gath­er­ings to cel­e­brate that time span. More diminu­tive sites, like the one in Dublin, may have pre­sent­ed small­er-scale, more fre­quent occa­sions, he said.
Some prac­tices of the earth­works builders appear to have sur­vived in var­ied ways. Shawnee Tribe Sec­ond Chief Ben Barnes and archae­ol­o­gist Brad Lep­per have explored a con­nec­tion between ancient Hopewell and con­tem­po­rary Shawnee drum mak­ing. The Newark Earth­works Cen­ter has teamed with the Native Amer­i­can Cen­ter of Cen­tral Ohio, in Colum­bus, to put on a mul­ti-trib­al pow­wow and has spon­sored a Newark Earth­works Day — a gath­er­ing that may resem­ble the site's orig­i­nal fes­tiv­i­ties, with a pro­ces­sion­al, drum­ming and danc­ing, speech­es, exhibits, and a feast.
Nowa­days, the earth­works may tend to seem large, emp­ty, and somber, but accord­ing to Chaat­smith they were once places ​"of joy and light."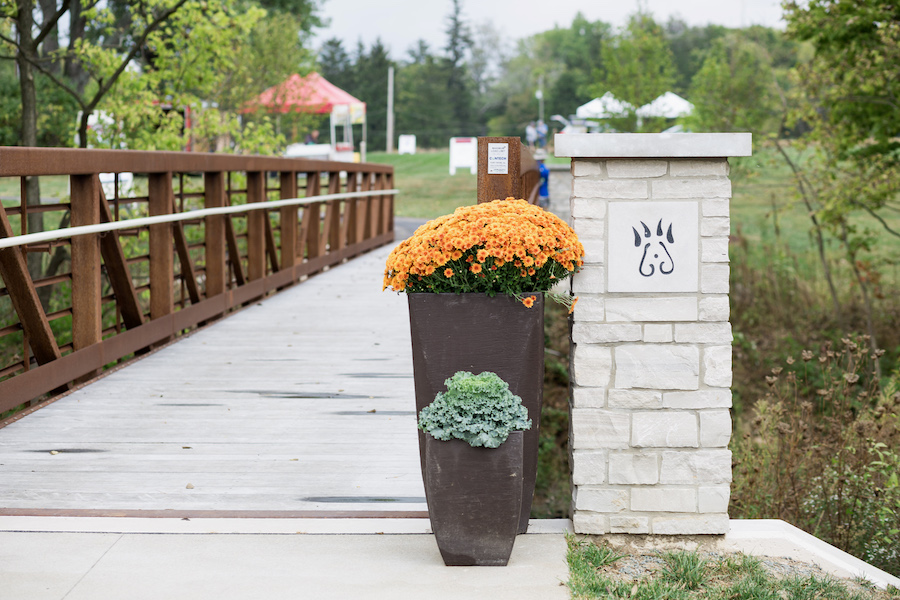 Pil­lars on the bridge to Fer­ris-Wright Park, in Dublin, Ohio, dis­play ancient icono­gra­phies. (Pho­to by Joseph Zummo)
As vis­i­tors walked across the bridge into Fer­ris-Wright Park, they passed the Hopewell iconog­ra­phy that Chaat­smith sug­gest­ed, and the Dublin parks depart­ment chose, to adorn the posts on either side of the span.
​"I feel that I am home," said Chief Friend.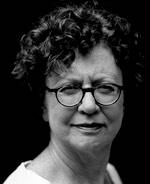 Stephanie Woodard
is an award-win­ning jour­nal­ist who has writ­ten inves­tiga­tive arti­cles for
In These Times
. Her new book is
Amer­i­can Apartheid: The Native Amer­i­can Strug­gle for Self-Deter­mi­na­tion and Inclu­sion
.