Ohio Factory Workers Fight for a Union: "Everyone Deserves a Seat at the Table"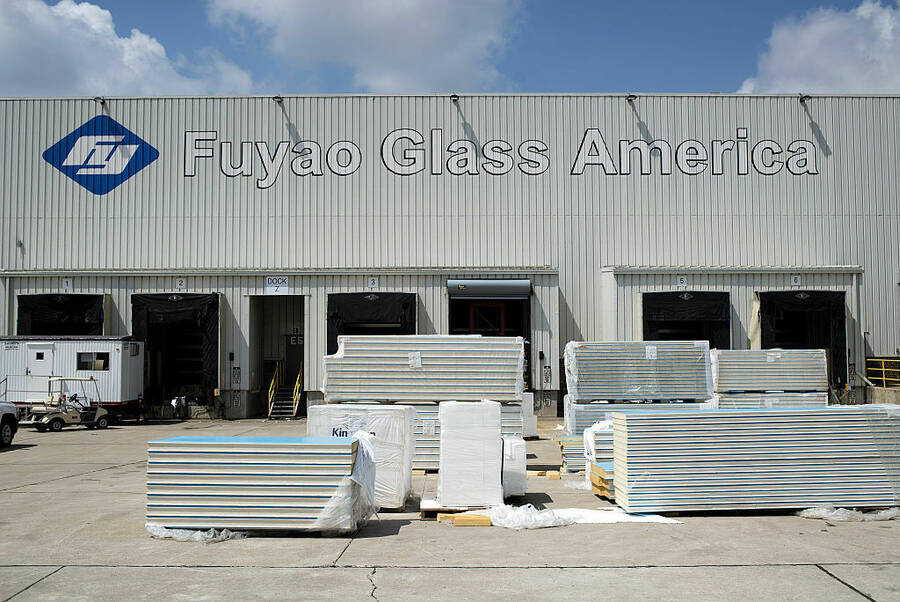 Forklift operator Timi Jernigan hopes President-elect Donald Trump fulfills his campaign promise to bring more manufacturing jobs to the United States. But he knows from experience that not all factory jobs are the same.
"I've worked at union and nonunion facilities," says Jernigan, who's worked at factories around Dayton, Ohio. ​"And it always was better at the union ones."
He's currently at Fuyao Glass America, a Chinese-owned company that opened an automotive glass plant in the Dayton suburb of Moraine. Jernigan was one of its first employees and is now part of a group of workers trying to organize a union.
He says the turnover rate for hourly workers at the plant is ​"astronomical" due to low wages, poor working conditions and a disorganized supervisory structure.
"It's just a big ball of confusion," Jocelyn Johnson-Grant, who works in the plant's print room, tells In These Times. ​"I've seen people be promoted, and then no later than one day of being in that position, they get taken out and put in a lower position," without an adequate explanation.
"It's chaos, really," says Jernigan, explaining that employee reviews for pay increases are often delayed for no clear reason. ​"When people are expecting to get a raise within a certain timeframe and then it's not occurring when it should, they get frustrated."
The Fuyao factory is located at the site of a former GM assembly plant that employed 5,000 workers at its height, but was closed in December 2008 during the Great Recession. The 116-acre facility stood vacant until the auto glass company — whose customers include Ford, Volkswagen, Toyota, Honda, and GM — purchased it for $15 million in May 2014.
To attract Fuyao to Ohio, the state gave the company an estimated $14 million in subsidies. Upending the common refrain that China is ​"stealing" U.S. manufacturing jobs, Fuyao promised to turn the abandoned GM plant into the world's largest automotive glass factory.
Production began late last year. Workers begin as temps making $12 to $14 per hour — well below the national average wage for manufacturing workers of close to $21 an hour—and have to get through a 90-day trial period before becoming direct hires. The plant has more than 2,000 workers.
Johnson-Grant, who's been at the plant for six months, says she has seen coworkers threatened and terminated for reporting accidents and bringing safety concerns to supervisors. The factory has already been hit with $227,000 in OSHA penalties for safety violations, including mechanical and electrical hazards, lack of proper training and unmarked exits.
In addition, Johnson-Grant says that workers are on a point system: each time employees have to miss work due to illness or family emergency, they get one or two points — even when the company sends them home sick. After getting five points, they can be fired.
In These Times reached out to Fuyao multiple times for comment on Johnson-Grant's claim, as well as other allegations, via phone and email. No one at the company responded.
"They're not really having any concern or compassion towards your wellbeing," she says of the company. ​"It's uncomfortable knowing that the rug can be snatched out from under you at any given moment."
New factory jobs
The Fuyao plant in Ohio illustrates changing trends in U.S. manufacturing jobs, which are beginning to resemble jobs in the fast food and retail sectors. While manufacturing is still popularly associated with living wages and competitive benefits, one-third of the families of frontline factory workers are now forced to go on public assistance due to substandard pay and benefits, according to a recent report by the Labor Center at the University of California, Berkeley.
Nearly all of the 800,000 new factory jobs created since 2010 are nonunion, with employees — often hired through temp agencies — earning around 7 percent less than their unionized counterparts. More manufacturing workers now quit their jobs than are laid off.
While Trump has promised to bring more factory jobs back to the United States — a particularly appealing message to working-class voters in Rust Belt states like Ohio — his recent intervention with the Carrier furnace plant in Indianapolis reveals an underlying tension between his populist message and his anti-union track record.
In exchange for $7 million in tax breaks, Carrier agreed to keep about 700 production jobs from moving to Mexico — a number Trump inflated to 1,100 in his announcement of the deal. When the Carrier workers' local union president, Chuck Jones, said Trump lied and gave false hope to hundreds of workers still facing layoffs, the President-elect blamed Jones and the union for the company's decision to move to Mexico.
Union campaign at Fuyao
Workers at the Fuyao plant began contacting the United Auto Workers (UAW) about their interest in forming a union soon after the factory opened, according to Ken Lortz, director of UAW Region 2-B, which covers Ohio and Indiana.
There are already four glass-making facilities in the region, Lortz explains. Two of them have union contracts, setting standards that the nonunion factories follow to stave off unionization.
"These other glass-making plants are paying a living wage," he tells In These Times. ​"But now Fuyao is building this plant that very well could be the largest in the world, with huge incentives from the state, and they're offering a substandard wage and benefits structure with horrible working conditions."
Lortz worries this will create a ​"competitive disadvantage" for the other glass factories, possibly putting them out of business and leading to layoffs.
For its part, Fuyao appears to be fighting the unionization campaign hard.
Johnson-Grant says the company has threatened workers with termination for organizing activity. In fact, the UAW has filed an unfair labor practice charge with the National Labor Relations Board (NLRB), alleging that an employee was dismissed because of his support for the union. The NLRB recently had to take Fuyao to federal court after the company refused to release documents the board needs to conduct its ongoing investigation.
Company attorney Micah Siegal told the Dayton Daily News that ​"Fuyao has never and would never discharge an employee due to their support of the UAW."
Speaking to the Dayton Daily News earlier this year, Fuyao executive Dave Burrows dismissed the union drive, saying that union organizers ​"have a business to run … It [running a union] is a business."
But workers at the plant aren't giving up.
"Being unionized would be not only beneficial to us workers, it would be beneficial to the company," Jernigan argues. ​"With the language we would put in a contract, there would be less gray area and more black and white."
Lortz says that a collective bargaining agreement would also address safety concerns, create more job security and may aim to eliminate the use of temp agencies, which he says receive substantial sums of money from the company, only to share a fraction with the workers.
"Everyone deserves a seat at the table," he says. ​"That's the best way to ensure success."
The Rise of a New Left
"An engrossing, behind-the-scenes account of our decade's breakout political movement." –Atossa Araxia Abrahamian
For a limited time, when you donate $30 or more to support In These Times, we'll send you a copy of the new book, The Rise of a New Left: How Young Radicals Are Shaping the Future of American Politics, by Raina Lipsitz.

Jeff Schuhrke is a labor historian, educator, journalist and union activist who teaches at the Harry Van Arsdale Jr. School of Labor Studies, SUNY Empire State College in New York City. He has been an In These Times contributor since 2013. Follow him on Twitter @JeffSchuhrke.