5 Ways the Olympics Are Undermining Democracy and Exploiting Workers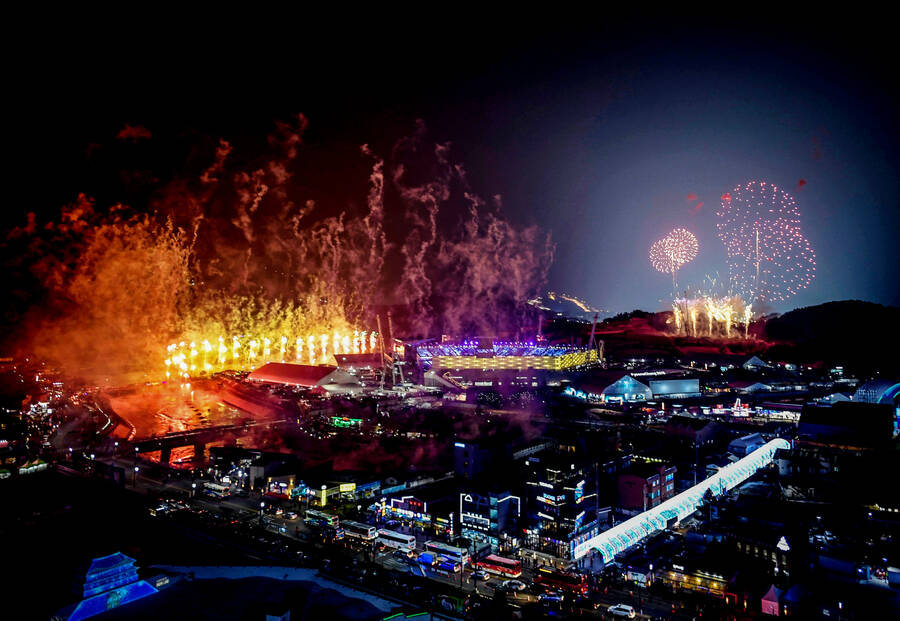 We're almost halfway through 17 frigid days of Olympic Games in Pyeongchang, and U.S. media cov­er­age has been banal, pre­dictable and full of holes. Amer­i­can press out­lets, large­ly igno­rant of Kore­an his­to­ry and pol­i­tics, have demo­nized North Korea and Rus­sia while pump­ing out triv­ial sto­ries about the num­ber of con­doms at the Olympic Village.
What's lost in most main­stream cov­er­age is the true human and eco­nom­ic cost of these mega-events. The car­toon­ish­ly ruth­less cap­i­tal­ists at the Inter­na­tion­al Olympic Com­mit­tee (IOC) shame­less­ly oper­ate above the law, and their only goal is to extract a deep prof­it from ath­letes. The IOC's prac­tices are in direct oppo­si­tion to democ­ra­cy, yet sports pun­dits like Mike Tiri­co will have you believe the glob­al com­pe­ti­tion is a mag­i­cal event that can fix the world.
Unfor­tu­nate­ly, for adults out there who don't believe in mag­ic, the Olympics are rot­ten from every con­ceiv­able angle.
1. The Olympics are an exploita­tion machine.
Every mod­ern Olympics event fea­tures work­er abus­es of all type, from mis­treat­ment in the youth sports leagues, to sub-liv­ing wages for U.S. Olympic ath­letes to the rou­tine theft of short-term and hos­pi­tal­i­ty work­ers' wages.
Mean­while, the IOC, U.S. Olympic Com­mit­tee and gen­er­al pub­lic don't appear to be very con­cerned with ath­letes' safe­ty. On one of the first days of com­pe­ti­tion this year, snow­board­ers com­plained about the dan­ger­ous­ly windy con­di­tions they were forced to com­pete in. But noth­ing was done, even after six of the first sev­en runs result­ed in crashes.
What's more, the Win­ter Olympics inher­ent­ly advan­tage ath­letes from rich­er, whiter colo­nial­ist coun­tries. Con­sid­er­ing how expen­sive it is to train for win­ter sports, and how lit­tle ath­letes get paid, it is clear that hav­ing inde­pen­dent means enhances one's abil­i­ty to compete.
2. The Olympics are a diver­sion of local resources.
Every city in the world has high­er-pri­or­i­ty civic issues and crises to deal with than the Olympics. But the glob­al sport­ing event sucks city resources out of the pub­lic trust, putting them into the hands of the IOC, devel­op­ers and the spe­cial inter­ests dri­ving each city's bid.
The Olympics are often sold as a back­door rem­e­dy to prob­lems like home­less­ness, trans­porta­tion short­com­ings or eco­nom­ic stag­na­tion. Yet there is no evi­dence the Games have ever improved urban life for any­one but the wealthy. The Olympics usu­al­ly promise tran­sit expan­sion, but if they deliv­er, it's expan­sion that favors the hyper-wealthy, not the tran­sit-depen­dent. The Lon­don 2012 Olympics saw a mas­sive retool­ing of the pub­lic tran­sit sys­tem to accom­mo­date Olympic tourists, instead of pri­or­i­tiz­ing the needs of city res­i­dents. We saw this dynam­ic play out recent­ly at the Super Bowl in Min­neapo­lis, where the light rail was only acces­si­ble for Super Bowl tick­et hold­ers on the day of the event.
3. The Olympics have dis­placed count­less peo­ple from their homes.
You might ask your­self, ​"Why does it take up to 10 years to pre­pare for an Olympic Games?" The answer is that the Olympics are only super­fi­cial­ly about sport. The true engine dri­ving the Games is a com­bi­na­tion of real estate spec­u­la­tion and deep prof­it extrac­tion. The Olympics help push com­mer­cial, trans­porta­tion and hotel devel­op­ments through cities. This process is what Nao­mi Klein would call part of the ​"Shock Doc­trine," only instead of a nat­ur­al dis­as­ter, it's a human-made event which pre­cip­i­tates all sorts of evic­tions and dis­place­ment as cities turn into net­works of bou­tique hotels and Airbnbs. The Olympics have dis­placed mil­lions of peo­ple from Rio de Janeiro, Lon­don, Syd­ney, Atlanta—and are a dis­as­ter every­where they land.
Mean­while, the Olympics bring huge expen­di­tures of resources that would bet­ter go towards meet­ing human needs. The Pyeongchang Olympics are esti­mat­ed to go about $10 bil­lion dol­lars over bud­get. The Tokyo Olympics — still more than two years out — are rough­ly $8 bil­lion dol­lars over budget.
4. The Olympics empow­er the police state.
The Olympics give local law enforce­ment and mil­i­taries huge boosts in pow­er, author­i­ty, and tech­nol­o­gy. In the Unit­ed States, Olympic Games become Nation­al Spe­cial Secu­ri­ty Events (NSSE), which give the Depart­ment of Home­land Secu­ri­ty the author­i­ty to col­lab­o­rate with local law enforce­ment. The Olympics also allow agen­cies to height­en secu­ri­ty and sus­pend nor­mal civ­il lib­er­ties in the lead-up and dur­ing the Games, includ­ing unprece­dent­ed sur­veil­lance priv­i­leges.
Often, as in Pyeongchang, the Games them­selves become exhi­bi­tions of mil­i­tary and state pow­er (see the thou­sands of fly­ing drones over Pyeongchang), which dates back to Hitler retool­ing the Open­ing Cer­e­mo­ny to be a demon­stra­tion of fas­cist pow­er. In many cas­es, the Olympic bid includes claus­es that legal­ly sus­pend cit­i­zen rights to protest, con­gre­gate or speak.
5. The Olympic stake­hold­ers are some of the worst, most cor­rupt peo­ple alive.
All you need to know about the IOC is that it has its own wiki for scan­dals and con­tro­ver­sies and counts Hen­ry Kissinger as an hon­orary mem­ber. The IOC makes FIFA look like choir boys by com­par­i­son. IOC mem­bers get paid more per day to attend the Olympics than the U.S. gov­ern­ment pays its Olympic ath­letes to perform.
The Good News?
But the good news is that the Olympics are his­tor­i­cal­ly unpop­u­lar right now as far as find­ing host cities to bid. If they run out of suck­er cities, or if enough abus­es come to pub­lic atten­tion, the IOC might have to dis­solve — leav­ing space to reimag­ine what an eth­i­cal, social­ist alter­na­tive to these Cap­i­tal­ist Games could be. One-hun­dred years ago, Amer­i­cans and Euro­peans were explor­ing what a non-cap­i­tal-dri­ven Olympiad might look like. There were events like the Work­ers' Olympiad, Chicago's Counter-Olympics of 1932, and a planned Barcelona alter­na­tive to the 1936 Nazi Games that was can­celled at the out­break of the Span­ish Civ­il War.
There are polit­i­cal­ly sound, humane ways of host­ing inter­na­tion­al ath­let­ic events, and they all start with pri­or­i­tiz­ing the needs of the work­ers and the most vul­ner­a­ble of a host city's pop­u­la­tion. Any­thing else, and it's just anoth­er exploita­tion Olympics.
Jon­ny Cole­man
is a writer and orga­niz­er based in Los Ange­les and a mem­ber of the NOlympics LA coali­tion which was born out of DSA-LA's Hous­ing and Home­less­ness Com­mit­tee. He will nev­er be invit­ed to the Ses­sion or any oth­er IOC parties.