Union-backed Sue Sadlowski Garza Claims Win Over Rahm Emanuel Ally in Southeast Chicago (Updated)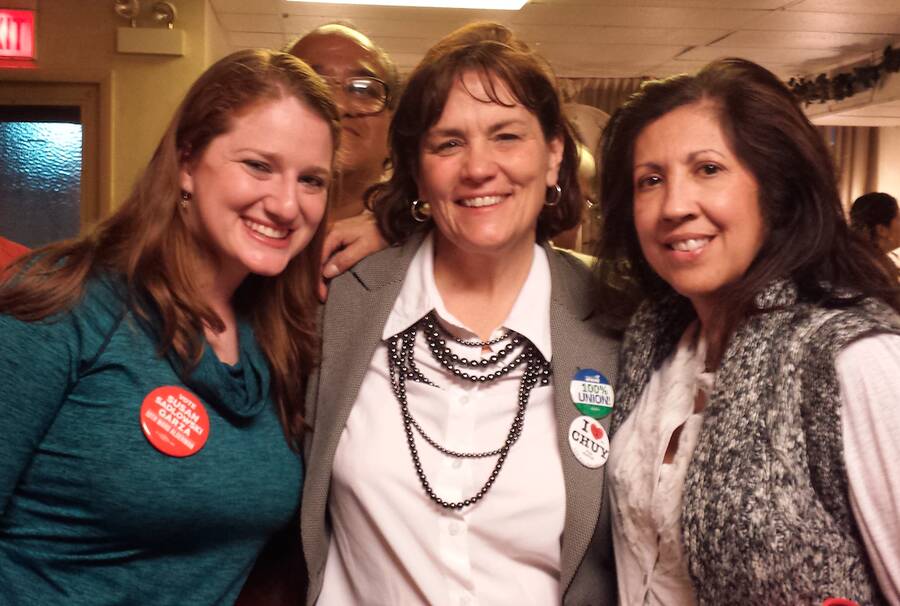 Update: At 5:15 pm., the Sad­lows­ki Garza cam­paign claimed vic­to­ry against Alder­man Pope by a mar­gin of 54 votes.
As Jesus ​"Chuy" Gar­cia was con­ced­ing and Rahm Emanuel was claim­ing vic­to­ry in the his­toric Chica­go may­oral elec­tion Tues­day night, the dynam­ic at an elec­tion par­ty for a pro­gres­sive can­di­date on the South­east Side was quite different.
In the 10th ward run-off race for City Coun­cil, Sue Sad­lows­ki Garza, a Chica­go Teach­ers Union leader and part of a leg­endary fam­i­ly of Unit­ed Steel­work­ers union activists, was neck and neck with John Pope, the incum­bent alder­man backed by Emanuel and con­sid­ered part of the entrenched Chica­go machine.
Inside a tav­ern called Crow Bar, locat­ed prac­ti­cal­ly under the Chica­go Sky­way toll road by the Indi­ana bor­der, a diverse crowd of black, Lati­no and white res­i­dents ner­vous­ly shared infor­ma­tion about vote totals, the sense of excite­ment ratch­et­ing up as new precincts report­ed. Final­ly there was only one precinct left to tal­ly — and it was the one with polls at Jane Addams Ele­men­tary, where Sad­lows­ki Garza is a school counselor.
By 11 p.m., the crowd was in full cel­e­bra­tion mode, as Sad­lows­ki Garza was sev­en votes ahead, 5,472 to 5,465. Pro­vi­sion­al bal­lots have yet to be count­ed, how­ev­er, and results could be chal­lenged, leav­ing the election's results still up in the air. A bal­lot box was dri­ven to down­town elec­tion head­quar­ters because of tech­ni­cal prob­lems. Sev­er­al cam­paign staffers ​"are sleep­ing over at 64 W. Wash­ing­ton," the Board of Elec­tions, not­ed Sad­lows­ki Garza's son David Garza.
The race between Emanuel and Gar­cia received nation­al atten­tion as a sym­bol of ris­ing dis­con­tent with inequal­i­ty and with the pri­or­i­tiz­ing of cor­po­ra­tions and the wealthy over work­ing peo­ple and neigh­bor­hoods. While Emanuel solid­ly won, after spend­ing more than $20 mil­lion on the race, the 10th ward was a small­er ver­sion of the same stand-off. And the results were much different.
Pope is a loy­al­ist to Emanuel and pre­vi­ous­ly to Daley — a recent Uni­ver­si­ty of Illi­nois-Chica­go study found the alder­man vot­ed with the may­or 100 per­cent of the time from 2011 to 2014 — and local crit­ics blast him for wel­com­ing heav­i­ly pol­lut­ing indus­tries which give him sig­nif­i­cant cam­paign con­tri­bu­tions, includ­ing the Koch Indus­tries sub­sidiary KCBX Ter­mi­nals which stores petro­le­um coke (pet­coke) in mas­sive piles along the Calumet River.
Sad­lows­ki Garza, on the oth­er hand, is an area vice pres­i­dent of the Chica­go Teach­ers Union, which squared off with Emanuel in an his­toric sev­en-day strike in 2012. Through­out her cam­paign she has stressed the impor­tance of unions and the pow­er of reg­u­lar peo­ple and called for a new polit­i­cal order, or a ​"polit­i­cal rev­o­lu­tion" as social­ist U.S. Sen­a­tor Bernie Sanders (I‑Vermont) said dur­ing a cam­paign ral­ly for Sad­lows­ki Garza and Chuy Gar­cia last week at an old Steel­work­ers union hall.
Almost every­one at the Crow Bar said they had grown up in the area and either still live or have kept close ties there. Many have deep fam­i­ly his­to­ries in the steel mills and the Steel­work­ers union. Scores of union mem­bers were in atten­dance, includ­ing build­ing trades unions (whose lead­er­ship had endorsed Emanuel), police offi­cers, ele­va­tor con­struc­tion union­ists, elec­tri­cal work­ers, Boil­er­mak­ers, Iron­work­ers and others.
Seem­ing­ly every­one knew Sad­lows­ki Garza per­son­al­ly, as well. Many had grown up with her, a tes­ta­ment to the close-knit fam­i­lies and sense of his­to­ry that still exist in the area even after the clos­ing of the steel mills tore apart its eco­nom­ic and social fab­ric. Sad­lows­ki Garza's father and grand­fa­ther, both named Ed Sad­lows­ki, are renowned Steel­work­ers union lead­ers, and peo­ple see Sue as fol­low­ing in their footsteps.
"She's dyna­mite, she's got that pas­sion," says Ken Angot­ti, a land­scap­er and con­crete con­trac­tor who grew up with Sad­lows­ki Garza and remem­bers camp­ing out at a Rolling Stones con­cert with her and oth­er friends in 1978. Angot­ti described how his uncle came from Italy to work at Repub­lic Steel, and died three months after the mill closed. And how his cousin, nick­named ​"Boomer," died in a steel mill when he was hit by a crane. ​"This is a depressed area and it's been depressed for 30 years," he con­tin­ued. ​"But she's still here, she's telling peo­ple, ​'Come on!'"
When In These Times asks Garza how she will deal with Emanuel assum­ing she is seat­ed in City Coun­cil, Sad­lows­ki Garza says, ​"Bring it on."
"Poor Rahm!" says Soila Sil­va, a teacher at near­by George Wash­ing­ton Ele­men­tary School, feign­ing sym­pa­thy for how the may­or will have to deal with Garza if she wins. ​"She doesn't back down. And she'll get the oth­er alder­men to speak up."
Sil­va remem­bered bring­ing Sad­lows­ki Garza to her first Chica­go Teach­ers Union meet­ing years ago and watch­ing her move quick­ly through the lead­er­ship ranks. ​"She was the one who orga­nized all our local schools dur­ing the strike," Sil­va says.
Chica­go Teach­ers Union Vice Pres­i­dent Jesse Sharkey and oth­er teach­ers union lead­ers came to cel­e­brate with Sad­lows­ki Garza. Sharkey says he sees the show­ings of both Sad­lows­ki Garza and Gar­cia, who got more than 44 per­cent of the vote, as victories.
"We had some­thing we haven't had in a long time in the city: an actu­al elec­tion," he said. ​"Rahm had to get off his high horse in the mud and blood with the rest of us peas­ants. … And there's no fin­er edu­ca­tor and spokesper­son for a move­ment than Sue. We're very proud."
Sad­lows­ki Garza not­ed that crit­ics have said she would be ​"in the pock­et of unions" in City Council.
"Labor unions have always been on the side of the work­ing class," she says. ​"Who doesn't want to be in the pock­et of the work­ing class?"
Six can­di­dates had run against Pope in the pri­ma­ry elec­tion on Feb­ru­ary 24. At least two of them then threw their efforts whole-heart­ed­ly into the Sad­lows­ki Garza cam­paign. Olga Bautista and Rich Mar­tinez, who both ran in the pri­ma­ry, are both lead­ers of the fight to ban pet­coke from the city.
Crit­ics see pet­coke as a seri­ous pub­lic health and qual­i­ty of life issue. And, they say, it is a sym­bol of the way their neigh­bor­hood has been treat­ed as a ​"dump­ing ground" by city offi­cials, who coop­er­ate with com­pa­nies open­ing pol­lut­ing indus­tries there with­out invest­ing ade­quate­ly in oth­er types of jobs and education.
"Peo­ple feel like Pope is to blame" for pol­lut­ing indus­tries on the South­east Side, said Antho­ny Mar­tinez, whose video of a cloud of pet­coke blow­ing over homes helped ignite the strug­gle. ​"He's sup­posed to be the gate­keep­er of the community."
"Peo­ple were apo­lit­i­cal and divid­ed, but we broke that divide with pet­coke a year and a half before the elec­tion," says Bautista, adding that ​"I don't think I have any nails left" after bit­ing them dur­ing the sus­pense of the close race. ​"Pet­coke unit­ed peo­ple. It was the wrench that broke the Machine."
Three decades before Gar­cia and Emanuel were framed as rep­re­sent­ing the ​"two dif­fer­ent Chica­gos," the South­east Side was ground zero of noto­ri­ous socio-polit­i­cal polar­iza­tion. It was home to Edward Vrodolyak, who stoked the ​"Coun­cil Wars," pit­ting white alder­men against leg­endary black may­or Harold Wash­ing­ton and his allies — includ­ing Chuy Garcia.
While there was much over­lap between the Sad­lows­ki Garza and Gar­cia camps, Sad­lows­ki Garza also got the vote of res­i­dents aligned with Emanuel. Jeff Zupan, a mem­ber of the Inter­na­tion­al Broth­er­hood of Elec­tri­cal Work­ers Local 134, has fond mem­o­ries of going to Vrodolyak fundrais­ers as a kid grow­ing up there. He now lives in North­west Indi­ana but came to the South­east Side for the evening. He sup­port­ed Emanuel for may­or and thinks he is ​"good for the city." But in the 10th ward, he says, he is all for Sad­lows­ki Garza.
Zupan's friend Mar­ty McHale, wear­ing his Inter­na­tion­al Union of Ele­va­tor Con­struc­tors Local 2 jack­et, described how sev­er­al ​"Pope­mo­biles" plied the neigh­bor­hood with cam­paign work­ers hand­ing out lit­er­a­ture. He thinks Sad­lows­ki Garza's grass­roots sup­port won out, even though Pope has raised almost $3 mil­lion in cam­paign funds since tak­ing office in 1999.
"Sue is a real per­son," McHale says. ​"She's fam­i­ly-ori­ent­ed, she's union-ori­ent­ed, she's pro-South­east Side."
Even though vot­er turnout was low city­wide in both the Feb­ru­ary pri­ma­ry and Tuesday's elec­tion, the chal­lenges to pow­er bro­kers like Emanuel and long-entrenched incum­bents like Pope are being seen as evi­dence that Chicagoans are fed up with the city's polit­i­cal sta­tus quo and politi­cians who don't lis­ten to their constituents.
"We're com­ing togeth­er for one cause — for vic­to­ry, for a bet­ter neigh­bor­hood, for a bet­ter envi­ron­ment," says Antho­ny Mar­tinez. ​"The peo­ple final­ly woke up."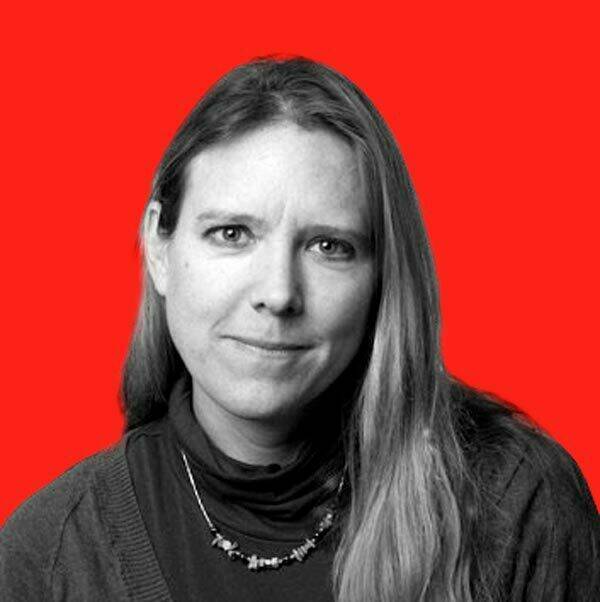 Kari Lyder­sen
is a Chica­go-based reporter, author and jour­nal­ism instruc­tor, lead­ing the Social Jus­tice
&
amp; Inves­tiga­tive spe­cial­iza­tion in the grad­u­ate pro­gram at North­west­ern Uni­ver­si­ty. She is the author of May­or
1
%: Rahm Emanuel and the Rise of Chicago's
99
%.