On Maryland's Eastern Shore, Labor Rights Elusive for Poultry Industry's Chicken Catchers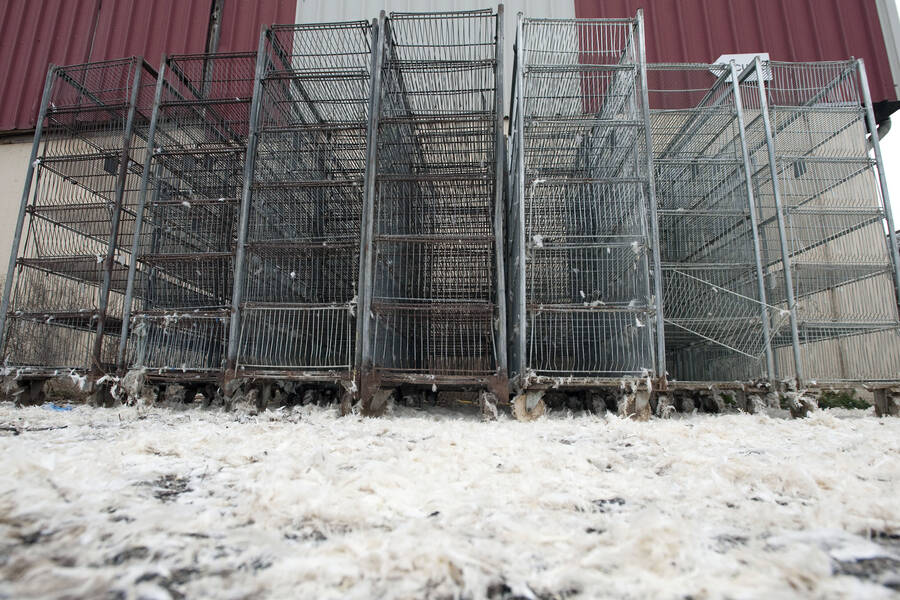 We wanted to make sure you didn't miss the announcement of our new Sustainer program. Once you've finished reading, take a moment to check out the new program, as well as all the benefits of becoming a Sustainer.

A wave of outsourcing by giant poultry producing companies is sparking new union organizing efforts on Maryland's famed Eastern Shore, and in the adjoining chicken producing areas of Delaware and Virginia.
A small group of workers in Pocomoke City, Md., is currently negotiating a first contract with one employer, after a quick and decisive union election earlier this year. In that election, some 50 chicken catchers won representation by the United Food & Commercial Workers (UFCW) union, the nation's leading labor organization for employees in the meat processing industry.
According to the National Labor Relations Board, UFCW Local 27 filed for an election Jan. 30 to represent the workers at Nipcam Group, a Georgia-based pesticide company that has recently entered the labor contracting business. A March 1 election produced an overwhelming 3‑to‑1 margin of victory for the union, and the win was certified by the federal labor agency March 14, NLRB said.
Ellis Staten, an organizer for Local 27, told Working In These Times that the workers are angry and determined to stand up for their rights. By outsourcing the jobs to Nipcam, meat processing giant Tyson Foods has slashed their income and all but eliminated any benefits. What were once good-paying positions with Tyson are now near-poverty-level jobs with an unknown out-of-state labor contractor, Staten said.
And the workers at Nipcam are not alone in this sort of treatment, the union organizer added. Last year Perdue Farms, the largest producer of poultry on the DelMarVa peninsula, eliminated the jobs of about 100 chicken catchers at its processing plants in Milford, Del., and Accomac, Va. The jobs were transferred to a North Carolina labor contractor who offered pay rates at about half the level previously offered to the Perdue workers, Staten said.
The former Perdue chicken catchers are also interested in winning union representation, according to Staten. Organizing efforts among them are underway, he said, but there are no immediate plans for another union election.
The work of chicken catching itself is by all accounts a difficult and dirty one. Under the system employed in the DelMarVa peninsula and elsewhere, independent chicken farmers produce birds for specific processing companies — such as Tyson and Perdue —under exacting conditions. When the animals are ready for slaughter, crews of catchers from the processing company appear at the chicken houses with trucks and hundreds of empty cages. The catchers enter the houses and collect the birds by hand, stuffing the frightened creatures into the cages and loading the trucks.
Pay for this work is done under a piece-work system. Catchers are paid a standard rate per thousand chickens caught. The catchers that worked directly for Perdue until last year were among the best paid. Rates as high as $5.80 per thousand have been reported, which allowed for an annual gross income of about $54,000. Such rates appear to be a thing of the past, however, with the rates offered by contractors now starting at around $2.30 per thousand. At these rates, Staten said, many Nipcam catchers can only expect to realize $16,000-$17,000 annually.
Julie DeYoung, a spokeswoman for Perdue Farms, did not dispute any of the essential facts laid out by Staten, but defended the company on the basis of economic necessity and evolving industry standards.
All chicken processors have been hard hit by recession and intense competition, she said, and must find ways to cut costs. Perdue has been contracting out select functions at its plants for a number of years, she said, including jobs in company cafeterias, in sanitation work and other areas, including bird catching. Prior to 2011, Perdue had contracted out chicken catching at its Milford, Del., plant and also at a Perry, Ga., plant, according to DeYoung.
Furthermore, Perdue is one of the last processors in the enormous DelMarVa poultry industry to contract out its catchers, she said. Virtually all of the chicken catching work in the region — estimated at more than 500 million birds a year — is now contracted out , and Perdue has followed the industry pattern because ​"the economics of the situation left us with no other choice," according to an official company statement.
Christopher Brown, a Baltimore labor lawyer, does not see the problem as a question of temporary recession or passing industry trends, but of endemic labor abuses in the regional poultry industry. Brown, of the firm Brown Goldstein Levy, has brought fair labor practice suits on behalf of workers at Tyson, Mountaire Farms, and others in the area. He was recently successful in a long court proceeding that won compensation for about 250 production line workers at a Mountaire Farms chicken plant in Millsboro, Del. He has also represented chicken catchers in the past.
​"DelMarVa is an isolated, rural area and it has all the problems that go along with that," he said. Labor abuses are rife and any new efforts at effective union organizing should be welcomed, Brown said.
Be a Sustainer
We surveyed thousands of readers and asked what they would like to see in a monthly giving program. Now, for the first time, we're offering three different levels of support, with rewards at each level, including a magazine subscription, books, tote bags, events and more—all starting at less than 17 cents a day. Check out the new Sustainer program.
Bruce Vail
is a Baltimore-based freelance writer with decades of experience covering labor and business stories for newspapers, magazines and new media. He was a reporter for Bloomberg BNA's Daily Labor Report, covering collective bargaining issues in a wide range of industries, and a maritime industry reporter and editor for the Journal of Commerce, serving both in the newspaper's New York City headquarters and in the Washington, D.C. bureau.