On the Defensive, Chicago Teachers Try to Shake Up Their Union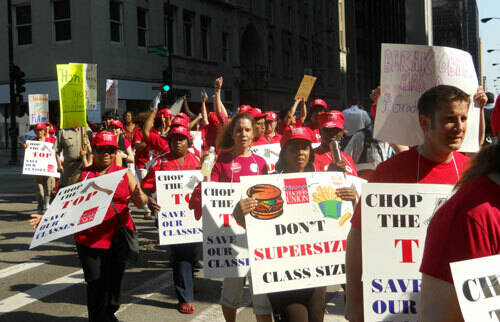 School administrators across the United States should beware.
Teachers in Chicago are leading an uprising against the the ​'Chicago plan' of charter and turnaround schools, the policies that Arne Duncan created as CEO of the Chicago Public Schools (CPS) system and is now implementing nationwide as President Obama's Secretary of Education.

One week ago, nearly 20,000 of the Chicago Teachers Union​'s 30,000 members voted on new leadership. Incumbent President Marilyn Stewart and her United Progressive Caucus barely beat the militant Caucus of Rank and File (CORE) Educators. CORE did so well, in fact, that there will be a run-off election on June 11. With recent endorsements from other caucuses in the union, CORE candidates look poised to become the new leaders of the union.

The success of the rank-and-file caucus highlights a growing anger among teachers at charter schools, which use public funds but are managed by private companies and hire non-union teachers. In Chicago, some charter schools have taken over the buildings that public schools used to occupy and have been a main reason why the union has lost 6,000 members.
As CORE's vice-presidential candidate Jesse Sharkey said, ​"There is a wind of change in the union, the majority of the teachers wanted something different. The first round of votes showed that and I expect the second to confirm that."

CORE has built a reputation as a group of teachers that successfully fight against charter schools. Cielo Munoz, a teacher at Penn Elementary School, explained that her class sizes have increased as a charter school that shares the building with Penn continually expands, asking for about four new classrooms a year.
Munoz wondered, ​"Is this negotiated or a takeover?" She supports CORE because, it ​"does not seem to be afraid. … Core was there on the first day we started to have problems. CORE is on the front lines."

Elaine Rose, a gym teacher at Christopher Columbus Elementary School, explained that CORE is ​"people who have been in schools for a long period of time, who know what's going on and who want to make the changes we need."

CORE co-chair Jackson Potter says the group offers a different model of organizing that goes beyond bread-and-butter issues of a strong contract and better pay. According to Potter, CORE is going to fight to enforce teacher contracts, defend the union in the public eye, and mobilize the community in support of public education.

CORE has organized several large rallies of teachers against proposed school budget cuts. On May 25, it brought all the different factions of the teachers union together at a well-attended rally in downtown Chicago.

CPS CEO Ron Huberman has said the school system is facing a $600 million shortfall. However CORE called on the city to fill that gap with money allocated for the creation of charter schools and from the city's ​"tax increment finance" (TIFs) districts, which Mayor Richard Daley's administration uses to cap spending on schools and spur gentrification.

As Sharkey explained: ​"The city spends hundreds of millions of dollars on educational priorities that are about dismantling and hurting public education, and we would like to see those resources spent on supporting public schools."
Potter explained that CORE has been reaching out to teachers and unions across the country and locally to counter the policies of privatization. Potter put the May 25 rally in the context of the policies that are beginning to be implemented nationwide:
This shows you that the reaction is going to be tremendous… people are going to begin mobilizing.. and saying that this is not a plan to improve education this is a plan to privatize education. This is not a plan to empower teachers and make them better at what they do, this is a plan to divest from the school and neighborhoods… it started here in the city, we plan on ending it here in the city.
Matt Muchowski
works for Service Employees International Union and enjoys defeating anti-union legislation. He lives in Chicago and for a brief but memorable time was associate publisher of
In These Times
.