Now Is America's Chance To Stop Waging Brutal War on Yemen
A new bipartisan bill offers an opportunity to withdraw U.S. support for a devastating military onslaught.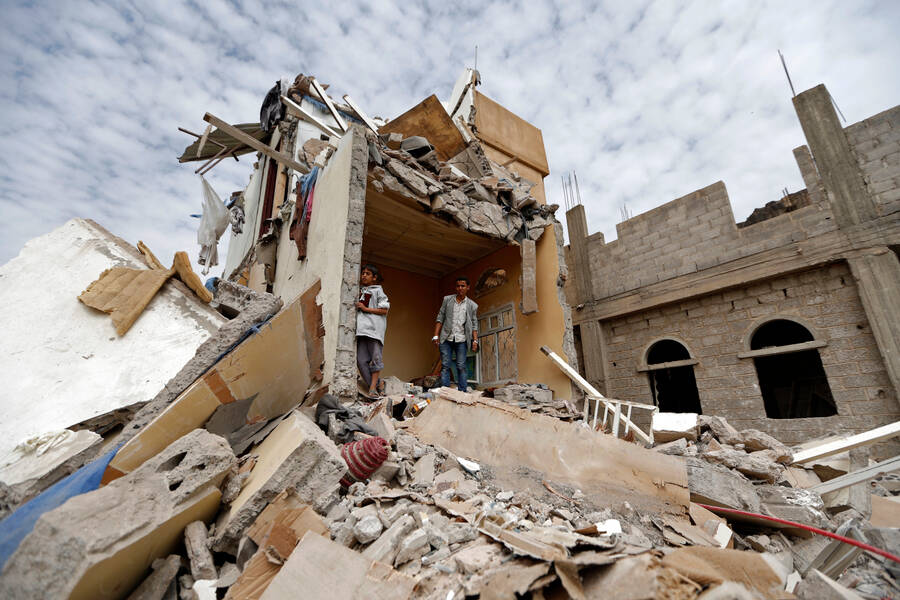 This arti­cle first appeared on Com­mon Dreams.
Thirty months into this aimless war, there's an opportunity for the United States to finally withdraw from Yemen.
Yemen con­tin­ues to suf­fer in silence as the world turns away from its ongo­ing mis­ery. Despite two and a half years of bru­tal war, the aver­age Amer­i­can remains obliv­i­ous to the incon­ve­nient truth that the Unit­ed States has been help­ing Sau­di Ara­bia and the Unit­ed Arab Emi­rates destroy a sov­er­eign coun­try that posed a threat to no one. While rich Arab states bom­bard the Mid­dle East's poor­est coun­try, cre­at­ing the world's largest human­i­tar­i­an cri­sis and an unprece­dent­ed cholera out­break, our gov­ern­ment (start­ing with the Oba­ma admin­is­tra­tion and con­tin­u­ing with Trump's) has con­tin­ued to sup­port them not only through the sale of weapons, but also through mid-air refu­el­ing, tar­get­ing intel­li­gence, and oth­er logis­ti­cal support.
The inter­na­tion­al com­mu­ni­ty has betrayed Yeme­nis over and over again — exam­ples include the Unit­ed Nations' capit­u­la­tion to Sau­di pres­sure by remov­ing it from the list of child killers and allow­ing the Sau­di-led Coali­tion to inves­ti­gate (and clear) itself from any wrong­do­ing. Even as an inquiry into Yemen war crimes was final­ly agreed upon recent­ly, the word ​"inves­ti­ga­tion" was dropped, and it remains to be seen which ​"region­al experts" will com­prise the committee.
But have we, the Amer­i­can peo­ple, turned our backs to our government's involve­ment in Yemen's destruc­tion? Yeme­nis are not seek­ing refuge in Europe or Amer­i­ca because of a land, air, and sea block­ade that has kept food and med­i­cines out, while trap­ping peo­ple in. Unlike those flee­ing the war in Syr­ia, Yeme­nis may be ​"out of sight, of mind." But those of us who do know about the plight of Yeme­nis may feel help­less or unclear about what can be done to help. The truth is, we have to act, and we have to act fast.
We can no longer stand by and watch as Yemeni chil­dren die of cur­able dis­eases like cholera (with 750,000 cas­es and count­ing) because they can't access clean water. Nor can we stand by and watch them die of hunger in a time of immense glob­al wealth because their par­ents can't afford what lit­tle food is avail­able. We can no longer watch as Yemeni chil­dren, women, and men are killed by US-sup­port­ed, Sau­di and Emi­rati airstrikes that tar­get homes, schools, funer­al gath­er­ings, and hos­pi­tals alike. We must con­front our government's role in cre­at­ing this ​"man-made cat­a­stro­phe" that has pushed this already-impov­er­ished nation to its utmost limit.
Now, 30 months into this aim­less war, there's an oppor­tu­ni­ty for the Unit­ed States to final­ly with­draw from Yemen. Con­gress will soon debate and vote on House Con­cur­rent Res­o­lu­tion 81, a bipar­ti­san bill intro­duced by Rep­re­sen­ta­tives Ro Khan­na (D‑CA), Thomas Massie (R‑KY), Mark Pocan (D‑WI), and Wal­ter Jones (R‑NC), that aims to end the Unit­ed States' sup­port for the Sau­di-led Coali­tion in Yemen.
If we don't act now, we may find our­selves look­ing back and won­der­ing what could have been done to save mil­lions of peo­ple from cer­tain death. We have an oppor­tu­ni­ty to end this destruc­tive war by urg­ing our polit­i­cal lead­ers to stop sup­port­ing the Sau­di-led Coali­tion. And we have a moral and legal oblig­a­tion to extri­cate our­selves from aid­ing an ally that has worked with ter­ror­ists to achieve its goals, and has con­tin­ued to com­mit what may amount to sev­er­al and ongo­ing war crimes in Yemen.
Let's email and call our rep­re­sen­ta­tives and urge them to vote in favor of H.Con.Res.81 and put an end to the atroc­i­ties com­mit­ted in our name. For the sake of Yemen's tini­est vic­tims, whose lit­tle bod­ies gave up fight­ing hunger and dis­ease in the time it took you to read this piece, let's end the war on Yemen.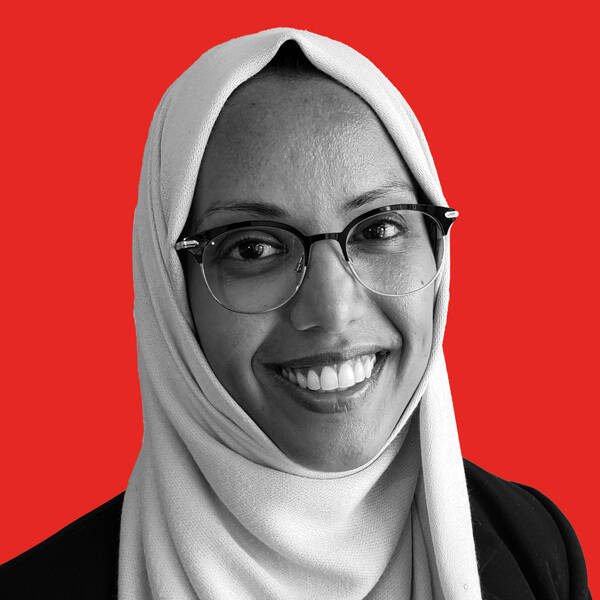 Shireen Al-Adei­mi is an assis­tant pro­fes­sor of edu­ca­tion at Michi­gan State Uni­ver­si­ty. Since 2015, she has played an active role in rais­ing aware­ness about the Sau­di-led war on her coun­try of birth, Yemen, and works to encour­age polit­i­cal action to end U.S. support.