Only We Can Feed the Labor Movement Fire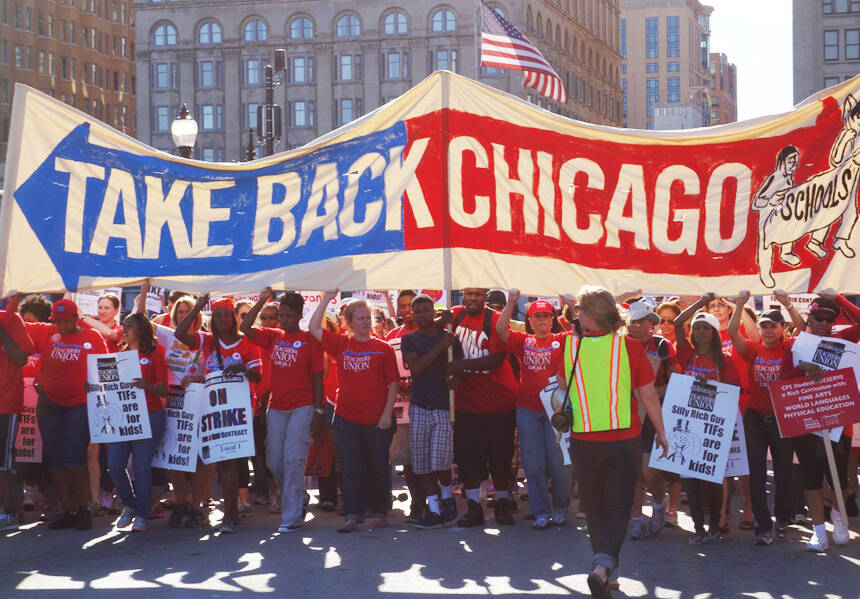 We trou­ble­mak­ers keep hop­ing for the spark that will set a wild­fire of work­ers in motion. The worse our sit­u­a­tion gets — eco­nom­i­cal­ly, polit­i­cal­ly, eco­log­i­cal­ly — the more we yearn for a vast move­ment to erupt and trans­form the landscape.
It's not impos­si­ble. Look at 1937, when work­place occu­pa­tions spread every­where, from auto fac­to­ries to Woolworth's. The 1930s wave of mil­i­tan­cy forced Con­gress to aid union orga­niz­ing with new laws and to enact Social Secu­ri­ty and unem­ploy­ment insur­ance. Indus­tri­al unions formed dur­ing that upsurge con­tin­ue to this day.
So why not here and now?
In our life­times, we've seen sparks — but we haven't seen them spread like that. In some ways we're more con­nect­ed than ever before, able to watch each other's strug­gles in real time on our phones. Yet most­ly, the sparks haven't leapt from one work­place or one Capi­tol rotun­da to anoth­er. The Occu­py move­ment is the shin­ing exception.
Why didn't the occu­pa­tion of the Repub­lic Win­dows and Doors fac­to­ry, at the out­set of the Great Reces­sion, start an avalanche of copy­cats? Or the Wis­con­sin upris­ing, or the Wal­mart and fast food walk­outs?
Fur­ther back, the UPS strike of 1997, or the mil­lion peo­ple in the streets on May Day 2006? Each time, we felt that charge in the air for a minute, but it dissipated.
Per­haps there's a bet­ter way to look at it: each upris­ing is a rehearsal for the next. Can we trace a glob­al move­ment, learn­ing and pro­gress­ing, from Repub­lic, to Egypt, to Wis­con­sin, then Occu­py? Where will the next revolt come from?
Today young immi­grants are chain­ing them­selves to depor­ta­tion bus­es. A thou­sand ​"Moral Mon­day" North Car­olini­ans got them­selves arrest­ed for human rights. These mobi­liza­tions burst on the scene seem­ing­ly out of nowhere, but real­ly grew from years of qui­et organizing.
And in a true exam­ple of leap­ing sparks, the Chica­go teach­ers' 2012 strike inspired a cas­cade of oth­er teach­ers to demand what their stu­dents deserve, with locals prim­ing to strike this year and boy­cotting those stu­pid tests.
Are we build­ing for some­thing big­ger than Occu­py next time? Can it include more work­ers? Who will lead it?
Sparks need oxygen
How do sparks grow into a rag­ing fire, any­way? Some­one has to fan the flames. We need more expe­ri­enced activists in the mix — peo­ple who both know what to do prac­ti­cal­ly and have the vision to do it. In the ​'30s, rad­i­cals and social­ists in the CIO played this role.
So one miss­ing ingre­di­ent today is more skilled, far-sight­ed activists, not just on union staffs but in each work­place. Unions' job is to train up these legions by get­ting in fights, and by win­ning some of them.
In oth­er words, by going up against the boss. Col­lec­tive­ly our work­places offer mil­lions of oppor­tu­ni­ties every day to chal­lenge pow­er: over the dai­ly indig­ni­ties of pay, hours, and dis­re­spect, griev­ances, injus­tices that aren't griev­ances, com­mu­ni­ty issues like pol­lu­tion of the neigh­bor­hood, lousy ser­vices for clients we serve.
Strug­gle in the work­place teach­es us that we have pow­er — and how to use it. Work­ing to con­vince fel­low work­ers we have each other's backs against a com­mon ene­my gives us prac­tice in the orga­niz­ing it takes to change the bal­ance of pow­er beyond the work­place, in society.
Just as impor­tant is thor­ough edu­ca­tion about who our ene­mies are, and aren't, and how they've held onto pow­er all these years when we out­num­ber them.
The long view
That's part of the back sto­ry to the 2011 top­pling of Egypt­ian Pres­i­dent Hos­ni Mubarak. Near­ly 2 mil­lion work­ers joined a wave of 3,000 strikes over sev­er­al years lead­ing up to the revolution.
​"There's no ques­tion that that pat­tern led to involv­ing and break­ing the fear of the rest of the peo­ple," Kamal Abbas, direc­tor of the Union and Work­ers Ser­vices, told Labor Notes at the time.
But unions don't teach these lessons just by exist­ing. Not a sin­gle twig of kin­dling for a work­er wild­fire is laid by find­ing ​"com­mon inter­ests" with the boss in a labor-man­age­ment part­ner­ship; bring­ing new dues-pay­ers into the union on paper but not engag­ing them in strug­gle; pro­mot­ing two-tier con­tracts as ​"inno­v­a­tive"; or get­ting out the vote for weak-kneed candidates.
Those activ­i­ties not only don't train or inspire. They grind peo­ple down.
To resist the grind, we need to cul­ti­vate mem­bers who are long-dis­tance run­ners. We all know some­one who got fired up about some injus­tice, but dropped out when the first strug­gle they were involved in didn't win.
Think about the peo­ple in your union who have stuck with it. It's usu­al­ly because the union means some­thing deep­er to them than a sin­gle issue or a cold cost-ben­e­fit analy­sis. They feel the strug­gle in their bones, con­nect­ed to their deep­est-held val­ues. They feel oth­er work­ers' fights as their own.
Bold­ness inspires
More peo­ple will hold union strug­gles clos­er to their hearts when more unions think big­ger … in the prob­lems we tack­le, the demands we pro­pose, and the tac­tics we dare try.
The right­eous demand for $15 an hour inspires. Occu­py too was excit­ing because of its bold­ness — not just anoth­er sym­bol­ic ral­ly — and because ​"We are the 99%" rang true.
Lead­ers often com­plain that mem­bers are ​"apa­thet­ic." Exhib­it A is poor atten­dance at union meet­ings. But who wants to focus on inter­nal triv­ia, dis­cuss which back-stab­bing politi­cian to endorse, or just get told what to do? Mem­bers will show up for things that mat­ter — and that get their blood moving.
Just look at the Brook­lyn nurs­es who occu­pied their hos­pi­tal to keep it open for care; the thou­sand North Car­olini­ans arrest­ed at Moral Mon­day protests last year; the migrant berry pick­ers in Wash­ing­ton who struck for nine days last July, though they have no union; the 250 UPS dri­vers who walked out in a wild­cat to defend one wrong­ly fired union mem­ber. They showed up.
So did the peo­ple of Chica­go, who del­uged teach­ers with sup­port for their 2012 strike because the edu­ca­tors were brave enough to speak the ugly truth about ​"edu­ca­tion­al apartheid" — and because they led a bat­tle to get rid of it.
Oth­er ugly truths: bus and train ser­vice keeps get­ting axed, while fares rise. Mail is get­ting slow­er, lines at the post office longer, Social Secu­ri­ty office hours short­er. In the pri­vate sec­tor most of us go to work every day and make the globe hot­ter and the boss rich­er. Union mem­bers need to lev­el with the pub­lic: We don't like this any more than you do. We're on your side!
Of course, some union lead­ers speak elo­quent­ly about social jus­tice for all, while accept­ing two-tier for their own mem­bers with­out a fight. That's hol­low. A big-pic­ture vision is no sub­sti­tute for build­ing pow­er in the work­place — and mem­bers have to cre­ate and own the vision and the strat­e­gy for pow­er. They have to be the agents and orga­niz­ers, not the props.
Trou­ble­mak­er principles
We like to think these move­ment-build­ing prin­ci­ples are hall­marks of the trou­ble­mak­ing wing of the labor move­ment — and the num­bers con­verg­ing on Chica­go April 4 – 6 for our biggest con­fer­ence yet sug­gest the Trou­ble­mak­ers Union is growing.
But the ​"lie low" wing of labor still out­num­bers us. If you accept the received wis­dom, trou­ble­mak­ing seems risky in an era of union weakness.
And the truth is, in the short term, some­times you'll lose either way. Look at Wis­con­sin, where despite the mon­u­men­tal upris­ing, Scott Walk­er pushed through his union-bust­ing law. Look at the record school clo­sures Rahm Emanuel forced on Chica­go, even after the teach­ers' hero­ic strike.
Yes, often we fight and lose. But when we fight smart, we build a foun­da­tion for the next battle.
It will take large-scale brav­ery to reverse the giant mess cap­i­tal­ism has made of every­thing — mas­sive inequal­i­ty, our unions slid­ing to near-extinc­tion, our plan­et on the verge of eco-catastrophe.
That's why, in the long term, a move­ment with a trou­ble­mak­ing spir­it — the kind that inspires peo­ple to brav­ery — is the only kind with a chance to win.
These ideas, strug­gles, and more will all be up for dis­cus­sion at the Labor Notes Con­fer­ence this week­end in Chica­go. This piece has been reprint­ed with per­mis­sion from Labor Notes.
Alexan­dra Brad­bury is a staff writer with Labor Notes. Jane Slaugh­ter works for Labor Notes in Detroit.