Open Letter From NY Jews to Mayor de Blasio: `AIPAC Does Not Speak For Us'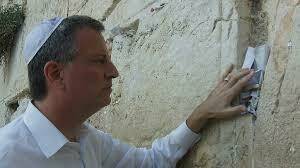 We wanted to make sure you didn't miss the announcement of our new Sustainer program. Once you've finished reading, take a moment to check out the new program, as well as all the benefits of becoming a Sustainer.

We are Jewish residents of New York who read, in the leaked transcript of your private speech to a meeting of AIPAC leaders, the following: City Hall will always be open to AIPAC. When you need me to stand by you in Washington or anywhere, I will answer the call and I'll answer it happily ​
'
cause that's my job.We understand that the job of mayor of New York is a complex one that often calls for your participation on the international stage, and we would not presume to define your job for you. But we do know that the needs and concerns of many of your constituents
&
mdash;U.S. Jews like us among them
&
mdash;are not aligned with those of AIPAC, and that no, your job is not to do AIPAC's bidding when they call you to do so. AIPAC speaks for Israel's hard-line government and its right-wing supporters, and for them alone; it does not speak for us.
Sincerely yours,Ruth J. AbramKaren R. AdlerArlene AldaAnita AltmanEsther Ann-AschEmanuel AxPeter BeinartAndrew BergerLoren BevansMartin I. BreslerKenneth David BurrowsHoward ClymanRabbi Rachel CowanBarbara DeinhardtBarbara DobkinEugene EisnerLaurel W. EisnerDaniel EngelsteinEve EnslerDanny GoldbergSally GottesmanLinda GottliebLaurence GreenwaldJane HirschmannErica JongPeter A. JosephAlice Kessler-HarrisRabbi Sharon KleinbaumGil KulickMartha Weinman LearBobbie LeighJonathan LeighAlan H. LevineRabbi Ellen LippmannRabbi J. Rolando MatalonMarilyn Kleinberg NeimarkDonna NevelKathleen PeratisLetty Cottin PogrebinBertrand B. PogrebinMichael RatnerAnne RoipheBetty RollinAl RubenMarlene SandersJames SchamusDan SilvermanBeverly SolochekCarla SingerRabbi Felicia SolAlisa SolomonGloria SteinemHerbert TeitelbaumRebecca VilkomersonRabbi Burton VisotzkyPeter WeissJack WillisEugenia Zukerman
&
nbsp;[Adam Horowitz is Co-Editor of Mon​doweiss​.net ]
Be a Sustainer
We surveyed thousands of readers and asked what they would like to see in a monthly giving program. Now, for the first time, we're offering three different levels of support, with rewards at each level, including a magazine subscription, books, tote bags, events and more—all starting at less than 17 cents a day. Check out the new Sustainer program.