Opinion: When an Elected Official Goes Full Racist, It's Time To Go Negative
How a Chicago community is pushing back against the racist comments of a local official.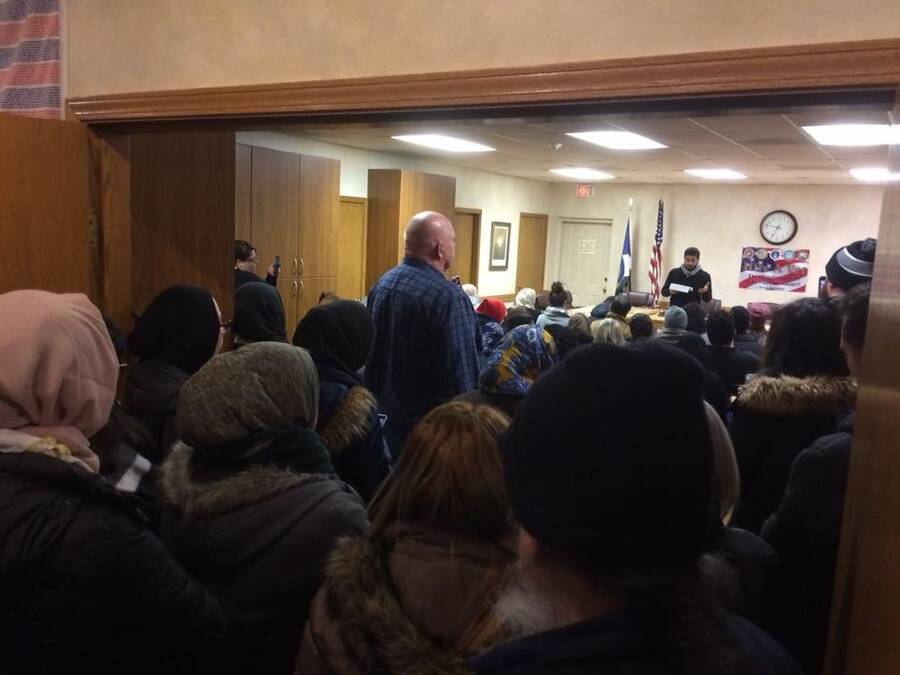 Over the past eight months, township meetings in the southwest suburbs of Chicago have turned into lively hubs of activism, community protests, teach-ins and rallies. A coalition led by the Campaign to TAKE ON HATE (TOH), a project of the National Network for Arab American Communities, has organized scores of community members and residents to appear at every meeting to demand that Palos Township Trustee Sharon Brannigan resign because of her hate speech targeting the Arab and Muslim communities of the southwest suburbs.
We determined that by focusing on removing a local official responsible for hate speech against our community, we could win a material victory against white supremacy in our own backyard.
In the Trump era, as communities face a tremendous rise in anti-Muslim, anti-Arab and anti-immigrant racism, this diverse Chicagoland community is showcasing an important strategy: going negative to demand the removal of an elected representative — instead of calling for the election of an alternative candidate.
The campaign is being waged in the Palos Township, home to one of the largest Arab populations in Illinois. The initiative is backed by grassroots Arab organizations including the Arab American Action Network and Arab American Family Services, as well as local groups such as the Chicago Alliance Against Racist and Political Repression, Palestinian American Community Center, Southsiders for Peace, Southwest Suburban Activists and Southwest Diversity Collaborative. The authors of this article are both organizers for the campaign.
While the momentum is new, Brannigan's troubling rhetoric is not: The trustee has made hateful remarks targeting Arabs, Muslims and immigrants on social media since 2015. Most recent was a 2017 attack on Middle Eastern students posted on Facebook, stating: ​"Why are all our schools filling with Middle East students without proper documentation?"
In another social media post earlier in 2017, Brannigan expressed her support for Melania Trump's refusal to wear the head scarf while visiting Saudi Arabia, stating: ​"WE AMERICAN WOMEN ARE BEING REPRESENTED WITH DIGNITY." Brannigan's statement implies that wearing the Hijab is undignified.
In a 2015 social media post, Brannigan wrote, ​"In the 3rd district here in Illinois, our demographics include 25% Muslims of which very few integrate within the communities keeping themselves and their activities hidden from the general population." In that same post, she added, ​"Everywhere you turn, from Orland Park to Bridgeview, those numbers are increasing in leaps and bounds. We are allowing these people whether they have peaceful intentions or not into our country without question."
We use the term ​"hate speech" to describe these posts because Brannigan's comments clearly single out Arab and Muslim communities, based on race, religion and place of origin. We also use ​"racism" because Brannigan holds a position of structural power, so her bigotry and prejudice can have material consequences on people's lives.
Months after the local community expressed mass outrage, Brannigan issued a letter of apology, stating that she believes the ​"issues have been distorted," and adding that she is ​"willing to meet with any Arabs or Muslims in Palos Township to discuss this further and have a responsible dialogue." But she had every opportunity to extend her hand after the statements were discovered, and never did. In fact, she did the opposite, insisting that she had the right to make those statements, which she claims are protected under the First Amendment, and neglecting to recognize the impact of hateful speech by elected officials. Because her apology is a clear example of political expediency, the coalition rejects it and continues to demand her resignation.
A winnable campaign against white supremacy
The uniqueness of the #ResignBrannigan campaign lies in two key components: re-strategizing our response to the rise of white supremacy, and rethinking the engagement of historically marginalized communities in the electoral process.
In the current political moment, there is much debate about how best to counter the rise of white supremacy across the United States. From its inception, the #ResignBrannigan campaign understood the connection between hate speech and the rise in hate crimes. We determined that by focusing on removing a local official responsible for hate speech against our community, we could win a material victory against white supremacy in our own backyard.
This strategy is important because it makes the threat of white supremacy tangible for communities to organize against. It gives us a local, winnable campaign that connects our victory to the struggle against white supremacy everywhere in the United States. Local communities may feel overwhelmed by racist policies such as the Muslim ban, and racist mobilizations like the one in Charlottesville, but #ResignBrannigan gives us an opportunity to strike a real blow against white supremacy.
The campaign also connects a historically marginalized and ignored people, the Arab community of the southwest suburbs of Chicago, to a new way of doing electoral organizing: negative campaigning. While our community has had a small number of people run for local office, with varying levels of success, the #ResignBrannigan campaign has flipped traditional electoral work on its head by calling for the removal of an elected representative instead of for the election of an alternative candidate. This approach has allowed our coalition to mobilize larger numbers of community members than a traditional electoral campaign, including non-citizens, undocumented people and youth — all of whom would be unable to vote in a traditional election.
This tactic is not new or even unique to the #ResignBrannigan campaign; it comes off the heels of a similar strategy that led to a major victory in Illinois, with the electoral defeat of Cook County State's Attorney Anita Alvarez, following the success of the #ByeAnita campaign.
Our campaign, however, sets its sights beyond one individual. In addition to the demand that Brannigan resign, we are calling on Sean Morrison, Cook County Commissioner and head of the Palos Township Republican Organization, to take a stand against hate speech and condemn Brannigan. Morrison has condemned two GOP members when politically expedient to do so — Arthur Jones, open Nazi and candidate for Illinois' 3rd Congressional seat, and gubernatorial candidate Jeanne Ives, who authorized a racist and transphobic campaign advertisement. But he has remained silent on the racism of Sharon Brannigan.
Our message to Morrison — and all elected representatives — is clear: there is no place for neutrality on hate speech and racism.
The Rise of a New Left
"An engrossing, behind-the-scenes account of our decade's breakout political movement." –Atossa Araxia Abrahamian
For a limited time, when you donate $30 or more to support In These Times, we'll send you a copy of the new book, The Rise of a New Left: How Young Radicals Are Shaping the Future of American Politics, by Raina Lipsitz.

Bassem Kawar is the national campaign coordinator for the campaign to TAKE ON HATE. Muhammad Sankari is the lead youth organizer with the Arab American Action Network.