"The Death of the Optimism of an Entire Generation": College Students React to Trump's Election
Millennials—who overwhelmingly voted for Hillary Clinton—had a range of reactions, from despair to defiance.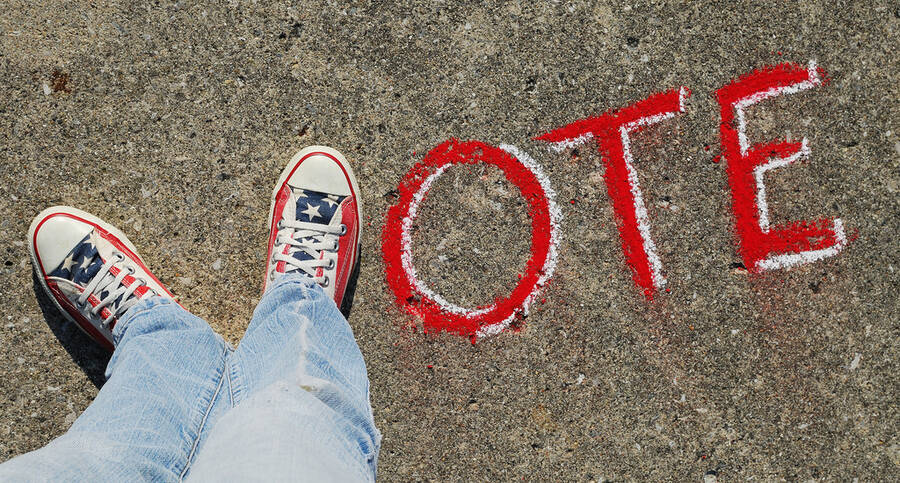 Like each new American presidential campaign, this one was the longest in history. Election Day was the culmination of 17 months' worth of anxiety, all compressed into six hours of punditry, memes and math. Less than two hours after Midwest polls closed, Pantsuit Nation began to convulse. This wasn't supposed to happen.
"I just think that this whole apocalyptic mood is ensuring that nothing is going to change, and that's what I fear the most."
A Survey Monkey interactive map showed Hillary Clinton as the overwhelmingly preferred candidate for registered Millennial voters (18 to 34 years old). The map, based on online polling from Oct. 25 to Nov. 7, showed that had only Millennials voted, the election would have been a blowout: Clinton with 473 electoral votes, Donald Trump with 32. According to the New York Times exit polls, Clinton beat Trump among voters 30-years-old and younger by 18 points — 55 percent to 37 percent.
Interviews conducted by In These Times with students at the University of Chicago, and with two additional college-age voters from Ohio and Indiana, reflected that strong support for Clinton among young people. The outcome inspired intense fear that the Trump administration will repeal Obamacare and gut policies and Supreme Court decisions that protect against discrimination and ensure the right to abortion. However, as the initial shock wears off, optimism is rising for some, based on the concrete victories achieved — the election of several women of color to state and federal positions, for example — and the potential for holding conservative policy-makers accountable in the 2018 midterm elections.
Gabi Mulder, a 21-year-old senior at the University of Chicago and a Clinton voter, describes an Election Night gathering that morphed from festive to somber.
As it became clear that Trump ​"was ahead by so much and really close to getting 270," says Mulder, ​"it was all just people sitting around in silence, trying to comfort those who looked shell-shocked, or sitting there not wanting to go to bed yet because we were too upset."
Discrimination and hate speech against minority groups, on the rise since the election, are a particular source of anxiety for women of color and those who identify as LGBTQ, as Mulder does.
Tuyaa Montgomery, a Siberian indigenous woman and 20-year-old junior at the University of Chicago, is a woman of color whose mother is an immigrant. ​"I'm scared about the aggressive rise in white supremacy and nationalism that I think has always existed in our country, but Trump gave them someone to rally behind," she says. ​"Trump and Mike Pence's policy on Planned Parenthood and reproductive rights are abysmal. I'm worried about my reproductive rights in this country as well as my racial identity." Montgomery voted for Clinton but was a Bernie Sanders supporter in the primaries.
Here are reactions from other students.
Austin Brown, 21-year-old senior at the University of Chicago, Clinton voter.
"The day after [the election], I went to [see] my friend who works at Harris Café and she came out from behind the counter and hugged me and started crying. I didn't expect it, but in hindsight, I also wasn't surprised. And then later, there were so many moments of solidarity, but also feelings of tragedy being instantiated everywhere."
Isaiah Newman, 20-year-old junior at the University of Chicago, Clinton voter.
"Tuesday night felt to me like — and I know this is being overdramatic — but in a lot of ways Tuesday night felt to me like the death of the optimism of an entire generation. I know that's not really true, I know there are plenty of people who are still optimistic, I know there are plenty of people in our generation who voted for Trump. … And their optimism isn't dead."
Daniel Schwartz, 20-year-old junior at the University of Chicago, Clinton voter.
"Relatively optimistic. Not that I think Trump is going to be a good president or anything, but just compared to everyone else around me — complete despair, thought it was the end of the world. … You know, it's obviously not good, but I think that most of what he would do would be reversible in a decade. I guess the only thing that I'm still concerned about is the environment."
Sammie Taylor, 21-year-old March Supermarket employee in Indiana, Trump voter.
"I think initially, I was quite honestly kind of excited because, until Tuesday, I had never voted before and I had never watched the election results come in before, so I was kind of like that little kid on Christmas Eve. … And then, a few minutes later, I don't know whether to call it in shock or in awe, but I was kind of a little — I didn't have any words for a little bit. … I bet I would feel the same way if Hillary was elected. I bet I would feel the same way if Johnson was elected. I don't want to call it relief, I wasn't grieving. I was just like, ​'Ok, Donald Trump's our president.'"
Dylan, whose last name is withheld as he is a service member, 22-year-old, Ohio, Clinton voter.
"First thing that came with it was numbness. I honestly couldn't believe it. I had been monitoring FiveThirtyEight, Nate Silver's projections, for a while, and he was showing a much closer race than any of the other polls. But I didn't expect it."
Willamina Groething, 21-year-old senior at the University of Chicago, Clinton voter.
"There have been a surprising number of hate crimes reported in the last 24 to 48 hours, which I did not expect so abruptly or so brazenly. And while I am not a minority, I am a woman, and seeing somebody who has been accused by women in the double digits of sexual assault, and who is going to trial for child rape in I think less than a month, it just feels like … not that I have no autonomy over my body, but that there's no recourse if someone were to violate that. And that's very scary."
Katherine Ordóez, 21-year-old senior at the University of Chicago, Clinton voter.
"Certainly, as the night went on — I should say dragged on — the initial wave of optimism grew calmer and calmer. As the election was drawing to a close, there was certainly a lot more panic in the air, there was screaming at some point, lots of crying. It had felt like, I had to imagine, learning that your president had been shot. Something like that."
Charissa Newkirk, 21-year-old senior at the University of Chicago, Clinton voter.
"I guess I had already kind of prepared myself for when [Clinton] finally conceded and they called it. Just because they had the electoral map up, all these states were pulling red, I just kind of knew that it was going to happen. But when I finally had the alert that she had conceded, I felt a little bit defeated. But at least I prepared myself for that point. I didn't burst into tears or anything, just defeated."
All ten of the interviewees here were first-time voters (for a presidential ballot) in 2016. Seven of the ten respondents did not vote in the primaries. The majority note that before 2012, they had not followed or volunteered in the presidential elections. In some sense, this election was a double first for them: the first time as active, voting participants — and the first time losing (all but one voted for Hillary Clinton). Many agree that the fear this election has produced also feels new.
"I was very fearful," says Newkirk, a mixed-race person of color. ​"I was fearful for my reaction, possibly, if I saw someone who had Trump signs or something. I honestly felt fear of how people were viewing me as a black person. And I hadn't felt that in a very long time."
Dylan, a self-described ​"Eisenhower Republican," says he is unable to support the current Republican Party. If it continues to uphold policies that threaten women's autonomy and normalize discrimination against people of color and LGBTQ-identifying people, he says, he will continue to cast liberal votes. Dylan voted for John Kasich in the Ohio primaries.
"A lot of [Trump supporters] just felt extremely disenfranchised, and they can see where I'm coming from," he says. ​"On the other hand, there are quite a few who look at me as a traitor. Who believe I'm a closet liberal, and that I am a Republican in name only. I've never really been referred to as a RINO before, I usually reserve that for the Tea Party [laughs]. So it's been a mix of both good and bad from the Trump camp."
Both Newkirk and Schwartz have seen a similar dynamic within the predominately liberal University of Chicago campus. They see the political bubble as both a barrier to progress and as an amplification of the emotional reaction from Clinton voters.
"People blew a lot of this out of proportion. … Now I see a bunch of people who want to punch Trump supporters," Newkirk says. ​"We do have political leaders that are willing to stand by POC, women. That's why we have lobbyists, special interest groups. … I just think that this whole apocalyptic mood is ensuring that nothing is going to change, and that's what I fear the most."
Taylor, a Trump voter but unaffiliated with any political party, was not enthusiastic about either candidate. She notes that, as a rape survivor, it was ​"difficult to fill in one bubble over the other," due to Trump's comments about women. But Clinton's handling of the private email scandal and the Benghazi attacks helped convince her to vote Trump. She also feels that it's time for ​"another point of view" in the White House. Taylor doesn't believe Trump will gain a second term, and because of that, she expects little to come from his presidency in terms of policy changes.
"By the time anything that Donald Trump does while he's in office actually comes into effect, and you can see that he did anything, the next four years are gonna be done."
While he does not share Taylor's expectation that Trump's presidency will not result in any significant policy changes, Schwartz says that he looks to the 2018 midterm elections as a source of optimism.
"It's scary that he and the Republicans hold all of the branches of government now, but in a couple of years, with the midterm elections, hopefully people will turn out to vote," Schwartz says. ​"And if Trump is as awful as people expect him to be, or 50 percent as awful as people expect him to be, there will be a lot of turnover in Congress and then, at least, his reign of terror will be stopped."
Others have looked at ways of voicing their opposition by supporting organizations they see as threatened by a Trump presidency. A Google document compiled by attorney Kara Hurvitz containing legal advice on immigration, disability rights, LGBTQ rights and more has circulated on social media in the wake of the election. Mulder is looking into donating to organizations committed to immigrant rights, women's rights and LGBTQ rights, among others. She's also interested in applying for an internship with the ACLU. Several of the individuals interviewed here plan to attend protests, but have not done so yet.
In the days following the election, there are also threads of optimism and acceptance mixed in with the anxiety. Ordóñez, a lesbian Latina and first generation Cuban-American, notes that ​"Donald Trump isn't a textbook Republican, and not all of his policies would be considered conservative. And that bothers a lot of Republicans. That being said, it's not your grandfather's GOP. I think there's been slow but real progress in bringing the GOP to the twenty-first century, and more aligned with things that most voters want."
Others have cited a number of races as sources of comfort and optimism: The elections of veteran and woman of color Tammy Duckworth (D-IL) to the Senate; the first Somali-American, Ilhan Omar, to the Minnesota House of Representatives; and Kamala Harris, the second African-American woman elected to the Senate, provide some consolation to those with deep concerns over the election results.
The path, however, is still uncertain. Some college-age voters refuse to accept the Republican candidate as president, while others are reluctant to say the words ​"President-elect Trump." It doesn't sound right just yet.
It took Groething eight seconds to respond when asked, ​"Do you accept Donald Trump as president?" Ultimately, she said yes.
"The word accept is difficult, because I can accept the numbers that tell me that the Electoral College should allocate enough delegates to Donald Trump to afford him the presidency of the United States. However, it's very difficult to accept that person as a leader, and as a representative of my country on an international stage. So, I think at this point, I intellectually accept, or rather acknowledge, the results of the election. But I am having a very difficult time emotionally accepting the results."
Be one of the first
Help kick off the new era of In These Times! Without a media that brings people together and creates a written record of the struggles of workers, their voices will be fragmented and forgotten.
The mission of In These Times is to be that written record, and to guide and grow those movements.
We have a lot of work ahead of us, and that work starts today. Early support is the most valuable support, and that's why we're asking you to pitch in now. If you are excited for this new era of In These Times, please make a donation today.
Olivia Adams
is a student at the University of Chicago and was an In These Times
2016
summer editorial intern.