The Cor­nu­copia Insti­tute is a non-prof­it orga­ni­za­tion based in Cor­nu­copia, Wis­con­sin. Through research and inves­ti­ga­tions into agri­cul­tur­al and food issues they advo­cate ​"eco­nom­ic jus­tice for the fam­i­ly-scale farm­ing com­mu­ni­ty" and pro­vide ​"need­ed infor­ma­tion to fam­i­ly farm­ers, con­sumers and oth­er stake­hold­ers in the good food move­ment." The insti­tute sup­ports eco­log­i­cal­ly-pro­duced, local and organ­ic food.
When Con­gress passed the Organ­ic Foods Pro­duc­tion Act of 1990, it cre­at­ed a unique pub­lic-pri­vate part­ner­ship of gov­er­nance. It vest­ed statu­to­ry pow­er in the Nation­al Organ­ic Stan­dards Board (NOSB). The organ­ic com­mu­ni­ty orig­i­nal­ly lob­bied Con­gress to cre­ate the NOSB to insu­late organ­ic reg­u­la­to­ry over­sight from the improp­er influ­ence of cor­po­rate agribusiness/​biotechnology lobbyists.
As Cor­nu­copia mem­bers and engaged organ­ic stake­hold­ers know, the spir­it and let­ter of the law have been gross­ly dis­re­spect­ed by cur­rent and pre­vi­ous admin­is­tra­tions at the USDA.
Free­dom of Infor­ma­tion Act
They say that, ​"Sun­shine is the best dis­in­fec­tant." In addi­tion to the USDA mon­key-wrench­ing the rule­mak­ing process by delay­ing the imple­men­ta­tion of stan­dards, until 2002, it has sub­se­quent­ly assist­ed Big Food by doing a yeoman's job of main­tain­ing a high degree of secre­cy, in spite of their crow­ing about ​"trans­paren­cy."
In response to a pat­tern of with­hold­ing doc­u­ments request­ed through the Free­dom of Infor­ma­tion Act (FOIA), The Cor­nu­copia Insti­tute has filed a series of law­suits that would help us gauge the per­for­mance of the Nation­al Organ­ic Pro­gram (NOP).
It's not that we don't receive any doc­u­ments from the USDA through FOIA. Rather, it's that they are vio­lat­ing the law in terms of time­li­ness and with­hold­ing doc­u­ments that, we believe, they are not enti­tled to sup­press (e.g. cri­te­ri­on allow with­hold­ing for per­son­al mate­r­i­al regard­ing employ­ees, con­fi­den­tial busi­ness prac­tices, or mat­ters con­cern­ing inter­nal deliberations).
In response to one FOIA request (we will be appeal­ing improp­er with­hold­ing of doc­u­ments), we sought details to inves­ti­gate how some of the rules gov­ern­ing the NOSB meet­ings were changed with­out con­sult­ing the board or inform­ing the public.
The most secret admin­is­tra­tion in history?
Upon tak­ing office, Pres­i­dent Oba­ma pro­claimed, ​"A new era of open­ness." How­ev­er, the AP found that, under Oba­ma, 17 major agen­cies were 50 per­cent more like­ly to deny FOIA requests than under Bush.
Not only has the USDA failed to pro­duce doc­u­ments, they are sys­tem­at­i­cal­ly with­hold­ing specifics about enforce­ment actions. Cloaked in secre­cy, how do enforce­ment actions act as a deter­rent if they aren't publicized?
If cor­po­ra­tions are caught ​"will­ful­ly" vio­lat­ing the law, they should be vig­or­ous­ly pros­e­cut­ed, fined, and/​or banned from organ­ic commerce.
Secret sci­en­tists
What else is secret at the NOP? Since it is not a sci­en­tif­ic body, but rather a diverse set of organ­ic stake­hold­ers, Con­gress gave the NOSB the abil­i­ty to hire inde­pen­dent sci­en­tists to advise them. This law has been his­tor­i­cal­ly vio­lat­ed. The USDA, rather than the NOSB mem­bers, has select­ed the scientists.
When Cor­nu­copia wrote the Organ­ic Water­gate Report, we found that the USDA was con­tract­ing with agribusi­ness exec­u­tives and con­sul­tants. Whoa Nel­ly! Is it any sur­prise that the sci­en­tists were look­ing the oth­er way when dan­ger­ous ingre­di­ents like car­rageenan, a very cost-effec­tive pro­cess­ing mate­r­i­al for agribusi­ness, were reviewed for inclu­sion in organ­ic foods?
How did the NOP solve this fla­grant con­flict of inter­est? They decid­ed to make the iden­ti­ties of all the sci­en­tists prepar­ing Tech­ni­cal Reviews for the NOSB secret! Not only does the pub­lic not know who they are, the NOSB mem­bers them­selves don't know.
Cor­po­rate lob­by­ist crybabies
Cor­po­rate inter­ests, includ­ing some NOSB mem­bers, have accused the Cor­nu­copia Insti­tute of bul­ly­ing and intim­i­da­tion. How are we doing that? We have the audac­i­ty to pub­licly tell the truth.
One par­tial FOIA response con­tained the copy of an email from the chief lob­by­ist of Hain Celes­tial, one of the largest pub­lic cor­po­ra­tions con­trol­ling organ­ic brands (West­brae®, West­Soy®, Earth's Best®, Arrow­head Mills®, Spec­trum Nat­u­rals®, Imag­ine Foods™, Rice Dream®, JASON®, Aval­on Organ­ics®, etc.).
In the email, Zareb Her­man, Reg­u­la­to­ry Affairs Direc­tor at Hain, said, "… Cor­nu­copia took a pho­to of her [their cor­po­rate rep­re­sen­ta­tive tes­ti­fy­ing at a NOSB meet­ing] and put it up on their web­site. They attacked our com­pa­ny on their web­site and on Face­book and twitter."
Attacked? First, we accu­rate­ly report­ed that Hain Celes­tial had sided with the USDA's strip­ping the NOSB of part of its abil­i­ty to remove syn­thet­ic mate­ri­als from the Nation­al List of approved sub­stances at Sun­set. Next, we chal­lenged their representative's mis­char­ac­ter­i­za­tion of Hain Celes­tial as a mod­est organ­ic busi­ness (Hain Celes­tial is cur­rent­ly worth $3.57 billion).
Major cor­po­ra­tions and the USDA, in gut­ting the strict pro­vi­sions of organ­ic gov­er­nance and open­ing the flood­gates in the organ­ic indus­try to pro­duc­tion by giant fac­to­ry farms and imports from coun­tries like Chi­na, don't like being called out pub­licly on the duplic­i­ty that is under­min­ing the organ­ic label.
Advo­cat­ing secre­cy instead of oversight
The FOIA response includ­ed a memo from Dr. Jean Richard­son, for­mer NOSB chair, to Miles McEvoy, Deputy Admin­is­tra­tor of the Nation­al Organ­ic Program.
Richard­son wrote to McEvoy, inquir­ing: ​"I would like to con­sid­er using sim­ple hand vot­ing in Octo­ber. Why do we do roll call? Are we required to have a record by indi­vid­ual name? Any legal rea­son not to do hand vote and just totals? Cor­nu­copia won't be able to rate our vot­ing record!"
To sep­a­rate the hyper­bole from actu­al vot­ing records, Cor­nu­copia has pub­lished a score­card, rat­ing each NOSB member's vot­ing record (and their cor­po­rate affil­i­a­tions). Employ­ees of com­pa­nies like Whole Foods, Driscoll's, and White­Wave (Hori­zon® and Earth­bound®) have abysmal scores when com­pared to pol­i­cy rec­om­men­da­tions of The Cor­nu­copia Insti­tute (and the major­i­ty of oth­er nonprofits).
Richard­son didn't crit­i­cize the accu­ra­cy of our score­card. She only tried to shield the cor­po­rate NOSB mem­bers, and oth­ers with low vot­ing records, from pub­lic scrutiny.
Con­gress designed the NOSB to actu­al­ly appoint and over­see the staff direc­tor at the NOP, not con­spire to impede the abil­i­ty of civ­il soci­ety groups to watch­dog the job the USDA is doing pro­tect­ing the pub­lic and the integri­ty of the organ­ic label.
As Har­ry Tru­man once said, ​"If you can't stand the heat, get out of the kitchen." Maybe I will say, in 2016, if the dis­in­fect­ing rays of sun­shine are too scorch­ing for com­fort, you are involved in the wrong indus­try. Because, as organ­ic farm­ers, eth­i­cal busi­ness peo­ple, and con­sumers, we con­sid­er this to be a val­ues-based indus­try, of which trans­paren­cy is one of the foun­da­tion­al precepts.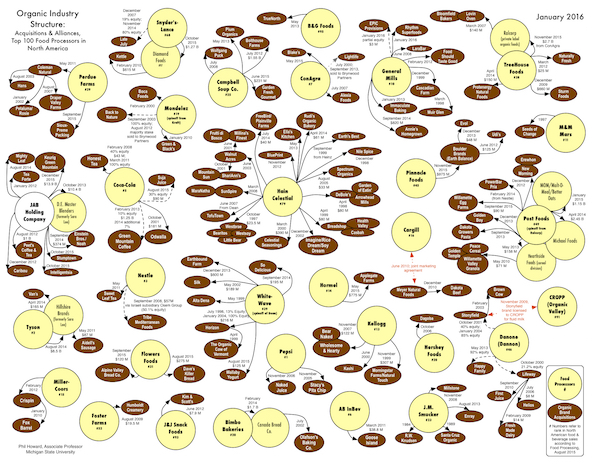 "Who owns organ­ic?" A chart depict­ing the cur­rent acqui­si­tions and alliances of the top 100 food pro­duc­ers in North Amer­i­ca. For bet­ter res­o­lu­tion, click here. (Image: cor​nu​copia​.org)
(A ver­sion of this arti­cle orig­i­nal­ly appeared on Cor​nu​copia​.org)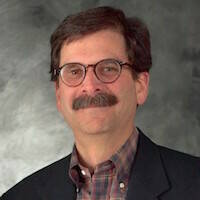 Mark Kas­tel
is co-founder of The Cor­nu­copia Insti­tute and direc­tor of its Organ­ic Integri­ty Project. He worked for agribusi­ness giants Inter­na­tion­al Har­vester and J.I. Case before mak­ing the par­a­digm shift to sus­tain­able farm­ing. He lives on a
160
-acre organ­ic farm in the rugged hills of south­west­ern Wis­con­sin, near the tiny burg of Rockton.