Making the Green New Deal Work for Workers
A true just transition means robust training, guaranteed jobs and pensions for fossil fuel industry workers.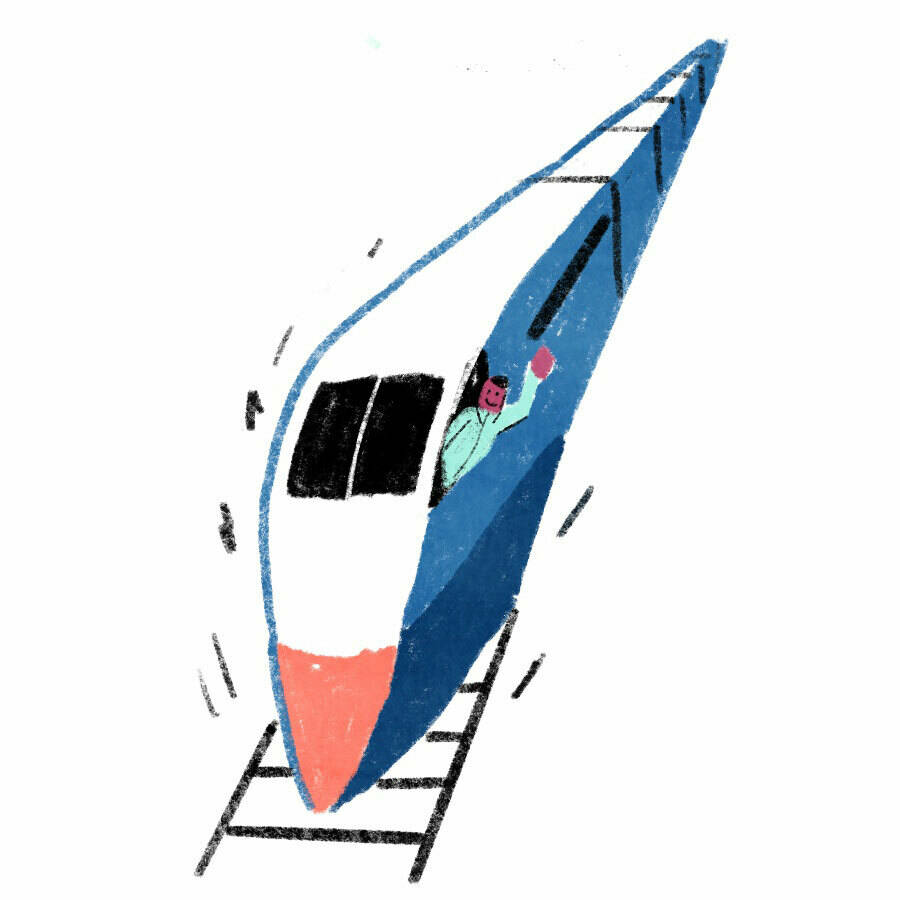 The Green New Deal presents the Amer­i­can work­ing class with the great­est oppor­tu­ni­ty for improv­ing our lives and gain­ing pow­er since the orig­i­nal New Deal of the 1930s. Respond­ing to cli­mate change will require the cre­ation of mil­lions of jobs, from pip­efit­ters and machin­ists to sci­en­tists and edu­ca­tors, which has the poten­tial to estab­lish a new pol­i­cy frame­work that makes work­ers' rights and orga­niz­ing cen­tral to the way our econ­o­my works.
The Green New Deal resolution calls for the government to guarantee a job for anyone who wants one, another counter to the concern that climate protection may lead to job losses.
But cur­rent­ly, the Green New Deal exists only as an out­line of goals—as usu­al, there are some dev­ils in the details. If fos­sil fuel use is elim­i­nat­ed, then work­ers who extract, process, trans­port and use fos­sil fuels are like­ly to lose their jobs. If a zero-car­bon air­plane can't be built, work­ers in avi­a­tion — not to men­tion the mil­i­tary — will also face loss­es. If elim­i­nat­ing the use of fos­sil fuels were to lead to mass eco­nom­ic dis­rup­tion, then all work­ers would suffer.
Of course, when economies and indus­tries are desta­bi­lized, some work­ers suf­fer more than oth­ers. Under the estab­lished pat­terns, work­ers who cur­rent­ly expe­ri­ence racial and gen­der dis­crim­i­na­tion would con­tin­ue to have less access to bet­ter jobs. And should the new cli­mate-safe econ­o­my replace good jobs with poor ones, then work­ers who take those new jobs will receive lit­tle ben­e­fit while the con­di­tions of their fel­low work­ers would be sub­ject to down­ward pres­sure. Green New Deal labor strate­gies must address all of these con­cerns in an inte­grat­ed way.
The orig­i­nal New Deal of the 1930s was not a sin­gle pro­gram or piece of leg­is­la­tion — it was a whole era of tur­moil. Besides its famous alpha­bet soup of fed­er­al agency names, the New Deal includ­ed exper­i­men­ta­tion at state, region­al and local lev­els; orga­niz­ing by unem­ployed, rur­al, urban, elder­ly and oth­er grass­roots con­stituen­cies, as well as labor; and live­ly debate on future alter­na­tives that went far beyond the poli­cies actu­al­ly imple­ment­ed. The Green New Deal will require a sim­i­lar process of social change — and la-bor can play a pow­er­ful role in shap­ing it.
Cur­rent­ly, orga­nized labor is divid­ed on the Green New Deal. A March let­ter by 10 unions on the AFL-CIO's en-ergy com­mit­tee said that, while ener­gy effi­cien­cy ini­tia­tives and strong labor stan­dards were need­ed, the Green New Deal res­o­lu­tion is ​"far too short on spe­cif­ic solu­tions" and ​"could cause imme­di­ate harm to mil­lions of our mem­bers and their fam­i­lies." On the oth­er hand, cen­tral labor coun­cils in California's San Diego and Impe­r­i­al coun­ties and Los Ange­les Coun­ty have endorsed the Green New Deal, as have the large 32BJ and 1199 locals of the SEIU. ​"We reside in coastal cities that have been flood­ed by storms like Hur­ri­canes Sandy and Maria, so we know this kind of ambi­tious, large-scale vision to reduce green­house gas­es and switch to renew-able ener­gies is both doable and indis-pens­able," reads 32BJ's state­ment. ​"This is an oppor­tu­ni­ty to tack­le eco­nom­ic inequal­i­ty and rein­dus­tri­al­ize Amer­i­ca with a green econ­o­my through jobs that, with the right train­ing, can pro­vide career lad­ders for many low-wage work­ers who strug­gle to afford the high cost of living."
An analy­sis by the Solu­tions Project found that a tran­si­tion to 100 per­cent renew­ables would cre­ate 4 mil­lion long-term jobs and mil­lions more short-term jobs — more, in total, than would be lost. Already, clean ener-gy jobs out­num­ber fos­sil fuel jobs 3 to 1. But to com­pen­sate work­ers who lose jobs in fos­sil fuel-relat­ed indus­tries and to aid fos­sil-fuel-depen­dent com­mu­ni­ties, new labor poli­cies will be needed.
While the Green New Deal res­o­lu­tion acknowl­edges this need, actu­al leg­is­la­tion will require more details. To get a new start in life, those who lose their jobs will need a sig­nif­i­cant cush­ion and tran­si­tion peri­od. Work­ers harmed by cli­mate pro­tec­tion poli­cies should receive full wages and ben­e­fits for at least four years, accom­pa­nied by access to no-cost edu­ca­tion or train­ing. Those ready to retire should be offered pen­sions with healthcare.
The edu­ca­tion and train­ing would har­mo­nize with the need to devel­op new labor force capa­bil­i­ties for the emerg­ing green econ­o­my. It could also help dis­trib­ute good jobs more just­ly. The U.S. work­force has long been divid­ed into a low-wage, low-qual­i­ty job sec­tor in which peo­ple of col­or, women, youth and oth­er mar­gin­al­ized groups have been con­cen­trat­ed, and a high­er-wage, more secure sec­tor that dis­pro­por­tion­ate­ly includes white men. By giv­ing pri­or­i­ty to those who have been exclud­ed from bet­ter train­ing and jobs, the Green New Deal could help end these inequalities.
The Green New Deal res­o­lu­tion calls for the gov­ern­ment to guar­an­tee a job for any­one who wants one, anoth­er counter to the con­cern that cli­mate pro­tec­tion may lead to job loss­es. This ​"jobs for all" pro­gram, or ​"cli­mate jobs guar­an­tee," builds from the con­cept of the fed­er­al gov­ern­ment as the employ­er of last resort. Recent pro­pos­als envi­sion a fed­er­al pro­gram to pro­vide funds for non­prof­it orga­ni­za­tions, local gov­ern­ments and oth­er pub­lic-ser­vice agen­cies to employ any­one who wants a job at approx­i­mate­ly $15 an hour plus health insur­ance and oth­er ben­e­fits, sim­i­lar to the New Deal's Works Progress Administration.
Such a jobs guar­an­tee is pos­si­ble because the tran­si­tion to a cli­mate-safe, fos­sil-free econ­o­my entails mil­lions of jobs that do not require a high skill lev­el. Work­ers with min­i­mal expe­ri­ence could weath­er­ize homes, install ener­gy effi­cien­cy improve­ments and serve as appren­tices on new con­struc­tion. They could con­duct waste removal and recy­cling, and plant trees to store car­bon. Work­ers with some expe­ri­ence, edu­ca­tion or cer­ti­fi­ca­tions could restore wet­lands, pro­vide ener­gy audit­ing, work on renew­able ener­gy instal­la­tions, elec­tri­fy build­ings, build new tran­sit infra­struc­ture, and work as dri­vers and atten­dants on an expand­ed tran­sit sys­tem. Or they could engage in food pro­duc­tion and dis­tri­b­u­tion, as well as the admin­is­tra­tive and cler­i­cal work that all of this entails. While the cli­mate jobs guar­an­tee would focus on jobs that help address the cli­mate cri­sis, it could also offer need­ed ser­vices in under­served, low-income communities.
To ensure that these gov­ern­ment-fund­ed jobs do not dri­ve down the stan­dards of oth­er jobs (by sup­ply­ing a cheap, com­pet­ing labor pool), the Green New Deal res­o­lu­tion right­ly stip­u­lates that they be high-qual­i­ty union jobs, offer robust ben­e­fits, hire local work­ers, and include train­ing and advance­ment opportunities.
But future Green New Deal leg­is­la­tion can go much fur­ther. By cre­at­ing large new indus­tri­al sec­tors depen­dent on the fed­er­al gov­ern­ment, the Green New Deal — like the orig­i­nal New Deal — offers an open­ing for the gov­ern­ment to expand labor pro­tec­tions. It can start by build­ing in fair labor stan­dards and the right to a safe and healthy work envi­ron­ment. Then, in order to gar­ner broad work­ing-class sup­port, the gov­ern­ment can restore the right to orga­nize, strike and engage in con­cert­ed action on the job; estab­lish strong state and local pre­vail­ing wage laws; and encour­age indus­try-wide bar­gain­ing. These pro­vi­sions are nec­es­sary to accom­plish the basic Green New Deal objec­tives of coun­ter­ing inequal­i­ty and abol­ish­ing poverty.
Orga­nized labor has been under siege so long that any change can be per­ceived as a threat, rather than an oppor­tu­ni­ty. Labor was sim­i­lar­ly wary of New Deal-era pro­grams that actu­al­ly offered it great oppor­tu­ni­ties for expand­ing its mem­ber­ship and pow­er. The Amer­i­can Fed­er­a­tion of Labor (AFL — the pre­de­ces­sor to today's AFL-CIO) ini­tial­ly opposed unem­ploy­ment insur­ance, a min­i­mum wage (except for women) and such New Deal pro­grams as the Civil­ian Con­ser­va­tion Corps, which pro­vid­ed jobs for 3 mil­lion young men between 1933 and 1942. While the AFL ini­tial­ly sup­port­ed the Nation­al Labor Rela­tions Act's estab­lish­ment of a Nation­al Labor Rela­tions Board (NLRB), the AFL soon became con­vinced the board was biased toward the rival fed­er­a­tion, the Con­gress of Indus­tri­al Orga­ni­za­tions, and became hos­tile ​"to the act and the board," accord­ing to the NLRB's offi­cial his­to­ry. The act and the board helped make pos­si­ble an increase in union mem­ber­ship from 3.5 mil­lion in 1935 to more than 14 mil­lion a decade later.
Orga­nized labor has a chance right now to avoid being on the wrong side of his­to­ry again.
Jere­my Brech­er
is research and pol­i­cy direc­tor of the Labor Net­work for Sus­tain­abil­i­ty and the author of
15
books on labor and social move­ments, includ­ing Strike! and Cli­mate Sol­i­dar­i­ty: Work­ers vs. Warming.