Union and Nonprofit Leaders: Labor Should Shift Its Focus to Organizing Black Workers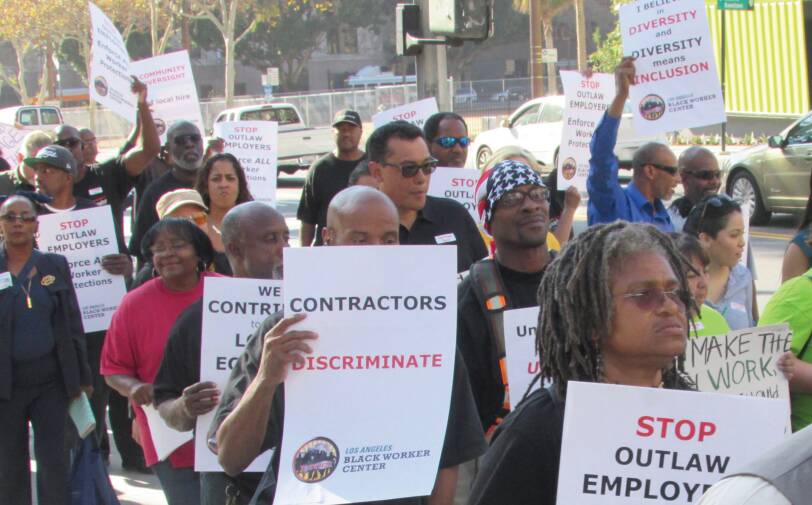 In 1956, as Mar­tin Luther King Jr. and Bayard Rustin strug­gled to sus­tain the his­toric boy­cott of seg­re­gat­ed pub­lic tran­sit in Mont­gomery, Alaba­ma, Rustin turned to the union leader A. Phillip Ran­dolph for advice. The car­pool for black work­ers was fal­ter­ing. ​"Go up to Birm­ing­ham," Ran­dolph told them, ​"where the steel work­ers are mak­ing enough to afford two cars. Ask them to donate their sec­ond car." Accord­ing to his­to­ri­an Judith Stein, King report­ed the steel work­ers saved the boycott.
At their height, Amer­i­can labor unions proved an invalu­able resource to the civ­il rights move­ment — through both finan­cial secu­ri­ty, which helped enable pri­vate activism, and the insti­tu­tion­al fund­ing of orga­ni­za­tions like SNCC and events like the 1964 March on Wash­ing­ton. Today, despite years of decline, the labor move­ment con­tin­ues to pro­vide eco­nom­ic sta­bil­i­ty in many black com­mu­ni­ties. Of all demo­graph­ic groups, black work­ers have the high­est union mem­ber­ship rates.
These his­toric ties have led some to see black work­ers as a cor­ner­stone to any effort to rebuild a move­ment in deep decline. And draw­ing from the nation­al momen­tum of orga­niz­ing around police reform, many black labor lead­ers today are lead­ing the charge. On Fri­day, May 1, black labor and com­mu­ni­ty lead­ers met at Colum­bia Uni­ver­si­ty for the third-annu­al State of Black Work­ers in Amer­i­ca Con­fer­ence, where they made this case to an audi­ence of phil­an­thropy staffers and activists.
"We've got to resist the black jobs cri­sis," said Lola Small­wood Cuevas, direc­tor of the Los Ange­les Black Work­er Cen­ter. ​"Our move­ment sees the deep con­nec­tion between eco­nom­ic jus­tice and racial jus­tice, and what that means for the safe­ty of our com­mu­ni­ty, par­tic­u­lar­ly young black men and women."
Nation­al­ly, black unem­ploy­ment is more than dou­ble white unem­ploy­ment. Cuevas points out the tremen­dous wealth gap between white and black fam­i­lies — medi­an house­hold wealth is $142,000 for whites, while only $11,000 for blacks — and says, ​"We're liv­ing through the same pover­ty that's been with us since after Reconstruction."
The con­fer­ence also occa­sioned the release of two reports on black lead­er­ship in labor unions and non­prof­its, and served as a pitch for phil­an­thropy to begin invest­ing in a new wave of black-led organizing.
"I am hope­ful that this [con­fer­ence] is an indi­ca­tion that there is an open­ing in phil­an­thropy to sup­port race-con­scious efforts to orga­nize black work­ers and com­mu­ni­ties," said Susan Wefald, Exec­u­tive Direc­tor of the Dis­count Foun­da­tion, which is hop­ing to spark increased fund­ing in black-led non­prof­its as it spends down its endow­ment this year and clos­es its doors.
Beyond phil­an­thropy, the con­fer­ence high­light­ed the crit­i­cal role union jobs have played in build­ing the black mid­dle class. ​"Because black women dis­pro­por­tion­ate­ly are sin­gle heads of house­holds," said Kim­ber­ly Free­man Brown, the lead author of one of the reports, ​"their income, their eco­nom­ic sta­bil­i­ty, their retire­ment secu­ri­ty — that deter­mines the community's security."
Dein­dus­tri­al­iza­tion and aus­ter­i­ty have tak­en away much of that secu­ri­ty. To cite one city, between 2010 and 2015 Bal­ti­more lost near­ly 9,000 gov­ern­ment jobs accord­ing to the Bureau of Labor Sta­tis­tics, despite a growth in pop­u­la­tion. Since 1990, the ear­li­est data avail­able, the city has shed over 17,000 pub­lic sec­tor jobs, a rate slight­ly high­er than the city's pop­u­la­tion decline dur­ing the same period.
Respond­ing to this cri­sis means enlist­ing the black com­mu­ni­ty to pro­tect the pub­lic sec­tor against bud­get cuts and right to work, says Pier­rette Tal­ley, Sec­re­tary Trea­sur­er of the Ohio AFL-CIO. ​"When you first look at the pol­i­cy of the elim­i­na­tion of col­lec­tive bar­gain­ing rights for pub­lic employ­ees, it appears to be race neu­tral," she said, recount­ing the labor-led cam­paign against the 2011 Ohio law SB 5, which strong­ly lim­it­ed col­lec­tive bar­gain­ing rights for pub­lic employ­ees. (A mas­sive cam­paign by unions in the state even­tu­al­ly repealed the law.) ​"But when you looked clos­er, of the 350,000 pub­lic sec­tor work­ers that were under attack in Ohio, twen­ty per­cent of those work­ers were African Amer­i­can." Less than 14 per­cent of Ohio's total pop­u­la­tion is black.
But the sim­plest response to the black jobs cri­sis urged at the con­fer­ence is for unions to orga­nize black women workers.
"Black women want to be orga­nized," said Free­man Brown, cit­ing research con­duct­ed by Kate Bron­fen­bren­ner, as well as her own sur­vey of near­ly 500 black women in orga­nized labor and work­er cen­ters. Dis­ag­gre­gat­ing NLRB data from the late 1990s, Bron­fen­bren­ner found that women of col­or have the high­est union elec­tion rates among all work­ers, win­ning 82 per­cent of union elec­tions when they made up three-quar­ters of the bar­gain­ing unit. This is in part because major­i­ty-women work­places tend to be in the low-wage ser­vice sec­tor — work­places least vul­ner­a­ble to out­sourc­ing — where work­ers stand to win much through col­lec­tive bargaining.
Many pan­elists argued that invest­ments in black women orga­niz­ers are a much-need­ed cat­a­lyst for union growth. ​"Black women want to be orga­nized by oth­er black women orga­niz­ers," said Free­man Brown, cit­ing Bron­fen­bren­ner, who found that when the orga­niz­er was also a woman of col­or, union elec­tion win rates for major­i­ty-black bar­gain­ing units jumped to 89 per­cent. ​"It's not just that they want to see oth­er peo­ple that look like them," Free­man Brown explained. ​"The black com­mu­ni­ty has been promised so much and has received so lit­tle, that there is often a high degree of mis­trust [of white organizers]."
Black Eco­nom­ic Power
And it is not only union lead­ers who stand to ben­e­fit from black work­er activism. Because sig­nif­i­cant num­bers of black work­ers are locat­ed at some of the key strate­gic nodes in the Amer­i­can econ­o­my, many have tremen­dous lever­age to affect employ­ers' bot­tom line, allow­ing them to nego­ti­ate bet­ter wages and work­ing con­di­tions from a posi­tion of strength.
"Ware­hous­ing and trans­porta­tion has one of the biggest con­cen­tra­tions of black work­ers of any eco­nom­ic sec­tor," says Mark Mein­ster, Exec­u­tive Direc­tor of Ware­house Work­ers for Jus­tice (WWJ). ​"There's about 1.5 mil­lion — the concentration's big­ger than retail, it's big­ger than health­care. A quar­ter of all fork­lift oper­a­tors in the Unit­ed States are black."
Mein­ster, who is white, has worked for five years orga­niz­ing among the 120,000 ware­house work­ers who staff the nation­al retail sup­ply chain cen­tered in Illi­nois. He says the black work­ers at the bot­tom of the indus­try pay scales have always been a crit­i­cal part of the campaign.
Where­as work­ing in a ware­house was once a high-wage union job, in the past two decades there has been a mas­sive explo­sion of non-union temp employ­ment, with around 80,000 temp work­ers in the local indus­try, accord­ing to Mein­ster. The remain­ing direct hires are often sub­ject­ed to ​"struc­tur­al dis­crim­i­na­tion" includ­ing the ​"mis­use" of crim­i­nal back­ground checks, forc­ing much of the black work­force into the temp agen­cies that pay as much as $6 an hour less in wages. ​"That bot­tom rung is now being occu­pied by for­mer­ly incar­cer­at­ed black work­ers," Mein­ster says, explain­ing that ​"crim­i­nal back­ground checks are now real­ly becom­ing a man­age­ment strat­e­gy to depress wages."
Near­ly half of the temp ware­hous­ing work­force is black, he says, and ​"every year the pro­por­tion has gone up and up and up."
Because of the stan­dard­iza­tion of the temp­ing strat­e­gy in the ware­hous­ing indus­try, Meinster's orga­ni­za­tion has had to use race-con­scious efforts to orga­nize those with the most to win from col­lec­tive action. Ware­house Work­ers for Jus­tice has a black cau­cus, and the new strat­e­gy means devel­op­ing black lead­er­ship in the cam­paign to trans­form the low-wage economy.
But open­ing employ­ment to for­mer inmates won't be enough to recre­ate the high-wage jobs that once sus­tained the black mid­dle class. As Mein­ster notes, ​"There are few instances in indus­tri­al economies where pol­i­cy advo­ca­cy, work­force devel­op­ment strate­gies and rely­ing on good-heart­ed employ­ers alone have worked to trans­form an entire low-wage sec­tor." In 2012, ware­house work­ers sup­port­ed by Ware­house Work­ers for Jus­tice led a three-week strike which cul­mi­nat­ed and a civ­il dis­obe­di­ence action by ware­house work­ers and com­mu­ni­ty sup­port­ers in Joli­et and Elwood, Illi­nois, ​"great­ly impact­ing" the Wal­mart sup­ply chain through­out much of the Mid­west. Work­ers say they may have cost the com­pa­ny mil­lions of dollars.
In the years since, wages in that ware­house have risen dra­mat­i­cal­ly, says Mein­ster, with start­ing wages mov­ing from $8.50 per hour to around $12, and ware­house oper­a­tor Schnei­der Logis­tics has com­mit­ted to phas­ing out the use of temps, mov­ing to direct hire posi­tions that earn around $16.
"At some point you have to chal­lenge cap­i­tal direct­ly, and that means look­ing at those areas of the econ­o­my where work­ers have poten­tial eco­nom­ic pow­er. One of those is ware­hous­ing," said Meinster.
Doing so won't just mean more sta­ble jobs at high­er wages for only black work­ers. As Small­wood Cuevas says, ​"the con­di­tions that were once unique to the black com­mu­ni­ty are broad­er." The loss of union­ized, high-wage jobs, while par­tic­u­lar­ly dear to the black work­force, has affect­ed neigh­bor­hoods of every col­or. ​"It impacts every­one now. If the black jobs cri­sis is allowed to exists, where over 50 per­cent of some com­mu­ni­ties are allowed to be unem­ployed, it will also under­mine white fam­i­lies," she says. ​"These con­di­tions will end up sub­ur­ban Illi­nois, where we've seen them, in Appalachia, in Virginia."
"If we want to rebuild our econ­o­my," she says, ​"we have to start with the black community."
Andrew Elrod
is writer liv­ing in New York. He is a con­trib­u­tor and for­mer intern at
Dis­sent
. He is from Texas. Fol­low him on Twit­ter at @andrewelrod or reach him at elrod.andrew [at] gmail [dot] com.