Puerto Rico's Longest-Held Political Prisoner Just Walked Out of U.S. Prison
Oscar López Rivera was welcomed home by large crowds in the Chicago neighborhood where he once lived.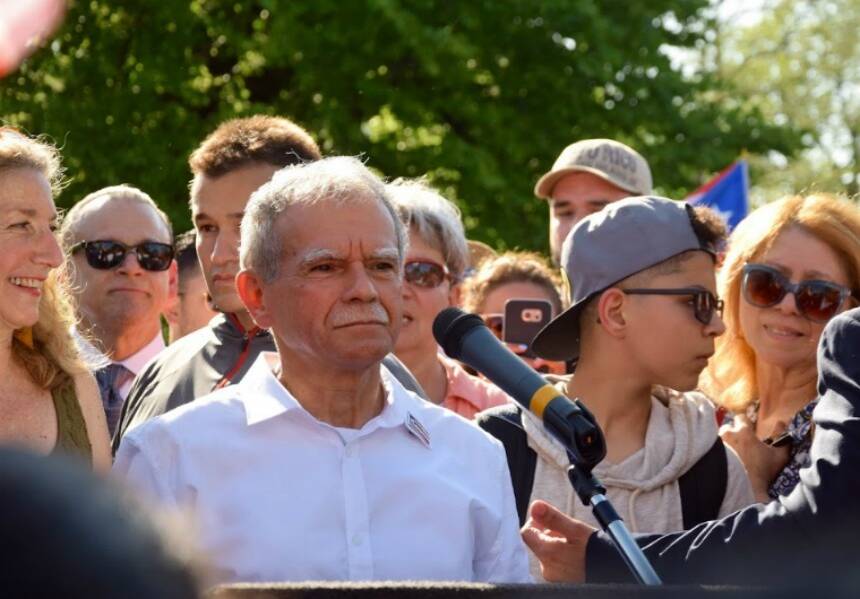 After 36 years as a polit­i­cal pris­on­er, freed Puer­to Rican inde­pen­dence activist Oscar López Rivera received a hero's wel­come on May 18 in the streets of Chica­go, where hun­dreds con­verged at a wel­come-home cer­e­mo­ny in Paseo Boricua, a Puer­to Rican neigh­bor­hood in the city's West Side. The pro­ces­sion came one day after Rivera walked out of prison, fol­low­ing for­mer Pres­i­dent Barack Obama's com­mu­ta­tion of the 74-year-old's sen­tence and end­ing his sta­tus as the longest-held U.S. polit­i­cal pris­on­er from Puer­to Rican lib­er­a­tion movements.
That decolonization struggle continues today in Puerto Rico, where social movements are fighting austerity enforced by a U.S.-imposed junta.
"The col­o­nized have a right to fight for inde­pen­dence," Rivera declared from a plat­form fac­ing the crowd of sup­port­ers, some of whom had spent decades fight­ing for his release. ​"Colo­nial­ism is a crime against human­i­ty." Reflect­ing on his incar­cer­a­tion, Rivera said he'd nev­er lost the hope of see­ing the faces from his old neigh­bor­hood again. His mis­sion in life, to strug­gle against neo­colo­nial­ism in Puer­to Rico, had been renewed, he proclaimed.
Before he was incar­cer­at­ed, Rivera's orga­niz­ing and vision was piv­otal for Chicago's Puer­to Rican com­mu­ni­ty. When Rivera moved with his fam­i­ly to Chica­go at age 14, gen­tri­fi­ca­tion had pushed Puer­to Ricans out of Lin­coln Park and into intense­ly seg­re­gat­ed areas of the city, such as Hum­boldt Park. Puer­to Ricans faced ram­pant dis­crim­i­na­tion in pub­lic schools and lived in sub­stan­dard hous­ing oper­at­ed by slum­lords. Rivera began orga­niz­ing in Chica­go in the 1960s after return­ing from ser­vice in the Viet­nam War, join­ing the vibrant Puer­to Rican lib­er­a­tion move­ments that were sweep­ing the country.
Rivera was arrest­ed in 1980 and con­vict­ed in 1981 for charges includ­ing ​"sedi­tious con­spir­a­cy" relat­ed to the activ­i­ties of Fuerzas Armadas de Lib­eración Nacional (FALN), a rev­o­lu­tion­ary group that advo­cat­ed for self-deter­mi­na­tion and auton­o­my for Puer­to Rico, one of five remain­ing U.S. colonies. The group claimed respon­si­bil­i­ty for bomb­ings of U.S. gov­ern­ment and eco­nom­ic tar­gets in major U.S. cities in the 1970s and 80s.
Rivera refused to rec­og­nize any court that treat­ed him as a crim­i­nal. He assert­ed his right, under inter­na­tion­al law, to engage in strug­gle against colo­nial­ism, thus declar­ing him­self a pris­on­er of war. Rivera's sup­port­ers have con­sis­tent­ly main­tained that his heavy charges con­sti­tut­ed polit­i­cal pun­ish­ment aimed at quelling large-scale Puer­to Rican lib­er­a­tion movements.
Rivera was ini­tial­ly sen­tenced to 55 years in prison and was lat­er hand­ed a 15-year term for con­spir­a­cy to escape after he was tar­get­ed by a ​"plot con­ceived and car­ried out by gov­ern­ment agents and informants/​provocateurs," accord­ing to the People's Law Office, which rep­re­sent­ed Rivera. In 1999, for­mer Pres­i­dent Bill Clin­ton offered Rivera and oth­er FALN mem­bers a clemen­cy deal, but Rivera reject­ed on the offer, his lawyers say, on the grounds that it did not extend to all Puer­to Rican polit­i­cal prisoners.
When Oba­ma, in one of his final acts, com­mut­ed Rivera's sen­tence, the for­mer pres­i­dent secured the free­dom of the last Puer­to Rican polit­i­cal pris­on­er. Since his com­mu­ta­tion in Jan­u­ary, Rivera's long­time attor­ney Jan Susler says he has expressed sol­i­dar­i­ty with polit­i­cal pris­on­ers of oth­er move­ments, par­tic­u­lar­ly from the anti-impe­ri­al­ist, Amer­i­can Indi­an, and Black free­dom move­ments. Leonard Pelti­er and Dr. Mutu­lu Shakur are among those still locked up.
Speak­ing as a free man, Rivera addressed a crowd that includ­ed stu­dents from the alter­na­tive high school he helped found, Dr. Pedro Albizu Cam­pos High School, who lined his path with Puer­to Rican flags in hand. Tony Williams, an 18-year-old senior at Albizu Cam­pos, was part of a group of stu­dents that trav­eled to Wash­ing­ton D.C in Jan­u­ary to deliv­er let­ters to then-Pres­i­dent Barack Oba­ma, peti­tion­ing for Rivera's release. Williams told In These Times that Rivera's release was a ​"big step" but ​"not the end of" the strug­gle for jus­tice. ​"It goes to show we can make a dif­fer­ence when we unite," he underscored.
Bar­bara Rans­by, Uni­ver­si­ty of Illi­nois at Chica­go pro­fes­sor and direc­tor of the Social Jus­tice Ini­tia­tive, called the event a moment of ​"reunion, vin­di­ca­tion, and recla­ma­tion" in an address to the crowd. Glob­al move­ments for jus­tice had not for­got­ten Rivera, bring­ing his name and strug­gle into spaces of resis­tance, she empha­sized. ​"Even if you were not with us, you were with us," said Ransby.
The pro­ces­sion was speck­led with Puer­to Rican, as well as Pales­tin­ian and queer pride flags. Ras­mea Odeh, a Pales­tin­ian activist and for­mer polit­i­cal pris­on­er, told the crowd that the strug­gles for the lib­er­a­tion of Pales­tine and inde­pen­dence in Puer­to Rico are con­nect­ed by sol­i­dar­i­ty move­ments in Chica­go. ​"He has not just been your leader," Odeh told the crowd. ​"He's been our leader too."
Odeh start­ed her sen­tence in an Israeli prison a decade before Rivera began his. She will soon be forcibly deport­ed as a con­di­tion of a plea deal with the U.S. gov­ern­ment, a deci­sion she made with the back­ing of a move­ment who helped her resist legal per­se­cu­tion. Address­ing the crowd, Odeh declared that Rivera taught move­ments what it ​"means to be prin­ci­pled and committed."
Like Odeh, Rivera has been smeared in the press. Ricar­do Jiménez, a vet­er­an of the Puer­to Rican inde­pen­dence move­ment and a for­mer polit­i­cal pris­on­er, was upset with the fram­ing in news arti­cles ques­tion­ing whether Rivera was a ​"ter­ror­ist or hero," argu­ing that the sto­ry is being framed as if U.S. colo­nial­ism is not part of the con­text. ​"The def­i­n­i­tion of what a ​'ter­ror­ist' is belongs to the nation," he told the crowd. ​"In Latin Amer­i­ca, we define our heroes."
Susler was the one who called Rivera to inform him about his com­mu­ta­tion. ​"He was able to sur­vive all the puni­tive mea­sures the gov­ern­ment threw at him to try to break him," she told In These Times. ​"He sur­vived with his sense of humor, his pol­i­tics and his com­mit­ment intact."
Susler declared that Rivera's release is ​"a win for peo­ple across the [Puer­to Rican] dias­po­ra, those who in the face of the injus­tice, said ​'no, this can't keep going on.'" Accord­ing to Susler, her work to free Rivera tran­scends the typ­i­cal client-attor­ney rela­tion­ship. She sees her­self as a com­pañera de lucha, a con­trib­u­tor to an inter­na­tion­al ​"decol­o­niz­ing process."
That decol­o­niza­tion strug­gle con­tin­ues today in Puer­to Rico, where social move­ments are fight­ing aus­ter­i­ty enforced by a U.S.-imposed jun­ta. In 2016, Con­gress installed a fis­cal con­trol board which osten­si­bly is set up to find ways to pay back more than $70 bil­lion in bond debt, much of which is ​"owed" to Wall Street cred­i­tors. More than 40 per­cent of Puer­to Ricans live below the pover­ty line, while child pover­ty neared 60 per­cent in 2015.
Now that he is free, Rivera plans to trav­el across this aus­ter­i­ty-rav­aged island and, accord­ing to Susler, will vis­it each one of the 78 munic­i­pal­i­ties of Puer­to Rico. ​"He's missed his peo­ple," she said. ​"He is thirsty to hear what peo­ple want and fig­ure out where he best fits in with cur­rent movements."
Rivera will be back in Chica­go on June 17, lead­ing the annu­al Puer­to Rican parade as grand mar­shal. Susler sees no rea­son why the gov­ern­ment would attempt to bring any fur­ther charges against Rivera. ​"He's done with his sen­tence," she declared. ​"He will live his life and con­tin­ue to strug­gle for free­dom and jus­tice for Puer­to Rico and for the world."
Martín Xavi Macías
is a mul­ti­me­dia jour­nal­ist and dig­i­tal media edu­ca­tor based in Chica­go. You can fol­low him on Twit­ter at @mxm_chi.