OSHA Under Trump Is Tight-Lipped—Democratic Senators Demand To Know Why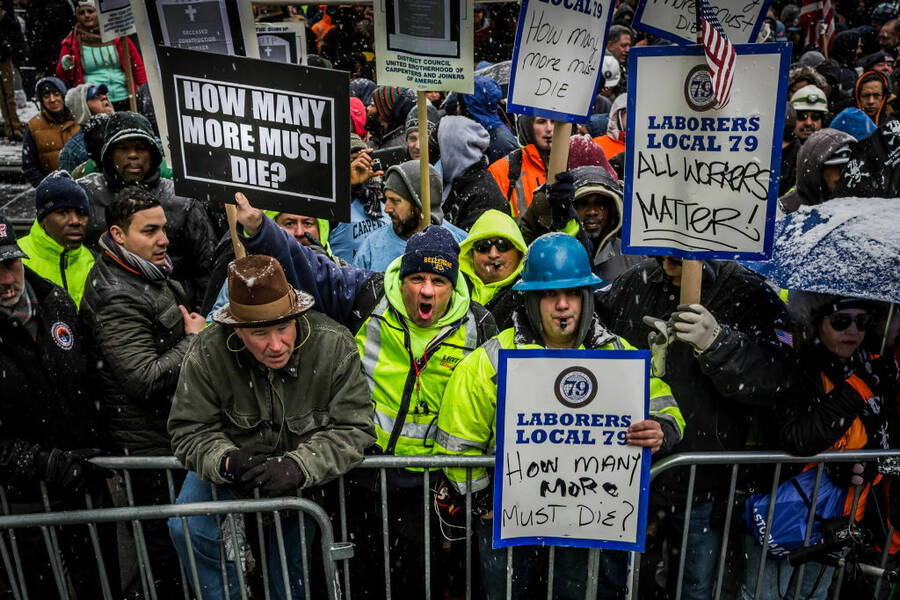 This arti­cle was first post­ed by FairWarning.
In the four months since Pres­i­dent Trump took office, the fed­er­al Occu­pa­tion­al Safe­ty and Health Admin­is­tra­tion has issued four news releas­es announc­ing penal­ties for job safe­ty violations.
By the end of May last year, it had issued 199.
The recent ret­i­cence has spurred six U.S. sen­a­tors, all Democ­rats, to ask what's up at OSHA. In a let­ter to OSHA's par­ent agency, the Depart­ment of Labor, the six law­mak­ers are demand­ing a review of the agency's ​"deci­sion to cease pub­lic noti­fi­ca­tion of major findings."
Under pre­vi­ous Demo­c­ra­t­ic and Repub­li­can admin­is­tra­tion, OSHA has used announce­ments of major enforce­ment actions, and the threat of bad pub­lic­i­ty, to com­bat health and safe­ty hazards.
"For employ­ers, they serve as a reminder to imple­ment require[d] safe­guards, which in turn could save work­ers' lives," stat­ed the let­ter, signed by Mass­a­chu­setts' Eliz­a­beth War­ren, Vermont's Bernie Sanders, Minnesota's Al Franken, Washington's Pat­ty Mur­ray, Connecticut's Christo­pher Mur­phy and Pennsylvania's Robert P. Casey Jr. ​"For employ­ees, they serve as an impe­tus to report wrong­do­ing, there­by pro­tect­ing them­selves and their coworkers."
The shift in tac­tics was first report­ed by Fair­Warn­ing in ear­ly March. At that point, OSHA had failed to announce a sin­gle enforce­ment action since the Jan. 20 inauguration.
In April, OSHA final­ly broke its silence, announc­ing penal­ties of $1.475 mil­lion against Atlantic Drain Ser­vice of Boston relat­ed to last October's deaths of two work­ers in a trench collapse.
A break with the past
Yet by then, accord­ing to the sen­a­tors' let­ter, OSHA had already assessed more than 100 fines greater than $40,000 — the thresh­old for pub­lic dis­clo­sure dur­ing the Oba­ma Admin­is­tra­tion. A Fair­Warn­ing review of records for the last year of the Repub­li­can admin­is­tra­tion of George W. Bush also revealed a steady stream of enforce­ment news releases.
Anoth­er sign of the break with the past is that the OSHA web­site now includes an advi­so­ry on pre-Trump news releas­es that reads: ​"Please note: As of Jan­u­ary 20, 2017, infor­ma­tion in some news releas­es may be out of date or not reflect cur­rent policies."
The Demo­c­ra­t­ic law­mak­ers say in their let­ter that the spot­light on vio­la­tors dur­ing the Oba­ma admin­is­tra­tion ran­kled some employ­ers, who viewed it as unfair pub­lic sham­ing. ​"Lob­by­ists for trade groups and large employ­ers have opposed these dis­clo­sures, claim­ing that the data will be ​'dis­tort­ed' or ​'mis­con­strued,'" the sen­a­tors wrote.
But, they added, ​"pub­lic com­mu­ni­ca­tion regard­ing these find­ings is impor­tant for OSHA to ful­fill its mission."
Labor advo­cates say high­light­ing abus­es is a cru­cial tool to deter bad employ­ers because OSHA is so thin­ly staffed that, accord­ing to union researchers, it would take the agency 145 years work­ing at its nor­mal pace to inspect every work­place under its juris­dic­tion just once.
OSHA offi­cials did not respond to a request for com­ment on the Sen­ate letter.
"

What real­ly scares them is get­ting men­tioned in a press release"

Jor­dan Barab, the No. 2 OSHA offi­cial in the Oba­ma Admin­is­tra­tion, said that the $40,000 thresh­old had proven a smart strat­e­gy for boost­ing work­place safety.

"Attor­neys have told us that their clients don't care about low OSHA fines; what real­ly scares them is get­ting men­tioned in a press release," he said in an email. Such announce­ments also show work­ers ​"that OSHA is on the job and what their rights are."

Since OSHA's April 12 announce­ment about Atlantic Drain — which was indict­ed, along with its own­er, two months ear­li­er on manslaugh­ter charges — the agency has issued three oth­er news releas­es involv­ing fines to com­pa­nies in injury cases.

The sen­a­tors' let­ter calls on the Labor Department's inspec­tor gen­er­al to review the change in infor­ma­tion pol­i­cy, includ­ing pos­si­ble involve­ment by the White House and Trump tran­si­tion team members.
Safe­ty reg­u­la­tion delays
The sen­a­tors also ask for a review of deci­sions to delay new safe­ty reg­u­la­tions aimed at reduc­ing work­ers' expo­sure to can­cer-caus­ing sil­i­ca and beryllium.
A beryl­li­um rule, adopt­ed after 15 years of study and delayed twice since the inau­gu­ra­tion, took effect May 20, two days after the sen­a­tors sent their let­ter, OSHA offi­cials say. How­ev­er, the com­pli­ance dead­line for ship­builders, con­struc­tion firms and oth­er employ­ers is not until March 2018, and OSHA already is prepar­ing revi­sions that, crit­ics fear, will dilute the new standards.
Enforce­ment of tougher restric­tions on expo­sure to crys­talline sil­i­ca, which can cause lung can­cer and oth­er res­pi­ra­to­ry dis­eases, has also been delayed by two months, to Sept. 23.
The Depart­ment of Labor ​"final­ized both rules only after lengthy, thor­ough, and trans­par­ent rule­mak­ing process­es," the sen­a­tors wrote. ​"In con­trast, the deci­sions to delay the rules were made pre­cip­i­tous­ly, with no pub­lic engage­ment and no pub­lic analy­sis of the impacts."
This sto­ry was report­ed by Fair­Warn­ing (www​.fair​warn​ing​.org), a non­prof­it news orga­ni­za­tion based in Pasade­na, Calif., that focus­es on pub­lic health, con­sumer and envi­ron­men­tal issues.
Paul Feld­man is a Fair­Warn­ing staff writer.