Our Home Is Not a Dumping Ground, Say Chicago's Southeast Side Residents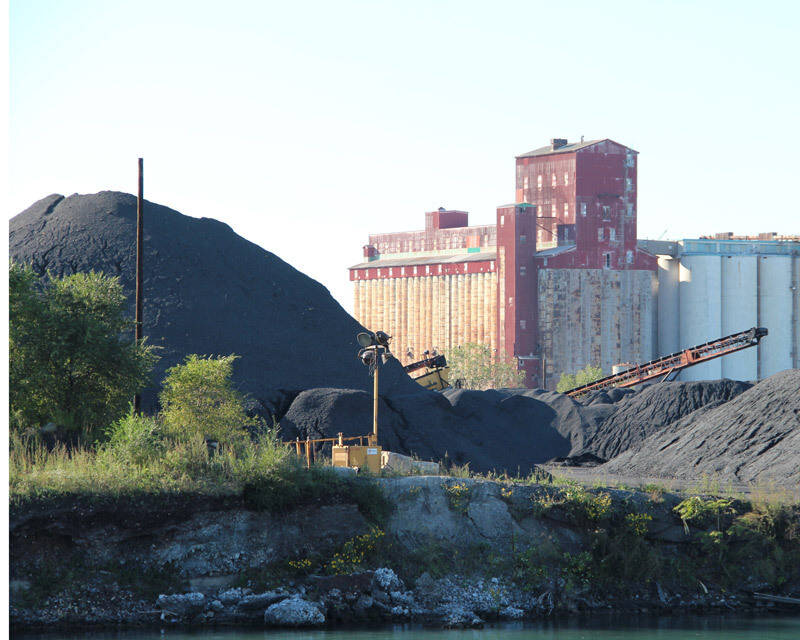 Chicago's South­east Side was once the vibrant — if pol­lut­ed — hub of the nation's steel indus­try. Though most of those steel mills were closed by the 1990s, many for­mer union steel­work­ers still live there, often strug­gling to make a liv­ing in the wake of a col­lapsed indus­try. And now, the area is home to a new inhab­i­tant: piles of petro­le­um coke that stand as high as 30 feet and stretch for about a mile along the banks of the near­by Calumet River.
Petro­le­um coke, also known as ​"pet­coke," is the byprod­uct of refin­ing Cana­di­an tar sands oil, which is now being shipped in huge quan­ti­ties to refiner­ies around the coun­try. KCBX Ter­mi­nals, a sub­sidiary of Koch Indus­tries, has been qui­et­ly pil­ing the grainy black mate­r­i­al along the riv­er for the last year or so. Though KCBX has been secre­tive about the piles' ori­gins, the BP oil refin­ery just across the bor­der in Whit­ing, Ind. has con­firmed that its pet­coke is head­ing for Chicago.
Much of the pet­coke will even­tu­al­ly be shipped to Chi­na or oth­er far-flung loca­tions, where it will be burned in high-pol­lut­ing pow­er plants or cement kilns. In oth­er words, Chica­go is being used as a lay­over site for the mate­r­i­al. Not only does pet­coke include tox­ic heavy met­als and oth­er com­pounds, but breath­ing any kind of fine dust — par­tic­u­late mat­ter — is known to cause and exac­er­bate car­diac and res­pi­ra­to­ry dis­eases. And accord­ing to South­east Side res­i­dents, clouds of dust fre­quent­ly blow off the piles, coat­ing their streets and homes with soot.
Even as the tar sands indus­try draws envi­ron­men­tal, eco­nom­ic and social con­tro­ver­sy, its pro­po­nents in the U.S. and Cana­da empha­size the num­ber of jobs that the indus­try cre­ates, includ­ing about 3,500 con­struc­tion posi­tions for the Whit­ing refinery's near­ly $4 bil­lion expan­sion last year. But pet­coke has few such redeem­ing qual­i­ties. Instead, it sim­ply allows indus­try play­ers to squeeze a last bit of prof­it out of what is basi­cal­ly a waste product.
At a high­ly con­tentious pub­lic hear­ing Jan­u­ary 13, South­east Side res­i­dents accused Chicago's elect­ed offi­cials of refus­ing to stand up to the big busi­ness inter­ests behind the pet­coke piles — name­ly KCBX's sprawl­ing par­ent com­pa­ny, Koch Indus­tries, which is run by the noto­ri­ous­ly right-wing Koch brothers.
The res­i­dents all called for a ban on pet­coke stor­age, a move May­or Rahm Emanuel said he oppos­es in favor of the city's pro­posed reg­u­la­tions that were the ini­tial sub­ject of the pub­lic hear­ing. Such reg­u­la­tions would require large pet­coke piles to be enclosed and all pet­coke trans­fer oper­a­tions to take place indoors. They would also neces­si­tate fre­quent water-spray­ing and mon­i­tor­ing of the piles.
But the reg­u­la­tions, locals point out, aren't per­fect. They would allow exist­ing and small­er pet­coke receivers to con­tin­ue stor­ing the mate­r­i­al out­doors, and the city's health com­mis­sion­er could approve exemp­tions for indi­vid­ual com­pa­nies. So even with the new rules in place, oppo­nents fear expand­ing pet­coke stor­age would still seal their neighborhood's fate as a dump­ing ground, unlike­ly to attract qual­i­ty jobs.
At the hear­ing, KCBX oper­a­tions man­ag­er Mike Estadt said the company's pet­coke stor­age oper­a­tion cre­ates 40 union jobs and con­trac­tor jobs. Though every neigh­bor­hood res­i­dent at the hear­ing denounced the pro­posed city reg­u­la­tions as too weak, Estadt main­tains the com­pa­ny may close if such rules are insti­tut­ed — thus elim­i­nat­ing those employ­ment oppor­tu­ni­ties. In the past, KCBX has also argued that it pri­or­i­tizes the health and safe­ty of its work­ers and the community.
Lor­raine Ash­by, who tes­ti­fied at the hear­ing on behalf of the region's retired Unit­ed Steel­work­ers, says the KCBX posi­tions aren't worth petcoke's detri­men­tal effect on the neigh­bor­hood. Steel­work­ers are no strangers to work­ing and liv­ing around heavy indus­try and pol­lu­tion, she argues. But they see pet­coke as lack­ing the eco­nom­ic poten­tial of the mills that once defined the area.
​"There are no jobs there," Ash­by scoffs, about KCBX. ​"Like 10 peo­ple pulling levers — prob­a­bly non-union — and a few truck dri­vers. We lost 40,000 jobs when the mills closed."
Jim Kin­ney worked at U.S. Steel South Works on the South­east Side for years. Though he acknowl­edges the area has fall­en on hard times, he says that doesn't mean its res­i­dents will set­tle for some­thing like the pet­coke piles.
​"The oth­er day I saw a pawn shop going up — when you see that in your neigh­bor­hood, you know you're in trou­ble," he says. But jobs relat­ed to pet­coke stor­age are not the way to go, he stress­es. ​"We could be build­ing things for light rail, stoves, refrig­er­a­tors" — jobs that require more skilled work­ers and pre­sum­ably offer high­er wages. ​"If you have pet­coke, it's unhealthy, bad for the envi­ron­ment [and] it takes up space." Plus, it reduces the chance actu­al good jobs will be cre­at­ed, since it would make the area less attrac­tive to oth­er employ­ers, he says. ​"It doesn't need to be like this!"
John San­doval describes him­self as a vet­er­an with 40 years in the mil­i­tary, includ­ing stints in Iraq and Afghanistan. He says each time he returns to his home­town, he sees more neg­a­tive changes. He blasts pet­coke stor­age as a dead end that will kill future eco­nom­ic opportunities.
​"In the mil­i­tary we have vision­ar­ies — we look out­ward 10, 15, 20 years down the road," he says, imply­ing that those stor­ing pet­coke are only think­ing in the short term. ​"KCBX, take a step back, and leave us alone."
Nick Lim­beck is a sec­ond-grade teacher and Chica­go Teach­ers Union mem­ber at Gal­lis­tel Lan­guage Acad­e­my ele­men­tary school. He says his stu­dents can't avoid the dust from the pet­coke piles, some of which are locat­ed just a few blocks from Gallistel's campus.
​"I was pret­ty sur­prised to find this black soot all over my 7‑year-old children's desks [and] all over the win­dowsills," he says, adding that he had stu­dents research the Koch broth­ers in class. He main­tains May­or Emanuel's refusal to back a pet­coke stor­age ban is evi­dence of Emanuel's will­ing­ness to put com­mu­ni­ties of col­or at a disadvantage.
​"Let's call a spade a spade — this is envi­ron­men­tal racism," Lim­beck says, ref­er­enc­ing the South­east Side's heav­i­ly Lati­no pop­u­la­tion. ​"The may­or is try­ing to reg­u­late his way out of this — this is Rahm Emanuel's M.O [method of oper­a­tion]. He's already closed down 50 schools in main­ly black neigh­bor­hoods. The black com­mu­ni­ty knows who their ene­my is — now the Lati­no com­mu­ni­ty is see­ing who their ene­my is, as [Emanuel] is help­ing the Koch broth­ers dump tox­ic waste in Lati­no neighborhoods."
Robert Veloz worked for Repub­lic Steel for 23 years, deal­ing with a dif­fer­ent form of coke as a cru­cial ele­ment of steel-mak­ing. He laments what the pet­coke stor­age means for his three grand­chil­dren, bright young chess play­ers who trav­el to tour­na­ments but then have to return to a pol­lut­ed com­mu­ni­ty with few mean­ing­ful employ­ment options.
​"They're lit­tle!" Veloz says des­per­ate­ly. ​"They have good heads on them. What will we do if we can't move away from this? We need … some­thing dif­fer­ent from what we have. We don't need all these scraps that they send us."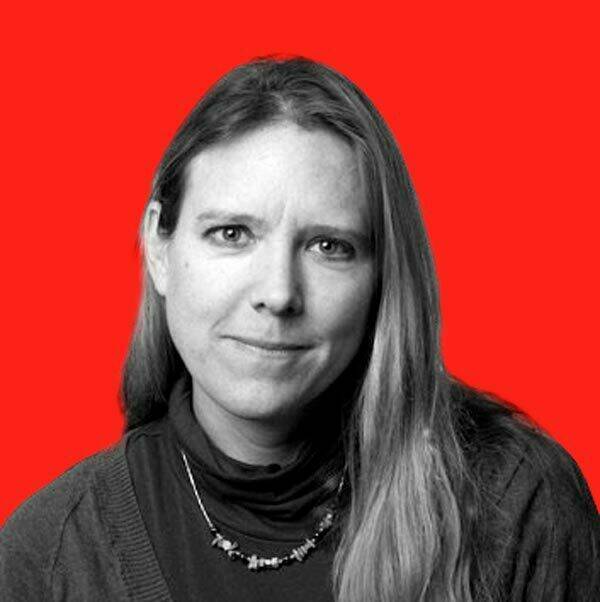 Kari Lyder­sen
is a Chica­go-based reporter, author and jour­nal­ism instruc­tor, lead­ing the Social Jus­tice
&
amp; Inves­tiga­tive spe­cial­iza­tion in the grad­u­ate pro­gram at North­west­ern Uni­ver­si­ty. She is the author of May­or
1
%: Rahm Emanuel and the Rise of Chicago's
99
%.