Our Neoliberal President
Obama wants to privatize the Tennessee Valley Authority.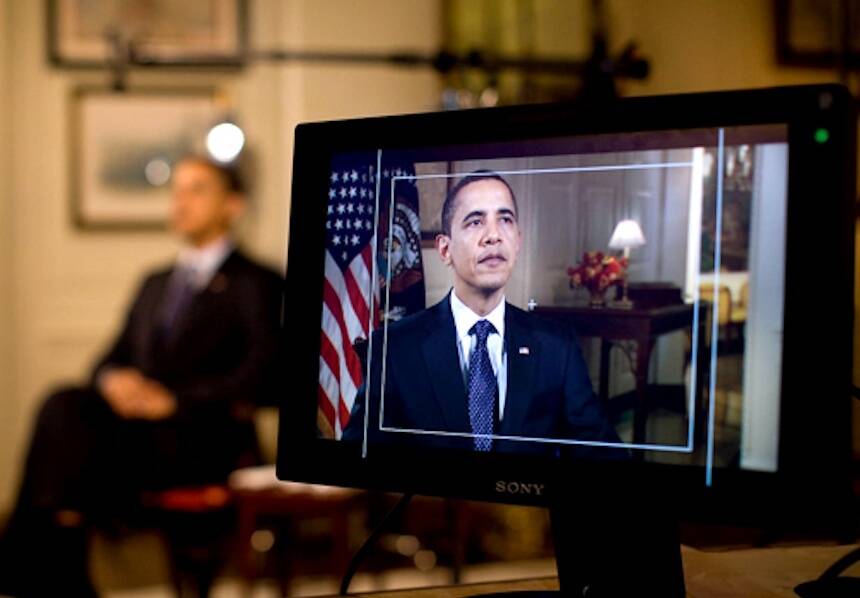 Pres­i­dent Obama's 2015 bud­get request last month revived his abortive 2014 bud­get pro­pos­al to pri­va­tize the Ten­nessee Val­ley Author­i­ty (TVA). What are we to make of a Demo­c­ra­t­ic pres­i­dent repeat­ed­ly propos­ing to sell off the pub­licly financed and admin­is­tered rede­vel­op­ment pro­gram, wide­ly seen as one of the great suc­cess­es of the New Deal? This move tells us much about Obama.
Obama endorses higher minimum wages and offers rhetorical support of unions and collective bargaining, which cost not a penny of federal funds, but balks at a well-financed public works project that employs workers at good wages but might affect the federal budget.
But to under­stand what's at stake, a look back at the TVA's his­to­ry is in order. Cre­at­ed in 1933 as a project to revi­tal­ize one of the nation's most pover­ty-rid­den and least devel­oped eco­nom­ic regions, TVA worked eco­nom­ic and social mag­ic. Sec­tions of sev­en south­ern states drained by the Ten­nessee Riv­er and its trib­u­taries — Alaba­ma, Geor­gia, Ken­tucky, Mis­sis­sip­pi, North Car­oli­na, Ten­nessee and Vir­ginia — obtained essen­tial infra­struc­ture for the first time, includ­ing cheap elec­tric­i­ty, clean water, sew­er sys­tems, paved roads and flush toi­lets in place of rudi­men­ta­ry out­hous­es. TVA enabled the region's res­i­dents to heat and illu­mi­nate their homes bet­ter, to enjoy clean water at the turn of a tap, to farm their land more secure­ly and effi­cient­ly, and, in many cas­es, to find decent jobs in the indus­tries attract­ed by the region's low-cost elec­tri­cal pow­er and improved means of trans­port. TVA proved a great tri­umph of Franklin D. Roosevelt's New Deal, one of the few pro­grams enact­ed dur­ing the ​"hun­dred days" that stood the test of time. Few New Deal ini­tia­tives did as much to improve the lives of the one-third of the nation that FDR famous­ly described as ​"ill-housed, ill-clad, and ill-nour­ished." So suc­cess­ful was the TVA in devel­op­ing the region's econ­o­my that the Repub­li­can politi­cians who now dom­i­nate the region — and who usu­al­ly dis­miss gov­ern­ment ini­tia­tives as ​"creep­ing social­ism" or waste­ful expen­di­tures of pub­lic funds—have been among the sharpest crit­ics of Obama's over­tures to pri­va­tize the TVA.
The TVA's suc­cess­es became so admired that suc­ces­sive pres­i­dents and numer­ous leg­is­la­tors sug­gest­ed sim­i­lar fed­er­al agen­cies to devel­op the Mis­souri and Colum­bia Riv­er val­leys. Pres­i­dent Lyn­don B. John­son even pro­posed a Mekong Riv­er Author­i­ty to unite the peo­ples of South­east Asia in a com­mon and peace­ful endeav­or. No polit­i­cal fig­ure or office­hold­er in the region served by the TVA dared to sug­gest its privatization.
Not that the TVA was with­out faults. The dams it built to tame the region's rivers and gen­er­ate pow­er dis­placed thou­sands of fam­i­lies from land and homes that had been theirs for gen­er­a­tions. TVA had promised to cre­ate a par­tic­i­pa­to­ry democ­ra­cy of, by, and for the peo­ple of the region. Instead, it evolved into a gov­ern­men­tal agency oper­at­ed by pro­fes­sion­al man­agers and trained engi­neers who designed pro­grams for the region's inhab­i­tants with­out their input. What­ev­er its faults, how­ev­er, TVA served a pop­u­la­tion that pri­vate enter­prise neglect­ed, demon­strat­ed that gov­ern­ment could pro­vide elec­tric­i­ty more cheap­ly than pri­vate util­i­ties and just as effi­cient­ly, that pub­lic author­i­ties had the abil­i­ty to con­trol wild, flood-prone rivers, and, per­haps most impor­tant­ly, that a gov­ern­ment agency could lift the curse of pover­ty from mil­lions of people.
Today most ref­er­ences to TVA link it to FDR and the New Deal. Yes, TVA was enact­ed as part of the first wave of New Deal reforms. What became TVA, how­ev­er, was the pet project not of Roo­sevelt and a Demo­c­ra­t­ic con­gres­sion­al major­i­ty but of a Repub­li­can sen­a­tor from Nebras­ka. Sen. George Nor­ris had been fight­ing for it since the end of World War I, when a Repub­li­can pres­i­dent and Repub­li­can con­gress decid­ed to rid the fed­er­al gov­ern­ment of the muni­tions-mak­ing facil­i­ties it had devel­oped at Mus­cle Shoals, Ala. Nor­ris and his fel­low Repub­li­can insur­gents and their Demo­c­ra­t­ic allies saw the muni­tions fac­to­ry as a mod­el of how the gov­ern­ment could invest in the region, and fought per­sis­tent­ly dur­ing the 1920s to use fed­er­al pow­er to serve the needs of the inhab­i­tants of the Ten­nessee Val­ley. Hard as it may be to believe today, Nor­ris and his band of Repub­li­can mav­er­icks were ​"Tea Partiers" of a dif­fer­ent vari­ety, a fac­tion of the Grand Old Par­ty that believed in the use of fed­er­al pow­er and the pub­lic purse to improve the lives of ordi­nary cit­i­zens, uplift the least among us, and serve the 99% not the 1%. FDR and a Demo­c­ra­t­ic con­gres­sion­al major­i­ty brought Norris's dream to fruition.
Over time, how­ev­er, the admin­is­tra­tors of TVA drift­ed from the agency's orig­i­nal mis­sion of cre­at­ing a demo­c­ra­t­i­cal­ly admin­is­tered pub­lic agency. They still pro­vid­ed cheap elec­tri­cal pow­er to the region and kept the riv­er in check, but they also began to serve region­al busi­ness inter­ests more assid­u­ous­ly than ordi­nary cit­i­zens, to rely on coal as well as water to gen­er­ate pow­er, to wreak envi­ron­men­tal dam­age — spew­ing car­bon into the atmos­phere and foul­ing rivers with coal ash and oth­er waster prod­ucts — and to con­tract with non-union mines for the deliv­ery of cheap coal, has­ten­ing the decline of the Unit­ed Mine Work­ers. Such fail­ings like­ly played a part in Obama's assump­tion that TVA might serve its region bet­ter were it pri­va­tized. The deci­sion was like­ly influ­enced by the fact that the TVA, whose mis­sion is not to cre­ate prof­it, spends more than it earns.
A more pro­gres­sive Demo­c­ra­t­ic pres­i­dent might have pro­posed instead that TVA remain a pub­lic agency but one that revert­ed to its orig­i­nal mis­sion by involv­ing res­i­dents more direct­ly in deci­sion-mak­ing. Such a reform might cost mon­ey and add to the fed­er­al deficit, but it would also restore the utopi­an vision of TVA's founders. Obama's pro­pos­als instead con­vince me that Paul Street's two books about Oba­ma—Barack Oba­ma and the Future of Amer­i­can Pol­i­tics, cov­er­ing his pres­i­den­tial can­di­da­cy and The Empire's New Clothes: Barack Oba­ma in the Real World of Pow­er, on his first-term as pres­i­dent — were pre­scient. Street (who, full dis­clo­sure, is my for­mer stu­dent) described Oba­ma as a can­di­date tied to Chicago's finan­cial com­mu­ni­ty and in favor of neolib­er­al eco­nom­ic poli­cies. To Street, these neolib­er­al ten­den­cies were borne out in Pres­i­dent Obama's ear­ly reliance on the advice of such peo­ple as Tim­o­thy Gei­th­n­er and oth­er acolytes of Gold­man Sachs to forge his administration's ear­ly eco­nom­ic policies.
Obama's six years in the White House also remind me of Jim­my Carter's pres­i­den­cy. Like Carter, Oba­ma proves quite will­ing to pro­vide cost-free (in a bud­getary sense) car­rots to vital Demo­c­ra­t­ic con­stituen­cies on such issues as gay rights and women's equal­i­ty. He endors­es high­er min­i­mum wages and offers rhetor­i­cal sup­port of unions and col­lec­tive bar­gain­ing, which cost not a pen­ny of fed­er­al funds, but balks at a well-financed pub­lic works project that employs work­ers at good wages but might affect the fed­er­al bud­get. He used his polit­i­cal cap­i­tal to cre­ate a cost­ly new health pro­gram for cit­i­zens, yet often defend­ed it in terms of the Afford­able Care Act's pos­i­tive impact on the fed­er­al bud­get. Month after month, year after year, as the labor mar­ket remains slack and long-term unem­ploy­ment wors­ens, Oba­ma insists that cut­ting the fed­er­al deficit remains more vital than putting peo­ple back to work. His pro­pos­al that TVA be pri­va­tized fits well into a neolib­er­al frame­work and sat­is­fies Demo­c­ra­t­ic Par­ty cir­cles in the finan­cial world. As the nation's first black pres­i­dent, Oba­ma may rep­re­sent a greater tri­umph for the dor­mant Demo­c­ra­t­ic Lead­er­ship Coun­cil — which moved the par­ty from New Deal pol­i­tics to neolib­er­al­ism — than its orig­i­nal stan­dard bear­er, Bill Clin­ton, the first fig­u­ra­tive black chief executive.