In 2017, 82% of New Wealth Went to the Top 1%—While the Poor Got Nothing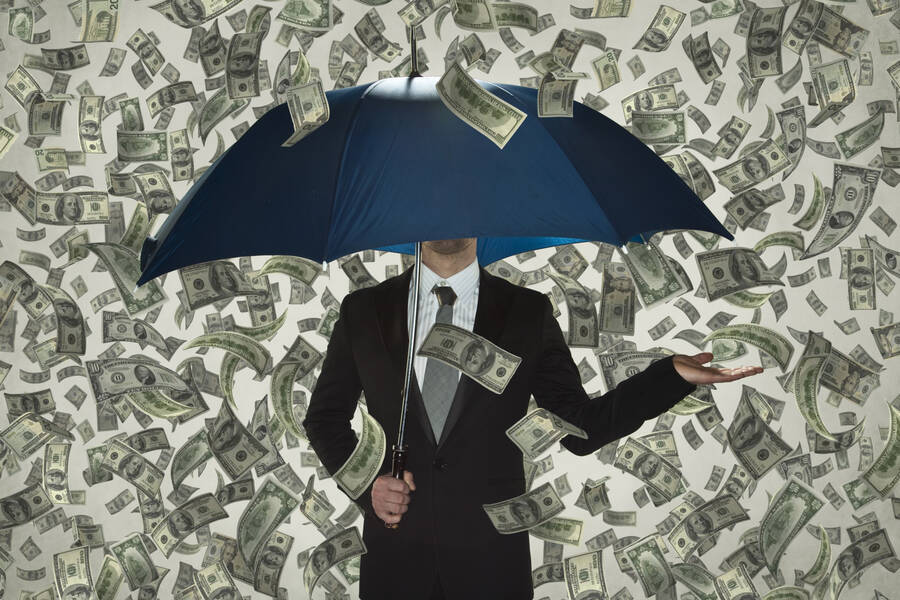 This orig­i­nal­ly appeared on Com­mon Dreams.
Call it the ​'Year of the Billionaire.'
In 2017, a new bil­lion­aire was cre­at­ed every two days and while 82 per­cent of all wealth cre­at­ed went to the top 1 per­cent of the world's rich­est while zero per­cent — absolute­ly noth­ing — went to the poor­est half of the glob­al population.
That trou­bling infor­ma­tion is includ­ed in Oxfam's lat­est report on glob­al inequal­i­ty — titled Reward Work, Not Wealth—released Mon­day. In addi­tion to the above, the report details how sky­rock­et­ing wealth growth among the already rich cou­pled with stag­nant wages and per­sis­tent pover­ty among the low­est eco­nom­ic rungs of soci­ety means that just 42 indi­vid­u­als now hold as much wealth as the 3.7 bil­lion poor­est peo­ple on the planet.
"The bil­lion­aire boom is not a sign of a thriv­ing econ­o­my but a symp­tom of a fail­ing eco­nom­ic sys­tem," Win­nie Byany­i­ma, Oxfam's exec­u­tive direc­tor of Oxfam Inter­na­tion­al. ​"The peo­ple who make our clothes, assem­ble our phones and grow our food are being exploit­ed to ensure a steady sup­ply of cheap goods, and swell the prof­its of cor­po­ra­tions and bil­lion­aire investors."
Among the report's key findings:
Bil­lion­aire wealth has risen by an annu­al aver­age of

13

per­cent since

2010

– six times faster than the wages of ordi­nary work­ers, which have risen by a year­ly aver­age of just

2

per­cent. The num­ber of bil­lion­aires rose at an unprece­dent­ed rate of one every two days between March

2016

and March

2017

.
It takes just four days for a CEO from one of the top five glob­al fash­ion brands to earn what a Bangladeshi gar­ment work­er will earn in her life­time. In the US, it takes slight­ly over one work­ing day for a CEO to earn what an ordi­nary work­er makes in a year.
It would cost $

2

.

2

bil­lion a year to increase the wages of all

2

.

5

mil­lion Viet­namese gar­ment work­ers to a liv­ing wage. This is about a third of the amount paid out to wealthy share­hold­ers by the top

5

com­pa­nies in the gar­ment sec­tor in

2016

.
Dan­ger­ous, poor­ly paid work for the many is sup­port­ing extreme wealth for the few. Women are in the worst work, and almost all the super-rich, nine out of ten, are men.
The report comes just as the world's eco­nom­ic and polit­i­cal elite are set to open the World Eco­nom­ic Forum, held annu­al­ly in Davos, Switzer­land. And why the glob­al elite argue the sum­mit's focus is address­ing the world's most press­ing prob­lems, Oxfam found that the amount of new wealth which went to the world's top one per­cent in 2017 was rough­ly $762 bil­lion — a fig­ure large enough, the group points out, to end extreme glob­al pover­ty sev­en times over.
What the report ulti­mate­ly expos­es, Mark Goldring, Oxfam GB chief exec­u­tive, told the Guardian, is a ​"sys­tem that is fail­ing the mil­lions of hard­work­ing peo­ple on pover­ty wages who make our clothes and grow our food."
"For work to be a gen­uine route out of pover­ty we need to ensure that ordi­nary work­ers receive a liv­ing wage and can insist on decent con­di­tions, and that women are not dis­crim­i­nat­ed against," he added. ​"If that means less for the already wealthy then that is a price that we — and they — should be will­ing to pay."
Not just cat­a­loging and lament­ing the met­rics of inequal­i­ty, the new report also puts forth a num­ber of pol­i­cy solu­tions that should be embraced by peo­ple and gov­ern­ments world­wide to reduce lev­els of inequal­i­ty and lift bil­lions of peo­ple out of extreme pover­ty. They include:
Lim­it returns to share­hold­ers and top exec­u­tives, and ensure all work­ers receive a min­i­mum ​

'

liv­ing' wage that would enable them to have a decent qual­i­ty of life. For exam­ple, in Nige­ria, the legal min­i­mum wage would need to be tripled to ensure decent liv­ing standards.
Elim­i­nate the gen­der pay gap and pro­tect the rights of women work­ers. At cur­rent rates of change, it will take

217

years to close the gap in pay and employ­ment oppor­tu­ni­ties between women and men.
Ensure the wealthy pay their fair share of tax through high­er tax­es and a crack­down on tax avoid­ance, and increase spend­ing on pub­lic ser­vices such as health­care and edu­ca­tion. Oxfam esti­mates a glob­al tax of

1

.

5

per­cent on bil­lion­aires' wealth could pay for every child to go to school.
Though Oxfam has been cal­cu­lat­ing glob­al inequal­i­ty on an annueal basis for more than a decade, the anti-pover­ty group notes that this year's report used new data from Cred­it Suisse and a sep­a­rate kind of mod­el. Specif­i­cal­ly, Oxfam not­ed, the fact that the world's 42 rich­est bil­lion­aires have as much wealth as the poor­est bot­tom half ​"can­not be com­pared to fig­ures from pre­vi­ous years — includ­ing the 2016⁄17 sta­tis­tic that eight men owned the same wealth as half the world — because it is based on an updat­ed and expand­ed data set pub­lished by Cred­it Suisse in Novem­ber 2017. When Oxfam recal­cu­lat­ed last year's fig­ures using the lat­est data we found that 61 peo­ple owned the same wealth as half the world in 2016 – and not eight."
Jon Queal­ly
is senior edi­tor and staff writer for Com­mon Dreams.