New Chicago Law Will Give Almost Half a Million Workers Guaranteed Paid Sick Leave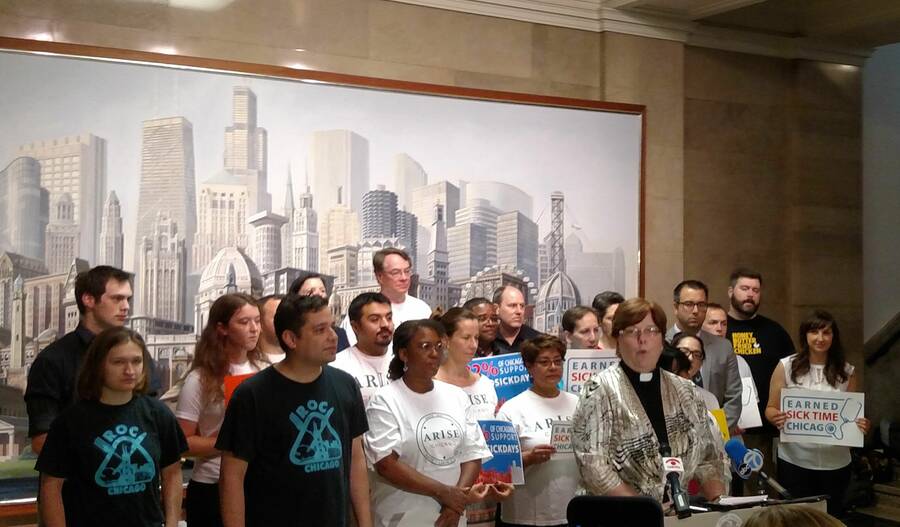 In a 48 to 0 vote Wednesday, the Chicago City Council passed a landmark ordinance guaranteeing workers the opportunity to take paid time off when they or their loved ones get sick. The law will benefit about 460,000 workers—42 percent of the city's private sector workforce — who currently lack paid sick leave. Over three-quarters of those who will benefit are in low-wage jobs earning under $20,000 per year.
Kahphira Palmer, a member of the workers' rights group Arise Chicago, said in a press conference that workers will no longer ​"have to choose between caring for their health and their financial security."
"This is an emotional ordinance for me," said 16th Ward Alderman Toni Foulkes, who co-sponsored the legislation. Before she was an alderman, Foulkes was a grocery store worker. ​"I've been there. I know how hard it is for working people."
Mayor Rahm Emanuel is expected to sign the ordinance, which will take effect on July 1, 2017.
Passage of the law Wednesday represents the culmination of a three-year campaign by Earned Sick Time Chicago, a coalition of 50 unions and workers' rights organizations, including Arise Chicago. The idea of a paid sick leave law was approved by 82 percent of Chicago voters in a nonbinding referendum in February 2015. The specifics of the law were proposed earlier this year by Mayor Emanuel's Working Families Task Force, which was comprised of worker advocates, employers and city officials.
The new law lets all employees earn up to five paid sick days per year and roll over up to 20 hours of unused sick time to the next year. Importantly, the ordinance also forbids employers from disciplining their workers for using sick leave and allows workers to use their earned time off to care for loved ones who fall ill or suffer injury.
"We need this ordinance because even some employees that currently have sick time … can't use it [to care] for a family member," Melissa Josephs of the advocacy organization Women Employed explained in testimony last week to the City Council's Committee on Workforce Development and Audit.
"Some [current sick leave] policies require advance notice," she continued. ​"How many people have notice that they're going to be sick? And a lot of them have progressive disciplinary policies where you get an occurrence or a demerit every time you use a sick day, even if you know in advance."
Under the new law, such practices will be prohibited.
Chicago now joins over two dozen other cities that have passed paid sick leave legislation in recent years, including San Francisco, New York, Seattle, and Minneapolis. Four states — Connecticut, California, Massachusetts, and Oregon — have also passed similar laws.
Nationwide efforts to push local and state governments to enact paid sick time laws are part of the growing movement to improve the pay and conditions of workers in low-wage jobs. Thanks to campaigns like the Fight for $15, lawmakers around the country are increasing minimum wage levels far above the federal minimum of $7.25 per hour, with multiple cities and states now phasing in a $15-an-hour wage floor over the next five years. Activists are also increasingly demanding fair scheduling ordinances that would require employers to give workers advance notice their expected hours of work.
"What we're seeing is an upsurge in municipal-based labor policy," Adam Kader, director of Arise Chicago Worker Center, tells In These Times. ​"As there's fewer and fewer protections, as workplace conditions are continuing to erode, as income inequality is continuing to rise and as fewer workers are eligible to or successful at joining unions, workers are influencing their workplaces through municipal governments, over which they have some degree of control."
As low-wage workers gain more protections and benefits through local governments, conservatives and corporate lobbyists have taken notice and are pushing back. Fourteen states now have laws preempting cities from passing both minimum wage increases and earned sick time ordinances.
The majority of these preemption laws have been passed by Republican-controlled legislatures in just the past three years. North Carolina's controversial HB2 — the ​"bathroom" bill requiring transgender people to use public restrooms that match the gender on their birth certificates—includes a provision restricting localities from regulating wages, hours and employee benefits.
"You hear from the Right this mantra of local control, states' rights, etc. But then as soon as local communities start passing these laws, these Republican-controlled state houses start squashing that. That's way bigger than a workers' issue — that's a democracy issue," says Kader. ​"I think we're going to continue to see paid sick days passing across the country. This is rising up from below and it's only going to grow."
Jeff Schuhrke is a labor historian, educator, journalist and union activist who teaches at the Harry Van Arsdale Jr. School of Labor Studies, SUNY Empire State University in New York City. He has been an In These Times contributor since 2013. Follow him on Twitter @JeffSchuhrke.