I'm Palestinian. Like Rashida Tlaib, I Am Barred From Seeing My Family.
Rep. Tlaib's experience is familiar to many Palestinians.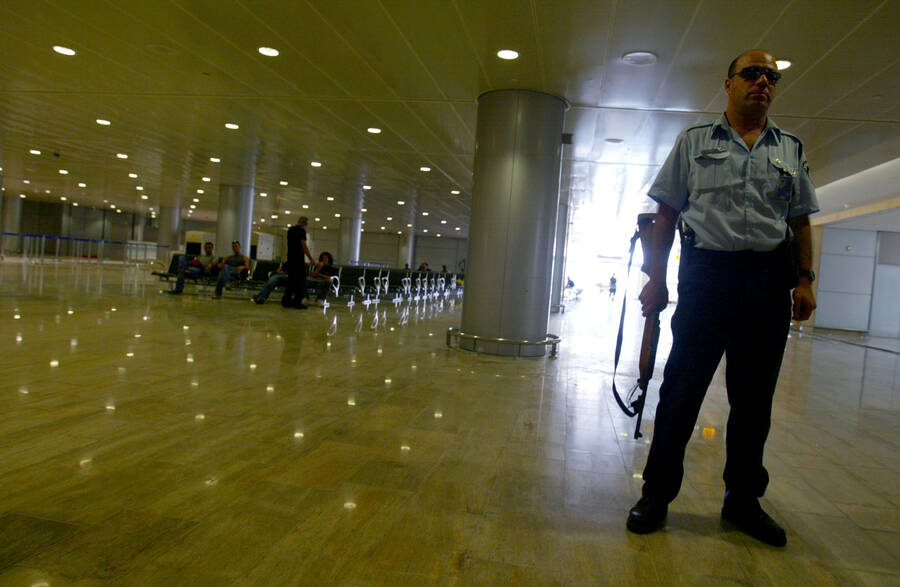 Israel's treat­ment of U.S. Con­gress­woman Rashi­da Tlaib (D‑Mich.) has made Israel's com­plete con­trol over Pales­tin­ian lives clear. Rep. Tlaib, a Pales­tin­ian-Amer­i­can with fam­i­ly in the occu­pied West Bank, was forced to make a choice between her right to vis­it her grand­moth­er and her right to polit­i­cal speech against Israeli oppres­sion. She ulti­mate­ly chose the col­lec­tive over the per­son­al: She refused Israel's demean­ing con­di­tions that would have grant­ed her a ​"human­i­tar­i­an" excep­tion to enter Pales­tine, so long as she refrained from advo­cat­ing for a boy­cott of Israel dur­ing her vis­it. Rep. Tlaib explained in a press con­fer­ence in Min­neapo­lis on August 19, ​"My grand­moth­er said it beau­ti­ful­ly when she said I am her dream man­i­fest­ed. I am her free bird, so why would I come back and be caged?"
Rep. Tlaib's ordeal last week demonstrates that no Palestinian can escape Israel's racism—not even an elected member of U.S. Congress.
Rep. Tlaib's expe­ri­ence is famil­iar to many Pales­tini­ans, includ­ing myself. I, too, was barred from see­ing my fam­i­ly in Pales­tine because of my advo­ca­cy for free­dom and jus­tice for Pales­tini­ans. In May 2012, I trav­eled to Ben Guri­on air­port in Tel Aviv to par­tic­i­pate in an inter­faith del­e­ga­tion and to attend my cousin's wed­ding in Ramal­lah. I pre­sent­ed my U.S. pass­port to Israeli author­i­ties. At least five Israeli inter­roga­tors asked for the names of my father and grand­fa­ther; the names like­ly sound­ed too ​"Arab" for the inter­roga­tors, who asked me numer­ous ques­tions about where my father was born. I was tak­en aside and ques­tioned at least five times.
At one point, an inter­roga­tor from Shin Bet turned his com­put­er around and told me to log in to my email account. He threat­ened that if I didn't com­ply, my employ­er would be con­tact­ed and would sub­se­quent­ly fire me. I was told that Israel and the U.S. have a close rela­tion­ship and that I might not be allowed to go back home. After search­ing for infor­ma­tion about me online, my inter­roga­tor asked me threat­en­ing­ly why I was ​"active."
When I con­tact­ed the U.S. embassy to report my deten­tion and ask for assis­tance, the embassy employ­ee, whose offi­cial title I do not know, told me, ​"If you are not Jew­ish, there is noth­ing we can do to help you." After eight hours, an Israeli woman I had nev­er seen before ver­bal­ly informed me that I was a threat to the secu­ri­ty of Israel. I was tak­en to a deten­tion cen­ter near the air­port and kept in a cell overnight. The next day I was sent back to the Unit­ed States.
Pales­tini­ans like myself have no access to our home­land except at Israel's whim. Because of the state's exclu­sion­ary poli­cies, I have not seen my fam­i­ly in Pales­tine in over 10 years. A whole gen­er­a­tion of my young cousins has grown up, got­ten mar­ried and had chil­dren of their own. I only know them through photographs.
My own father, born and raised in the West Bank city of Ramal­lah, can only return to Pales­tine as a ​"tourist" on his U.S. pass­port. Israel can deny his entry at any time. Mil­lions of oth­er Pales­tini­ans — whose par­ents and grand­par­ents fled or were expelled from Pales­tine dur­ing the 1948 war — remain barred from return­ing home. They remain refugees. Mean­while, any Jew­ish per­son any­where, even those with no fam­i­ly con­nec­tions in Israel, can trav­el to Ben Guri­on air­port and imme­di­ate­ly acquire Israeli citizenship.
Israel's exclu­sion­ary poli­cies are not lim­it­ed to keep­ing Pales­tini­ans out: They also deny return for thou­sands of Pales­tini­ans hold­ing Israeli cit­i­zen­ship. Take the case of Sal­wa Cop­ty, born in July 1948. Her fam­i­ly lived in the vil­lage of Ma'alul out­side of Nazareth, but the vil­lage was occu­pied and destroyed by Israeli forces in 1948. Sal­wa and her fam­i­ly became refugees, inter­nal­ly dis­placed with­in the state of Israel.
Salwa's father was killed by Israeli forces a few months before Sal­wa was born, and was buried near the vil­lage. That area is now the loca­tion of an Israeli mil­i­tary base. Since 2000, Sal­wa has repeat­ed­ly appealed to the Israeli author­i­ties to allow her to vis­it her father's grave inside the base. It was only after the inter­ven­tion of the legal cen­ter Adalah that Sal­wa final­ly won her right to vis­it her father's bur­ial site just last week. (Full dis­clo­sure: I am the exec­u­tive direc­tor of Adalah Jus­tice Project. We are inde­pen­dent of Adalah the Legal Cen­ter, but we work close­ly to sup­port its work.)
"Since 1948," says Adalah's gen­er­al direc­tor Has­san Jaba­reen, ​"Israeli pol­i­cy has been to pro­hib­it Pales­tin­ian fam­i­ly uni­fi­ca­tion, and to restrict Pales­tini­ans' right to enter and leave their home­land freely. This pol­i­cy has worked to frag­ment them, which has cre­at­ed a polit­i­cal dis­as­ter and a human­i­tar­i­an cri­sis for the 12 mil­lion Pales­tin­ian peo­ple around the world."
That pol­i­cy applies as much to Rashi­da Tlaib and her liv­ing grand­moth­er as it does to Sal­wa Cop­ty and her deceased father. Indeed, Rep. Tlaib's ordeal last week demon­strates that no Pales­tin­ian can escape Israel's racism — not even an elect­ed mem­ber of U.S. Congress.
This is what Israeli lead­ers mean when they call Israel a Jew­ish state. This racist ide­ol­o­gy dri­ves leg­is­la­tion like the Jew­ish Nation State Law, which declares that Jews alone have the right to self-deter­mi­na­tion in all land under Israeli con­trol. With­in this suprema­cist frame­work, Pales­tini­ans must be uproot­ed, dis­con­nect­ed and erased from the land and their iden­ti­ty as a people.
Despite the per­son­al toll incurred, Israel's lat­est blun­der in ban­ning Rep. Tlaib has ele­vat­ed Pales­tini­ans' demands for their right of return into U.S. main­stream dis­course and pol­i­cy debates. Sup­port is grow­ing in the U.S. for Boy­cott, Divest­ment and Sanc­tions (BDS) against Israel to sup­port Pales­tin­ian rights and self-deter­mi­na­tion. This grow­ing sup­port scares both Israeli and U.S. lead­ers who are com­mit­ted to main­tain­ing the sta­tus quo of Israel's dom­i­na­tion over Pales­tini­ans and fur­ther ter­ri­to­r­i­al expan­sion. In Israel, sup­port for BDS is a civ­il offense, and inter­na­tion­al sup­port­ers of BDS can be barred from entry into the coun­try under a law passed in 2017. Last month, the U.S. House over­whelm­ing­ly passed a res­o­lu­tion, H.R. 246, con­demn­ing BDS. Pales­tini­ans owe Rep. Tlaib grat­i­tude for stick­ing to her polit­i­cal prin­ci­ples in order to bring the Pales­tin­ian col­lec­tive strug­gle for return, free­dom and equal­i­ty into sharp focus.