Palestinians Are Forcing the World to See Their Humanity
The Gaza massacre is a war crime. And the United States is complicit alongside Israel.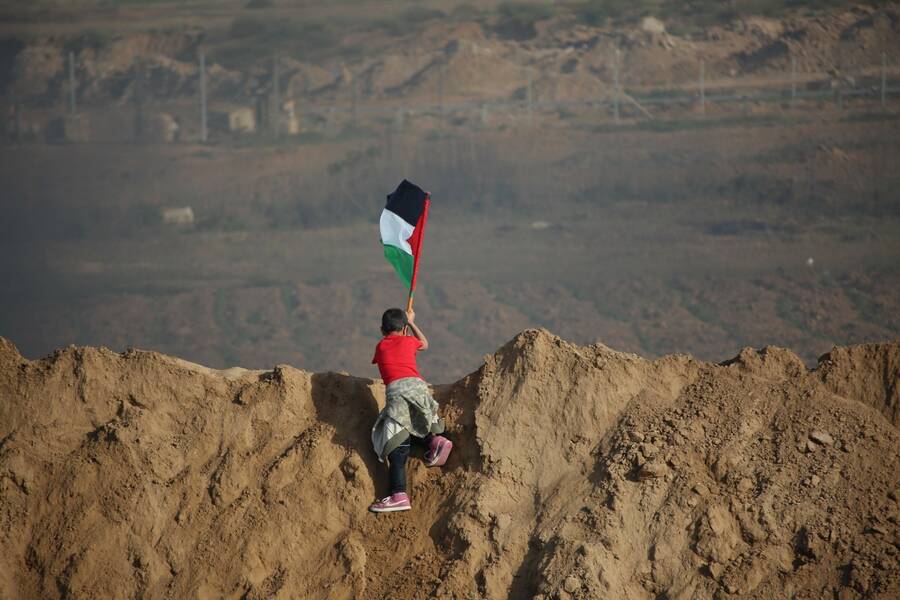 We watch a split screen. On one side: cel­e­bra­tions of the new U.S. embassy open­ing in Jerusalem. The pres­i­den­t's daugh­ter, son-in-law, cab­i­net offi­cials, Con­gress mem­bers, all smil­ing, proud. The U.S. ambas­sador, long­time set­tle­ment financier David Fried­man, joins Israeli Prime Min­is­ter Netanyahu, his fam­i­ly, cab­i­net offi­cials, Knes­set mem­bers — all wait­ing for Pres­i­dent Trump to join their festivities.
There is little question that the U.S. decision to schedule the embassy opening for May 14 was designed to be a major provocation.
The oth­er screen: solemn faces, tears, teenagers splayed across makeshift stretch­ers car­ried by oth­er teenagers to wait­ing ambu­lances. Tear gas so thick one can't see through it even on a tele­vi­sion or com­put­er screen. Sharp­shoot­ers, with live fire com­ing so fast that casu­al­ty coun­ters can't keep up. It's 38 dead — just in one day. No, it's 40. And then it turns out it's near­ly 60. Anoth­er 1,500 injured, no it's more than 2,000 already. Twen­ty-four hours lat­er it turns out to be more than 2,400. Not a sin­gle Israeli has been killed — the dead are all Pales­tini­ans. The killers, the maimers, the shoot­ers, the gassers, are all Israeli soldiers.
And Jared Kush­n­er says that the Pales­tin­ian pro­test­ers, whom he defines as ​"those who pro­voke vio­lence," are ​"part of the prob­lem, not part of the solution."
But the split screen is an illu­sion: There is only one screen, fram­ing both the embassy car­ni­val and the Gaza mas­sacre. The same screen includes Netanyahu and Trump, as well as peo­ple like Shel­don Adel­son and the rest of their joint back­ers across the Unit­ed States. And the same screen includes Pales­tini­ans. Some appear as they are killed in unprece­dent­ed num­bers, shot by Israeli sharp­shoot­ers who claim their com­man­ders approve every bul­let's tar­get. And the oth­ers, the liv­ing, con­tin­ue to remind the world that they are here. They are human. They are a nation, and they have human rights.
Some of the embassy back­ers, like the evan­gel­i­cal Chris­t­ian Zion­ists John Hagee and Robert Jef­fress who offered prayers and praise of Israel and racist hatred towards Pales­tini­ans, claim to speak in the word of God. They cel­e­brate U.S. col­lab­o­ra­tion with the Israeli gov­ern­ment to the tune of 3.8 bil­lion Amer­i­can tax dol­lars that Wash­ing­ton sends direct­ly to the Israeli mil­i­tary every year.
Trump says the Unit­ed States will always be a friend to Israel ​"and" sup­port a last­ing peace, only one of many such lies. The Trump administration's deci­sion to move the U.S. embassy to Jerusalem is about remind­ing the world that Israel is the strate­gic ally of the Unit­ed States, and that Pales­tini­ans are not. This U.S. maneu­ver is not about pro­tect­ing Jews: This is about Israel's claim to the land of the Pales­tini­ans. Israel's mass killing of Pales­tin­ian pro­test­ers in Gaza is part of that mes­sage: Pales­tin­ian land belongs to Israel, and Pales­tin­ian lives don't matter.
There is lit­tle ques­tion that the U.S. deci­sion to sched­ule the embassy open­ing for May 14 was designed to be a major provo­ca­tion. Of course, rec­og­niz­ing Jerusalem as the cap­i­tal of Israel, and mov­ing the embassy to Jerusalem in vio­la­tion of inter­na­tion­al law and a host of UN Secu­ri­ty Coun­cil res­o­lu­tions, con­sti­tut­ed major acts of aggres­sion to begin with. Trump said the fes­tiv­i­ties were timed to cel­e­brate Israel's 70th birth­day — cit­ing the dec­la­ra­tion of the state on May 14, 1948. But Israelis' own cel­e­bra­tion was based on the Hebrew lunar cal­en­dar, which placed the anniver­sary back in April. The Unit­ed States chose May 14 because the day after is the Pales­tini­ans' annu­al com­mem­o­ra­tion of the Nak­ba: the cat­a­stro­phe of dis­pos­ses­sion from their land, the expul­sion of 750,000 Pales­tini­ans from their homes, and Israel's con­tin­u­ing denial of those Pales­tini­ans and their descen­dants to exer­cise their inter­na­tion­al­ly guar­an­teed right to return to their homes. And Nak­ba Day, as it is wide­ly known, was to be the cul­mi­na­tion of the Great March of Return.
But plans for the Gaza protests were under­way before the embassy open­ing was announced. Pales­tini­ans were con­tin­u­ing to protest the dev­as­ta­tion of their lives in Gaza caused by Israeli wars against the impov­er­ished, crowd­ed strip of land. They were protest­ing the 11-year-old siege that has kept 2 mil­lion Gazans locked into an open-air prison, denied food, clean water, elec­tric­i­ty and con­tact with the out­side world, as well as air, the right to breathe, to trav­el, to leave and to return. Their demands start­ed with the right to return, guar­an­teed by the Gene­va Con­ven­tions and specif­i­cal­ly guar­an­teed to Pales­tini­ans by UN res­o­lu­tion 194. So the protests on Mon­day were not pri­mar­i­ly about the open­ing of the new U.S. embassy in Jerusalem.
Now, among the thou­sands of Pales­tin­ian casu­al­ties, among the scores of Pales­tini­ans dead, have been many chil­dren. They were shot by Israeli sharp­shoot­ers, whose tar­gets were approved by Israeli com­man­ders. Israeli Brigadier Gen­er­al Zvi­ka Fogel defend­ed the prac­tice. In a radio inter­view last Sat­ur­day, he was asked specif­i­cal­ly about the killing of chil­dren, and answered that ​"any­one who could be a future threat to the bor­der of the State of Israel and its res­i­dents, should bear a price for that vio­la­tion." The inter­view­er says, ​"Then his pun­ish­ment is death?" And the gen­er­al responds, ​"His pun­ish­ment is death."
It is a famil­iar refrain. In anoth­er set­tler-colony, a cou­ple of hun­dred years ear­li­er, anoth­er high-rank­ing mil­i­tary offi­cer, Col. John Chiv­ing­ton, com­mand­ed his Col­orado mili­tia to attack Chief Black Ket­tle's Cheyenne encamp­ment at Sand Creek. It was Novem­ber 29, 1864, in the mid­dle of the Indi­an Wars rag­ing against indige­nous peo­ple across the Unit­ed States. Chiv­ing­ton ordered his sol­diers to attack the fam­i­lies camped in the pre-dawn morn­ing. Some sol­diers resist­ed, say­ing that it would vio­late the mil­i­tary's promise of pro­tec­tion to the peace­ful vil­lage. Chiv­ing­ton, a Methodist min­is­ter, was hav­ing none of it. ​"I have come to kill Indi­ans, and believe it is right and hon­or­able to use any means under God's heav­en to kill Indi­ans. … Kill and scalp all, big and lit­tle; nits make lice," he said. An esti­mat­ed 200 Cheyenne, most of them women and chil­dren, were killed in the Sand Creek Massacre.
The Gaza mas­sacre is a war crime. And the Unit­ed States is com­plic­it along­side Israel. U.S. fund­ing of the Israeli mil­i­tary, U.S. pro­tec­tion of Israel in the UN so that Israeli mil­i­tary and polit­i­cal lead­ers are nev­er held account­able in the Inter­na­tion­al Crim­i­nal Court, U.S. pro­vi­sion of its own most advanced weapons sys­tems to Israel — all of these actions make the Unit­ed States a part­ner in crime and respon­si­ble for the slaugh­ter of chil­dren, teenagers, women and men, jour­nal­ists and medics.
Chal­leng­ing that U.S. sup­port, demand­ing account­abil­i­ty for both Israeli and U.S. offi­cials, remains a crit­i­cal task, how­ev­er dis­tant its com­ple­tion. Peo­ple in the Unit­ed States should be demand­ing an end to U.S. aid to Israel, peti­tions to con­gress, vig­ils out­side the White House, sit-ins at the offices of Con­gress mem­bers deter­mined to back Israel's most extreme vio­la­tions of human rights. All are need­ed, but none are suf­fi­cient. The lega­cy of Sand Creek, the lega­cy of Gaza, remain the lega­cies of mas­sacres. It remains our oblig­a­tion to respond.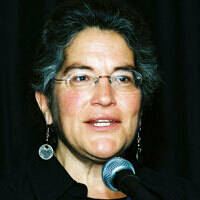 Phyl­lis Ben­nis
is a fel­low of the Insti­tute for Pol­i­cy Stud­ies. Her most recent book is the
2018
edi­tion of Under­stand­ing the Pales­tin­ian-Israeli Con­flict: A Primer.