"We have always believed that bring­ing back the buf­fa­lo is impor­tant, but the pan­dem­ic shows that it is urgent," said Wiz­ipan Lit­tle Elk. ​"We are all talk­ing about food secu­ri­ty and what the new nor­mal is going to be…We [at Rose­bud] have to get back to our roots and pro­vide an exam­ple for the rest of the world."
Lit­tle Elk, CEO of the Rose­bud Eco­nom­ic Devel­op­ment Cor­po­ra­tion (RED­CO), is refer­ring to the alarm­ing prob­lems the pan­dem­ic has exposed in the huge, cen­tral­ized sys­tem that pro­vides most Amer­i­cans with their food. Over the last sev­er­al months, numer­ous large meat pack­ers closed down after work­ers were found to be infect­ed with coro­n­avirus. Sup­ply chain prob­lems have caused many farm­ers to have to kill and dis­pose of mil­lions of pigs and chick­ens, dump milk and plow under veg­etable crops. Mean­while, spo­radic food short­ages have been report­ed around the coun­try, adding to the fear and inse­cu­ri­ty cre­at­ed by the pandemic.
With 1,500 buf­fa­lo giv­en by the Depart­ment of the Inte­ri­or over five years, the Rose­bud Sioux Tribe will estab­lish the Wolako­ta Buf­fa­lo Range and take a step toward eco­nom­ic sus­tain­abil­i­ty and their own food sov­er­eign­ty — inde­pen­dent of the nation's ail­ing food sys­tem. The tribe also hopes the herd can help reestab­lish its his­tor­i­cal rela­tion­ship to the buf­fa­lo. As the largest Native-Amer­i­can-owned herd, it will revi­tal­ize the tribe by sup­ply­ing school meals on the reser­va­tion, wel­com­ing vis­its from Lako­ta-lan­guage immer­sion class­es and mak­ing spir­i­tu­al­ly impor­tant items such as hides and skulls avail­able to com­mu­ni­ty mem­bers. The tribe also plans to build a small-scale meat-pro­cess­ing oper­a­tion to make the grass-fed, humane­ly raised meat avail­able local­ly and, to gen­er­ate rev­enue, to the pub­lic as well, said Lit­tle Elk. By improv­ing the health of the prairie ecosys­tem and its abil­i­ty to sequester car­bon and remove green­house gas­es from the atmos­phere, he said, the herd will also help fight cli­mate change.
Aspects of the project are still in the plan­ning stage. Eco-tourism pro­grams and a muse­um are under con­sid­er­a­tion, as are herd-shar­ing arrange­ments that would allow com­mu­ni­ty mem­bers and orga­ni­za­tions to pur­chase rights to ani­mals and their off­spring, per­haps even­tu­al­ly start­ing their own herds. Any of these activ­i­ties, to be real­ized, must both stand on its own fis­cal­ly and con­tribute to the whole, said Project Man­ag­er Aaron Epps. At this point, Wolako­ta can't cal­cu­late the exact cost, if any, of the var­i­ous ben­e­fits, he said.
"We can say that this project is meant to be for the good of Sican­gu [Rose­bud] peo­ple and land," he added. ​"We are a com­mu­ni­ty-focused orga­ni­za­tion, so we are mak­ing every effort to ensure that trib­al cit­i­zens have easy access to oppor­tu­ni­ties the herd will provide."
Lit­tle Elk, who was an Inte­ri­or Depart­ment offi­cial dur­ing the Oba­ma admin­is­tra­tion, saw the Wolako­ta project as a mod­el for oth­er com­mu­ni­ties that wish to estab­lish their own local, var­ied and healthy sources of food. ​"We will lean into the pan­dem­ic," he said. ​"We will not be intim­i­dat­ed by it. We at Rose­bud, as one small com­mu­ni­ty, will do our part to rebuild the Amer­i­can nation."
Those prin­ci­ples of car­ing and respon­si­bil­i­ty are appar­ent in the very word wolako­ta. ​"A lit­er­al trans­la­tion is ​'liv­ing the Lako­ta way of life,'" Lit­tle Elk said. ​"In the buf­fa­lo project, we are active­ly tak­ing steps to embody the val­ues and prin­ci­ples and the very best of what it means to be Lako­ta: self-reliance, self-suf­fi­cien­cy, being a good rel­a­tive and tak­ing care of oth­ers — not just humans, but oth­er ani­mals, plants and the environment."
The Inte­ri­or Depart­ment views par­tic­i­pat­ing in the Wolako­ta project as an excep­tion­al oppor­tu­ni­ty, said Dr. Bren­dan J. Moy­na­han, Nation­al Park Ser­vice sci­ence advi­sor and chair of DOI's Bison Work­ing Group. It is a way for the depart­ment to sup­port the rugged, shared Amer­i­can val­ues Lit­tle Elk describes, and it lets DOI reaf­firm its long­time inter­est in the ani­mal. An image of a bison appears in the department's logo. ​"All Amer­i­cans, all peo­ple, are cap­ti­vat­ed by the strength of bison," Moy­na­han said.
For DOI, a com­pelling aspect of the Wolako­ta sto­ry was the vari­ety of ways one herd will serve the Rose­bud com­mu­ni­ty. Until now, Amer­i­can bison herds have gen­er­al­ly been man­aged for one of three pri­ma­ry goals, said Lit­tle Elk: They have been com­mer­cial, for-prof­it herds, main­ly intend­ed to pro­duce meat for sale. Or they have been tribes' small cul­tur­al­ly ori­ent­ed herds of about 50 to 500 ani­mals that pro­vide occa­sion­al meat sales. Or bison have been man­aged from a park per­spec­tive, large­ly for pub­lic enjoy­ment and edu­ca­tion, such as the ani­mals at Yel­low­stone Nation­al Park.
The Wolako­ta Buf­fa­lo Range does not just syn­the­size a range of Rose­bud ideas and aspi­ra­tions. Decades of work at DOI also come togeth­er in the project, accord­ing to Moy­na­han. These include years of dis­cus­sions about bison man­age­ment with park employ­ees and painstak­ing sci­en­tif­ic work to under­stand and pre­serve buf­fa­lo genet­ic diversity.
To pro­vide ongo­ing sup­port for these efforts, DOI has just announced a 10-year depart­ment-wide Buf­fa­lo Con­ser­va­tion Ini­tia­tive. At the same time, accord­ing to Moy­na­han, there's new­ly invig­o­rat­ed inter­est in bison among tribes and oth­er orga­ni­za­tions. ​"Wolako­ta is emblem­at­ic of this moment," he said.
Wolako­ta is both a home­com­ing and a reunion, accord­ing to Carter Roberts, pres­i­dent and CEO of World Wildlife Fund (WWF), which is work­ing with RED­CO and the Depart­ment of the Inte­ri­or to devel­op the herd. The buf­fa­lo are return­ing to a land­scape and a peo­ple with which they long shared a sym­bi­ot­ic rela­tion­ship, Roberts said.
WWF involve­ment in the project includes find­ing finan­cial back­ing for land leas­ing, trans­porta­tion of the buf­fa­lo to their new home, and oth­er prac­ti­cal mat­ters, said Bison Team Lead Den­nis Jor­gensen, who works with the organization's North­ern Great Plains Pro­gram. At Rose­bud, WWF will engage in ongo­ing envi­ron­men­tal mon­i­tor­ing to ensure that Wolakota's tract con­tin­ues to sup­port the num­ber of buf­fa­lo placed on it. In addi­tion to the Wolako­ta Buf­fa­lo Project, WWF works with oth­er bison-restora­tion projects, includ­ing one at the reser­va­tion of the Fort Peck Assini­boine & Sioux Tribes, head­quar­tered in Poplar, Mont.
WWF learned a great deal from the Fort Peck project about work­ing with trib­al com­mu­ni­ties, said Jor­gensen. Buf­fa­lo are essen­tial to cul­ture, spir­i­tu­al­i­ty and his­to­ry, he not­ed, but they must also be a func­tion­ing part of con­tem­po­rary life — feed­ing elders and school­child­ren, for exam­ple. Some­times, WWF found, solv­ing a need was as sim­ple as pro­vid­ing trans­porta­tion to the remote area where the herd is pas­tured so trib­al mem­bers can enjoy view­ing it.
Nowa­days, accord­ing to Jor­gensen, a herd may be a life­saver in a very imme­di­ate way. ​"It may help a tribe feed peo­ple who must shel­ter in place to min­i­mize Covid-19 expo­sure." If estab­lish­ing a trib­al herd is about con­ser­va­tion only, it can end up being an eco­nom­ic bur­den, he added. ​"It has to be sus­tain­able in a mean­ing­ful way."
A Bru­tal Past
Once num­ber­ing in the tens of mil­lions, buf­fa­lo carved eco­log­i­cal nich­es con­ti­nent-wide for innu­mer­able oth­er plants and ani­mals. For many indige­nous peo­ple, bison were a pri­ma­ry source of food, cloth­ing and hous­ing mate­ri­als, hunt­ing and cook­ing imple­ments, and more. Dur­ing the 19th cen­tu­ry, how­ev­er, the U.S. gov­ern­ment encour­aged the exter­mi­na­tion of the bison as a means to sub­due the tribes and facil­i­tate the country's west­ern expansion.
Start­ing in the 1850s, the fed­er­al gov­ern­ment cheered on mil­i­tary men, set­tlers, hunters, and oth­er new­com­ers to the Amer­i­can West as they killed bison at a rate of hun­dreds of thou­sands per year. They even shot them from train win­dows, writes Car­olyn Mer­chant in Amer­i­can Eco­log­i­cal His­to­ry: An Intro­duc­tion. An aver­age hunter took down 100 a day, she reports. After bare­ly 20 years of this killing spree, just sev­er­al hun­dred bison remained.
Starved of a crit­i­cal resource, tribes were forced onto reser­va­tions. Native peo­ple under­stood well that the shame­ful process was inten­tion­al, the late Sioux elder Philip Lane told me in 2000, when he was 85. "[In] order to get rid of the ​'Indi­an prob­lem,' you had to get rid of the Indi­ans," Lane said. ​"The gov­ern­ment want­ed set­tlers to come in and break up that prairie ground. It was nev­er meant to be bro­ken up. It was all buf­fa­lo pasture."
The sub­se­quent wide­spread plow­ing and agri­cul­tur­al devel­op­ment of the Plains, fol­low­ing on the heels of the sud­den exter­mi­na­tion of the great buf­fa­lo herds, was a heavy hit for the continent's eco­log­i­cal bal­ance. Among oth­er out­comes, the Dust Bowl result­ed from try­ing to make the Plains into farmland.
Return of the Buffalo
Named the Nation­al Mam­mal of the Unit­ed States by Con­gress in 2016, today wild bison thrive by the tens of thou­sands in trib­al, fed­er­al and oth­er pub­lic herds. That is thanks to con­ser­va­tion efforts by tribes, states, the Depart­ment of the Inte­ri­or, the World Wildlife Fund, the Inter­Trib­al Buf­fa­lo Coun­cil and oth­er indi­vid­u­als and groups.
To make up Rosebud's herd, ani­mals will be cho­sen each year from among sur­plus fed­er­al­ly-owned bison — those beyond the com­fort­able car­ry­ing capac­i­ty of the grass­lands of var­i­ous fed­er­al parks, accord­ing to Moy­na­han. He saw Wind Cave Nation­al Park as one prob­a­ble source for ani­mals, a res­o­nant choice giv­en the Lako­ta leg­end recount­ing the mutu­al emer­gence of buf­fa­lo and their human kin from Wind Cave in pri­mor­dial time.
The fed­er­al government's genet­ic test­ing cri­te­ria assures the tribe that it will receive ani­mals that are as much as pos­si­ble like his­toric buf­fa­lo, said Project Man­ag­er Epps. The care the gov­ern­ment takes is a neces­si­ty, giv­en what Moy­na­han calls the genet­ic ​"bot­tle­neck" that bison went through at the turn of the 20th cen­tu­ry, when so few remained. Anoth­er pres­sure has come from the meat industry's con­tin­u­al efforts to cross bison with cat­tle and pro­duce anoth­er type of saleable meat.
Despite all these hur­dles, accord­ing to Moy­na­han, the fed­er­al gov­ern­ment has done excel­lent work in con­serv­ing bison as a species and pre­serv­ing their orig­i­nal genet­ic make­up. DOI's new Buf­fa­lo Con­ser­va­tion Ini­tia­tive will not only care­ful­ly select ani­mals for Rose­bud, it will also swap indi­vid­ual buf­fa­lo among fed­er­al herds to sup­port their genet­ic diver­si­ty overall.
The Inte­ri­or Depart­ment calls bison the nation's ​"eco­log­i­cal engi­neers." When the first group of approx­i­mate­ly 200 arrives at Rose­bud this fall, they're expect­ed to get right to work, ren­o­vat­ing a chunk of North Amer­i­ca — 28,000 acres of aban­doned cow pasture.
Yuc­ca have invad­ed par­tic­u­lar­ly over-grazed por­tions of the tract. No prob­lem! said Jor­gensen. Bison are known to shove their heads into the tough, spiny plants, tear them up and devour their juicy roots, he explained. Mean­while, as they accom­plish that job, their cloven hooves con­tin­u­al­ly press the seeds of prairie grass­es and herbs into the range's soil, an essen­tial process for help­ing these kinds of seeds sprout. (If you look into the small depres­sion of a buffalo's hoof­print, you can iden­ti­fy lit­tle seeds ranged on its sides and see how this process gets under­way.) The end result is that native plants will reveg­e­tate the areas the buf­fa­lo have so help­ful­ly cleared.
These and oth­er bison activ­i­ties will trans­form the area. They are espe­cial­ly fond of wal­low­ing — throw­ing them­selves on their backs and wrig­gling vig­or­ous­ly. In doing so, they press even more native seeds into the ground and cre­ate shal­low pools that catch rain­wa­ter essen­tial to the plants and ani­mals of this arid land. They've been shown to sup­port the revival of a rare, eco­log­i­cal­ly influ­en­tial blue but­ter­fly. Native birds use their fur to line their nests.
Sci­en­tists con­tin­ue to dis­cov­er the sub­tle ways in which bison and our land­scape have co-evolved, accord­ing to Moy­na­han. "[Their] intense graz­ing caused grass­lands to green up faster, more intense­ly, and for a longer dura­tion," wrote Dr. Chris Geremia and col­leagues in a Novem­ber 2019 paper in the Pro­ceed­ings of the Nation­al Acad­e­my of Sci­ences. By stim­u­lat­ing spring­time plant growth, bison pro­vide them­selves and oth­er ani­mals with a con­tin­u­al sup­ply of high-qual­i­ty for­age, the sci­en­tists found. ​"It's an exam­ple of what we're still learn­ing about this incred­i­ble ani­mal," said Moynahan.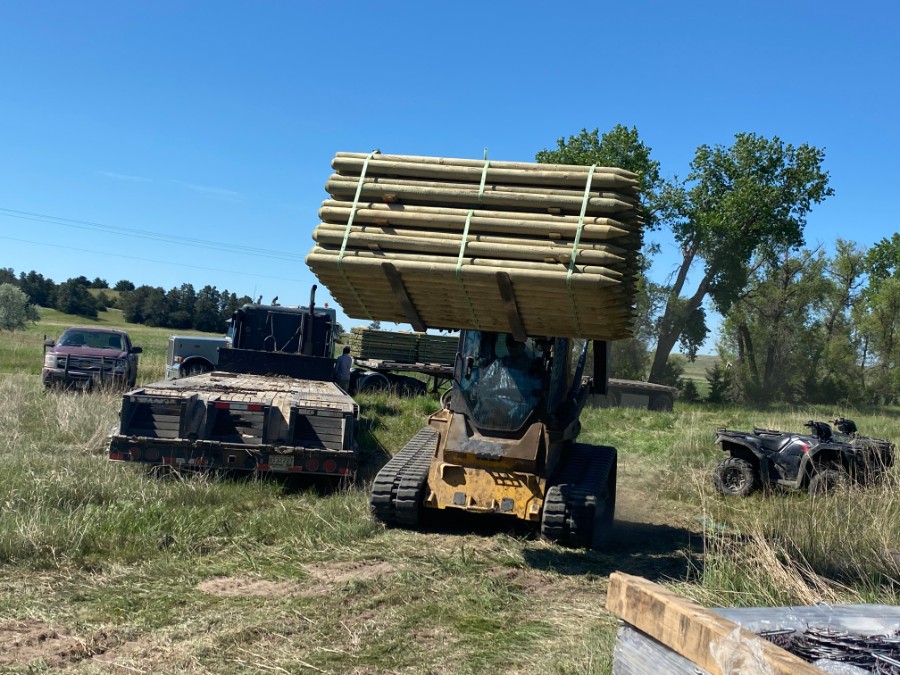 Stur­dy fenc­ing mate­r­i­al arrives at Wolako­ta Buf­fa­lo Range, on the Rose­bud Sioux Reser­va­tion, in South Dako­ta. The fence will enclose some

200

buf­fa­lo this fall and, with­in

5

years, a total of

1

,

500

. (Pho­to by Luan Venter)
Before Wolako­ta Buf­fa­lo Range's new inhab­i­tants take up res­i­dence on the Rose­bud Sioux Reser­va­tion, a fence must be con­struct­ed to pre­vent them from wan­der­ing onto near­by cat­tle ranch­es. But not just any fence. It has to have smooth top and bot­tom wires, along with its mid­sec­tion barbed wires. ​
"
This is not just a bison oper­a­tion, but also about re-build­ing an ecosys­tem," Epps said. Small ani­mals will be able to slide under the bar­ri­er with­out harm, and elk and deer will be able to safe­ly jump it.
The fence must also be able to con­tain the mas­sive buf­fa­lo. Weigh­ing in at up to 2,000 pounds and able to reach speeds of 40 miles per hour, they can chal­lenge ordi­nary bar­ri­ers, Epps said. And they are deter­mined to roam. For­tu­nate­ly, they're also pru­dent. Before they jump a fence, they mea­sure it. Epps said he has been told by expe­ri­enced buf­fa­lo han­dlers that bison come up to a fence and check whether they can put their chin on top of it. ​"If they can," Epps said, ​"over they go." At five and one-half feet, Wolako­ta Buf­fa­lo Range's fence should deter even the herd's top athletes.
Begin­ning of a Long Recovery
The coro­n­avirus pan­dem­ic is pre­sent­ing the Unit­ed States with dev­as­tat­ing chal­lenges to health and to its abil­i­ty to make food con­sis­tent­ly avail­able around the coun­try. It is also shin­ing a harsh light on the nation's inequities, as both death rates and eco­nom­ic pain fall most heav­i­ly on poor com­mu­ni­ties and on peo­ple of color.
Covid-19 has widened already-exist­ing gaps in income, health care, edu­ca­tion, child pover­ty and hunger, employ­ment and hous­ing. Estab­lished by what Mar­tin Luther King called ​"bat­tles for racial suprema­cy" that began in the 1500s, our nation still leans heav­i­ly on struc­tures of inequal­i­ty and alien­ation today.
In Lit­tle Elk's view, the Unit­ed States is at the begin­ning of a long recov­ery. Wolako­ta Buf­fa­lo Range can show us how to make a start, each group in its own way and in its own place. ​"We all need hope and real mod­els for action," he said.