The Paradise Papers Are Proof That Capitalism and Racism Fuel The Global Plutocracy
To end the immoral abuses documented in the Paradise Papers, we must challenge the systems of both entrenched wealth and racial domination.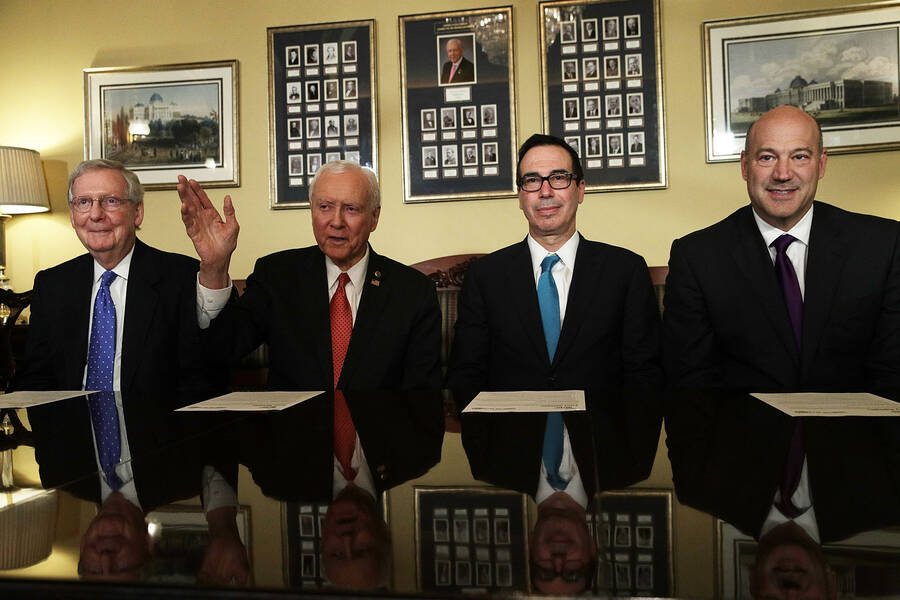 The Par­adise Papers, a stash of over 13 mil­lion doc­u­ments from 19 tax-haven nations and two off­shore law firms leaked this month to the Ger­man news­pa­per Süd­deutsche Zeitung, present an archive of glob­al avarice.
That billions of dollars in wealth is now sitting stowed away in the Caribbean while every day families in America struggle to feed themselves is an injustice of cosmic proportions.
Today, the rich­est one per­cent own half of the world's wealth. The Par­adise Papers show how this glob­al elite uses off­shore tax arrange­ments, often per­fect­ly legal, to cir­cum­vent both the oblig­a­tions of cit­i­zen­ship as well as the con­se­quences of own­er­ship. The demands which apply to the rest of us — the oblig­a­tion to pay our tax­es, to pay our debts and our civ­il lia­bil­i­ties — do not apply to them. In many ways, the class war has been won, and the spoils of the vic­tors sit safe­ly shel­tered in the Cay­man Islands.
The doc­u­ments reveal that thou­sands of the world's rich­est indi­vid­u­als and com­pa­nies engage in reg­u­la­to­ry arbi­trage to evade tax author­i­ties in their home coun­tries. An esti­mat­ed $8.7 tril­lion—10 per­cent of world's GDP—is cur­rent­ly stashed off­shore, almost all of it belong­ing to the rich­est 0.1% of households.
This sys­tem of glob­al tax eva­sion exac­er­bates inequal­i­ty and deprives gov­ern­ments of resources that could be used to ben­e­fit the pub­lic. Up to $699 bil­lion sits in off­shore accounts. Accord­ing to a 2016 study, the Unit­ed States alone los­es $111 bil­lion in tax­es each year due to this prac­tice. Yet, at this moment, Repub­li­cans in Con­gress are mov­ing for­ward with a tax-reform bill that would sig­nif­i­cant­ly low­er the tax bur­den on the super-rich. And the GOP bill, which would bal­loon the fed­er­al deficit, is almost cer­tain­ly a pre­lude to deep­er cuts to the social safe­ty net. Rather than pun­ish­ing the self­ish and destruc­tive behav­ior of the super-rich, Con­gress is poised to reward it.
That bil­lions of dol­lars in wealth is now sit­ting stowed away in the Caribbean while every day fam­i­lies in Amer­i­ca strug­gle to feed them­selves is an injus­tice of cos­mic pro­por­tions. This fact should blare like a siren every time we see a home­less per­son, every time we hear the sto­ry of an unin­sured child, every time we sit down to bal­ance a tight fam­i­ly bud­get. And it should moti­vate us to fight the obscene inequal­i­ty that per­vades our society.
But, for the most part, it does­n't. A num­ber of Democ­rats, includ­ing Sen. Richard Blu­men­thal of Con­necti­cut, have seized on the rev­e­la­tion that Trump's Com­merce Sec­re­tary Wilbur Ross hid finan­cial ties to Vladimir Putin's son-in-law, Kir­ill Shamalov. Bernie Sanders, true to form, has called for an end to the ​"glob­al oli­garchy." Yet the Par­adise Papers, like the Pana­ma Papers before them, have gen­er­at­ed no great back­lash in the Unit­ed States. Many Amer­i­cans seem resigned to the expla­na­tion offered by Trump's chief eco­nom­ic advi­sor Gary Cohn that ​"this is the way the world works."
But why? Where is the rage? How can Amer­i­cans be placid in the face of injus­tice so trans­par­ent? This is the ques­tion we should be ask­ing ourselves.
Part of the answer is that we lack a clear out­let for our rage. Our democ­ra­cy has become so cap­tured by the influ­ence of big mon­ey on our polit­i­cal sys­tem that the avail­able path­ways to chan­nel our anger into reform can appear scant. Anoth­er answer is less wide­ly acknowl­edged, but no less impor­tant. Today's eco­nom­ic rob­ber barons are shel­tered from the ignominy of their crimes by the resur­gence of a parochial, racist nation­al­ism. Finan­cial elite such as Steve Mnuchin and Gary Cohn, both Trump admin­is­tra­tion offi­cials, are per­fect­ly hap­py to make com­mon cause with white nation­al­ists like Steve Ban­non. Why? Because more than any­thing, what the super rich need is some­one else to blame.
It's no coin­ci­dence that many white work­ers believe their antag­o­nists are work­ing peo­ple of col­or and immi­grants, rather than the wealthy cap­i­tal­ists who con­trol their lives. Though most work­ing-class whites believe the eco­nom­ic sys­tem unfair­ly favors the rich, they also tend to believe wel­fare recip­i­ents are gam­ing the sys­tem — espe­cial­ly if those wel­fare recip­i­ents are non-white.
A recent poll shows that 68 per­cent of work­ing-class whites believe the Unit­ed States is ​"in dan­ger of los­ing its cul­ture and iden­ti­ty." And racial resent­ment, polit­i­cal sci­en­tists Jason McDaniel and Sean McEl­wee have found, is a strong pre­dic­tor of oppo­si­tion to gov­ern­ment aid to the poor. By stok­ing racial ani­mus, those in posi­tions of extreme pow­er and wealth are able to fleece the work­ing class and pro­tect the inter­ests of their fath­om­less­ly afflu­ent friends while redi­rect­ing white anger towards the racial other.
A coali­tion of racists and plu­to­crats have stig­ma­tized our best means of fix­ing inequal­i­ty — redis­tri­b­u­tion and social pro­grams — by asso­ci­at­ing them exclu­sive­ly with sup­pos­ed­ly ​"unde­serv­ing" out­siders: ​"wel­fare queens" (Ronald Reagan's dog-whistling term for poor black moth­ers), undoc­u­ment­ed immi­grants or Mus­lim refugees. In this way, the wealth of the one per­cent is shield­ed by white racial panic.
The mis­take many lib­er­als and left­ists make is imag­in­ing that these twin threats can be dis­en­tan­gled. That we can con­front the racists with­out con­fronting the super rich as well, or vice ver­sa. That, per­haps, the glo­be­trot­ting eco­nom­ic elite can be an ally in the fight against resur­gent nation­al­ism. But this is a fan­ta­sy. There's no need for the one per­cent to sign on a dot­ted line approv­ing this bar­gain. The finan­cial elite are chief ben­e­fi­cia­ries of racial divi­sion and the poli­cies they sup­port exac­er­bate it.
The truth is, there are free rid­ers in our eco­nom­ic sys­tem — peo­ple who have nev­er known a hard day's work and who enjoy the ben­e­fits of soci­ety with­out bear­ing its respon­si­bil­i­ties. But they aren't the urban dwelling poor of the con­ser­v­a­tive imag­i­na­tion. Rather, they're the chil­dren of extreme priv­i­lege, the names list­ed in the Par­adise Papers, who leech off the largesse of a sys­tem designed to cater to their every whim.
Get­ting a major­i­ty of Amer­i­cans to under­stand this, and to col­lec­tive­ly orga­nize to change it, will require fight­ing racism and eco­nom­ic inequal­i­ty togeth­er, as mutu­al­ly-rein­forc­ing con­di­tions of the sta­tus quo. The Par­adise Papers should serve as a reminder of the urgency of this task.
Sam Adler Bell is a free­lance writer in Brook­lyn, New York.