Against an entertainment industry that seems so wedded to the cosmetics industry that a woman's face is likely to be the only thing she doesn't bare, Patti Smith's appearance is a shocker.
She is well-scrubbed without being wholesome, with a defiantly naked face that challenges prevailing notions of gender and beauty. She wears a single-breasted black suit jacket with a discreet peace button on the lapel and a small stain between the pocket and the hem on the left side. Her hair has the swingy movement of the freshly washed, but it is ripply, almost wild, neither straightened nor curled, devoid of what stylists refer to as "product." Although it shines the expected shade of black under the fluorescent lighting of the Green Room, the stage lights lift it to a pale brown, streaked with grey and haloed in blood red.
And she spits.
Not once, not twice, but four times during a recent performance at the Annenberg Center here, Smith cants her head to the left and, pfwwt, does that thing that all those weathered metal subway signs tell you not to.
This is the first time I've seen Smith in concert, the first time I've shot her, and capturing her mid-expulsion becomes my brass ring for the night, but she consistently surprises me. I click away, and nod as a guard stationed at the edge of the stage frowns and whispers, "I didn't believe it the first time."
From some angles, particularly when she is wearing glasses, Smith resembles John Lennon, or perhaps one of the fussier denizens of The Wind in the Willows; from others, her white shirt poufing over her hip-slung trousers and freighting her frail frame with a deceptive corpulence, she looks like Joe Cocker, and her astonishingly small hands even ride the air in a series of gestures that, like his, hover between aggression and palsy.
Early in her career, she made no secret of her emulation of Keith Richards, but as she sings her mouth is pure Mick Jagger: prehensile and undulating, almost reptilian.
————–
Smith didn't start performing until she was 25, an age at which many of today's pop stars find their careers are over, and didn't record her first album, Horses, until she was 29. She bailed a mere five years later, married guitarist Fred "Sonic" Smith of the MC5, moved to a Detroit suburb, had a couple of kids and devoted herself to raising them. She resurfaced in the mid-90s, widowed and wizened and waxing prolific. She released five albums in succession, doubling her discography and culminating in last year's retrospective Land: An Anthology, 1975-2002. Meanwhile, fashion designers from New York and London to Antwerp and Milan started outfitting female models in slouchy black menswear and citing Smith as their muse. She will turn 57 in December.
Her face is ravaged now, coarsened and bushy-browed; it doesn't register as pretty until she smiles, which I'm surprised to see she does quite often—between songs, to her bandmates and to her sister Kimberly, whom she invites onstage to play guitar after being startled by her entry to the Green Room before the show. "You sounded just like Mom," Smith had said as she turned when her sister called her name from the doorway. Later in the show, Smith dedicates a song to another sister, Linda. There are many things that Smith has repudiated, but family is not one of them.
Smith's cover of the Van Morrison song "G-L-O-R-I-A" often is cited as evidence of her indiscriminate libertinism, but I'm not sure if she ever was truly bisexual or just didn't play up to men the way female rock stars are supposed to. Some cultural critics idealized Smith because they considered her in touch with her masculine side, but I've never been comfortable with the disassembling of self and the conscription of societal roles—feminine side, inner child, etc.—onto the individual psyche. No, this is what raw woman looks like, thinks like, sounds like; deal with it. Yes, Smith's mufti could mean she is adopting, co-opting the uniform of the ruling body. Or it could simply be that it's more comfortable to dress that way.
Smith is here in conjunction with an exhibit of her visual art at the Philadelphia Institute of Contemprary Art, the same museum that hosted Robert Mapplethorpe's retrospective in 1988 without fanfare or censure before it moved on to Cincinnati and scandalized Washington. "Strange Messenger: The Work of Patti Smith" premiered at the Warhol Museum in Pittsburgh last year and next opens at the Haus der Kunst in Munich in December. She is here on a break from recording a CD that will be released early in 2004. "This is my night off," she tells the audience.
————–
Early in the set, Smith dedicates a new song to martyred activist Rachel Corrie, adding, "If you don't know who she is, I'll tell you later." She never does. At the end of the show, she segues from The Declaration of Independence into a litany of the atrocities of George W. Bush and glides into a rendition of "People Have the Power," a song that loaned its name to the tour she has been doing with Ralph Nader. As Smith's work has transitioned from the personal to the more overtly political, Nader has supplanted Mapplethorpe as her ideological consort.
She sings:
I believe everything we dream
can come to pass through our union
we can turn the world around
we can turn the earth's revolution
we have the power
people have the power
And then she spits.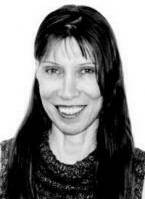 Jody Kolodzey
is a journalist and ethnomusicologist in Philadelphia.