Why a Veteran Education Reform Writer Thinks Chicagoans Should Be Worried About Paul Vallas
Schneider writes that "whenever I hear the name Paul Vallas, I immediately think of a man who likes to take earmarked funding and redirect it in shallow ways that produce the appearance of fiscal solutions."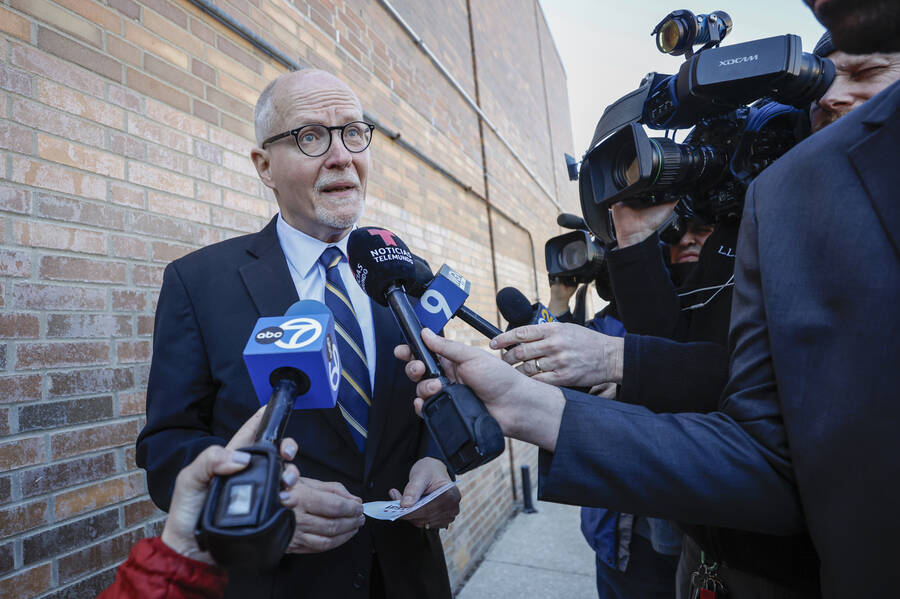 On Tuesday, April 4, Chicago voters will decide who will be their city's next mayor: Brandon Johnson or Paul Vallas, and as of writing this, the polls are close.
That could be bad news for Chicago taxpayers.
In 2014 I wrote a who's-who book about those profiting from corporate-style education reform across the country titled A Chronicle of Echoes.
Paul Vallas has three chapters.
And whenever I hear the name Paul Vallas, I immediately think of a man who likes to take earmarked funding and redirect it in shallow ways that produce the appearance of fiscal solutions.
Earmarked funding like the Chicago teachers' pension fund.
Already known for his penchant for budget cuts during his time as Chicago's budget director in the early ​'90s, Vallas took money dedicated to other, critical purposes (as in pension funding) when he was Chicago Public Schools (CPS) CEO (1995−2001) and played a budgetary shell game that produced the illusion of surplus. I noted as much in A Chronicle of Echoes:
Vallas' budget cuts also included sale of surplus property; lowering the amount of funds paid to the teachers' pension fund; moving funds into the general fund that were formerly earmarked, and canceling a program for networking district computers. Indeed, he proclaimed not only a balanced budget but also a surplus.
As former Chicago Teachers Union (CTU) vice president Howard Heath notes, as Vallas left CPS in 2001 (after arguably falling out of favor with former Chicago Mayor Richard Daley), ​"unfunded pension liabilities began to rise" and ​"the pension holiday that Vallas started at CPS proved to be" devastating, costing CPS $2 billion by 2006.
Already known for his penchant for budget cuts during his time as Chicago's budget director in the early '90s, Vallas took money dedicated to other, critical purposes (as in pension funding) when he was Chicago Public Schools (CPS) CEO (1995-2001) and played a budgetary shell game that produced the illusion of surplus.
Vallas did not return a request to comment on this or any of the other claims in this article. But in response to another opinion article that In These Times is publishing related to Vallas' background in education, a Vallas spokesperson wrote in an email that, in part, Vallas left Chicago Public Schools with ​"almost $1 billion in cash balances, a fully funded teacher retirement system" and ​"achieved similarly positive results in each of the other major school districts he ran."
"Paul is proud of his record of turning around failing school districts and improving outcomes for students and the community, and any other characterization is absolutely false," the spokesperson wrote.
As the election draws closer, several articles about Vallas' track record in education have been published and widely circulated. One of them was ​"Paul Vallas's trail of school privatization" by Jim Daley of The TRiiBE. Another was ​"How Vallas Helped Wall Street Loot Chicago's Schools" by Matthew Cunningham-Cook that ran in The Lever.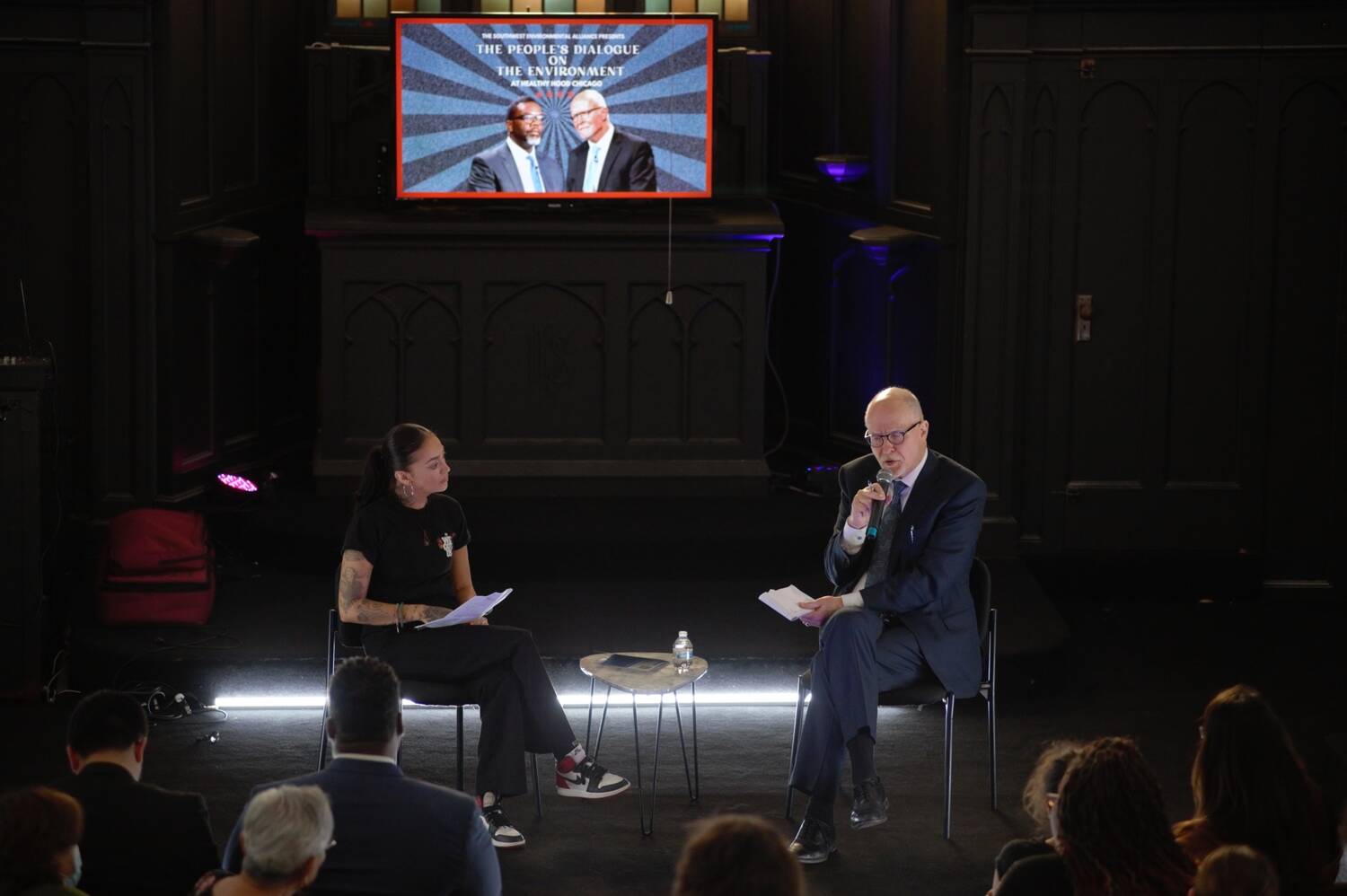 Paul Vallas answering questions at The Peoples Dialogue on the Environment at Healthy Hood in Chicago on March 27, 2023.
(Photo by Jacek Boczarski/Anadolu Agency via Getty Images)
Vallas' issues didn't stop in Chicago. Consider his exit as Philadelphia schools CEO, as reported in 2008 in Education Next:
The beginning of the end of his tenure happened when, just four months after he had told the Philadelphia City Council that the budget was balanced and a month after the SRC (School Reform Commission), by a 3 – 2 vote, had renewed his contract until 2010, the district suddenly was revealed to have a $73 million deficit. …
Embarrassed SRC members, led by Whelan and James Gallagher, the president of Philadelphia University, pushed for Vallas' ouster. In the spring of 2007, they took him to lunch at the Four Seasons Hotel and told him that they had lost confidence in him.
Further along in the article, Vallas defends himself by saying, ​"The deficit I left on paper was $40 million. The deficit I inherited was $160 million."
However, a $40 million deficit is still not ​"balancing the budget," which is what Vallas apparently led the SRC to believe he had accomplished, and that is the point.
Keep in mind that Vallas' Four Seasons lunch in Philadelphia occurred in 2007 even as back in Chicago, the Vallas-induced CPS pension woes were in full-blown, code-red crisis mode, requiring CPS to contribute a staggering $90 million in 2007 to keep the pension fund viable — a price tag that would rise to $340 million by 2010.
Vallas was brought to Philadelphia after he left his position in Chicago to lead a takeover miracle. He was hired to be the rainmaker, not to make excuses about the drought.
He was hired to be the rainmaker, not to make excuses about the drought.
In 2007, after leaving his post with the School District of Philadelphia, Vallas moved on to his next state takeover of schools in post-Katrina New Orleans. There was no pension fund to easily divest since all New Orleans teachers had been summarily fired following the storm, opening a door for the likes of Teach for America (TFA) temporary teachers to be brought in over the years (such individuals did not stay long enough to bother about pensions, but they did cost more in the short term; TFA collected fees on top of the TFA teachers' regular salaries). Meanwhile, Vallas conducted no concerted campaign to rehire previously-fired New Orleans locals who were teachers certainly connected to this ravaged community and who lost everything in the storm. But there was a lot of federal disaster relief money rolling in, and Vallas had for himself the convenience of a weakened teachers' union.
In A Chronicle of Echoes, I noted my surprise at Vallas' hiring:
It truly astounds me that State Superintendent Paul Pastorek hired Vallas to run [Recovery School District (RSD)] given that one primary reason for state takeover of Orleans schools in 2003 involved fiscal mismanagement. But hire Vallas Pastorek did.
According to the New York Times in 2008, Vallas liked the idea of the power he had in New Orleans:
When I asked Paul Vallas what made New Orleans such a promising place for educational reform, he told me that it was because he had no ​"institutional obstacles" no school board, no collective bargaining agreement, a teachers' union with very little power. ​"No one tells me how long my school day should be or my school year should be," he said. ​"Nobody tells me who to hire or who not to hire. I can hire the most talented people. I can promote people based on merit and based on performance. I can dismiss people if they're chronically nonattending or if they're simply not performing."
An example of Vallas' non-oversight of the New Orleans Recovery School District can be summarized by these excerpts from the executive summary of the fiscal year 2012 audit conducted by the Louisiana Legislative Auditor:
For the fifth consecutive year, RSD did not ensure that movable property was safeguarded against loss including loss, arising from unauthorized use and misappropriation. RSD's annual certification of property inventory identified 403 unlocated items totaling $553,385. Of the 403 unlocated items, 346 items were computers. In addition, RSD reported 194 movable property items totaling $168,375 as missing or stolen in fiscal year 2011.
For the fifth consecutive year, RSD identified overpayments made to employees, did not ensure that employee separation dates were accurate or entered timely, and did not have adequate documentation to support certain payroll charges.
For the fourth consecutive year, RSD did not ensure that certifications for payroll expenditures charged to federal programs were completed as required by federal regulations. As a result, there is an increased risk that expenditures will not be fairly and accurately allocated to federal programs.
To be fair, the auditor did comment that regarding the payroll documentation and compliance issues, ​"RSD has improved its controls in this area compared to the prior year." However, this sliding-scale ​"improvement" is unacceptable from a man who reveled in the idea of having virtually unchecked power.
And that excerpt from the executive summary implies that previous audits also demonstrate that Vallas did not adequately track the spending of taxpayer money.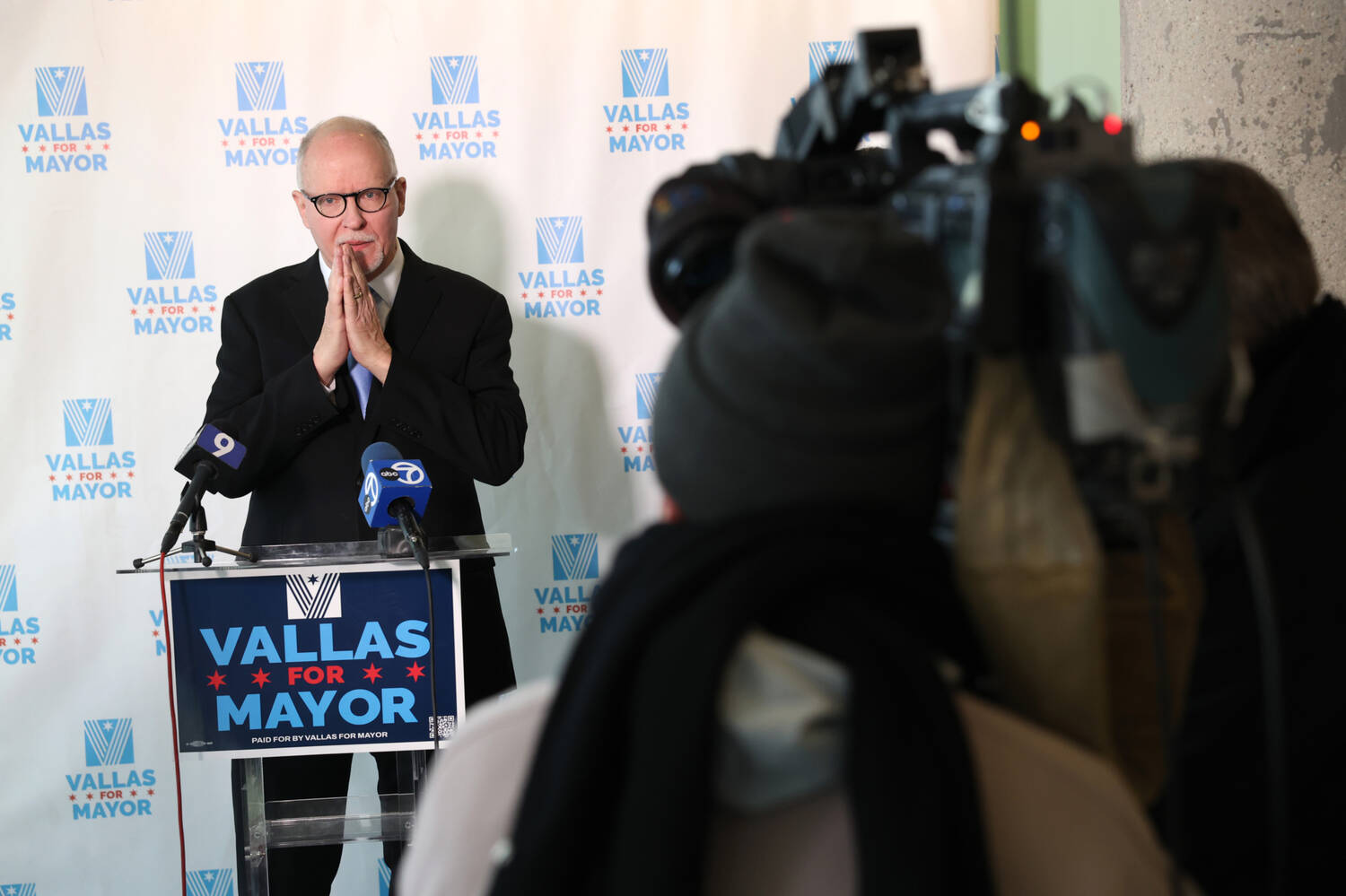 Paul Vallas during a news conference at his campaign headquarters on February 3, 2023 in Chicago, Illinois.
(Photo by Scott Olson/Getty Images)
An April 2013 audit of RSD construction spending from January 2007 to September 2009 also produced the following concerns about wasteful project management and questionable spending, most of which happened on Vallas' watch:
Inadequate project management practices resulted in a total of $6,120,258 of questionable costs that were charged for materials or labor that may not have been provided or items that do not include sufficient evidence to support their cost. … Alvarez and Marsal and HOV/​Meridian failed to verify that work included in change orders was completed or even provided. In addition, because of the lack of project documentation, we could not verify the cost reasonableness of certain change orders.
Linfield, Hunter and Junius, Inc. (Linfield) appears to have billed RSD $3,543,718 for the same site work design services through increases in the cost curve and as additional services. … The additional design fees do not appear to be reasonable. … By dividing the $460,000 Linfield charged by $195 (the highest hourly personnel rate submitted), we determined that it would take 2,359 man hours (10 people working 8 hours a day for 30 days) to generate the $460,000 fee . … By increasing the fee based on project cost increases and billing for the same work as additional design services, Linfield appears to have billed RSD at least $3,543,718 for the same services.
Arrighi-Simoneaux Construction (Arrighi-Simoneaux) billed RSD $685,558 and $666,419, respectively, for general conditions for the same 77-day period through separate change orders. … Arrighi-Simoneaux billed RSD $170,571, which includes $37,000 of incorrectly charged sales tax, for fuel for temporary generators to power five modular campuses but did not provide the fuel. … Arrighi-Simoneaux billed RSD $37,843 for 16 light pole foundations that were not provided. In addition, $472,852 of the cost to provide light pole foundations appears to be unreasonable for the service provided. … Arrighi-Simoneaux added 9% tax to the amount they already paid for items (which included taxes), marked that amount up 10%, and then billed RSD.
We analyzed several of Arrighi-Simoneaux's change orders to determine if the unit prices were reasonable. The following items are examples of unit prices and quantities of materials that appear to produce unreasonable costs: Change order number 8 includes work to drill 180 4-in. holes in wooden floors. Arrighi-Simoneaux charged RSD a unit price of $110 per hole. Based on manufacturers' demonstrations, it takes less than 30 seconds to drill a 4-in. diameter hole through 3/4-in. thick plywood. Allowing 10 minutes per hole to compensate for moving from one drill location to the next and changing buildings, the price per hour would be $660 which seems unreasonable for drilling holes. Arrighi-Simoneaux billed RSD $19,800 for this work.
Vallas also made it clear that New Orleans was not a destination for him, that he was just passing through. His family remained in Chicago, and Louisiana taxpayers funded Vallas' drives between New Orleans and Chicago in his state vehicle.
His family remained in Chicago, and Louisiana taxpayers funded Vallas' drives between New Orleans and Chicago in his state vehicle.
Pastorek, who apparently knew that Vallas was using a Louisiana vehicle on personal drives through multiple states and clear up to Illinois, apparently did not know how many trips Vallas had taken (Pastorek told the Times-Picayune in 2009 that he thought the number was ​"about six.") In November 2009, the Times-Picayune reported that Vallas had used his state vehicle to travel 41 times out of state, mostly to visit family in Chicago and on the Gulf Coast. Louisiana taxpayers also paid for an accident Vallas was in when he used his Louisiana vehicle to travel to an Illinois political meeting.

Louisianans even paid for the gas:
The superintendent of the Recovery School District drove his state-issued vehicle on numerous out-of-state personal trips in an arrangement that violated the state administrative code but had the blessing of his immediate supervisor, according to an audit report released this morning. …
The state paid for $946 in fuel costs for these trips and also paid $774 to cover damage that Vallas caused in a Nov. 2, 2008, car accident that happened while he was driving to a press conference in Chicago to discuss a constitutional convention in that state.
Weeks after taking office in Chicago in 1995, Vallas ​"banned out-of-town trips by central office staff"—who were most likely not driving around in state vehicles and across multiple state lines — only to exploit Louisiana taxpayers for his personal trips back to the Windy City.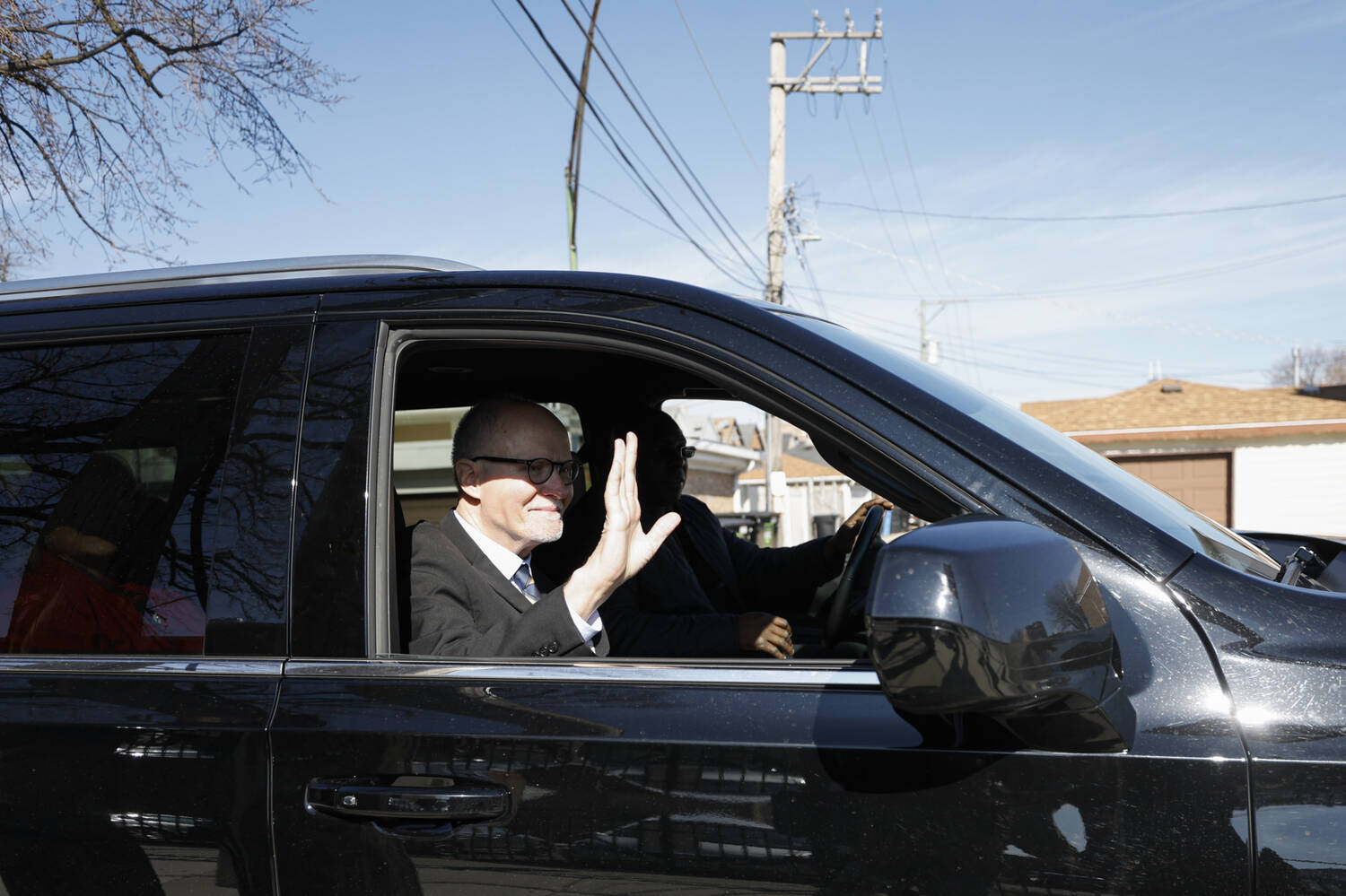 Paul Vallas leaving Robert Healy Elementary School after casting his ballot on February 28, 2023.
(Photo by Kamil Krzaczynski/Getty Images)
Furthermore, according to the December 2010 Lens, from February to October 2010, Vallas took dozens of sort-of-unpaid days of leave, including some two dozen days out of the country to consult with a bank in Haiti about rebuilding Haitian schools and also to consult in Chile. (Sort-of unpaid leave because if Vallas called into his New Orleans office, the Lens reports that he was paid for his phone-in time.)
I wrote about Vallas' Haiti consulting in A Chronicle of Echoes. State board member Linda Johnson commented to the 2010 Lens, ​"I think it was a misuse of his services. We pay him to do work in New Orleans. Until New Orleans no longer needed him, he should have stayed in New Orleans."

While still with RSD, in 2011, Vallas also tried to carry the business model of education to Chile. As Substance News reported in July 2011, Chilean students were having none of it, with an estimated 20,000 citizens taking to the streets of Santiago in protest.
But Vallas was about done with New Orleans.
In January 2012, after leaving the New Orleans RSD, Vallas became superintendent of schools of yet another state takeover district, this time in Bridgeport, Conn., following board appointment in December 2011. In June 2013, the Fairfield District Superior Court decision declared that Vallas had not completed adequate coursework to meet the education credentials requirement needed to be superintendent and should therefore be removed. The Connecticut Supreme Court dismissed the first judge's ruling five months later, in November 2013.
"I think it was a misuse of his services. We pay him to do work in New Orleans. Until New Orleans no longer needed him, he should have stayed in New Orleans."
By then, like he does so often, Vallas was already moving on, noting that he planned to be Pat Quinn's running mate in the 2014 Illinois governor's race. However, his 60-day notice did not have him leaving in the expected departure month of January 2014. Instead, Connecticut taxpayers continued to pay Vallas $4,500 a week until March 1, 2014, or just 17 days prior to the Illinois primary.

Vallas, once again, lands on his feet, as the January 2014 Chicago Sun Times reports:
If the Bridgeport school board had fired Vallas before Dec. 31, the board would have owed him a lump sum of $234,000 — equivalent to one year of his salary — plus one year of health insurance for him and his family, according to his contract.
Instead, Vallas will collect about $72,000 from the school system if he remains on the job until March 1 — 16 weeks after he decided to run for lieutenant governor of Illinois.
Even though Chicago is on its way to an elected school board, according to the current plan, the mayor will still appoint the majority of seats in 2024 and a full election of the board will not be for several years.
That would give Vallas, if elected mayor, plenty of time and power to do what he likes to do. Then, when the political kitchen gets too hot, he'll move on.
As a 501©3 nonprofit, In These Times does not support or oppose any candidate for public office.