Building on Standing Rock, Native Americans Lead the Way at the People's Climate March in D.C.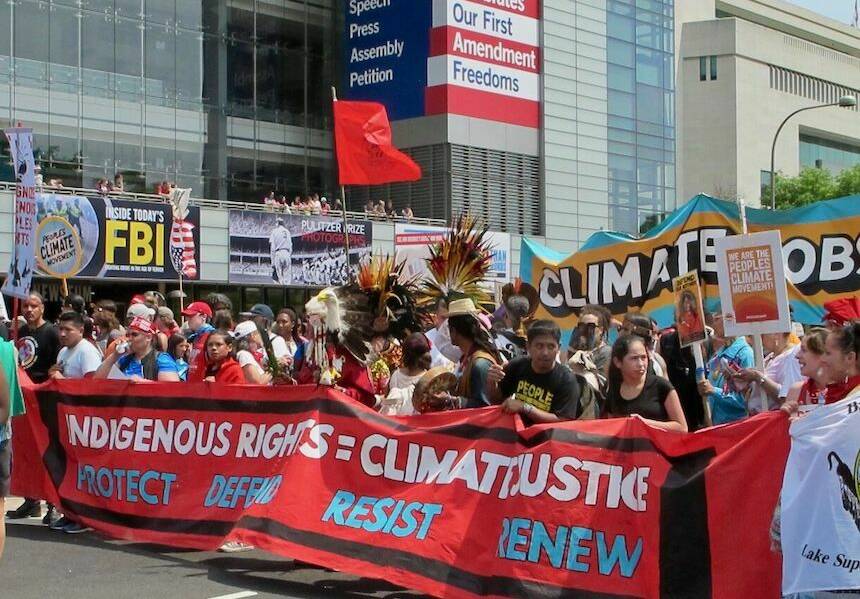 "We are at a major move­ment moment," says Judith LeBlanc, a mem­ber of the Cad­do Nation of Okla­homa and direc­tor of the Native Orga­niz­ers Alliance (NOA), which helps indige­nous advo­ca­cy groups build their orga­ni­za­tions and capac­i­ty. As LeBlanc watched trib­al mem­bers from around the coun­try gath­er near the U.S. Capi­tol to lead the April 29 People's Cli­mate March, she cred­it­ed the past year's Stand­ing Rock demon­stra­tions against the Dako­ta Access Pipeline for bring­ing aware­ness to indige­nous strug­gles and the con­tin­ued threats to land and water by a range of industries.
"Stand­ing Rock was the largest, longest con­tin­u­ous protest in U.S. his­to­ry," says LeBlanc. As a result, she says, a net­work of trib­al lead­ers and grass­roots peo­ple and groups have coa­lesced around the issue of cli­mate jus­tice. ​"We have the land base, the peo­ple, the tra­di­tion­al knowl­edge and the sov­er­eign­ty that will ground cli­mate action for the twen­ty-first cen­tu­ry. The pow­er of our beliefs and his­to­ry can be a guide for all peo­ple." This is already hap­pen­ing, she adds, recall­ing that Stand­ing Rock was not just about the con­cerns of that one reser­va­tion but about every­one whose water is endan­gered by build­ing an oil pipeline across the Mis­souri River.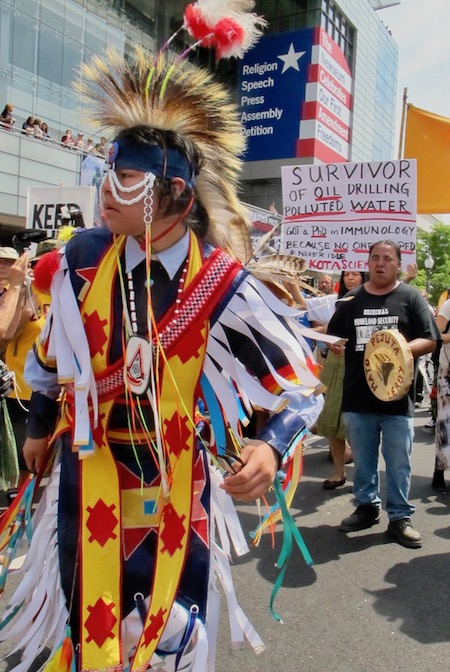 Win­field Wound­ed Eye, a North­ern Cheyenne tribe mem­ber liv­ing in Chica­go, per­forms the tra­di­tion­al Grass Dance at the People's Cli­mate March, in Wash­ing­ton, D.C. (Pho­to: Stephanie Woodard)
The atten­tion that the Stand­ing Rock actions gen­er­at­ed led to two Native groups being includ­ed in plan­ning for the 2017 cli­mate march, says LeBlanc — NOA and the Indige­nous Envi­ron­men­tal Net­work, which was promi­nent in the Stand­ing Rock anti-pipeline actions. Even­tu­al­ly, this con­nec­tion led to the place­ment of trib­al par­tic­i­pants at the head of the D.C. pro­ces­sion, where they led the 150,000-person strong march. A sim­i­lar num­ber of par­tic­i­pants took to the streets in march­es around the coun­try and the globe.
In Wash­ing­ton, Indi­an humor leav­ened the seri­ous­ness of the occa­sion and the reminders of the hor­rif­ic envi­ron­men­tal dev­as­ta­tion wreaked on vul­ner­a­ble indige­nous com­mu­ni­ties. A cov­ered wag­on labeled ​"Colo­nial­ism" and pierced with arrows rolled along behind trib­al marchers car­ry­ing signs declar­ing ​"Hon­or the Treaties," ​"Keep It In the Ground" and ​"Mni Wiconi" (Lako­ta for ​"water is life"). Miguel Muñiz, a mem­ber of a tra­di­tion­al Aztec-dance troupe who hailed from Mex­i­co City, explains: ​"As indige­nous peo­ple, we know about resilience as well as resis­tance. We've been doing that for­ev­er." He paused. ​"Well…since 1492."
In addi­tion to the larg­er issues of cli­mate change and cli­mate jus­tice, Sioux peo­ple gath­ered in D.C. had an imme­di­ate prob­lem on their minds. Accord­ing to Rose­bud Sioux leader OJ Semans, an offi­cial of the nation­al inter-trib­al group, Coali­tion of Large Tribes, dozens of Sioux were march­ing to protest efforts to revive the Key­stone XL pipeline, which is slat­ed to cross their ter­ri­to­ry on its way to the U.S. Gulf Coast. The line would trans­port the dan­ger­ous, cor­ro­sive tar-sands oil whose extrac­tion has dev­as­tat­ed Cana­di­an trib­al lands and turned stretch­es of Canada's bore­al for­est into moon­scapes of open-pit mines and waste­water lakes.
Semans called the pipeline a ​"zom­bie" — some­thing the tribes had helped defeat dur­ing Pres­i­dent Obama's admin­is­tra­tion, only to have it rise again, thanks to the new admin­is­tra­tion and its fond­ness for indus­try-friend­ly exec­u­tive orders and mori­bund ener­gy sources.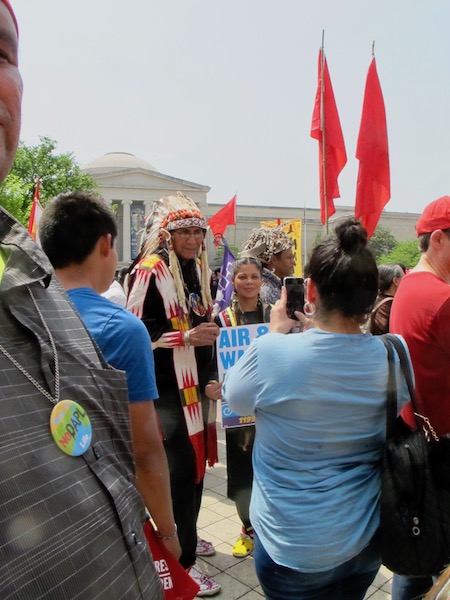 Chief Arvol Look­ing Horse, a Cheyenne Riv­er Sioux tribe mem­ber and his people's 19th-Gen­er­a­tion Keep­er of the Sacred White Buf­fa­lo Calf Pipe, attends the Peo­ple's Cli­mate March. (Pho­to: Stephanie Woodard)
The People's Cli­mate March took place at a crit­i­cal moment for the plan­et, says Faith Gem­mill, an exec­u­tive of the Alas­ka grass­roots coali­tion REDOIL (Resist­ing Envi­ron­men­tal Destruc­tion on Indige­nous Lands). In a pre-march event ear­li­er in the day in Wash­ing­ton, Gem­mill decried a new pres­i­den­tial exec­u­tive order that aims to resume off­shore oil drilling, includ­ing in the high­ly sen­si­tive Arc­tic ecosys­tem. She told the gath­ered crowd, ​"We need to shift the ener­gy par­a­digm now for human­i­ty to survive."
Faith Spot­ted Eagle, of the Yank­ton Sioux Tribe, in South Dako­ta, and Meli­na Labou­can-Mas­si­mo, of the Lubi­can Cree First Nation, in Alber­ta, Cana­da, say their own com­mu­ni­ties have already begun the tran­si­tion to green ener­gy. In addi­tion, Spot­ted Eagle told Rur­al Amer­i­ca In These Times, sev­en Sioux tribes in South Dako­ta are col­lab­o­rat­ing on Oceti Sakowin (Great Sioux Nation) Pow­er Author­i­ty. A wind-ener­gy project, it is on track to become one of the country's largest, with the abil­i­ty to pro­vide elec­tric­i­ty region­al­ly as well as to the mem­ber tribes.
After the march, Muñiz sat in a bus stop on Con­sti­tu­tion Avenue, near the Wash­ing­ton Mon­u­ment, with his orange-and-brown-feath­ered Aztec-dance head­dress bun­dled up beside him. He said he had trav­eled to join the marchers from his cur­rent home in the D.C. sub­urbs because he mourned the loss of progress on cli­mate change since ​"the per­son cur­rent­ly in charge" had been inau­gu­rat­ed. ​"I felt we were already 50 years behind," said Muñiz. ​"Now, things will get worse."
Muñiz recalled the term ​"tree-hug­ger," which is often used as a put­down. He had a dif­fer­ent per­spec­tive. ​"We should all be tree-hug­gers," he said. ​"We have to take care of Moth­er Earth. She's the only one we have."
After the march, par­tic­i­pants placed their signs on the steps of the gar­gan­tu­an stone edi­fice that hous­es the U.S. Envi­ron­men­tal Pro­tec­tion Agency. (Pho­to: Stephanie Woodard)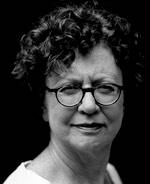 Stephanie Woodard
is an award-win­ning jour­nal­ist who has writ­ten inves­tiga­tive arti­cles for
In These Times
. Her new book is
Amer­i­can Apartheid: The Native Amer­i­can Strug­gle for Self-Deter­mi­na­tion and Inclu­sion
.