Building on Standing Rock, Native Americans Lead the Way at the People's Climate March in D.C.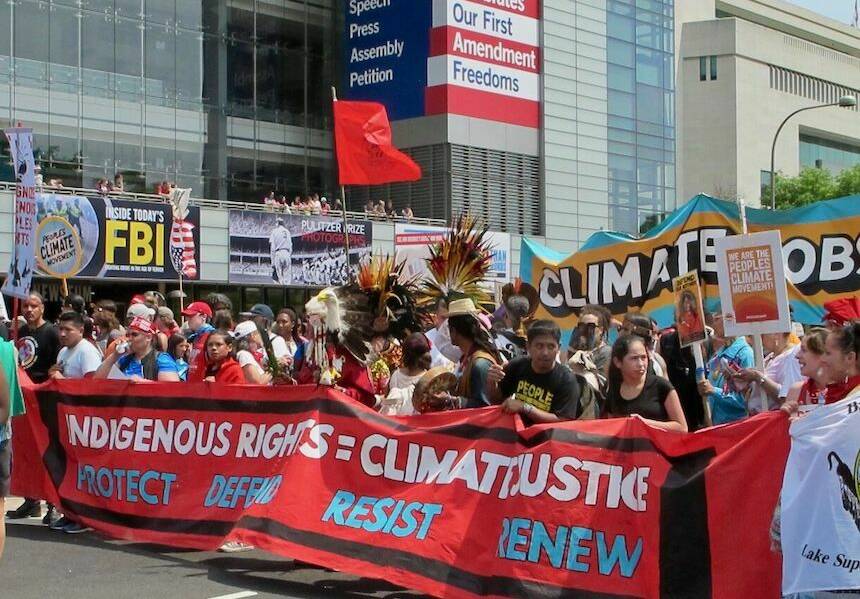 "We are at a major movement moment," says Judith LeBlanc, a member of the Caddo Nation of Oklahoma and director of the Native Organizers Alliance (NOA), which helps indigenous advocacy groups build their organizations and capacity. As LeBlanc watched tribal members from around the country gather near the U.S. Capitol to lead the April 29 People's Climate March, she credited the past year's Standing Rock demonstrations against the Dakota Access Pipeline for bringing awareness to indigenous struggles and the continued threats to land and water by a range of industries.
"Standing Rock was the largest, longest continuous protest in U.S. history," says LeBlanc. As a result, she says, a network of tribal leaders and grassroots people and groups have coalesced around the issue of climate justice. ​"We have the land base, the people, the traditional knowledge and the sovereignty that will ground climate action for the twenty-first century. The power of our beliefs and history can be a guide for all people." This is already happening, she adds, recalling that Standing Rock was not just about the concerns of that one reservation but about everyone whose water is endangered by building an oil pipeline across the Missouri River.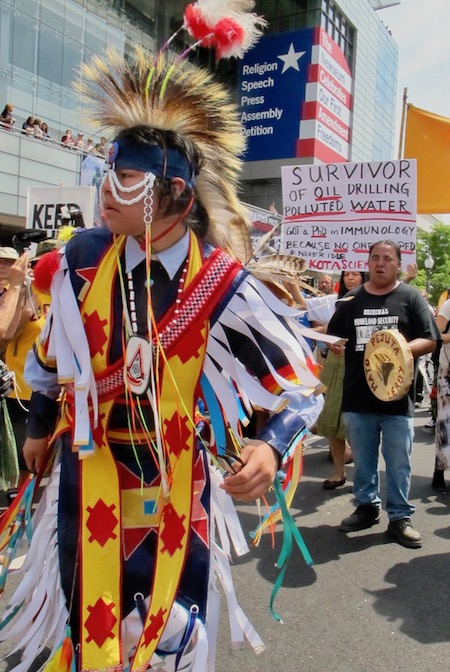 Winfield Wounded Eye, a Northern Cheyenne tribe member living in Chicago, performs the traditional Grass Dance at the People's Climate March, in Washington, D.C. (Photo: Stephanie Woodard)
The attention that the Standing Rock actions generated led to two Native groups being included in planning for the 2017 climate march, says LeBlanc — NOA and the Indigenous Environmental Network, which was prominent in the Standing Rock anti-pipeline actions. Eventually, this connection led to the placement of tribal participants at the head of the D.C. procession, where they led the 150,000-person strong march. A similar number of participants took to the streets in marches around the country and the globe.
In Washington, Indian humor leavened the seriousness of the occasion and the reminders of the horrific environmental devastation wreaked on vulnerable indigenous communities. A covered wagon labeled ​"Colonialism" and pierced with arrows rolled along behind tribal marchers carrying signs declaring ​"Honor the Treaties," ​"Keep It In the Ground" and ​"Mni Wiconi" (Lakota for ​"water is life"). Miguel Muñiz, a member of a traditional Aztec-dance troupe who hailed from Mexico City, explains: ​"As indigenous people, we know about resilience as well as resistance. We've been doing that forever." He paused. ​"Well…since 1492."
In addition to the larger issues of climate change and climate justice, Sioux people gathered in D.C. had an immediate problem on their minds. According to Rosebud Sioux leader OJ Semans, an official of the national inter-tribal group, Coalition of Large Tribes, dozens of Sioux were marching to protest efforts to revive the Keystone XL pipeline, which is slated to cross their territory on its way to the U.S. Gulf Coast. The line would transport the dangerous, corrosive tar-sands oil whose extraction has devastated Canadian tribal lands and turned stretches of Canada's boreal forest into moonscapes of open-pit mines and wastewater lakes.
Semans called the pipeline a ​"zombie" — something the tribes had helped defeat during President Obama's administration, only to have it rise again, thanks to the new administration and its fondness for industry-friendly executive orders and moribund energy sources.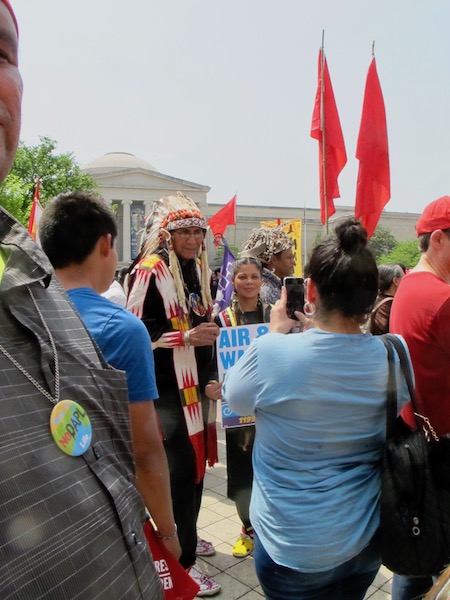 Chief Arvol Looking Horse, a Cheyenne River Sioux tribe member and his people's 19th-Generation Keeper of the Sacred White Buffalo Calf Pipe, attends the People's Climate March. (Photo: Stephanie Woodard)
The People's Climate March took place at a critical moment for the planet, says Faith Gemmill, an executive of the Alaska grassroots coalition REDOIL (Resisting Environmental Destruction on Indigenous Lands). In a pre-march event earlier in the day in Washington, Gemmill decried a new presidential executive order that aims to resume offshore oil drilling, including in the highly sensitive Arctic ecosystem. She told the gathered crowd, ​"We need to shift the energy paradigm now for humanity to survive."
Faith Spotted Eagle, of the Yankton Sioux Tribe, in South Dakota, and Melina Laboucan-Massimo, of the Lubican Cree First Nation, in Alberta, Canada, say their own communities have already begun the transition to green energy. In addition, Spotted Eagle told Rural America In These Times, seven Sioux tribes in South Dakota are collaborating on Oceti Sakowin (Great Sioux Nation) Power Authority. A wind-energy project, it is on track to become one of the country's largest, with the ability to provide electricity regionally as well as to the member tribes.
After the march, Muñiz sat in a bus stop on Constitution Avenue, near the Washington Monument, with his orange-and-brown-feathered Aztec-dance headdress bundled up beside him. He said he had traveled to join the marchers from his current home in the D.C. suburbs because he mourned the loss of progress on climate change since ​"the person currently in charge" had been inaugurated. ​"I felt we were already 50 years behind," said Muñiz. ​"Now, things will get worse."
Muñiz recalled the term ​"tree-hugger," which is often used as a putdown. He had a different perspective. ​"We should all be tree-huggers," he said. ​"We have to take care of Mother Earth. She's the only one we have."
After the march, participants placed their signs on the steps of the gargantuan stone edifice that houses the U.S. Environmental Protection Agency. (Photo: Stephanie Woodard)
For a limited time: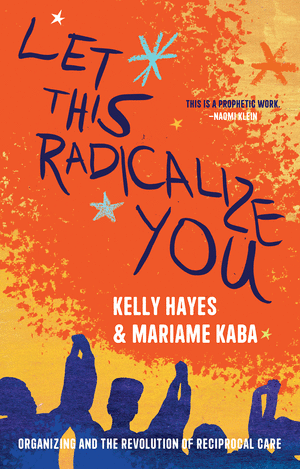 Donate $20 or more to support In These Times and we'll send you a copy of Mariame Kaba's new book, Let This Radicalize You.
Longtime organizers and movement educators Mariame Kaba and Kelly Hayes examine the political lessons of the Covid-19 pandemic, and the convergence of mass protest and mass formations of mutual aid. Featuring insights from a spectrum of experienced organizers, including Sharon Lungo, Carlos Saavedra, Ejeris Dixon, Barbara Ransby, and Ruth Wilson Gilmore and more.
"Kelly Hayes and Mariame Kaba have created a visionary and urgently needed guide to cultivating hope and action in treacherous times." —L.A. Kauffman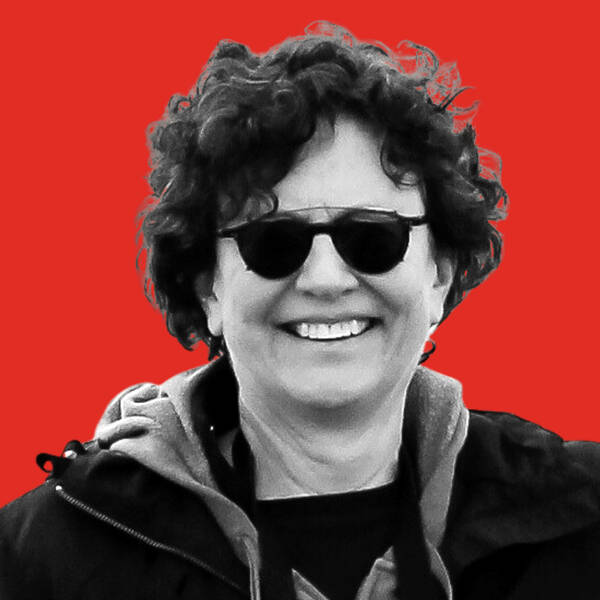 Stephanie Woodard is an award-winning investigative journalist who writes on human rights and culture. Her book American Apartheid: The Native American Struggle for Self-Determination and Inclusion is based on more than 20 years of reporting in Indigenous communities. She was an editor at major consumer magazines for more than two decades.