The Philippine President Is Waging a Ruthless War on Drugs—And the U.S. Is Complicit
The International People's Tribunal found that President Rodrigo Duterte is responsible for grave human rights violations.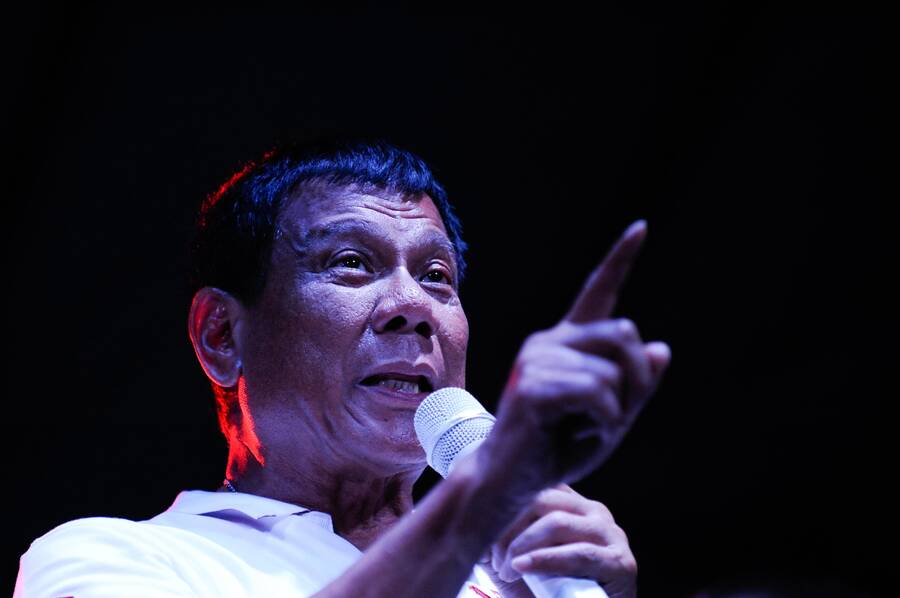 Many Americans have heard about Filipino President Rodrigo Duterte's horrendous war on drugs, which has resulted in thousands of deaths of mostly poor people, including at least one as young as 17.
Duterte rules by fear and impunity.
But the Duterte regime has also committed a host of other grave human rights violations with support from the U.S. government, as we heard at the International People's Tribunal on the Philippines held in Brussels on September 18 and 19, for which I served as a member of the jury. The case was brought by the Filipino people against Duterte and Trump, among other defendants.
Given the overwhelming impunity in the Philippines, made worse by U.S. support, human rights activists are pursuing other routes to hold perpetrators accountable. To help give voice to the survivors, the tribunal was convened by human rights, peace, justice, faith and legal groups.
The complainants presented, either in person or through video, 31 witnesses including directly-impacted people and experts.
Extra-judicial killings and martial law
Duterte's War on Drugs carried out by the Philippine National Police, which Duterte instigated through issuance of a police memorandum to ​"neutralize" or kill suspected drug users, has resulted in the deaths of at least 4,410 persons in police operations, with independent sources putting it at 23,000, per the verdict of the International People's Tribunal. Duterte has even compared himself to Hitler and said that he would be happy to slaughter drug users in the millions.
But extra-judicial killings have not been limited to those suspected of using or dealing drugs. The forces of Duterte have also summarily killed human rights defenders and those in the Philippine civil society who have criticized the government. As of June 2018, 169 leaders of the progressive movement had been victims of extrajudicial-killings and an additional 509 political prisoners were illegally jailed and subjected to trumped-up criminal charges, according to the verdict of the International People's Tribunal.
Duterte has enabled the military to carry out bombings and widespread abuses against the Filipino people, including during the military invasion of Marawi. The bombings and armed interventions damaged infrastructure, including 37 mosques, 12,000 homes and 22 private schools, as was cited in the verdict of the International People's Tribunal.
Duterte's enforcement of Martial Law in Mindanao has led to the killing and displacement of scores of people, as well as abuses by the armed forces, such as capricious arrests and imprisonment. The crackdown has targeted the mostly Muslim communities in Marawi through clamping down on their religious rights. The Writ of Habeas Corpus was suspended and still remains so.
Targeting of human rights advocates
Duterte rules by fear and impunity. He has assailed any entities that could serve as a watchdog, such as press and human rights organizations. The police and security apparatus have a free hand in committing crimes as they know that they can get away with it.
Duterte viciously attacked Maria Lourdes Sereno, the first woman chief justice of the Philippines, and orchestrated her removal from the Supreme Court.
Furthermore, human rights observers are increasingly prevented from entering. Just one example is Professor Gill Boehringer, an 84 year old with dual citizenship in the United States and Australia. He is a long-time human rights advocate in the Philippines who was deported in August after being told that he was among those blacklisted, allegedly for joining protest actions and fact finding missions in the Philippines.
Duterte has also intensified his attacks on lawyers, resulting in the murder thus far of 10 prosecutors, 21 lawyers and three judges. Directing his attacks to those who handle drug cases, Duterte has repeatedly threatened them with being next in this campaign of extra-judicial killings.
U.S. and Israeli support for state repression
The U.S. and Israeli governments aid and abet these human rights violations.
The U.S. military has had a presence in the Philippines for a long time and, as stated by the witnesses at the tribunal, is obsessed with maintaining its colonial domination. In the Indo-Pacific region, the Philippines is among the largest recipients of U.S. military aid, likely driven by the American desire to contain the influence of China. U.S. Special Forces remotely man drones, and they provided intelligence, surveillance and reconnaissance support in the devastating invasion of Mindanao.
Trump has approved of the methods used by Duterte in the drug war and has continuously supported cracking down on those who speak up against U.S. imperialist aims.
But the United States is not alone. Britain, meanwhile, sold surveillance equipment to Duterte in the midst of his brutal war on drugs. And Duterte recently took a trip to Israel to purchase weapons.
Need for Accountability
The tribunal found Trump, Duterte and other defendants guilty of war crimes, crimes against humanity and other grave human rights violations — and called for accountability and reparations for the population whose rights have been violated. The verdict states that ​"the focus here is on human rights: their open disregard and denial by the U.S.-backed regime of Defendant Duterte has produced a tragic scenario of intolerable violence, impunity, and state terror, which must be immediately exposed not only to be condemned, but to require an immediate awareness by the peoples of the world and intervention by the responsible actors of international law."
A complaint against Duterte has been filed with the International Criminal Court by Philippines-based organizations and is pending. Duterte has threatened to arrest the ICC prosecutor, reminiscent of the way U.S. National Security Advisor John Bolton has threatened to prosecute the ICC judges.
The U.S. Congress also needs to cut aid to the Philippines military. The Leahy law prohibits the U.S. Department of State and Department of Defense from ​"using funds for assistance to units of foreign security forces where there is credible information implicating that unit in the commission of gross violations of human rights." It is high time that the Leahy law was abided by and Trump and the U.S. government were held accountable for their facilitation of grave human rights violations against the Filipino people.
Be one of the first
Help kick off the new era of In These Times! Without a media that brings people together and creates a written record of the struggles of workers, their voices will be fragmented and forgotten.
The mission of In These Times is to be that written record, and to guide and grow those movements.
We have a lot of work ahead of us, and that work starts today. Early support is the most valuable support, and that's why we're asking you to pitch in now. If you are excited for this new era of In These Times, please make a donation today.
Azadeh Shahshahani is legal and advocacy director at Project South and a past president of the National Lawyers Guild. She tweets @ashshahahani.