The Philippine President Is Waging a Ruthless War on Drugs—And the U.S. Is Complicit
The International People's Tribunal found that President Rodrigo Duterte is responsible for grave human rights violations.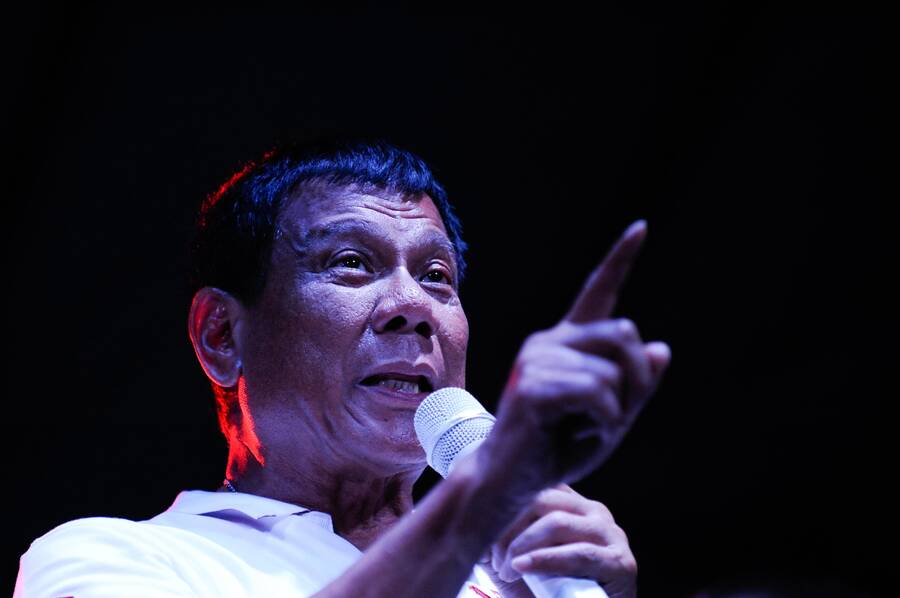 Many Amer­i­cans have heard about Fil­ipino Pres­i­dent Rodri­go Duterte's hor­ren­dous war on drugs, which has result­ed in thou­sands of deaths of most­ly poor peo­ple, includ­ing at least one as young as 17.
Duterte rules by fear and impunity.
But the Duterte régime has also com­mit­ted a host of oth­er grave human rights vio­la­tions with sup­port from the U.S. gov­ern­ment, as we heard at the Inter­na­tion­al People's Tri­bunal on the Philip­pines held in Brus­sels on Sep­tem­ber 18 and 19, for which I served as a mem­ber of the jury. The case was brought by the Fil­ipino peo­ple against Duterte and Trump, among oth­er defendants.
Giv­en the over­whelm­ing impuni­ty in the Philip­pines, made worse by U.S. sup­port, human rights activists are pur­su­ing oth­er routes to hold per­pe­tra­tors account­able. To help give voice to the sur­vivors, the tri­bunal was con­vened by human rights, peace, jus­tice, faith and legal groups.
The com­plainants pre­sent­ed, either in per­son or through video, 31 wit­ness­es includ­ing direct­ly-impact­ed peo­ple and experts.
Extra-judi­cial killings and mar­tial law
Duterte's War on Drugs car­ried out by the Philip­pine Nation­al Police, which Duterte insti­gat­ed through issuance of a police mem­o­ran­dum to ​"neu­tral­ize" or kill sus­pect­ed drug users, has result­ed in the deaths of at least 4,410 per­sons in police oper­a­tions, with inde­pen­dent sources putting it at 23,000, per the ver­dict of the Inter­na­tion­al People's Tri­bunal. Duterte has even com­pared him­self to Hitler and said that he would be hap­py to slaugh­ter drug users in the millions.
But extra-judi­cial killings have not been lim­it­ed to those sus­pect­ed of using or deal­ing drugs. The forces of Duterte have also sum­mar­i­ly killed human rights defend­ers and those in the Philip­pine civ­il soci­ety who have crit­i­cized the gov­ern­ment. As of June 2018, 169 lead­ers of the pro­gres­sive move­ment had been vic­tims of extra­ju­di­cial-killings and an addi­tion­al 509 polit­i­cal pris­on­ers were ille­gal­ly jailed and sub­ject­ed to trumped-up crim­i­nal charges, accord­ing to the ver­dict of the Inter­na­tion­al People's Tribunal.
Duterte has enabled the mil­i­tary to car­ry out bomb­ings and wide­spread abus­es against the Fil­ipino peo­ple, includ­ing dur­ing the mil­i­tary inva­sion of Marawi. The bomb­ings and armed inter­ven­tions dam­aged infra­struc­ture, includ­ing 37 mosques, 12,000 homes and 22 pri­vate schools, as was cit­ed in the ver­dict of the Inter­na­tion­al People's Tribunal.
Duterte's enforce­ment of Mar­tial Law in Min­danao has led to the killing and dis­place­ment of scores of peo­ple, as well as abus­es by the armed forces, such as capri­cious arrests and impris­on­ment. The crack­down has tar­get­ed the most­ly Mus­lim com­mu­ni­ties in Marawi through clamp­ing down on their reli­gious rights. The Writ of Habeas Cor­pus was sus­pend­ed and still remains so.
Tar­get­ing of human rights advocates
Duterte rules by fear and impuni­ty. He has assailed any enti­ties that could serve as a watch­dog, such as press and human rights orga­ni­za­tions. The police and secu­ri­ty appa­ra­tus have a free hand in com­mit­ting crimes as they know that they can get away with it.
Duterte vicious­ly attacked Maria Lour­des Sereno, the first woman chief jus­tice of the Philip­pines, and orches­trat­ed her removal from the Supreme Court.
Fur­ther­more, human rights observers are increas­ing­ly pre­vent­ed from enter­ing. Just one exam­ple is Pro­fes­sor Gill Boehringer, an 84 year old with dual cit­i­zen­ship in the Unit­ed States and Aus­tralia. He is a long-time human rights advo­cate in the Philip­pines who was deport­ed in August after being told that he was among those black­list­ed, alleged­ly for join­ing protest actions and fact find­ing mis­sions in the Philippines.
Duterte has also inten­si­fied his attacks on lawyers, result­ing in the mur­der thus far of 10 pros­e­cu­tors, 21 lawyers and three judges. Direct­ing his attacks to those who han­dle drug cas­es, Duterte has repeat­ed­ly threat­ened them with being next in this cam­paign of extra-judi­cial killings.
U.S. and Israeli sup­port for state repression
The U.S. and Israeli gov­ern­ments aid and abet these human rights violations.
The U.S. mil­i­tary has had a pres­ence in the Philip­pines for a long time and, as stat­ed by the wit­ness­es at the tri­bunal, is obsessed with main­tain­ing its colo­nial dom­i­na­tion. In the Indo-Pacif­ic region, the Philip­pines is among the largest recip­i­ents of U.S. mil­i­tary aid, like­ly dri­ven by the Amer­i­can desire to con­tain the influ­ence of Chi­na. U.S. Spe­cial Forces remote­ly man drones, and they pro­vid­ed intel­li­gence, sur­veil­lance and recon­nais­sance sup­port in the dev­as­tat­ing inva­sion of Mindanao.
Trump has approved of the meth­ods used by Duterte in the drug war and has con­tin­u­ous­ly sup­port­ed crack­ing down on those who speak up against U.S. impe­ri­al­ist aims.
But the Unit­ed States is not alone. Britain, mean­while, sold sur­veil­lance equip­ment to Duterte in the midst of his bru­tal war on drugs. And Duterte recent­ly took a trip to Israel to pur­chase weapons.
Need for Accountability
The tri­bunal found Trump, Duterte and oth­er defen­dants guilty of war crimes, crimes against human­i­ty and oth­er grave human rights vio­la­tions — and called for account­abil­i­ty and repa­ra­tions for the pop­u­la­tion whose rights have been vio­lat­ed. The ver­dict states that ​"the focus here is on human rights: their open dis­re­gard and denial by the U.S.-backed régime of Defen­dant Duterte has pro­duced a trag­ic sce­nario of intol­er­a­ble vio­lence, impuni­ty, and state ter­ror, which must be imme­di­ate­ly exposed not only to be con­demned, but to require an imme­di­ate aware­ness by the peo­ples of the world and inter­ven­tion by the respon­si­ble actors of inter­na­tion­al law."
A com­plaint against Duterte has been filed with the Inter­na­tion­al Crim­i­nal Court by Philip­pines-based orga­ni­za­tions and is pend­ing. Duterte has threat­ened to arrest the ICC pros­e­cu­tor, rem­i­nis­cent of the way U.S. Nation­al Secu­ri­ty Advi­sor John Bolton has threat­ened to pros­e­cute the ICC judges.
The U.S. Con­gress also needs to cut aid to the Philip­pines mil­i­tary. The Leahy law pro­hibits the U.S. Depart­ment of State and Depart­ment of Defense from ​"using funds for assis­tance to units of for­eign secu­ri­ty forces where there is cred­i­ble infor­ma­tion impli­cat­ing that unit in the com­mis­sion of gross vio­la­tions of human rights." It is high time that the Leahy law was abid­ed by and Trump and the U.S. gov­ern­ment were held account­able for their facil­i­ta­tion of grave human rights vio­la­tions against the Fil­ipino people.
Azadeh Shahsha­hani
(@ashahshahani) is Legal and Advo­ca­cy Direc­tor with Project South and a past Pres­i­dent of the Nation­al Lawyers Guild.