Our Daily Poison: How Chemicals Have Contaminated the Food Chain and Are Making Us Sick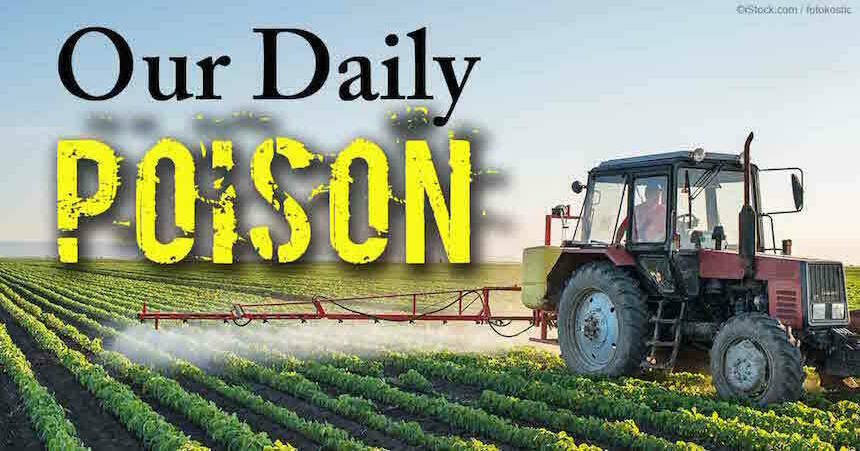 In a 1996 report enti­tled Pes­ti­cides and the Immune Sys­tem: The Pub­lic Health Risks, which was com­mis­sioned by the pres­ti­gious World Resources Insti­tute (WRI) in Wash­ing­ton, DC, Robert Repet­to and San­jay Bali­ga write: ​"The sci­en­tif­ic evi­dence sug­gest­ing that many pes­ti­cides dam­age the immune sys­tem is impres­sive. Ani­mal stud­ies have found that pes­ti­cides alter the immune system's nor­mal struc­ture, dis­turb immune respons­es, and reduce ani­mals' resis­tance to anti­gens and infec­tious agents. There is con­vinc­ing direct and indi­rect evi­dence that these find­ings car­ry over to human pop­u­la­tions exposed to pesticides."
"That doc­u­ment sparked the chem­i­cal industry's wrath," explained Robert Repet­to, an econ­o­mist who spe­cial­izes in sus­tain­able devel­op­ment and who was vice pres­i­dent of the WRI when the report was writ­ten. ​"It was the first time a study had gath­ered all the avail­able data on the effects of pes­ti­cides on the immune sys­tem, a sub­ject that was com­plete­ly under­es­ti­mat­ed at the time and, in my opin­ion, con­tin­ues to be now, even though it is cru­cial to under­stand­ing the epi­dem­ic of can­cer and autoim­mune dis­eases that are observed, notably in indus­tri­al­ized countries."
Indeed it is — and we will revis­it this — as can­cer is rarely caused by one fac­tor alone; more often it is the result of a com­plex and mul­ti­fac­to­r­i­al process, gen­er­al­ly ini­ti­at­ed by the action of pathogens (or of anti­gens), such as rays, virus­es, bac­te­ria, tox­ins, or chem­i­cal pol­lu­tants, and pos­si­bly favored by genet­ic pre­dis­po­si­tions, lifestyle, or diet. In good health, the body can defend itself against the aggres­sion of pathogens by mobi­liz­ing its immune sys­tem, whose func­tion is pre­cise­ly to track and elim­i­nate intrud­ers using the action of three dis­tinct, but com­ple­men­tary, mechanisms.
The first, which biol­o­gists call ​"non­spe­cif­ic immu­ni­ty," involves macrophages and neu­trophils that con­sume invaders (the process is called ​"phago­cy­to­sis"), and nat­ur­al killer (NK) lym­pho­cytes, whose mis­sion is to exter­mi­nate them. The sec­ond, named ​"humoral immu­ni­ty," acti­vates B lym­pho­cytes, pro­duc­ing anti­bod­ies. Final­ly, the third, ​"cel­lu­lar immu­ni­ty," sets T lym­pho­cytes (T4 or T8) in motion, which poi­son the intrud­ers that were phago­cy­tized by the macrophages thanks to the secre­tion of lymphotoxins.
In their lengthy report, Robert Repet­to and San­jay Bali­ga devote 15 pages or so to the numer­ous in vivo (that is, direct­ly on ani­mals) or in vit­ro (on cell cul­tures) stud­ies that have shown that pes­ti­cides can dis­turb one or more of the mech­a­nisms that make up the immune sys­tem. From this long list, of which organochlo­rines (DDT, lin­dane, endo­sul­fan, dield­rin, and chlorde­cone) make up the lion's share, I chose the exam­ple of atrazine, an her­bi­cide that was banned in Europe in 2004 but con­tin­ues to be used in mas­sive quan­ti­ties, notably in the Unit­ed States. When admin­is­tered oral­ly to mice, atrazine dis­turbs the action of T lym­pho­cytes as well as the process of phago­cy­to­sis by macrophages. In anoth­er study pub­lished in 1983, researchers demon­strat­ed an effect on the weight of the thy­mus in exposed rats. (The thy­mus is an essen­tial organ in the immune sys­tem, as it is where T lym­pho­cyte mat­u­ra­tion takes place, and it also plays a role in the pro­tec­tion against autoim­mu­ni­ty — that is, the fab­ri­ca­tion of anti­bod­ies, which, instead of attack­ing intrud­ers, tar­get immune sys­tem cells.) Final­ly, anoth­er exper­i­ment in 1975 revealed that salmon exposed to atrazine through oral or cuta­neous meth­ods showed a low­er weight of the spleen, an organ involved in con­trol­ling bac­te­r­i­al infec­tions, such as pneu­mo­coc­cal or meningo­coc­cal ones.
How­ev­er, as Repet­to and Bali­ga point out, the immune sys­tem anom­alies observed in lab ani­mals fol­low­ing expo­sure to pes­ti­cides have also been observed in wild fau­na. For exam­ple, in Cana­da, autop­sies of whales found dead on the shores of the St. Lawrence Estu­ary showed an ele­vat­ed con­cen­tra­tion of organochlo­rine pes­ti­cides and PCBs, as well as an abnor­mal rate of bac­te­r­i­al infec­tions and can­cer. Syl­vain de Guise, who con­duct­ed a study on the abnor­mal­ly high death rate of the cetaceans, explains that only ​"two fac­tors could have con­tributed to such a high preva­lence of neo­plasms in that sin­gle pop­u­la­tion: expo­sure to car­cino­genic com­pounds and decreased resis­tance to the devel­op­ment of tumors."
Sim­i­lar­ly, in the ear­ly 1990s, a strange epi­dem­ic dec­i­mat­ed the dol­phins of the Mediter­ranean; dozens of their corpses turned up on the coast of Valen­cia, in Spain. Autop­sies revealed that the marine mam­mals had suc­cumbed to an infec­tion brought on by virus­es they could nor­mal­ly over­come (such as mor­bil­livirus). ​"We have gone back over the lit­er­a­ture for more than a hun­dred years and we have found noth­ing like it, no oth­er clus­ter of vir­u­lent epi­demics like we have now," a British researcher com­ment­ed. In the end, stud­ies con­clud­ed that the mass deaths had to be due to low­ered immune defens­es in the dol­phins, whose bod­ies had accu­mu­lat­ed organochlo­rine pes­ti­cides, PCBs, and var­i­ous chem­i­cal pol­lu­tants in their bodies.
The stud­ies con­duct­ed on fau­na show­ing the immuno­sup­pres­sive effects of pes­ti­cides are numer­ous, but one of them is par­tic­u­lar­ly impres­sive. It all start­ed dur­ing the 1980s, when zool­o­gists noticed that seals liv­ing close to ports in the Baltic and North Seas were suc­cumb­ing in huge num­bers to mor­bil­livirus infec­tions. Dutch researchers decid­ed to con­duct a prospec­tive exper­i­ment. They cap­tured baby seals off the north­west coast of Scot­land, con­sid­ered rel­a­tive­ly unpol­lut­ed. The friend­ly mam­mals were divid­ed into two groups: the first was fed with her­ring from the Baltic Sea, where the pol­lu­tion rate is sig­nif­i­cant; the sec­ond was fed with her­ring caught in Ice­land, where con­t­a­m­i­na­tion is very low. It is worth not­ing that the her­ring for both groups was bought at ​"nor­mal" mar­kets — that is, des­tined for human con­sump­tion. After two years, the fat of the seals in the first group showed a con­cen­tra­tion rate of organochlo­rine pes­ti­cides ten times high­er than that of the con­trol group. The researchers also observed that the seals fed with con­t­a­m­i­nat­ed her­ring had immune defens­es three times weak­er than those of the con­trol group, notably with a very clear reduc­tion in NK cells and T lym­pho­cytes, and low­er neu­trophil lev­els and anti­body responses.
At a con­fer­ence held in Feb­ru­ary 1995 in Racine, Wis­con­sin, where he pre­sent­ed his team's work, Dutch virol­o­gist Albert Oster­haus not­ed that this was ​"the first demon­stra­tion of immuno­sup­pres­sion in mam­mals as a result of expo­sure to envi­ron­men­tal con­t­a­m­i­nants at ambi­ent lev­els found in the envi­ron­ment." Inci­den­tal­ly, it's worth not­ing the title of the con­fer­ence: ​"Chem­i­cal­ly-induced Alter­ations in the Devel­op­ing Immune Sys­tem: The Wildlife/​Human Connection."
Aller­gies and Autoim­mune Dis­eases: Effects on Humans
As Robert Repet­to and San­jay Bali­ga point out, ​"the immune sys­tems of all mam­mals (but also of birds and fish) have sim­i­lar struc­tures," and what hap­pens to whales, dol­phins, or seals con­cerns us direct­ly. They cite as evi­dence stud­ies car­ried out on cyclosporine, an immuno­sup­pres­sant med­ica­tion pre­scribed to organ trans­plant recip­i­ents to stop the body from reject­ing the trans­plant. Researchers observed that the drug ​"has been found to have sim­i­lar tox­i­co­log­i­cal and immuno­sup­pres­sive prop­er­ties in a wide vari­ety of mam­malian species, includ­ing rats, mice, mon­keys and humans," which, in the long run, lay the grounds for can­cer. Indeed, as shown by Arthur Holleb, an oncol­o­gist and for­mer chief med­ical offi­cer of the Amer­i­can Can­cer Soci­ety, patients treat­ed with cyclosporine are one hun­dred times more like­ly to devel­op lym­phat­ic can­cer, in par­tic­u­lar leukemia and lym­phoma. Need we recall that these are pre­cise­ly the malig­nant tumors for which farm­ers show a height­ened risk?
In their report, Repet­to and Bali­ga present sev­er­al stud­ies car­ried out by Sovi­et sci­en­tists, who scrupu­lous­ly took a cen­sus of the effects of pes­ti­cides on the immune sys­tem. ​"It was very valu­able, because at the time, West­ern stud­ies were only inter­est­ed in can­cer and neu­rode­gen­er­a­tive dis­eases," Repet­to explained dur­ing our phone inter­view. ​"Also, the com­mu­nist bureau­cra­cy was an advan­tage: as there was no prof­it men­tal­i­ty — which is dif­fer­ent from cap­i­tal­ist coun­tries, where man­u­fac­tur­ers are inter­est­ed in hid­ing the tox­i­c­i­ty of their prod­ucts, out of fear of see­ing their sales drop — the Sovi­et researchers car­ried out what was essen­tial­ly true health mon­i­tor­ing, by con­sci­en­tious­ly record­ing all the effects observed in farm­ing pop­u­la­tions, with the goal of low­er­ing the health care costs they might generate."
At the risk of seem­ing like an invet­er­ate cryp­to-com­mu­nist, I must admit that lis­ten­ing to these words, I thought that there was some mer­it to the ​"bureau­crat­ic" sci­en­tif­ic research — mean­ing inde­pen­dent from pri­vate inter­ests — and that this out­dat­ed mod­el should inspire reg­u­la­to­ry agen­cies that gen­er­al­ly for­get to include poten­tial medi­um- or long-term health care costs in their eval­u­a­tion of chem­i­cal prod­ucts. Peo­ple will retort that the stud­ies by ​"bureau­crat­ic" researchers have not pre­vent­ed cat­a­stroph­ic pol­lu­tion of vast areas of the for­mer Sovi­et Union (such as the Aral Sea), which is true. Nev­er­the­less, as we will see lat­er on, the explo­sion of chron­ic ill­ness­es is tug­ging strong­ly at the purse strings of social secu­ri­ty sys­tems, which fall prey to a reg­u­la­to­ry sys­tem where agro-eco­nom­ic con­sid­er­a­tions (the famous ​"ben­e­fits" pes­ti­cides sup­pos­ed­ly offer) take prece­dence over health con­sid­er­a­tions (the ​"risks" asso­ci­at­ed with said ​"ben­e­fits").
[If you like what you are read­ing, help us spread the word. ​

"

Like" Rur­al Amer­i­ca In These Times on Face­book. Click on the ​

"

Like Page" but­ton below the wolf on the upper right of your screen.]
In the mean­time, the ​"bureau­crat­ic" sci­en­tif­ic lit­er­a­ture has nonethe­less shown that expo­sure to pes­ti­cides caus­es autoim­mune reac­tions; it also leads to a dis­tur­bance in neu­trophil and T lym­pho­cyte activ­i­ty, which con­tributes to the devel­op­ment of pul­monary and res­pi­ra­to­ry infec­tions. Sev­er­al stud­ies con­duct­ed between 1984 and 1995 in the cot­ton-pro­duc­ing regions of Uzbek­istan, where large quan­ti­ties of organochlo­rine and organophos­pho­rus insec­ti­cides were sprayed, showed extreme­ly ele­vat­ed rates of res­pi­ra­to­ry, gas­troin­testi­nal, and kid­ney infec­tions not just in farm labor­ers, but also in the pop­u­la­tions liv­ing close to the treat­ed zones. At the same time, in the West, researchers were show­ing that expo­sure to pes­ti­cides such as atrazine, parathion, maneb, and dichlor­vos trig­gered aller­gies, lead­ing to what Dr. Jean-Luc Dupu­pet calls ​"cuta­neous man­i­fes­ta­tions", or in oth­er words, types of der­mati­tis that are the expres­sion of an immune sys­tem reac­tion to a chem­i­cal aggression.
In its man­u­al for pes­ti­cide poi­son­ing pre­ven­tion pub­lished in 2006, the WHO devotes a sig­nif­i­cant por­tion to autoim­mune dis­eases and aller­gies, the preva­lence of which keeps ris­ing, espe­cial­ly in chil­dren. The man­u­al notes: ​"Aller­gies can have many man­i­fes­ta­tions, includ­ing hay fever, asth­ma, rheuma­toid arthri­tis and con­tact der­mati­tis. The cause of aller­gies is a hyper­sen­si­tiv­i­ty response which occurs after expo­sure to some occu­pa­tion­al and envi­ron­men­tal agents. Anti­gens that cause aller­gic respons­es are called ​'aller­gens.' [ … ] When the immune sys­tem los­es the abil­i­ty to dis­tin­guish between the body's own cells and for­eign cells, it attacks and kills host cells, result­ing in seri­ous tis­sue dam­age. This con­di­tion is called ​'autoim­mu­ni­ty'. Although it is not as com­mon as immuno­sup­pres­sion or aller­gy, occu­pa­tion­al expo­sure to cer­tain chem­i­cals has been asso­ci­at­ed with autoim­mune responses."
Dur­ing our phone inter­view, Robert Repet­to said that the report he wrote for the WRI trig­gered a live­ly (aller­gic!) reac­tion from man­u­fac­tur­ers, whose sci­en­tists, just this once, decid­ed to col­lec­tive­ly author a ​"cri­tique" in the jour­nal Envi­ron­men­tal Health Per­spec­tives. The selection's sig­na­to­ries includ­ed licensed epi­demi­ol­o­gists from Dow Chem­i­cal (Car­ol Burns and Michael Hol­sap­ple), Zeneca (Ian Kim­ber), DuPont de Nemours (Gre­go­ry Ladics and Scott Love­less), BASF (Abra­ham Tobia) and, of course, Mon­san­to, mean­ing Den­nis Fla­her­ty and John Acqua­vel­la, the author of the con­tro­ver­sial meta-analy­sis. After offer­ing a firm crit­i­cism of the report, notably of the Sovi­et stud­ies that they deemed ​"dif­fi­cult to eval­u­ate," the authors end their arti­cle with remarks that are con­tra­dic­to­ry, to say the least. It is unclear whether they express embar­rass­ment or a well-cal­cu­lat­ed con­cil­ia­to­ry strat­e­gy. They write that they ​"do not find con­sis­tent, cred­i­ble evi­dence" that there is a wide­spread phe­nom­e­non of immuno­sup­pres­sion linked to pes­ti­cide expo­sure. Nonethe­less, the WRI report is an impor­tant doc­u­ment because it focus­es atten­tion on a poten­tial­ly impor­tant issue for future research and brings a sub­stan­tial lit­er­a­ture of for­eign lan­guage stud­ies to the atten­tion of West­ern scientists.
Here we have a per­fect exam­ple of ​"the art of blow­ing hot and cold." But, as we will see, when it comes to neu­tral­iz­ing the impact of stud­ies not in their favor, man­u­fac­tur­ers' atti­tudes can be much more dras­tic, even per­verse. But before exam­in­ing how the reg­u­la­tion of chem­i­cal prod­ucts that come into con­tact with the food chain func­tions, it is impor­tant to go back to the indus­tri­al his­to­ry of the 20th cen­tu­ry, in order to under­stand how extreme­ly tox­ic com­pounds man­aged to poi­son the envi­ron­ment and human pop­u­la­tions, not just in the short term, but for many years to come.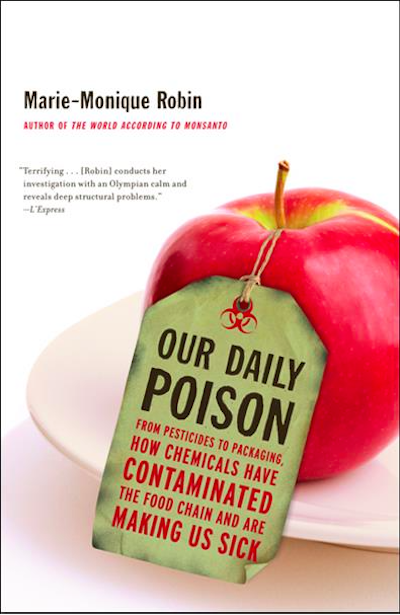 This excerpt orig­i­nal­ly appeared in Our Dai­ly Poi­son: From Pes­ti­cides to Pack­ag­ing, How Chem­i­cals Have Con­t­a­m­i­nat­ed the Food Chain and Are Mak­ing Us Sick pub­lished by The New Press. Copy­right © 2014.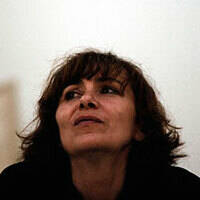 Marie-Monique Robin

is an award-win­ning French jour­nal­ist and film­mak­er. She received the

1995

Albert-Lon­dres Prize, award­ed to inves­tiga­tive jour­nal­ists in France. She is the direc­tor and pro­duc­er of more than thir­ty doc­u­men­taries and inves­tiga­tive reports filmed in Latin Amer­i­ca, Africa, Europe, and Asia. Robin is the author of

The World Accord­ing to Mon­san­to: Pol­lu­tion, Cor­rup­tion, and the Con­trol of Our Food Sup­ply

(The New Press) and

The Pho­tos of the Cen­tu­ry:

100

His­toric Moments

, among oth­er works. She lives out­side Paris.