A New Look at the Wartime History of Pesticides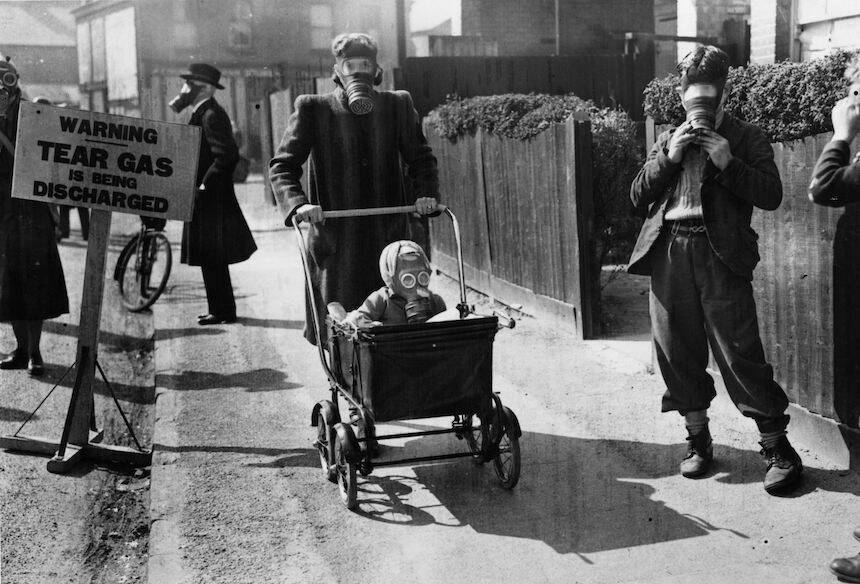 When I entered the Office of Pes­ti­cide Pro­grams of the U.S. Envi­ron­men­tal Pro­tec­tion Agency (EPA) in 1979, I knew prac­ti­cal­ly noth­ing about pes­ti­cides. Though I had tak­en class­es in chem­istry in col­lege and had even writ­ten my first book about indus­tri­al­ized agri­cul­ture, noth­ing pre­pared me for the secrets I uncov­ered dur­ing 25 years of work in a bureau­cra­cy designed and brought up to keep secrets.
My col­leagues opened my eyes to the secret world of chem­i­cal sprays decep­tive­ly known as pes­ti­cides. They kept answer­ing my ques­tions and, more than that, they start­ed giv­ing me their mem­os, brief­in­gs and sci­en­tif­ic papers. They did not see much con­tro­ver­sy in the ​"reg­u­la­tion" of pes­ti­cides. Most thought pes­ti­cides were nec­es­sary for farming.
In fact, EPA econ­o­mists always defend­ed pes­ti­cides, sug­gest­ing that with­out them food prices would go through the roof. Oth­er EPA sci­en­tists like biol­o­gists, ecol­o­gists, chemists and tox­i­col­o­gists mon­i­tored those chem­i­cals for eco­log­i­cal and health effects. They had read the pes­ti­cide law — The Fed­er­al Insec­ti­cide, Fungi­cide and Roden­ti­cide Act — and, some of them, were authors of reg­u­la­tions for their use on farms, lawns, homes, fac­to­ries and the nat­ur­al world.
Who was going to object to the killing of ​"pests" like insects, rodents, fun­gi, and weeds?
It did not take me long to object to the use of pes­ti­cides, how­ev­er. My knowl­edge about these chem­i­cals increased rapid­ly. The writ­ings of my col­leagues and the dis­cus­sions I had with them con­vinced me pes­ti­cides were more than pes­ti­cides. They are petro­chem­i­cal bio­cides. They kill everything.
But there was some­thing par­tic­u­lar­ly insid­i­ous about cer­tain farm sprays that were born about a cen­tu­ry ago in the heat of WWI. The organophos­phates parathion and malathion, for instance, are nerve gas­es relat­ed to chem­i­cal weapons. They are chem­i­cal weapons in dilut­ed form.
I remem­ber how EPA ecol­o­gists react­ed to the news that parathion was killing hon­ey­bees in droves. They were very upset and urged senior offi­cials to pro­hib­it any more approvals of the dele­te­ri­ous nerve gas. The senior offi­cials did no such thing. Hon­ey­bees con­tin­ued to die from parathion poi­son­ing for decades. EPA banned eth­yl parathion in 2003. In 2015, the White House Ener­gy-Cli­mate Cza­ri­na and for­mer EPA admin­is­tra­tor, Car­ol Brown­er, announced the ban­ning of methyl parathion on ​"all fruits and many veg­eta­bles." Now, in 2018, hon­ey­bees die pri­mar­i­ly from anoth­er ver­sion of neu­ro­tox­ins, known as neon­i­coti­noids, man­u­fac­tured in Germany.
Yet I don't remem­ber hear­ing EPA sci­en­tists con­nect­ing parathion and oth­er neu­ro­tox­ic pes­ti­cides to war­fare agents. I found that strange because one heard of the hor­ri­ble con­se­quences they had in com­mon: pin­point pupils, sweat­ing, con­vul­sions, vom­it­ing, asphyx­i­a­tion and death. But the mil­i­tary con­nec­tion of many pes­ti­cides made their ori­gins obscure and very dif­fi­cult to decode. It was as if there exist­ed a uni­ver­sal pact among experts in indus­try, acad­e­mia and gov­ern­ment not to ques­tion these extreme­ly tox­ic compounds.
If Amer­i­cans knew their food is con­t­a­m­i­nat­ed by neu­ro­tox­ic agents, what would they say and do? And how would the envi­ron­men­tal move­ment act on the evi­dence of nerve poi­sons in con­ven­tion­al food?
Accord­ing to Anna Feigen­baum, Senior Lec­tur­er in the Fac­ul­ty of Media and Com­mu­ni­ca­tion at Bournemouth Uni­ver­si­ty, mod­ern tear gas also oper­ates in the same mist of igno­rance and fear that sur­rounds neu­ro­tox­ic pes­ti­cides. Tear gas is not a gas at all. By tear gas we mean groups of chem­i­cals, which are lachry­ma­to­ry agents. This in Latin means they cause tears. Pop­u­lar tear gas­es include CS (2‑chlorobenzylidene mal­oni­trile), CN (chro­roace­tophe­none) and CR (diben­zox­azepine) — irri­tants released as smoke, vapor or liq­uid sprays. Anoth­er tear gas is pep­per spray or OC (ole­o­resin cap­sicum). This is an inflam­ma­to­ry sub­stance trig­ger­ing tears.
Feigen­baum chron­i­cles the his­to­ry of tear gas intel­li­gent­ly and with pas­sion in her new book, Tear Gas: From the Bat­tle­fields of World War I to the Streets of Today (Ver­so, 2017).
Accord­ing to Feigen­baum, tear gas start­ed its war­fare career in August 1914 when French troops fired grenades filled with methyl­ben­zyl bro­mide into Ger­man trench­es. The effect was to break the stale­mate of trench war­fare. Tear gas forced the Ger­man sol­diers to run out of their pro­tec­tive trench­es, only to be mowed down by French machine guns. This was the Bat­tle of the Fron­tiers. In April 1915, at Ypres, the Ger­mans retal­i­at­ed with chlo­rine gas. The war of asphyx­i­at­ing gas­es was in full swing.
Daan Boens, Bel­gian sol­dier-poet lived through this nerve gas war. In 1918, he pub­lished a poem, ​"Gas," in which he caught the bar­barism of chem­i­cal war­fare. Feigen­baum cites the poem:
The stench is unbear­able, while death mocks back.

The masks around the cheeks cut the look of bes­tial snouts,

The masks with wild eyes, crazy or absurd,

Their bod­ies drift on until they stum­ble upon steel.

The men know noth­ing, they breathe in fear.

Their hands clench on weapons like a buoy for the drowning,

They do not see the ene­my, who, also masked, loom forth,

And storm them, hid­den in the rings of gas.

Thus in the dirty mist, the biggest mur­der happens.
Like the pes­ti­cide mer­chants and lob­by­ists, tear gas advo­cates have buried this mur­der. They, accord­ing to Feigen­baum, reject the effects of their prod­uct: tear­ing, gag­ging, mis­car­riages, burn­ing of the eyes, blind­ness and death. They paint the mil­i­tary ori­gins and use of tear gas­es into obliv­ion. The result of this suc­cess­ful pro­pa­gan­da is that tear gas faces none of the pro­hi­bi­tions against chem­i­cal war­fare agents. A straight­for­ward war gas — tear gas — has become a peace­mak­er. Inno­cent of harm.
Feigen­baum laments in par­tic­u­lar the dif­fi­cul­ties she faced in track­ing sales and use of tear gas. She writes:
There are just too many secrets and too many lies. The inter­na­tion­al trade in tear gas is buried under bureau­cra­cy and often clas­si­fied beyond the reach of Free­dom of Infor­ma­tion requests. There are files upon files that have been shred­ded and burned, delet­ed, altered and falsified.
That's to be expect­ed of a chem­i­cal war­fare agent dressed in civil­ian clothes.
Yet Feigen­baum even­tu­al­ly suc­ceed­ed in her task. Her book is a lucid his­to­ry that puts tear gas on tri­al. She exposed the prof­i­teers, sci­en­tists, mil­i­tary buy­ers, arms deal­ers, police sup­pli­ers and edi­tors try­ing to put a humane face on a dan­ger­ous weapon.
Neu­ro­tox­ic pes­ti­cides are con­nect­ed to tear gas by neu­ro­tox­i­c­i­ty. They are also prod­ucts of chem­i­cal war­fare. They kill by nerve poi­son­ing and asphyx­i­a­tion. They should be banned.
As Feigen­baum sees it, in its civil­ian life, tear gas does more than killing. It is designed ​"to tor­ment peo­ple, to break their spir­its, to cause phys­i­cal and psy­cho­log­i­cal damage."
Read Feigenbaum's book. It's time­ly, well-writ­ten, and very important.
(This review was first pub­lished by Inde­pen­dent Sci­ence News and is repost­ed on Rur­al Amer­i­ca In These Times with per­mis­sion.)
Evagge­los Val­lianatos
worked on Capi­tol Hill for two years and at the U.S. Envi­ron­men­tal Pro­tec­tion Agency for
25
years. He is the author of hun­dreds of arti­cles and
6
books, includ­ing
Poi­son Spring
, with McK­ay Jenkins