Pete Camarata, Teamsters' 'Best-known Insurgent,' Had a Resolve of Steel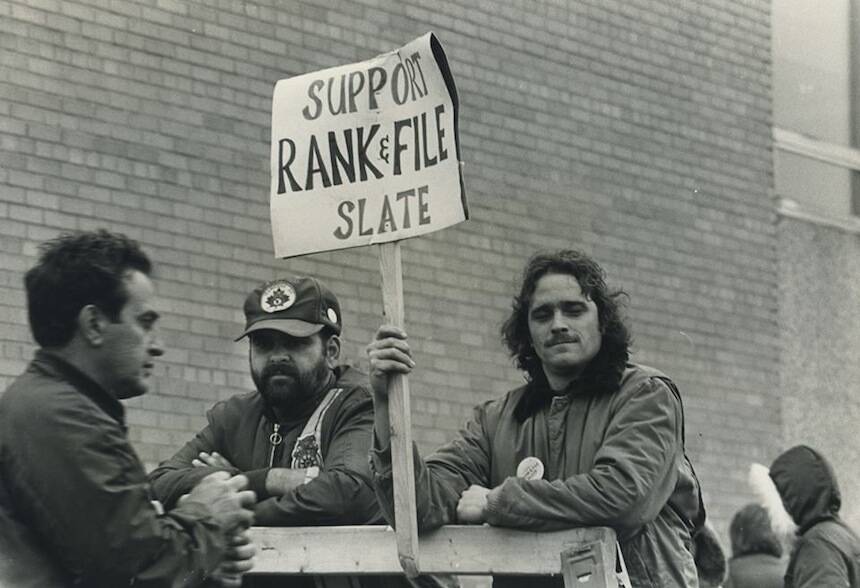 Team­sters offi­cials had already fired Pete Cama­ra­ta from his job with the union local. They'd heaped threats on his fel­low dis­si­dents, even fright­en­ing some away from meet­ings. And at the Team­sters con­ven­tion in Las Vegas in June 1976, then-Pres­i­dent Frank Fitzsim­mons had warned the del­e­gates present that any­one grum­bling about reform­ing the union should, as he put it, ​"Go to hell."
But Pete Cama­ra­ta had a spine that would­n't bend.
The next day at the con­ven­tion, before vot­ing began for Fitzsimmon's re-elec­tion, the 30-year-old dock­work­er from a Detroit truck­ing com­pa­ny stood up to con­demn the Team­sters lead­ers' hefty salaries, to call for a ban on union offi­cials who took bribes from employ­ers, and to oppose Fitzsim­mons' presidency.
At the time, the del­e­gates didn't lis­ten to Cama­ra­ta — Fitzsim­mons hand­i­ly won his re-elec­tion cam­paign. Lat­er, Cama­ra­ta and a col­league attend­ed Fitzsim­mons' vic­to­ry par­ty, but opt­ed to leave because they felt unwel­come. As Lester Velie tells it in his 1977 book Des­per­ate Bar­gain, as the two were exit­ing, sev­er­al ​"sergeants-at-arms" act­ing as escorts at the con­ven­tion jumped them, kick­ing and beat­ing them savagely.
​"He said he thought he was dead," Camarata's wife, Robin Pot­ter, a promi­nent labor lawyer in Chica­go, now says about the inci­dent. ​"He thought he was hav­ing an out-of-body experience."
The assault, paired with Camarata's pub­lic crit­i­cism of Team­ster high­er-ups, brought a surge of ener­gy to the then-nascent dis­si­dent group Team­sters for a Demo­c­ra­t­ic Union (TDU). It also cat­a­pult­ed Cama­ra­ta, one of TDU's lead­ers, into becom­ing a sym­bol for rank-and-file work­ers ris­ing up.
Call­ing him ​"the best-known insur­gent in the union," a 1977 New York Times arti­cle described him as ​"a hulk­ing six-foot­er with a bald scalp and a dark beard fram­ing a gen­tle, brood­ing expres­sion," and whose beliefs were not the­o­ret­i­cal but dri­ven by his ​"work­ing-class experience."
Cama­ra­ta died Feb­ru­ary 9 at home in Chica­go after a long bat­tle with renal can­cer. He was 67 years old.
​"He was a guy who fought against insur­mount­able odds. When peo­ple would have said it was impos­si­ble, he stuck to his guns and pro­mot­ed a demo­c­ra­t­ic vision," says his step­son Jack­son Potter.
His stepfather's career and beliefs became an inspi­ra­tion to him, adds Pot­ter, a one-time Chica­go high school teacher who co-found­ed the Cau­cus of the Rank-and-File Edu­ca­tors. Pot­ter is now staff coor­di­na­tor for the Chica­go Teach­ers Union.
From Cama­ra­ta, he says he learned, ​"You can have courage and fight for what you believe in. You don't always come out on top, [but] even then, you did what was right and you can look your­self in the mirror."
Cama­ra­ta grew up in a work­ing-class Ital­ian neigh­bor­hood in Detroit. His father, Cas­par, was an Ital­ian immi­grant who worked for 36 years at the Packard Motor Car Com­pa­ny before the com­pa­ny shut down. After sev­er­al years at Wayne State Uni­ver­si­ty, Cama­ra­ta dropped out to work first as a dock­work­er and then as a freight driver.
He quick­ly rose through the ranks to become a stew­ard in Team­sters Local 299, which was also the home of one-time union pres­i­dent Jim­my Hof­fa. He cham­pi­oned Hoffa's return to union lead­er­ship after Hof­fa's prison term end­ed in 1971; in 1975, he became the leader of a small group that called itself Team­sters For a Decent Contract.
​"It was for democ­ra­cy and against fat cats and against cor­rup­tion," recalls Ken Paff, one of the group's founders. ​"But it was also for tough bar­gain­ing … Fitzsim­mons was seen as a sell­out." The group soon changed its name to the Team­sters for a Demo­c­ra­t­ic Union; Paff is now its nation­al organizer.
In 1981, Cama­ra­ta ran for the Team­sters' pres­i­den­cy, an unprece­dent­ed endeav­or for a union that, at the time, did not gen­er­al­ly wel­come chal­lenges to its lead­er­ship. Though Cama­ra­ta lost that effort, the TDU kept up an unre­lent­ing cam­paign to fight what it saw as the union's cor­rup­tion and fail­ure to work on behalf of IBT mem­bers. The TDU's ranks even­tu­al­ly grew to more than 8,000, mak­ing it one of the largest and longest-last­ing dis­si­dent move­ments with­in U.S. labor unions.
And in 1989, its efforts were vin­di­cat­ed: The U.S. gov­ern­ment reached a court set­tle­ment with the Team­sters that estab­lished fed­er­al mon­i­tor­ing of the union. In the legal bat­tle pre­ced­ing the agree­ment, fed­er­al pros­e­cu­tors said the union's lead­er­ship "[had] made a devil's pact with the La Cosa Nostra."
As part of its agree­ment with the gov­ern­ment, the union held its first ever rank-and-file elec­tion in 1991. The new pres­i­dent, Ron Carey, echoed the con­cerns the TDU had been voic­ing for decades; he vowed to clean up the Teamsters.
For his part, Cama­ra­ta kept his stew­ard job at the union, which he had won back soon after his fir­ing in 1976. While he held the posi­tion, one of Camarata's philoso­phies was the work­ers had to study their con­tract, Robin Pot­ter remem­bers. As a result, she says, "[the work­ers] were smarter than any­one could imagine."
He poured him­self into stand­ing up for his com­rades, she says, adding, ​"I don't think he lost any grievances."
In 1980, Cama­ra­ta left dock work and began dri­ving a freight truck for the same com­pa­ny, where he stayed until he was laid off in 1995. He lat­er worked with sev­er­al Chica­go-area Team­sters locals, bring­ing his decades of expe­ri­ence to younger workers.
He ​"was charis­mat­ic in a sort of qui­et way," says Paff. ​"He was an artic­u­late speak­er and thoughtful."
In addi­tion to his com­mit­ment to integri­ty with­in the Team­sters, Cama­ra­ta was also known for his social con­science and char­i­ty. ​"He was a very ardent Catholic, and his reli­gious upbring­ing helped him under­stand issues of social jus­tice," Robin Pot­ter explains.
​"Pete def­i­nite­ly had an influ­ence on me on help­ing oth­ers and car­ing for the world," agrees Camarata's step­daugh­ter Aimee Pot­ter, a social work­er with the Vet­er­an Admin­is­tra­tion. She describes him as a ​"gen­tle giant who would and did help anyone."
In turn, Cama­ra­ta felt that encour­ag­ing future gen­er­a­tions' activism would be the best way to pre­serve unions' ethics for years to come. Because of his ill­ness, he could not take in the TDU's con­ven­tion in Chica­go last fall. Robin Pot­ter was present, though, to deliv­er a short speech from her hus­band. In his writ­ten speech, Cama­ra­ta praised and point­ed to the work of Aimee and Jack­son Pot­ter as efforts to ​"bring the move­ment back into the labor movement."
​"Teach your chil­dren well what we have done and car­ry it on — go back to your work­places and build TDU," he had written.
Stephen Franklin is a for­mer labor and work­place reporter for the Chica­go Tri­bune, was until recent­ly the eth­nic media project direc­tor with Pub­lic Nar­ra­tive in Chica­go. He is the author of Three Strikes: Labor's Heart­land Loss­es and What They Mean for Work­ing Amer­i­cans (2002), and has report­ed through­out the Unit­ed States and the Mid­dle East.