It's Time for a Public Option in the Pharmaceutical Industry
Drug companies are hated for a reason—they exist to maximize profits, not make us healthier. It's time to put them under public control.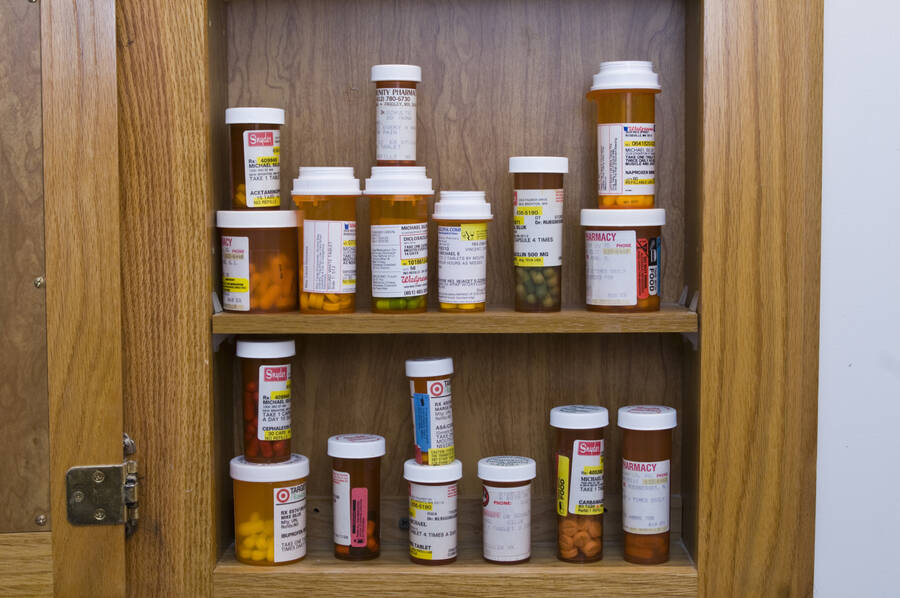 Drug com­pa­nies are among the most wide­ly despised busi­ness­es in Amer­i­ca. Infa­mous for gen­er­at­ing incred­i­ble prof­its at the expense of the sick and dying while lever­ag­ing their enor­mous eco­nom­ic pow­er to evade reg­u­la­tions (to say noth­ing of their role in the opi­oid epi­dem­ic), they are often seen as a text­book prof­i­teer. Already, many Amer­i­cans report not fill­ing pre­scrip­tions, cut­ting pills in half or skip­ping dos­es due to costs. In the world's most expen­sive health­care sys­tem, more than 10 per­cent of total health­care costs and 21 per­cent of employ­er health­care ben­e­fits are attrib­uted to phar­ma­ceu­ti­cals. Research shows that ​"drug spend­ing is grow­ing faster than any oth­er part of the health care dollar."
A public option would likely prove popular, given that for many Americans the prospect of lower costs and increased access is probably more important than the ownership structure of the companies providing the drugs.
Dur­ing Friday's long-await­ed speech on drug prices, Pres­i­dent Trump blamed ​"for­eign free­load­ers", the drug lob­by and ​"mid­dle­men" for ris­ing prices, promis­ing once again to put Amer­i­can patients first. How­ev­er, experts pre­dict the plan — which focus­es on pri­vate sec­tor com­pe­ti­tion and nego­ti­a­tion — will have lit­tle effect on the indus­try or its practices.
In many cas­es, the prof­its extract­ed by drug com­pa­nies rep­re­sent a form of dou­ble-tax­a­tion, giv­en that pub­lic fund­ing under­pins phar­ma­ceu­ti­cal research and devel­op­ment (R&D). For instance, pub­licly-fund­ed research con­tributed to the devel­op­ment of the cho­les­terol-low­er­ing med­ica­tion Crestor. Yet, U.S. tax­pay­ers spent bil­lions more (either out of pock­et, through ris­ing insur­ance pre­mi­ums or through Medicare or Med­ic­aid) to take the drug at marked up prices while Phar­ma giant AstraZeneca pulled in over $16 bil­lion in prof­its on Crestor alone over a three-year period.
And that's not all. We pay a third time when we lose rev­enue through tax breaks and loop­holes that allow phar­ma­ceu­ti­cal com­pa­nies to mar­ket their drugs to us tax-free and oper­ate vast net­works of off-shore sub­sidiaries to avoid pay­ing tax­es.
In this con­text, and with increas­ing pres­sure to keep health­care costs down as the pop­u­la­tion gets old­er, isn't it time to con­sid­er a pub­lic option in the phar­ma­ceu­ti­cal sector?
Why we need a pub­lic option
The phar­ma­ceu­ti­cal indus­try often defends the exor­bi­tant and ris­ing prices of drugs by cit­ing the high cost of R&D. How­ev­er, a 2017 study from the Insti­tute for New Eco­nom­ic Think­ing revealed that over the ten-year peri­od stud­ied, the top 18 U.S. phar­ma­ceu­ti­cal com­pa­nies spent more on share buy­backs and div­i­dends than R&D. Drug mar­ket­ing — which is out­lawed in all but one oth­er coun­try in the world — also accounts for more phar­ma­ceu­ti­cal com­pa­ny spend­ing than R&D. And phar­ma­ceu­ti­cal com­pa­nies spend big on lob­by­ing in Wash­ing­ton — more than any oth­er indus­try in 2017 — help­ing to assure vic­to­ries like the 2003 Medicare Part D leg­is­la­tion which banned the gov­ern­ment from nego­ti­at­ing drug prices for cov­ered med­ica­tions, result­ing in bil­lions of dol­lars in extra prof­it for the industry.
Research has shown that about 75 per­cent of new drugs (those that are not just vari­a­tions of exist­ing med­ica­tions) are devel­oped with fund­ing from the Nation­al Insti­tutes of Health. Oth­er fed­er­al and state agen­cies also sup­port crit­i­cal research that leads to break­through drug devel­op­ments. Exam­ples include the Depart­ment of Defense​'s con­tri­bu­tion to the devel­op­ment of the prostate can­cer drug Xtan­di, the Cal­i­for­nia Insti­tute for Regen­er­a­tive Medicine's invest­ment in stem-cell research, and the Can­cer Pre­ven­tion and Research Insti­tute of Texas.
Gov­ern­ment-fund­ed research is also heav­i­ly weight­ed towards the ear­ly, riski­est stages of drug devel­op­ment. A 2011 study, for instance, showed that almost two-thirds of the FDA's ​"pri­or­i­ty review drugs" (new drugs expect­ed to have a par­tic­u­lar­ly great impact on dis­ease treat­ment) approved from 1988 to 2005 ben­e­fit­ted from such gov­ern­ment-fund­ed basic research. More recent­ly, a Nation­al Acad­e­my of Sci­ences study showed that each and every one of the 210 drugs approved by the FDA between 2010 and 2016 ben­e­fit­ted from NIH-fund­ed basic research.
The U.S. phar­ma­ceu­ti­cal indus­try is high­ly depen­dent on the gov­ern­ment in oth­er ways as well, through patent pro­tec­tion, restric­tions on imports of low­er-priced drugs and lim­its on drug resales. With­out this degree of sup­port, it is hard to imag­ine how drug com­pa­nies could con­sis­tent­ly rake in their record-break­ing prof­its.
Free-mar­ke­teers often argue that if the gov­ern­ment would just with­draw entire­ly, a per­fect­ly func­tion­ing com­pet­i­tive mar­ket would emerge and drugs would be sup­plied by for-prof­it com­pa­nies at a cost that con­sumers would be will­ing to pay. But in real-life, mar­ket allo­ca­tion is not near­ly as clean and straight­for­ward as it is the minds of free-mar­ket econ­o­mists. It is messy, grit­ty, and in a sec­tor as crit­i­cal to human exis­tence as health­care, has life and death impli­ca­tions. In addi­tion to ample evi­dence of fraud, mar­ket manip­u­la­tion, price fix­ing, car­tels, con­sol­i­da­tion, and anti-com­pet­i­tive behav­ior, the phar­ma­ceu­ti­cal indus­try already pro­vides an excel­lent exam­ple of mar­ket failure.
If the indus­try achieved an effi­cient allo­ca­tion of goods, one wouldn't expect to see so many med­ica­tions on the Food and Drug Administration's drug short­age list which, as of this writ­ing, includes 96 phar­ma­ceu­ti­cals from pain reliev­ers to antibi­otics, anes­thet­ics, and chemother­a­py drugs.
There are more than 180 off-patent drugs with no gener­ic equiv­a­lent on the mar­ket (as of March 2017). This often occurs only because no com­pa­ny ever applies for the rights to pro­duce one, deem­ing the prof­it mar­gins too low. As Nobel Lau­re­ate Joseph Stiglitz wrote in 2007: ​"It is a mat­ter of sim­ple eco­nom­ics: com­pa­nies direct their research where the mon­ey is, regard­less of the rel­a­tive val­ue to soci­ety. The poor can't pay for drugs, so there is lit­tle research on their diseases."
A Potemkin market
As a cap­i­tal-inten­sive indus­try of strate­gic impor­tance which has not been able to effi­cient­ly allo­cate goods to meet the needs of soci­ety, the phar­ma­ceu­ti­cal indus­try is a prime can­di­date for a pub­lic option. Sim­ply put, there is an argu­ment to be made that phar­ma­ceu­ti­cals are a Potemkin (fake) mar­ket which only exists (or is prof­itable) due to mas­sive pub­lic sup­port — and for a vari­ety or moral and eco­nom­ic rea­sons the devel­op­ment of life sav­ing or crit­i­cal drugs (at a min­i­mum) should be tak­en out of ​"the mar­ket" completely.
Pub­licly owned phar­ma­ceu­ti­cal com­pa­nies exist in sev­er­al coun­tries around the world includ­ing Swe­den, Cuba, South Africa and Brazil. Sweden's Apoteket AB (a phar­ma­cy chain and drug pro­duc­er), for instance, is a high­ly suc­cess­ful enter­prise that in 2015 returned a div­i­dend of approx­i­mate­ly $133.5 mil­lion to its sole own­er — the Swedish state. Cuba's entire­ly pub­lic phar­ma­ceu­ti­cal indus­try is known for its inno­va­tions, includ­ing the world's first can­cer vac­cine, cur­rent­ly in clin­i­cal tri­als for use in the Unit­ed States. It holds over 1,200 inter­na­tion­al patents, sup­plies most of the med­ica­tions need­ed inter­nal­ly and mar­kets to more than 50 oth­er coun­tries, gen­er­at­ing as much as $700 mil­lion in annu­al revenue.
Pub­lic own­er­ship is already much more preva­lent and wide­ly accept­ed in the Unit­ed States than most real­ize. Elec­tric and water util­i­ties, ports and air­ports, tran­sit sys­tems, land, broad­band inter­net net­works, and shares of thou­sands of com­pa­nies through pub­lic pen­sion and sov­er­eign wealth funds are all under pub­lic control.
Phar­ma­ceu­ti­cals are a prof­itable indus­try, but a more com­pre­hen­sive mea­sure of finan­cial suc­cess would look beyond the bal­ance sheet and take into account the direct and indi­rect eco­nom­ic and social ben­e­fits of pro­vid­ing cheap­er, more wide­ly acces­si­ble life-sav­ing, life-improv­ing, or life-extend­ing drugs such as few­er long-term hos­pi­tal­iza­tions, a more healthy and pro­duc­tive work force and increased life expectan­cy. Giv­en these indi­rect ben­e­fits, pub­licly owned phar­ma­ceu­ti­cal com­pa­nies could even oper­ate at or below cost.
Drugs for the pub­lic good
As pub­lic enti­ties, these phar­ma­ceu­ti­cal com­pa­nies would be charged with serv­ing the pub­lic good and could be tasked with devel­op­ing drugs based on need, rather than pro­ject­ed prof­its. They could be inten­tion­al­ly linked to the exist­ing net­work of pub­licly-fund­ed research facil­i­ties and any prof­it they did make could be fun­neled back into R&D, used to off-set the cost of drugs that are more expen­sive to pro­duce, or invest­ed in ​"upstream" pub­lic health inter­ven­tions and social ser­vices that have been proven to improve health outcomes.
They could focus on pub­lic-health relat­ed pri­or­i­ties like vac­cines, med­ica­tions that appear on the FDA's drug short­age list and treat­ments for neglect­ed dis­eases. They could also ensure that gener­ic equiv­a­lents were avail­able for off-patent drugs crit­i­cal to pub­lic health. State or region­al pub­lic com­pa­nies could even be tasked to pro­duce low cost drugs that match the unique health needs of area res­i­dents. For instance, areas with boom­ing elder­ly pop­u­la­tions could focus on pro­duc­ing drugs that are reg­u­lar­ly used by seniors.
A pub­lic option in the phar­ma­ceu­ti­cal indus­try would undoubt­ed­ly be assailed by free-mar­ke­teers, but it actu­al­ly rep­re­sents some­thing of a mid­dle of the road approach between a com­plete gov­ern­ment with­draw from the indus­try on the one hand and the crony cap­i­tal­ist approach of dou­ble tax­a­tion and the sub­si­diza­tion of cor­po­rate prof­its on the oth­er. A pub­lic option would like­ly prove pop­u­lar, giv­en that for many Amer­i­cans the prospect of low­er costs and increased access is prob­a­bly more impor­tant than the own­er­ship struc­ture of the com­pa­nies pro­vid­ing the drugs.
It is well-known that the Unit­ed States has by far one of the most expen­sive health sys­tems in the devel­oped world yet deliv­ers rel­a­tive­ly poor out­comes across a host of indi­ca­tors. While in recent years pol­i­cy mak­ers at all lev­els have begun to focus on our unique (and some would say irra­tional) method of pro­vid­ing and pay­ing for health­care, the role of the phar­ma­ceu­ti­cal indus­try is no less important.
Giv­en the industry's reliance on pub­lic sup­port in a vari­ety of forms, it is pos­si­ble to begin to think through how that sup­port can be direct­ed into alter­na­tive approach­es and designs that may deliv­er bet­ter long-term results for both con­sumers and soci­ety more broad­ly. The time has come for a pub­lic option for pharmaceuticals.
Dana Brown is the Deputy Direc­tor of the Next Sys­tem Project at The Democ­ra­cy Col­lab­o­ra­tive where she spe­cial­izes in health­care.Thomas M. Han­na is the Research Direc­tor at The Democ­ra­cy Col­lab­o­ra­tive. He is the author of the forth­com­ing book Our Com­mon Wealth: The Return of Pub­lic Own­er­ship in the Unit­ed States (Man­ches­ter Uni­ver­si­ty Press,
2018
).