Philippine Call Center Workers Are in Danger. It's Our Problem, Too.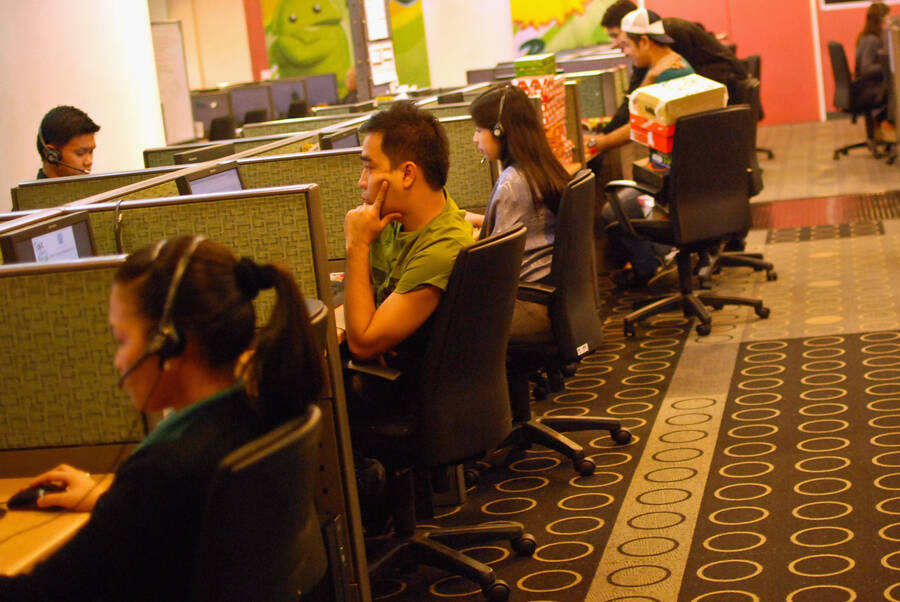 For call cen­ter employ­ees in the Philip­pines, sleep­ing on the floor of their work­place less than a meter from their cowork­ers in the mid­dle of a pan­dem­ic is an improve­ment. ​"Until very recent­ly," report­ed one work­er, ​"peo­ple were just inch­es apart."
In the Unit­ed States, Covid-19 has brought renewed focus to the way that work­ing-class lives are treat­ed as expend­able. But far less atten­tion has been paid to the glob­al dimen­sions of the cri­sis. Work­ers around the world are caught in the same exploita­tive sys­tem — one that uses nation­al bor­ders to divide and con­quer the work­ing class. In few places is this more per­fect­ly encap­su­lat­ed than in the Philip­pine call cen­ter indus­try, where work­ers are cur­rent­ly risk­ing their lives to pro­vide cheap cus­tomer ser­vice for Amer­i­can cor­po­ra­tions. The Com­mu­ni­ca­tions Work­ers of Amer­i­ca (CWA) is fight­ing to help their Philip­pine coun­ter­parts. In doing so, they pro­vide a mod­el for transna­tion­al solidarity.
The abu­sive BPO industry
Busi­ness Process Out­sourc­ing (BPO), in which multi­na­tion­al cor­po­ra­tions con­tract out activ­i­ties like tele­phone cus­tomer ser­vice and IT sup­port to low-wage work­ers in oth­er coun­tries, is big busi­ness in the Philip­pines. With 1.2 mil­lion employed, and mak­ing up 11% of the country's GDP, the Philip­pines is one of the largest BPO des­ti­na­tions in the world. But this record growth has come at a cost.
Philip­pine BPO work­ers face a litany of indus­try-wide abus­es: low wages, lack of job secu­ri­ty, con­trac­tu­al­iza­tion, inten­si­fy­ing work­loads through increas­ing­ly strict mon­i­tor­ing and met­rics, and unsafe work­ing con­di­tions. In 2017, a fire at a BPO office that failed to meet safe­ty codes killed 37 call cen­ter work­ers. Ear­li­er this year, work­ers were told not to aban­don their posts dur­ing a vol­canic erup­tion. And some woman work­ers have report­ed being dis­crim­i­nat­ed against and forced out of their jobs for being pregnant.
Dur­ing the Covid-19 cri­sis, that list has only grown. Many employ­ees have been placed on ​"float­ing" sta­tus, where they remain for­mal­ly employed but with­out work or pay. Those lucky enough to work have to do so in per­son, with­out ade­quate social dis­tanc­ing pro­to­cols or pro­tec­tive equip­ment. Most degrad­ing of all, with move­ment restrict­ed with­in the coun­try, those who are unable to com­mute are forced to sleep side-by-side on the office floor.
Work­ers haven't tak­en this lying down. In the face of every abuse, the BPO Indus­try Employ­ment Net­work (BIEN), the industry's main union, has fought back. But in Pres­i­dent Rodri­go Duterte's Philip­pines, orga­niz­ing is dan­ger­ous work.
In Octo­ber of last year, lead­ing BIEN orga­niz­er Anne Krueger, along with 56 oth­er union mem­bers, was arrest­ed under false charges in a mass raid. These arrests came as part of a wider crack­down on labor that has seen teach­ers' union­ists gunned down in their class­rooms, at least 43 activists killed with impuni­ty, and uncount­ed more arrest­ed. A close ally of the BPO indus­try, Duterte has resort­ed to ille­git­i­mate arrests and extra-judi­cial killings to pro­tect cor­po­rate profits.
The Philip­pine labor move­ment, fight­ing against a deeply abu­sive indus­try, is being vio­lent­ly repressed by a right-wing author­i­tar­i­an gov­ern­ment. But it's not just a Philip­pine prob­lem. Exploita­tion of work­ers in the Philip­pines is also an Amer­i­can prob­lem — a prob­lem for work­ers everywhere.
A glob­al challenge
Many of those fac­ing inhu­mane work­ing con­di­tions and vio­lent ret­ri­bu­tion in the Philip­pines are work­ing either direct­ly for, or for con­trac­tors to, U.S. cor­po­ra­tions. Anne, for exam­ple, had been work­ing with BIEN on a years-long cam­paign against Alor­i­ca, an Amer­i­can call cen­ter com­pa­ny and con­trac­tor to four of the five largest wire­less providers in the world, includ­ing Ver­i­zon and AT&T. At the same time, the Unit­ed States pro­vides the Philip­pines with some­where north of $100 mil­lion in mil­i­tary and polic­ing assis­tance every year. In short: Amer­i­can cor­po­ra­tions are prof­it­ing from the repres­sion of Philip­pine labor by a police force fund­ed by the US government.
But the roots of the repres­sion reach even deep­er — to the rules of the glob­al econ­o­my itself.
Over the past five decades, the gov­ern­ments of the Glob­al North, and the pri­vate inter­ests they rep­re­sent, have foist­ed upon the world a process of ​"neolib­er­al glob­al­iza­tion." Through a web of trade and invest­ment agree­ments, loans con­di­tioned on pri­va­ti­za­tion and dereg­u­la­tion, and the occa­sion­al coup, the world order has been reshaped to ensure that cor­po­ra­tions are vir­tu­al­ly free of pub­lic con­trol. With cap­i­tal unre­strained by nation­al bor­ders, coun­tries are forced to com­pete to attract investors, slash­ing wages, labor pro­tec­tions, and envi­ron­men­tal reg­u­la­tions in pur­suit of prof­its. The destruc­tive race to the bot­tom—a race that Amer­i­can and Fil­ip­pino work­ers both lose — was born.
It is with­in this con­text that U.S. com­pa­nies, seek­ing to avoid pay­ing fair wages to U.S. work­ers, out­source call cen­ters to a coun­try that attracts them by forc­ing employ­ees to work dur­ing vol­canic erup­tions and vio­lent­ly sup­press­ing dis­sent. For cor­po­ra­tions, this sys­tem has an added ben­e­fit: Work­ers in dif­fer­ent coun­tries are pit­ted against one anoth­er in the false belief that their for­eign coun­ter­parts are the cause of their trou­bles — that the out­sourc­ing of jobs to the Philip­pines is a theft by Fil­ipinos, rather than the prod­uct of a sys­tem that hurts work­ers everywhere.
The caus­es of labor exploita­tion and sup­pres­sion in the Philip­pines are not con­tained with­in Philip­pine bor­ders. The solu­tions won't be either.
Glob­al solutions
In the short term, the Unit­ed States must end its sup­port for the Duterte régime and hold Amer­i­can cor­po­ra­tions account­able for their abus­es. But to address the root caus­es of the suf­fer­ing of BPO work­ers, we must go fur­ther — we must rewrite the rules of the glob­al econ­o­my, build­ing an alter­na­tive glob­al­iza­tion that places the needs of peo­ple and plan­et before prof­its. This means replac­ing trade agree­ments, empow­er­ing work­ers to orga­nize transna­tion­al­ly, remak­ing the Bret­ton Woods Insti­tu­tions, and more. The race to the bot­tom itself must be stopped.
In the fall­out of the glob­al coro­n­avirus cri­sis, calls to remake the archi­tec­ture of the glob­al econ­o­my to bet­ter pro­tect work­ers every­where have received increased atten­tion. But achiev­ing this trans­for­ma­tion — or mak­ing any sus­tained progress for work­ers around the world — requires over­com­ing the forces that seek to divide the work­ing class. It requires build­ing sol­i­dar­i­ty that tran­scends borders.
CWA, long­time allies of Anne and BIEN, says it is doing just that. "[We] need to rec­og­nize who the real vil­lain is here." said Leg­isla­tive Direc­tor Shane Lar­son. ​"It's not the work­er out­side of the Unit­ed States who is try­ing to feed their fam­i­ly. If we're going to raise our mem­bers' wages, we have to be sure that we are rais­ing the floor across the globe."
Glob­al solidarity
Build­ing glob­al sol­i­dar­i­ty isn't easy. But CWA, like oth­er unions that cen­ter inter­na­tion­al­ism, has prac­tice in doing so: send­ing del­e­ga­tions to meet with their for­eign coun­ter­parts, col­lab­o­rat­ing with Mex­i­can unions to oppose NAF­TA, and par­tic­i­pat­ing in sol­i­dar­i­ty actions. In 2018, for exam­ple, CWA helped employ­ees of French BPO com­pa­ny Teleper­for­mance in the Domini­can Repub­lic union­ize by exert­ing pres­sure through AT&T, one of the company's major clients.
It was dur­ing these sol­i­dar­i­ty-build­ing activ­i­ties that CWA devel­oped its rela­tion­ship with Anne Krueger. When Amer­i­can Ver­i­zon work­ers were on strike in 2016, Anne inde­pen­dent­ly reached out to CWA to pro­vide infor­ma­tion on where Ver­i­zon was out­sourc­ing ser­vices in the Philip­pines. ​"We don't want to be scabs," she said at the time. Since then, CWA has sent mul­ti­ple del­e­ga­tions to meet with Philip­pine work­ers — some of which were even host­ed in Anne's home. CWA has since lever­aged its pow­er with US-based BPO clients to sup­port Anne and BIEN's orga­niz­ing. Now, with Anne and her fel­low BPO employ­ees in dan­ger, CWA is draw­ing inter­na­tion­al atten­tion to their plight, par­tic­i­pat­ing in glob­al­ly-coor­di­nat­ed days of action, and orga­niz­ing protests in col­lab­o­ra­tion with civ­il soci­ety groups.
CWA sees help­ing BIEN as a win-win: BIEN work­ers gain bet­ter wages and work­ing con­di­tions, and CWA work­ers face less down­ward pres­sure on theirs. ​"Our work­ers are rec­og­niz­ing that we have more in com­mon than not," said Lar­son. ​"The most amaz­ing thing has been to see the rank and file call cen­ter work­ers meet with work­ers in oth­er coun­tries and they imme­di­ate­ly bond — they bond on a sim­ple human lev­el, a work­er lev­el. It's an empow­er­ing experience."
Thanks in no small part to the sup­port she received from around the globe, includ­ing demon­stra­tions and state­ments by CWA, the Inter­na­tion­al Trade Union Con­fed­er­a­tion, the AFL-CIO, UNI Glob­al Union, and Sen­a­tor Bernie Sanders, Anne was even­tu­al­ly released on bail. But sev­er­al activists arrest­ed dur­ing the same raid have not been so lucky, and Anne still faces a court date in one of the world's worst jus­tice systems.
Her fate, the fates of call cen­ter work­ers forced to sleep on the floor dur­ing a pan­dem­ic, and those of work­ers every­where, depend on our abil­i­ty to act like CWA — to see past nation­al divi­sions, and unite across bor­ders in the strug­gle for a sys­tem that works for work­ers everywhere.
In a recent speech, U.S. Con­gressper­son Ilhan Omar declared: ​"My des­tiny, your des­tiny, the des­tiny of work­ers around the world are linked togeth­er." For Lar­son, this per­fect­ly cap­tured the spir­it of CWA and BIEN's col­lab­o­ra­tion: ​"If you are a work­er any­where in the world, you are a broth­er, a sis­ter, a sib­ling of CWA."