In a Surprising Move, the Anti-Pipeline Movement Is Taking a Page from Hobby Lobby
Religious groups are using First Amendment arguments in efforts to stop pipelines and protect Native lands.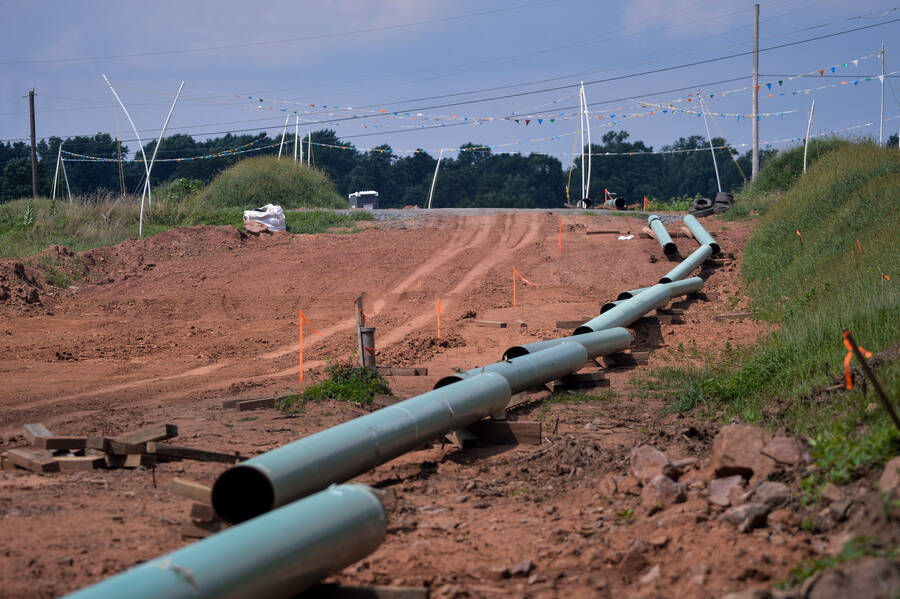 Before he died in 2017, Nor­man Hahn employed near­ly 1,000 peo­ple as the own­er of Con­esto­ga Wood Spe­cial­ties, a fur­ni­ture man­u­fac­tur­er in Lan­cast­er Coun­ty, Penn. He was also a devout Old Order Men­non­ite. When Con­gress passed the Afford­able Care Act in 2010, Hanh object­ed to the law's require­ment that he pro­vide his employ­ees with access to con­tra­cep­tives. So he sued. Offer­ing con­tra­cep­tion would be ​"a sin against God to which I would be held account­able," he claimed. In court, his lawyers argued that the require­ment would sub­stan­tial­ly bur­den Hahn's First Amend­ment right to the free exer­cise of religion.
"Hobby Lobby opens the door for people, as a matter of religious belief, who believe that continued development of fossil fuels is destroying God's creation."
The case, known as Bur­well v. Hob­by Lob­by, would even­tu­al­ly make it all the way the Supreme Court. And in 2014, a major­i­ty of jus­tices on the court agreed, rul­ing in Hahn's favor.
Today, the court's deci­sion in the Hob­by Lob­by case is being used to argue for a very dif­fer­ent type of reli­gious pro­tec­tion. Oppo­nents of nat­ur­al gas pipelines on the East Coast are attempt­ing to use the reli­gious free­dom argu­ment to block expan­sion of fos­sil fuel infra­struc­ture. With dimin­ish­ing options to force change, and the clock to cli­mate cri­sis tick­ing, how well this strat­e­gy can serve pro­gres­sive ends hangs on which beliefs the courts say the First Amend­ment can protect.
Pro-earth creeds
Thir­ty miles down the road from Con­testo­ga Wood's Lan­cast­er Coun­ty fac­to­ry, a 10-foot chain-link fence slices behind a mod­est out­door chapel in the Colum­bia, Penn. A back­hoe past the fence chaws up farm­land soil, where the Atlantic Sun­rise Pipeline, owned by Okla­homa-based ener­gy com­pa­ny Williams Part­ners, may one day run.
The chapel, ringed by wood­en bench­es open to the sky, sits on land belong­ing to the Ador­ers of the Blood of Chan, an order of Catholic nuns. In July, the sis­ters learned that Williams Part­ners, with the approval of the Fed­er­al Ener­gy Reg­u­la­to­ry Com­mi­sion (FERC), would seize an acre of their land to build the pipeline. So the sis­ters built their chapel.
Sis­ter Ber­nice Kloster­mann says that FERC has since stepped in to demand the Ador­ers sell the land the chapel sits on to the ener­gy com­pa­ny. ​"We were asked to sell our land," Sis­ter Kloster­mann says. ​"Then we were told to sell it."
The Ador­ers claim that this demand flies in the face of their beliefs. The nuns fol­low a Land Eth­ic, adopt­ed in 2005, that espous­es a reli­gious oblig­a­tion to ​"rev­er­ence Earth as a sanc­tu­ary where all life is protected."
"We've always had a great ven­er­a­tion for the land," Sis­ter Kloster­mann says. ​"Earth is what keeps life going. If we rav­age the Earth, which it seems like we're doing, what's going to be left for future generations?"
Once com­plet­ed, the rough­ly 200-mile Atlantic Sun­rise pipeline will rush gas from frac­tured shale rock in North­west­ern Penn­syl­va­nia to Philadel­phia refiner­ies for export and con­sump­tion. Though nat­ur­al gas emits car­bon at half the rate of coal, drilling sites and pipelines leak methane, which is 34 times more potent than car­bon diox­ide at trap­ping heat.
To bol­ster cli­mate change in this way would vio­late the Adorer's reli­gious eth­ic, the sis­ters say.
"The con­tin­ued use of fos­sil fuels is caus­ing irrepara­ble dam­age to the envi­ron­ment," the Ador­ers' nation­al office explains in a state­ment. ​"All of human­i­ty have a moral respon­si­bil­i­ty to care for this plan­et, earth, our com­mon home."
To the north in Mah­wah, N.J., lead­ers of the Ramapough Lenape Nation, a Native Amer­i­can com­mu­ni­ty with an esti­mat­ed 5,000 mem­bers, voice sim­i­lar reli­gious objec­tions to expand­ing fos­sil fuel infrastructure.
"Indige­nous peo­ple have always rec­og­nized our need for the world we've emerged from, the nat­ur­al world," says Owl, a trib­al rep­re­sen­ta­tive. ​"We're at a time now where our cumu­la­tive his­tor­i­cal impacts on the envi­ron­ment may lead to our own destruc­tion as a species."
Protests at Stand­ing Rock inspired trib­al lead­ers to oppose the Pil­grim Pipeline, which would fer­ry near­ly 200,000 bar­rels of crude oil each day from Albany, N.Y, through Mah­wah to Lin­den, N.J. A north­bound pipeline would trans­port refined fuels.
If built, the Pil­grim Pipeline would cross hun­dreds of bod­ies of water and sev­er­al aquifers ser­vic­ing New York City. A spill could spoil the drink­ing water of mil­lions of people.
To protest the pipeline, in Octo­ber 2016, the Ramapough built teepees, tents and a sin­gle yurt on A 13.6‑acre par­cel of land they own that sits among mul­ti-mil­lion dol­lar homes on the Ramapo Riv­er in Mah­wah. They named it the Split Rock Sweet­wa­ter Prayer Camp.
To the Ramapough, the encamp­ment was like most oth­er prayer cer­e­monies held on the prop­er­ty in the last quar­ter-cen­tu­ry, intend­ed to hon­or and pro­tect the land. The town of Mah­wah, how­ev­er, con­sid­ered it a zon­ing violation.
Begin­ning in Decem­ber 2016, Mah­wah filed 43 zon­ing sum­mons­es against the Ramapough, with fines poten­tial­ly total­ing near­ly $50,000. In Novem­ber 2017, a judge ordered the Ramapough, who are not a fed­er­al­ly rec­og­nized indige­nous peo­ple, to pay $13,699 in fines. When the town claimed that the Ramapough failed to obtain the prop­er per­mits to build per­ma­nent struc­tures on their prop­er­ty, the tribe applied for new per­mits. Mah­wah offi­cials denied this per­mit appli­ca­tion in April 2017 and the Ramapough again found them­selves in court.
Trib­al mem­bers have claimed that the town's intent is clear: to push the Ramapough off their land. ​"What start­ed as a prayer camp to peace­ful­ly protest these pipelines has now turned into a fight for sur­vival on our own land," Ramapough Chief Dwayne Per­ry told Indi­an Coun­try Today.
That's because the prayer camp esca­lat­ed decades of bad blood between the Ramapough and their wealth­i­er, most­ly white neigh­bors, many of whom reside in the Polo Club, a gat­ed com­mu­ni­ty next to trib­al land. Cen­turies of dis­place­ment, dis­pos­ses­sion and racial bias mar the Ramapough's long his­to­ry in Mah­wah. Alleged zon­ing vio­la­tions, the Ramapough say, mark the lat­est stage in this conflict.
Chief Per­ry argues that ratch­et­ing up fines will force the Ramapough to sell off their land to developers.
"It's anoth­er way to dis­pos­sess us," Owl says.
Now the Ador­ers and the Ramapough are both in court to deter­mine whether their pipeline protests are con­sid­ered an exer­cise of the First Amend­ment right to reli­gious freedom.
Land pro­tec­tors
The Reli­gious Free­dom Restora­tion Act (RFRA), passed by Con­gress in 1993, pro­hibits the fed­er­al gov­ern­ment from impos­ing a sub­stan­tial bur­den on reli­gious prac­tice. RFRA applies to all fed­er­al law, shield­ing reli­gious groups from reg­u­la­tions that apply to the gen­er­al pub­lic. This includes every­thing from Chris­tians who refuse to pro­vide health care cov­er­age that pro­vides con­tra­cep­tives to their employ­ees — think Hob­by Lob­by—to Native Amer­i­cans ingest­ing pey­ote for prayer ceremonies.
The Reli­gious Land Use and Insti­tu­tion­al­ized Per­sons Act (RLUIPA), passed in 2000 to shore up RFRA's pro­tec­tion, safe­guards reli­gious groups from restric­tive or dis­crim­i­na­to­ry land-use reg­u­la­tions, like the use of zon­ing codes to block mosque construction.
The Hob­by Lob­by deci­sion was a deci­sive win for the reli­gious Right. The rul­ing bal­looned RFRA's applic­a­bil­i­ty, per­mit­ting cor­po­ra­tions as well as uni­ver­si­ties and non­prof­its to wide­ly dis­crim­i­nate on the basis of reli­gious belief. It also places reli­gious free­dom pro­tec­tions well above oth­er concerns.
By free­ing a corporation's reli­gious beliefs from fed­er­al reg­u­la­tion, Hob­by Lob­by pri­or­i­tizes the faith of employ­ers over the rights and beliefs of their employ­ees. As then-Solic­i­tor Gen­er­al Don­ald B. Ver­il­li, Jr. warned in 2014, few pro­tec­tions stand in the way of employ­ers who sin­cere­ly believe that min­i­mum wage laws or work­ers' pro­tec­tions impose too high a bur­den on their reli­gious practice.
Short­cuts around RFRA's sweep­ing pro­tec­tions do exist, but they first must pass a string of impos­ing tests baked into law The fed­er­al gov­ern­ment actu­al­ly can bur­den reli­gious free­dom — but only if a law is deter­mined to be the least restric­tive way to serve a com­pelling state inter­est, such as nation­al secu­ri­ty or elections.
For the Ador­ers and the Ramapough, it remains to be seen how far RFRA's pro­tec­tions can stretch.
In July 2017, the Ador­ers filed a com­plaint against FERC alleg­ing that the agency had bro­ken the law. By autho­riz­ing Williams Part­ners to seize the Ador­ers' land for the Atlantic Sun­rise Pipeline, the order argued, the fed­er­al gov­ern­ment had placed a sub­stan­tial bur­den on the Ador­ers' reli­gious beliefs.
"To me this is a no-brain­er," says Dwight Yoder, the Ador­ers' lawyer. ​"Con­gress adopt­ed a law pro­tect­ing the nuns' reli­gious free­dom; [Williams Part­ners] sub­stan­tial­ly bur­dened it. Hob­by Lob­by opens the door for peo­ple, as a mat­ter of reli­gious belief, who believe that con­tin­ued devel­op­ment of fos­sil fuels is destroy­ing God's creation."
In ear­ly Octo­ber 2017, the town of Mah­wah took the Ramapough to tri­al in New Jer­sey Supe­ri­or Court over the tribe's alleged zon­ing vio­la­tions. But these vio­la­tions masked a clear pre­text for dis­crim­i­na­tion that bur­dened the Ramapough's reli­gious use of their land, the tribe's lawyers argued. Accord­ing to the Rampough's lawyer Vale­ria Ghe­o­rghiu their neigh­bors at the Polo Club who have inter­vened in law­suits along­side Mah­wah, filed pri­vate cit­i­zen's sum­mons against Chief Pery and Owl, and insti­gat­ed their own law­suits against the tribe.
"Oper­at­ing at the behest of a priv­i­leged and influ­en­tial group of cit­i­zens' com­plaints is not a com­pelling gov­ern­men­tal inter­est," Ghe­o­rghui says.
But so far nei­ther the Ador­ers nor the Ramapough have met much luck in court.
In Sep­tem­ber 2017, a fed­er­al judge dis­missed the Adorer's case. The sis­ters appealed, and a tri­al is like­ly to occur ear­ly this year.
In Novem­ber 2017, a Supe­ri­or Court judge ruled that the Ramapough did, in fact, vio­late exist­ing zon­ing law. Lawyers for the Ramapough say they will appeal.
Rights denied
Hob­by Lob­by​'s suc­cess is no guar­an­tee for Native com­mu­ni­ties in court. When Don­ald Trump ordered the Army Corps of Engi­neers to expe­dite con­struc­tion of the Dako­ta Access Pipeline short­ly after tak­ing office, Nicole Duch­eneux imme­di­ate­ly filed a pre­lim­i­nary injunc­tion for her client, the Cheyenne Riv­er Sioux Tribe.
Pipeline con­struc­tion, the tribe argued, would vio­late its rights as pro­tect­ed by the Reli­gious Free­dom Restora­tion Act.
"The mere exis­tence of a crude oil pipeline under the waters of Lake Oahe" — a reser­voir stretched between North and South Dako­ta that the tribe uses for reli­gious pur­pos­es[4] —"will des­e­crate those waters and ren­der them unsuit­able for use in their reli­gious sacra­ments," the fil­ing read.
"Our feel­ing about rit­u­al­ly pure water should be con­sid­ered to be exact­ly the same as a Jew­ish person's right to have kosher food, or a Catholic person's right to take the sacra­ment," says Duch­eneux, who is a mem­ber of the Cheyenne Riv­er Sioux Tribe.
"Our hope is to jump in and say: Hey, if Hob­by Lob­by can expand RFRA in the con­text of a major West­ern Reli­gion, you can under­stand how that expand­ed con­text also applies to a Native religion."
The injunc­tion was denied.
The prob­lem, Duch­eneux says, is struc­tur­al. ​"There is a judi­cial bias against us that derives from a main­stream cul­tur­al bias against our reli­gious beliefs," she says. ​"You see these tra­di­tions par­o­died as hocus-pocus, or as made-up crazy stuff — nature wor­ship­ping. It's dif­fi­cult to explain to some­one who's not Lako­ta what our reli­gion means."
RFRA's shaky appli­ca­tions in these con­texts doesn't bode well for pipeline oppo­si­tion else­where. That the protests of the Ador­ers and the Ramapough, inde­pen­dent of one anoth­er, should come to court on reli­gious grounds, at rough­ly the same time, in rough­ly the same place, is no acci­dent — and protests cut in the same mold run the same risks in the long term.
Lessons from Stand­ing Rock
The mod­el of the Stand­ing Rock protests against the Dako­ta Access Pipeline, couched in long-stand­ing indige­nous belief and long-stand­ing tac­tics of indige­nous resis­tance, cast a strong pull over the Ramapough and Ador­ers. Native nations, envi­ron­men­tal­ists and activists flocked to Stand­ing Rock in a stun­ning show of sol­i­dar­i­ty — includ­ing some of the Ramapough, and mem­bers of Lan­cast­er Against Pipelines, a group of con­cerned neigh­bors who have spon­sored protests with the Adorers.
What they learned, they brought back with them.
Stand­ing Rock served as a pow­er­ful fusion of indige­nous beliefs and indige­nous tac­tics of resis­tance. What result­ed was an encamp­ment — a strat­e­gy long used by Native com­mu­ni­ties to fight off abus­es — con­struct­ed in oppo­si­tion to the Dako­ta Access Pipeline on spir­i­tu­al grounds. Stand­ing Rock's spir­i­tu­al per­spec­tive drew out the moral dimen­sions of resis­tance, protest­ing the lega­cy of colo­nial encroach­ment, extrac­tion and exploitation.
The mod­el spread. At least 21 camps inspired by Stand­ing Rock endure today, includ­ing the Ramapough's Split Rock Sweet­wa­ter Camp. Lan­cast­er Against Pipelines main­tained a camp on farm­land in Con­esto­ga Town­ship from Feb­ru­ary to July 2017, when its own­ers sold out to Williams Part­ners for an undis­closed price.
But as the Stand­ing Rock form of protest spread, so too did the tech­niques of polic­ing, sur­veil­lance and intim­i­da­tion waged against it.
In May 2017, State Sen. Scott Mar­tin (R.) of Lan­cast­er Coun­ty met with North Dako­ta offi­cials involved in polic­ing Stand­ing Rock, accord­ing to the Inter­cept. In August, Sen. Mar­tin intro­duced a bill that would require any­one con­vict­ed of a crime at a pub­lic protest to shoul­der the pub­lic safe­ty costs tied to the event.
For Malin­da Clat­ter­buck, a mem­ber of Lan­cast­er Against Pipelines, Martin's deal­ings appear in-step with a nation-wide effort to dis­cred­it and chill pipeline oppo­si­tion through intim­i­da­tion and trumped-up accu­sa­tions of domes­tic terrorism.
"I live here, I'm a neigh­bor, I'm a res­i­dent," Clat­ter­buck says. ​"What is this world, where peo­ple who exer­cise their Con­sti­tu­tion­al rights to civ­il dis­obe­di­ence are being called ter­ror­ists?" In Octo­ber 2017, she was one of 23 arrest­ed at a protest on the Ador­ers' land.
That same month, 84 Con­gres­sion­al law­mak­ers sent a let­ter to Attor­ney Gen­er­al Jeff Ses­sions ask­ing if pipeline oppo­nents could be pros­e­cut­ed on charges of domes­tic ter­ror­ism under the PATRI­OT Act.
In August 2017 Ener­gy Trans­fer Part­ners, own­ers of the pro­posed Dako­ta Access Pipeline, filed a sweep­ing com­plaint in U.S. Dis­trict Court in North Dako­ta charg­ing Stand­ing Rock pro­test­ers of per­pe­trat­ing terrorism.
"It's a ridicu­lous charge, call­ing peo­ple ter­ror­ists who are try­ing to pro­tect the future," Mar­la Mar­cum, direc­tor of the Cli­mate Dis­obe­di­ence Cen­ter, says. ​"We've got to stand behind peo­ple who are attacked that way."
Pro­test­ers don't have many options to fight these accu­sa­tions. Repub­li­can cap­ture of near­ly every rel­e­vant polit­i­cal avenue has fun­neled the momen­tum of pipeline oppo­si­tion to the courts, where argu­ments about reli­gious free­dom come up against the pri­or­i­ties of the War on Ter­ror. So broad and ambigu­ous is the ​"ter­ror­ism" defined by the PATRI­OT Act that it loops in much of the innocu­ous, day-to-day aspects of any kind of activist move­ment. Sec­tion 802 of the Act defines domes­tic ter­ror­ism as any ille­gal act ​"dan­ger­ous to human life" that intends ​"to influ­ence the pol­i­cy of the gov­ern­ment by intim­i­da­tion or coer­cion." Such lan­guage could apply to most forms of protest and civ­il disobedience.
The RFRA offers pipeline pro­test­ers no firm pro­tec­tion against these charges. Even if pro­test­ers' beliefs are sin­cere, gov­ern­men­tal inter­ests in secu­ri­ty are like­ly to win out.
But legal sys­tems are unpre­dictable. Ted Hamil­ton, co-founder of the Cli­mate Defense Project, says, ​"You nev­er know what's going to stick. You real­ly could get one deci­sion from the bench that total­ly halts pipeline con­struc­tion forever."
Hob­by Lob­by opened a door. It remains to be seen where it will lead.
"We've sur­vived to this point," Owl says. ​"We'll find a way to sur­vive in the future."
Or as Sis­ter Kloster­mann puts it, ​"Mir­a­cles have hap­pened before."
Ben Walk­er
is writer and researcher based in Philadelphia.