"Don't despair, if you feel polit­i­cal deci­sions nowa­days are not being made on your behalf — or even against your wish­es," says Clay­ton Apikan Bras­coupé, a Mohawk farmer who has lived and worked for many years at Tesuque Pueblo, in New Mexico.
His solu­tion? ​"Start by plant­i­ng trees," he says. ​"They are a pos­i­tive answer to cli­mate change and much more. Trees build up soils organ­i­cal­ly and increase their water-hold­ing capac­i­ty. They sequester excess cli­mate-alter­ing car­bon diox­ide. They attract ben­e­fi­cial insects that help oth­er crops and pro­duce food, med­i­cine, build­ing mate­r­i­al and oth­er use­ful items. Plant­i­ng them can trans­form a community."
Bras­coupé directs the Tra­di­tion­al Native Amer­i­can Farm­ers Asso­ci­a­tion (TNAFA), head­quar­tered in San­ta Fe, New Mex­i­co, which has engaged the Indige­nous com­mu­ni­ty through this very prac­tice. Tiny TNAFA, com­prised of its direc­tor and a few vol­un­teers, spe­cial­izes in projects that are accom­plished eas­i­ly with inex­pen­sive local­ly sourced items, yet have enor­mous effects. ​"Our phi­los­o­phy is keep­ing small and col­lab­o­rat­ing with peo­ple who are com­mit­ted to doing this work," says Bras­coupé. ​"They can then run with the ideas."
In May, TNAFA held a two-day tree-plant­i­ng and ‑care work­shop. The course attract­ed some 25 stu­dents from an Apache com­mu­ni­ty, the Nava­jo Nation and oth­er Pueb­los, includ­ing Aco­ma, Zuni, Taos, Hopi and Ohkay Owingeh (for­mer­ly called San Juan Pueblo). Par­tic­i­pants put in trees and mulched them with donat­ed plant debris from a large com­mer­cial green­house oper­a­tion and with eas­i­ly obtained dis­card­ed card­board and news­pa­per ("it's every­where!" says Bras­coupé). Water was divert­ed from sources, like runoff from build­ings, that might have been ignored or lost otherwise.
Part­ners of the work­shop includ­ed the Taos Coun­ty Eco­nom­ic Devel­op­ment Cor­po­ra­tion (TCEDC), where the trees were installed, New Moon Lodge, a Pueblo-based sub­stance-abuse reha­bil­i­ta­tion ser­vice that pro­vid­ed some of the stu­dents, and nat­u­ral­ist Joel Glanzberg, who was one of the pre­sen­ters. The instruc­tor Jacobo Mar­cus was pro­vid­ed by Hopi Tut­skwa Per­ma­cul­ture, a com­mu­ni­ty-based orga­ni­za­tion at Hopi Pueblo with an orchard, farm­ers' mar­ket, youth sum­mer pro­gram, home-build­ing project and much more.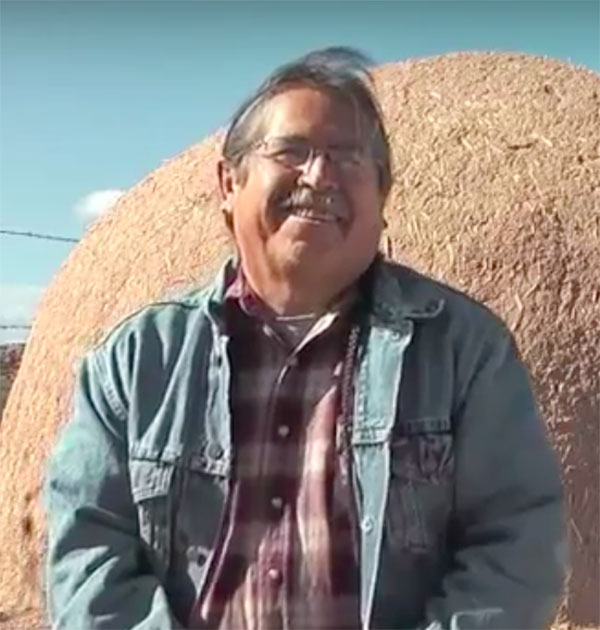 Clay­ton Apikan Bras­coupé takes a break from teach­ing. (Image: Cour­tesy of the Tra­di­tion­al Native Amer­i­can Farm­ers Association)
"The stu­dents were excit­ed by the infor­ma­tion we cov­ered and planned to stay involved. One will work in his family's orchard and asked if he could also come by and help out at Tesuque," says Bras­coupé. This fall, anoth­er tree-cen­tric TNAFA course will include more infor­ma­tion on prop­a­ga­tion and graft­ing and will explore tap­ping the sweet maple-like sap of the box-elder, a tree native to the area.
TNAFA also offers an annu­al six-day Indige­nous Sus­tain­able Food Sys­tems Design Course. This year, it will take place July 22 – August 3. Lessons are based on tra­di­tion­al con­cepts that mim­ic nat­ur­al process­es and, in doing so, improve the many sys­tems that are cur­rent­ly under siege, from air and water qual­i­ty to per­son­al and com­mu­ni­ty diet and health. TNAFA attracts young peo­ple to its cours­es, along with inter­est­ed adults, ensur­ing that sub­tly effec­tive indige­nous envi­ron­men­tal think­ing con­tin­ues into the future.
Bras­coupé is one of many mem­bers of the inter­na­tion­al com­mu­ni­ty using envi­ron­men­tal actions to increase a sense of empow­er­ment and a belief that this can lead to improved access to jus­tice. The late Wathari Man­gai won the Nobel Peace Prize in 2004 with a women's tree-plant­i­ng pro­gram in Kenya that empow­ered par­tic­i­pants and even­tu­al­ly result­ed in con­struc­tive polit­i­cal change. ​"We too can cre­ate change in our own com­mu­ni­ties, our states and the nation," says Brascoupé.
Oth­er indige­nous involve­ment in cli­mate-change con­trol can be seen in the pro­posed Off Fos­sil Fuels (OFF) Act, spon­sored by Con­gressper­son Tul­si Gab­bard (D‑HI), who is of indige­nous Samoan ances­try. Major envi­ron­men­tal groups sup­port the bill. Among them, Food and Water Watch calls it the ​"strongest, most aggres­sive cli­mate and ener­gy leg­is­la­tion" and is cel­e­brat­ing the idea in New York City through Cli­mate Action Mon­days.
New York City and oth­er Amer­i­can juris­dic­tions, includ­ing 17 states and large cities like Hous­ton, Mia­mi, and San Fran­cis­co, are behind the fight against cli­mate change. This is despite the U.S. hav­ing pulled out of the Paris cli­mate accord — or per­haps because of the deci­sion. New York's bat­tle against cli­mate change is long­stand­ing. Along with an effi­cient and pop­u­lar pub­lic trans­porta­tion sys­tem, the city has well-estab­lished pro­grams such as free rain bar­rels, a Mil­lion Trees plant­i­ng pro­gram, and a vol­un­teer corps of more than 12,500 Cit­i­zen Pruners and 8,000 addi­tion­al youth trained to care for street trees. The city has set aside mon­ey to retro­fit one mil­lion build­ings and its offi­cial vehi­cle fleet for low­er ener­gy use.
New York City home­own­ers (from left) David Hug­gins and Celeste Holmes watch vol­un­teer Cit­i­zen Pruner​ Peter Zum­mo work on a street tree. (Image: Stephanie Woodard)
For­mer New York City may­or Michael Bloomberg donat­ed mil­lions in sup­port of the cause, say­ing, ​"We are already halfway there — and we can accel­er­ate our progress fur­ther, even with­out any sup­port from Washington."
Indige­nous peo­ple cur­rent­ly liv­ing in urban areas have also found their way to Brascoupé's cours­es. ​"There is plen­ty they can do in urban set­tings — cer­tain­ly by plant­i­ng trees," he says. ​"Trees offer pri­va­cy, shade and peace of mind. They clean the air and cool build­ings. They encour­age peo­ple to har­vest water and put in gardens."
It works when all the actions are easy and the com­po­nents avail­able, he says. ​"Iden­ti­fy resources that are cheap or free and already in your com­mu­ni­ty. Find peo­ple who are inter­est­ed, and get started!"