Playing the Gringo Wild Card
Chesa Boudin's Latin American diaries.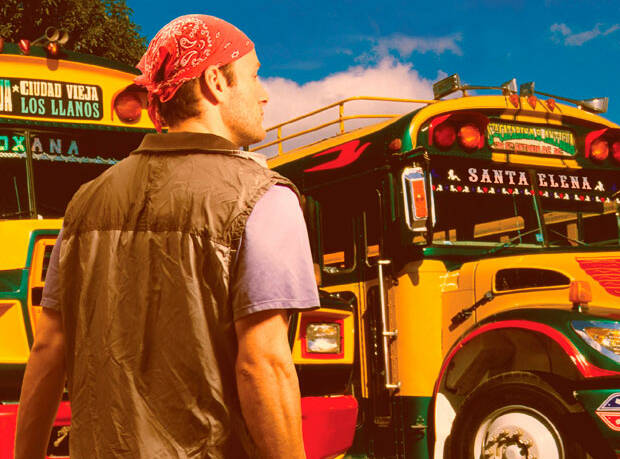 One part polit­i­cal report, one part self-con­fi­dent trav­el­ogue, Gringo: A Com­ing of Age in Latin Amer­i­ca (Scrib­n­er, April) is Chesa Boudin's sen­si­tive and ele­gant­ly writ­ten mem­oir about his near-decade-long per­son­al jour­ney through Cen­tral and South Amer­i­ca between 1999 and 2007.
The author's descriptions of floating down the Amazon or riding buses across borders have drawn comparisons with Che Guevara's The Motorcycle Diaries.
The author is the son of incar­cer­at­ed polit­i­cal activists David Gilbert and Kathy Boudin (Boudin was freed in 2003 after serv­ing 22 years in prison for felony mur­der asso­ci­at­ed with armed rob­bery), and the adopt­ed son of Bill Ayers and Bernar­dine Dohrn – for­mer Weath­er Under­ground mem­bers known for their anti­war bomb­ings in 1969 and the ear­ly ​'70s.
Dur­ing his trav­els, Chesa Boudin encoun­tered myr­i­ad com­pli­ca­tions merg­ing his ideals and gringo identity.
Cross­ing more than 25 Latin Amer­i­can nation­al bor­ders – pol­ish­ing his Span­ish and Por­tuguese and strength­en­ing his stom­ach with diets made up of only local cui­sine – the teenag­er-cum-Rhodes schol­ar bal­anced his ivory tow­er edu­ca­tion with prac­ti­cal experience.
To be clear, Boudin takes no offense to the gringo moniker. While often per­ceived as pejo­ra­tive slang, Boudin has been called a ​"gringo" with affec­tion more often than not. His use of the word in the title and through­out the book speaks to his com­fort as a white ally – albeit one not eas­i­ly rec­og­niz­able from his skin col­or and some­times halt­ing speech – among native Span­ish speak­ers. Repeat­ed­ly acknowl­edg­ing his white priv­i­lege and the gray area between inter­na­tion­al sol­i­dar­i­ty and polit­i­cal tourism, he rec­og­nizes that the word, in fact, describes per­fect­ly his itin­er­ant exis­tence on the continent.
From the begin­ning, Boudin sit­u­ates him­self between his race and class priv­i­lege, and his desire to expand his glob­al under­stand­ing. What could be seen as cav­a­lier moves by a naïve white boy were actu­al­ly cal­cu­lat­ed attempts to expe­ri­ence a cul­ture on the ground, with every­day people.
Boudin writes that choos­ing to trav­el by bus and live in the bar­rios served only to enhance the authen­tic­i­ty of his expe­ri­ence. While it is unlike­ly he would have made the same choic­es if he were a solo female trav­el­er, his adven­tures are cap­ti­vat­ing in their detail.
Trav­el­ing in parts of the world com­plete­ly removed from Hyde Park – the upper-mid­dle-class Chica­go neigh­bor­hood in which he was raised – Boudin learned valu­able lessons about the val­ue of pri­va­cy, the lux­u­ry of space, the body's tol­er­ance for phys­i­cal dis­com­fort, and the dif­fer­ence between ​"need" and ​"want."
He writes that he quick­ly came to under­stand how to dis­cern between being lone­ly and being alone. On the road, he found, he was rarely alone.
Romance also blos­somed for the young adven­tur­er, though after sev­er­al unsuc­cess­ful years of attempt­ing to main­tain a long-dis­tance rela­tion­ship with his girl­friend in Brazil, the two agreed to remain friends and allies.
Boudin's com­ing-of-age trav­els coin­cid­ed with some of the most dra­mat­ic events in 21st cen­tu­ry Latin America.
His first trip to Cen­tral Amer­i­ca – to Guatemala in 1999, at age 18 – set the stage for his bur­geon­ing curios­i­ty about world eco­nom­ics, as he learned first­hand from his Guatemalan acquain­tances about cor­rupt cor­po­rate tax loop­holes and imbal­anced exchange rates.
Boudin lived in Argenti­na in 2002, dur­ing the country's mas­sive eco­nom­ic col­lapse, and wit­nessed Venezuela's enthu­si­as­tic re-elec­tion of Pres­i­dent Hugo Chávez in 2006. He absorbed how these crises and vic­to­ries affect­ed every­day citizens.
He also writes insight­ful­ly about liv­ing in Chile on Sept. 11, 2001, where he encoun­tered a mix of annu­al anti-Gen. Pinochet protests and received word from home about the attacks on U.S. soil.
Boudin chron­i­cles the dif­fi­cul­ty he had con­tribut­ing to a com­mu­ni­ty as an outsider.
As his lan­guage skills improved, he was able to work as a text and ver­bal trans­la­tor, but in every­day life, he remained sti­fled. Con­fronting the com­plex­i­ties of direct char­i­ty, he man­gled an attempt to buy gro­ceries for street chil­dren in Argentina.
Sup­port­ive of fair labor prac­tices, he wit­nessed the chal­lenges fac­ing Brazil's Land­less Worker's Movement.
In many of his expe­ri­ences, no mat­ter his excel­lent inten­tions or how deep his empa­thy for those he met, his gringo sta­tus remained the final hurdle.
Most con­sis­tent­ly, Boudin encoun­tered Washington's harm­ful policies.
For read­ers unfa­mil­iar with insti­tu­tions like the West­ern Hemi­sphere Insti­tute for Secu­ri­ty Coop­er­a­tion (for­mer­ly known as the School of the Amer­i­c­as) or the basic con­cepts out­lined in Nao­mi Klein's The Shock Doc­trine, Boudin pro­vides an acces­si­ble, per­son­al­ized account of the impe­ri­al­ist eco­nom­ic poli­cies that the World Bank and the Inter­na­tion­al Mon­e­tary Fund have inflict­ed on eco­nom­i­cal­ly fail­ing coun­tries in the last 40 years. Each chap­ter serves as a con­densed nation­al his­to­ry – at turns edu­ca­tion­al and entertaining.
Boudin's con­tin­ued lin­guis­tic improve­ments led him to pub­lic speech­es by world lead­ers, includ­ing Nicaraguan Pres­i­dent Daniel Orte­ga and Boli­vian Pres­i­dent Evo Morales. He writes that his abil­i­ty to absorb their words with­out addi­tion­al help was a per­son­al victory.
Boudin's descrip­tions of float­ing down the Ama­zon or rid­ing bus­es across bor­ders have drawn com­par­isons with Che Guevara's The Motor­cy­cle Diaries.
Vis­it­ing reset­tle­ment ​"human­i­tar­i­an zones" in Colom­bia – weapon­less spaces now reclaimed by indige­nous peo­ple who were pre­vi­ous­ly chased away by vio­lent para­mil­i­taries in the late ​'90s – Boudin was struck by the strength of dis­placed peo­ple, labor­ing under unre­lent­ing oppression.
Per­haps more than oth­er social­ly con­scious tourists to the region, Boudin often had par­tic­u­lar empa­thy for fam­i­lies torn apart by war, mem­bers dis­ap­peared or mur­dered. He writes that while main­tain­ing a close rela­tion­ship with his impris­oned par­ents is dif­fer­ent, his frac­tured famil­ial back­ground pro­vid­ed him with unique com­pas­sion for others.
Boudin's great­est strength is his respect­ful under­stand­ing to not use his priv­i­lege to speak for his com­rades. In fact, this aware­ness of being an out­sider reflect­ed humil­i­ty. And as his aware­ness grew dur­ing his trav­els, so, too, did the book's analy­sis and detail.
By the end, the read­er is left a bit intox­i­cat­ed by Boudin's roman­tic opti­mism, while also being more in tune with the dif­fi­cul­ties that the most well-inten­tioned allies face.
Boudin puts a beau­ti­ful human face on the trag­ic sto­ries he encoun­ters – includ­ing his own.
Brit­tany Shoot
is an Amer­i­can free­lance writer and edi­tor cur­rent­ly based in Copen­hagen, Den­mark. She is a writer and edi­tor for the Fem­i­nist Review blog, and her writ­ing has appeared in
Com­mu­ni­ty Media Review
,
Bitch
and
Make/​Shift
.