Police Uprising in Ecuador: Labor Dispute or Attempted Coup?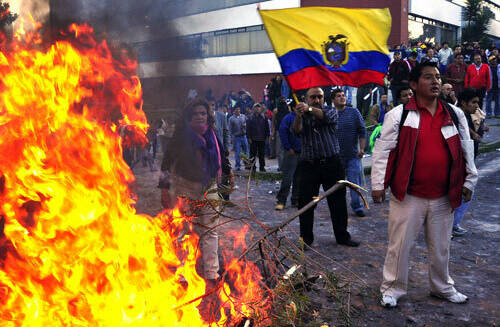 We wanted to make sure you didn't miss the announcement of our new Sustainer program. Once you've finished reading, take a moment to check out the new program, as well as all the benefits of becoming a Sustainer.

At first blush, the news of a violent police uprising September 30 against Ecuadorian President Rafael Correa sounded like a labor dispute. Police officers upset over cuts in wages and benefits staged a revolt, with support from some factions of the military and air force. When Correa visited a Quito police barracks to try to defuse tensions, he was attacked with tear gas and hot water and then essentially held captive by rampaging police in the Quito hospital where he sought treatment and refuge.
For 12 hours, police clashed with pro-Correa protesters outside the hospital. When Correa was finally spirited out by soldiers, police met him with a hail of bullets that killed five people including two soldiers, one police officer and a student Correa supporter. In all, hundreds were injured. Police also set up roadblocks of burning tires and staged militant protests in other cities, while members of the air force closed down the main airport.
Police were angry at a law passed Sept. 29 extending the time between promotions from five to seven years and ending bonuses, including the practice of giving payouts and medals with each promotion. The law, part of a crackdown on government waste and a move to equalize salaries among public workers, was expected to save $15 million.
But many supporters of Correa — and more generally of the socialistic, populist programs and reforms he has pushed — see the incident as an attempted coup d'etat in the vein of last summer's coup in Honduras. In other words, instead of Correa being the anti-worker party in a labor dispute, they say the police uprising was part of a movement by right-wing forces opposed to Correa's generally pro-worker stances.
After being rescued by soldiers, a defiant Correa referred to a long-brewing coup attempt involving former President Lucio Gutierrez, who was ousted in 2005. Some who stop short of calling the incident a coup cast it as the outrage of an elitist ​"old boy's club" of officers incensed at the reform of a system rife with favoritism and corruption.
The Miami Herald describes the situation:
Police in the capital and other cities walked off the job and took to the streets. Officers assigned to the National Assembly left their posts and refused to let in lawmakers. The Air Force, siding with police, surrounded Quito's Mariscal Sucre airport and shut it down as criminals took advantage of the lawlessness to loot banks and supermarkets.
Masses of citizens supported Correa, rallying in his defense around the hospital as police responded violently. The Herald describes his response:
'I care about the police very deeply," he said. But he also blasted them for having started an uprising not over crimes against humanity but over something as mundane as a salary dispute. ​"This is a national disgrace," he said.
The uprising happened as Latin American officials and experts were in Quito for a conference about the plight of Colombian refugees in Ecuador. A Colombian human rights activist in town for the conference described overhearing police essentially confirm they were holding Correa captive. Jorge Rojas told IPS:
I went up close to a group of police who were receiving guidelines from a colonel or general, I couldn't tell which. This officer told the police not to talk in terms of ​"kidnapping the president," because that could cause problems for them. He said they should say the president was being ​"protected by the police in the hospital." And in the same breath, the officer said: ​"But we're not letting him leave. And he's going to pay for what he's done to the police."
Rojas sees the uprising as a systematically-planned coup, saying:
This isn't just a problem of demands by the police. This, it seems, was very well planned. So well-planned that the airports were taken over by a sector of the air force which, undoubtedly, has to do with the coup.
Venezuelan president Hugo Chavez, a close ally of Correa, blamed the U.S. for backing a coup, writing in his weekly column (as translated by Bloomberg):
Let's not forget, the failed attempt, manufactured by Washington, was looking not only to bring down Correa's government but also the ALBA and Unasur (Union of South American Nations)…(The U.S.) has revived the old measure of coup d'etats to spoil plans of governments that don't subordinate to it.
U.S. officials condemned the uprising and said they support Correa, as did the Organization of American States. Correa has generally been seen as a friend of average workers and a foe of multi-national companies — pushing for nationalization of key sectors, diverting profits from mining and oil into health and education programs and refusing to pay international debt he deemed illegitimate.
Though his popularity remains relatively high (with approval from about two thirds of the population), indigenous groups, students and public sectors workers have also become disillusioned that he has not done more for common people. Meanwhile the violence, though clearly started by police, is being framed by Correa opponents in the same way Chavez has often been painted as an out-of-control dictator.

Reuters described the scene thus:
Fury in his eyes, his shirt ripped open as if ready for a street brawl in the face of a police uprising last week, Ecuadorean President Rafael Correa's combative style is distancing allies and could hamper his ability to govern. The left-wing leader's signature temper boiled over on Thursday during a protest by policemen over bonus and benefit cuts which turned into a deadly, hours-long stand-off that plunged the small Andean country into chaos.
Interviewed by NPR's Latino USA before the Ecuadorian incident, Bolivian President Evo Morales, like Chavez, referred to a burgeoning of foreign-backed coup plots against members of ALBA, the socially-oriented trade bloc spearheaded by Chavez and including Ecuador and Bolivia, formed as an alternative to the U.S.'s proposed Free Trade Area of the Americas.
What is the message to Latin America? If you join ALBA, the United States will overthrow your government… I want to have good relations with President Obama…but on one hand they say they want you to have democracy, while on the other hand they conspire to undermine your freedom.
Become a Sustainer
We surveyed thousands of readers and asked what they would like to see in a monthly giving program. Many of you expressed interest in magazine subscriptions, gift subscriptions, tote bags, events and books —and we've added all of those. Some of you said that cost was an issue, so we've kept our starting tier at just $5 a month—less than 17 cents a day.

Now, for the first time, we're offering three different levels of support, with unique rewards at each level, for you to choose from. Check out the new Sustainer program.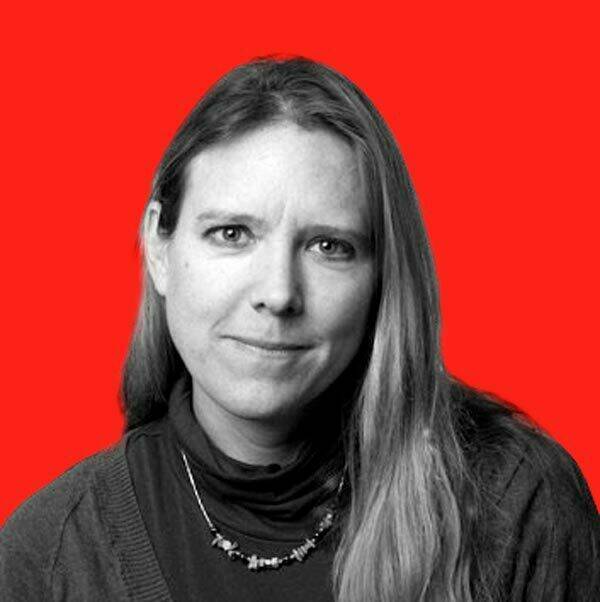 Kari Lydersen
is a Chicago-based reporter, author and journalism instructor, leading the Social Justice
&
amp; Investigative specialization in the graduate program at Northwestern University. She is the author of Mayor
1
%: Rahm Emanuel and the Rise of Chicago's
99
%.