From The Women's March to The Poor People's Campaign, A Call for Economic Human Rights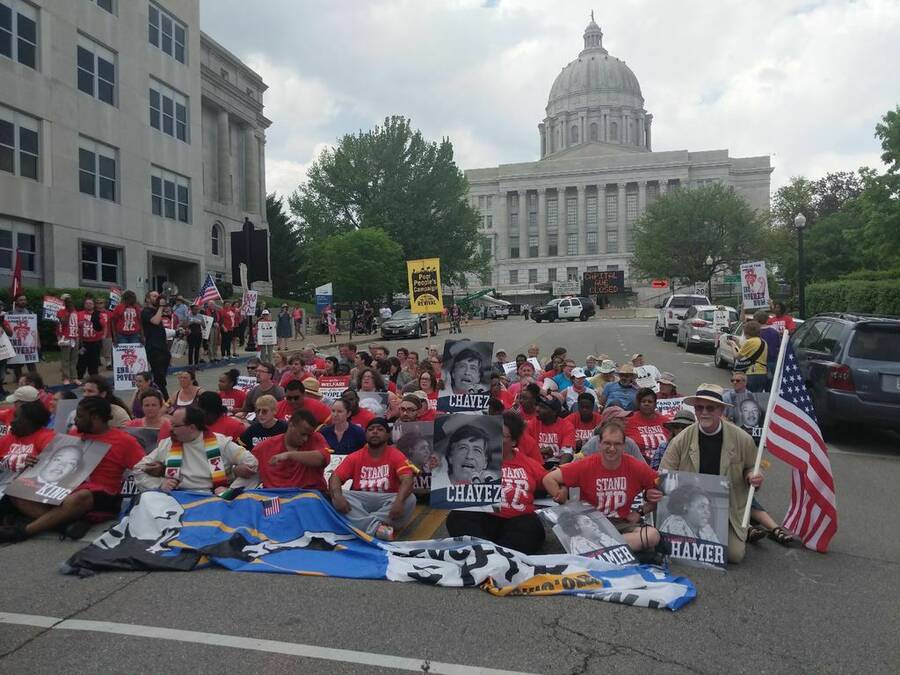 Teach­ers in Ken­tucky march­ing for health care and stu­dents orga­niz­ing against the school to prison pipeline have a core val­ue in com­mon: They are fight­ing for human rights. Yet, an elite fram­ing of human rights has con­sis­tent­ly ignored the peo­ple on the front­lines. This week, a new Poor People's Cam­paign is engag­ing in direct action in com­mu­ni­ties across the Unit­ed States for the rights to hous­ing, edu­ca­tion, health­care, decent jobs and more. It's time to rec­og­nize that these grass­roots strug­gles for a social safe­ty net and a decent stan­dard of liv­ing add up to a larg­er and mean­ing­ful demand for a soci­ety that rec­og­nizes the human rights and dig­ni­ty of everyone.
Yale pro­fes­sor Samuel Moyn recent­ly wrote in The New York Times that human rights ​"move­ments" have failed because they have been lim­it­ed to efforts to ​"name and shame" and have not tack­led eco­nom­ic inequal­i­ty. But, he appears to rec­og­nize only elite inter­na­tion­al non-gov­ern­men­tal orga­ni­za­tions (NGOs) as human rights actors. This omis­sion fuels the man­u­fac­tured and false nar­ra­tive that human rights ideas belong only to the pro­fes­sion­al class.
The notion that every human being is deserv­ing of a broad set of fun­da­men­tal rights is a moral con­cept that has been embraced by ris­ing move­ments. The val­ues and prin­ci­ples doc­u­ment for the Women's March affirms, ​"We believe that Women's Rights are Human Rights and Human Rights are Women's Rights," and lat­er states, ​"We believe in an econ­o­my pow­ered by trans­paren­cy, account­abil­i­ty, secu­ri­ty and equi­ty." These are inte­gral­ly con­nect­ed for lead­ing-edge social jus­tice move­ments in the Unit­ed States.
Effec­tive human rights move­ments are not aimed at mere­ly nam­ing and sham­ing. They build pow­er. The Fair Food Move­ment in the Unit­ed States is spear­head­ed by the farm­work­ers of the Coali­tion of Immokalee Work­ers (CIW) — a self-described human rights orga­ni­za­tion that defines its vision using the Uni­ver­sal Dec­la­ra­tion of Human Rights. The CIW has been the only work­er orga­ni­za­tion to bring 14 major transna­tion­al cor­po­ra­tions to the table through mas­sive con­sumer cam­paigns that led to legal­ly bind­ing agree­ments trans­form­ing con­di­tions in their sup­ply chain.
Human rights move­ments today are led not by pro­fes­sion­al­ized NGOs, but by those most affect­ed by injus­tice. The pow­er­ful Dig­ni­ty in Schools Cam­paign, with a pres­ence in 27 states with upwards of 120 mem­ber orga­ni­za­tions, has been a for­mi­da­ble force in work­ing to end the school-to-prison pipeline. This coali­tion, demo­c­ra­t­i­cal­ly led by a major­i­ty of par­ent and youth groups and anchored at the Nation­al Eco­nom­ic and Social Rights Ini­tia­tive, also embraces human rights as a core part of its vision and describe itself as con­nect­ed to ​"broad­er move­ments for social jus­tice and human rights."
There are equal­ly impres­sive state-lev­el efforts that form the foun­da­tion of our human rights move­ment. Exam­ples include Ver­mont, where Rights and Democ­ra­cy and the Ver­mont Work­ers' Cen­ter have been call­ing for health­care as a human right and inch­ing ever clos­er towards a uni­ver­sal health­care vic­to­ry. The Bor­der Net­work for Human Rights has thou­sands of mem­bers fight­ing for the safe­ty and peace of bor­der com­mu­ni­ties under a broad­er human rights vision.
This week marks the revival of Rev­erend Dr. Mar­tin Luther King, Jr.'s Poor People's Cam­paign, through the work of Rev­erend William Bar­ber and Rev­erend Dr. Liz Theo­harisat the Pover­ty Ini­tia­tive, housed at Union The­o­log­i­cal Sem­i­nary. Like its pre­de­ces­sor, the ​"Poor People's Cam­paign: A Nation­al Call for Moral Revival" embraces a moral vision of human rights explic­it­ly focused on eco­nom­ic and social rights. It has gal­va­nized thou­sands of peo­ple in 39 states, with a state­ment of prin­ci­ples that rec­og­nizes, ​"Giv­en the abun­dance that exists in this coun­try and the fun­da­men­tal dig­ni­ty inher­ent to all human­i­ty, every per­son in the Unit­ed States has the right to dig­ni­fied jobs and liv­ing wages, hous­ing, edu­ca­tion, health­care, wel­fare, decent and dig­ni­fied jobs and the right to orga­nize for the real­iza­tion of these rights."
The Uni­ver­sal Dec­la­ra­tion of Human Rights embraces the full range of eco­nom­ic and social rights: edu­ca­tion, health­care, a decent stan­dard of liv­ing and more. Yet, Moyn also implies that not every­one needs human rights, and that they are only nec­es­sary for ​"vul­ner­a­ble minori­ties." Human rights val­ues do com­pel us to put the most mar­gin­al­ized com­mu­ni­ties at the cen­ter of social change, but these move­ments have always done so while fight­ing for a bet­ter world for all. And every­one needs the sys­tems and struc­tures that ensure eco­nom­ic and social rights. An equi­table but uni­ver­sal vision is cen­tral to human rights movements.
People's move­ments — from civ­il rights, eco­nom­ic jus­tice, women's rights and gen­der jus­tice, LGBTQ rights, immi­grant rights, racial jus­tice and more — are where human rights move­ments emerge. And when these move­ments call for a human rights vision, ground­ed in a moral frame­work that cen­ters our human­i­ty, elites make every effort to erase the mes­sage. As a result, not many peo­ple today in the Unit­ed States think of human rights in con­nec­tion with our domes­tic fight for social jus­tice. This is not an acci­dent, but a direct result of a repres­sive polit­i­cal history.
As Car­ol Ander­son doc­u­ments skill­ful­ly in her prize-win­ning book Eyes off the Prize, when the Civ­il Rights Move­ment embraced human rights, in par­tic­u­lar eco­nom­ic and social rights, it was attacked by elite allies and had to tac­ti­cal­ly nar­row its vision pub­licly. But moral lead­ers from Rev­erends King to Bar­ber have always based their strug­gles in uni­ver­sal human rights, and see­ing that con­nec­tion will help us to build towards the larg­er vision we need to meet the very seri­ous chal­lenges of our time.
Cathy Albisa
is co-founder and exec­u­tive direc­tor of Nation­al Eco­nom­ic and Social Rights Ini­tia­tive. She is com­mit­ted to a com­mu­ni­ty-cen­tered and par­tic­i­pa­to­ry human rights approach that is local­ly anchored, but uni­ver­sal and glob­al in its vision. She has served on boards of the Cen­ter for Con­sti­tu­tion­al Rights, the Nation­al Lati­na Insti­tute for Repro­duc­tive Health, the Inter­na­tion­al Eco­nom­ic, Social and Cul­tur­al Rights Net­work, and the Cen­ter for Social Inclu­sion, among oth­ers. This month, her orga­ni­za­tion will be launch­ing A New Social Con­tract: Col­lec­tive Solu­tions Built by and for Communities.