Taking Pope Francis' Message Seriously Means Pushing for Worker-Owned, Green Cooperatives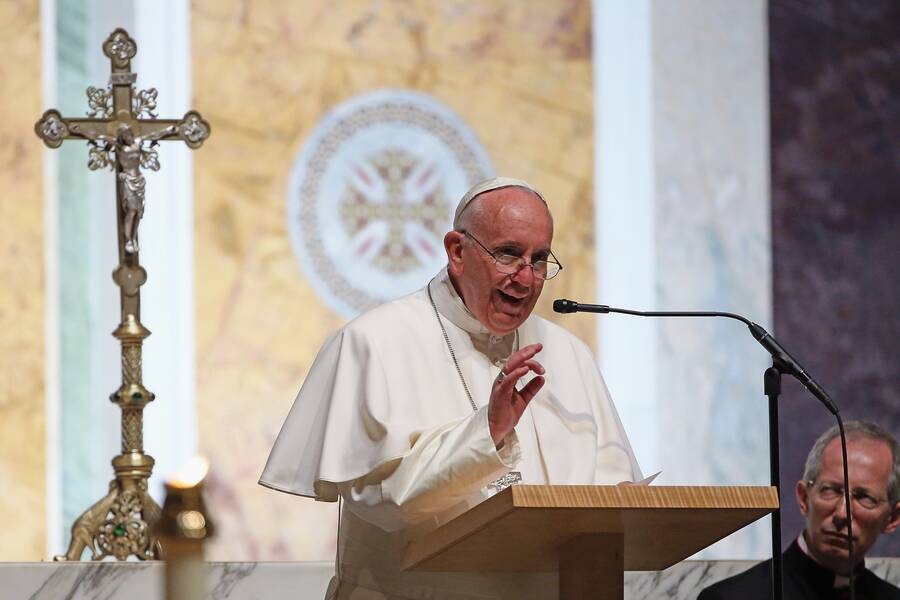 The Pope's vis­it to the USA this week comes just two months before piv­otal UN cli­mate talks that could lead to a glob­al cli­mate agree­ment. Cli­mate change will be high on his agen­da in planned address­es to the UN and Con­gress, and it is like­ly that one of his cen­tral con­cerns will be the econ­o­my. Pope Fran­cis did not mince words in his recent encycli­cal on the theme of cli­mate change and one of the main tar­gets of his sear­ing cri­tique was our cur­rent eco­nom­ic sys­tem. He bemoaned that ​"the earth's resources are … being plun­dered because of short-sight­ed approach­es to the econ­o­my, com­merce and pro­duc­tion." He chas­tised the dom­i­nance of the spec­u­la­tive finance sec­tor over the econ­o­my, and the fol­ly of look­ing to mar­ket growth to solve all social ills.
His core mes­sage is that we are cur­rent­ly locked in an eco­nom­ic growth mod­el based on the premise we have an inex­haustible plan­et. The way the glob­al econ­o­my is cur­rent­ly run will not ensure our long-term phys­i­cal sur­vival. There are some glar­ing sig­nals that it won't ensure our eco­nom­ic sur­vival either. For starters, the finan­cial cri­sis of 2008 and evi­dence that pat­terns of grow­ing inequal­i­ty are stunt­ing eco­nom­ic growth. Recent admis­sions from the Inter­na­tion­al Mon­e­tary Fund (IMF) that eco­nom­ic trick­le down the­o­ry doesn't work have fur­ther cast doubt on the log­ic of the cur­rent system.
Along­side experts such as the Nobel lau­re­ate Joseph Stiglitz and estab­lished eco­nom­ic insti­tu­tions such as the IMF, the Pope is not alone in rais­ing the alarm on ​"unbri­dled cap­i­tal­ism." So in order to solve the great­est chal­lenges of our time, cli­mate change and inequal­i­ty, we need an eco­nom­ic sys­tem that serves us bet­ter. How­ev­er, it seems that beyond iden­ti­fy­ing and agree­ing upon the prob­lem, we often stop short at imag­in­ing solutions.
But there are signs that the seeds of a stronger and more respon­si­ble econ­o­my may already be tak­ing root. Inter­est in exist­ing mod­els of enter­pris­es, banks, coop­er­a­tives and net­works that put social and envi­ron­men­tal prin­ci­ples before prof­it is grow­ing. These busi­ness­es have a strong empha­sis on col­lec­tive own­er­ship, man­age­ment and deci­sion-mak­ing. Finan­cial deci­sions are not left to the pow­er of a few, whether gov­ern­ment bureau­crats or cor­po­rate CEOs, but over­seen more demo­c­ra­t­i­cal­ly by the main gen­er­a­tors and ben­e­fi­cia­ries of eco­nom­ic activ­i­ty: the work­ers and customers.
This rich and diverse tapes­try of eco­nom­ic activ­i­ty wit­nessed around the world has been called a num­ber of things: social econ­o­my, sol­i­dar­i­ty econ­o­my, local econ­o­my, new econ­o­my, the next sys­tem. Inter­est in the promise of these approach­es has even spurred the UN to form a task force to inves­ti­gate the poten­tial of the social and sol­i­dar­i­ty econ­o­my in con­tribut­ing to glob­al devel­op­ment goals.
Sounds like a nice idea, but is this real­ly eco­nom­i­cal­ly viable? Sur­pris­ing­ly yes, and in many cas­es these enter­pris­es are much more resilient and suc­cess­ful than cur­rent mod­els that can result in job loss­es, bank­rupt­cy and finan­cial crash­es. A recent UN report con­clud­ed that work­er- and cus­tomer-owned banks made less risky deci­sions and out­per­formed investor owned banks dur­ing the recent glob­al finan­cial cri­sis. Research reveals that work­er-owned coop­er­a­tives also have sim­i­lar eco­nom­ic and social ben­e­fits that make them a bet­ter busi­ness mod­el for com­mu­ni­ties and the econ­o­my as a whole.
One well-known exam­ple is that of Mon­drag­on Coop­er­a­tive Cor­po­ra­tion, a high­ly suc­cess­ful work­er-owned com­pa­ny of over 70,000 employ­ees based in Spain. The com­pa­ny oper­ates inter­na­tion­al­ly and has a diverse port­fo­lio, includ­ing the man­u­fac­ture of indus­tri­al machin­ery. The 10th-largest com­pa­ny in Spain in terms of asset turnover, Mon­drag­on had low­er lev­els of unem­ploy­ment com­pared to the rest of Spain dur­ing the 2008 reces­sion and still remained glob­al­ly com­pet­i­tive. Instead of fir­ing staff dur­ing the eco­nom­ic down­turn, employ­ees vot­ed to take pay cuts and top man­agers took their share of the bur­den. The Span­ish coop­er­a­tive is not alone. Over 2008, in the midst of the finan­cial cri­sis, the com­bined turnover of the world's 300 largest coop­er­a­tives was an impres­sive $1.6 tril­lion, com­pa­ra­ble to the GDP of the ninth largest econ­o­my in the world.
Action to fight cli­mate change could ben­e­fit from new eco­nom­ic approach­es. Take the two sec­tors that con­tribute the most to glob­al car­bon emis­sions: ener­gy and agri­cul­ture. In Ger­many, com­mu­ni­ty-owned ener­gy coop­er­a­tives are boom­ing, sup­port­ing the rapid uptake of renew­able ener­gy with­out hav­ing to depend on the patron­age of reluc­tant util­i­ty com­pa­nies. The impres­sive suc­cess of wind pow­er in Den­mark is due large­ly to the rapid spread of com­mu­ni­ty-owned wind tur­bines. In the Unit­ed States, the move away from util­i­ty-scale pow­er plants is also hap­pen­ing. Recent stud­ies show that lev­els of solar pow­er gen­er­a­tion in the U.S. have been under­es­ti­mat­ed by as much as 50 per­cent. This is due to the expo­nen­tial growth in rooftop solar, which is not yet sys­tem­at­i­cal­ly record­ed. The oppor­tu­ni­ty to mag­ni­fy the poten­tial of small-scale ener­gy pro­duc­ers could be immense.
With regards to agri­cul­ture, the UN advo­cates eco­log­i­cal­ly friend­ly meth­ods based around small-scale farm­ing, with more local pro­duc­tion and con­sump­tion. This could lead to high­er yields, bet­ter pro­tect food sys­tems from the impacts of cli­mate change and reduce emis­sions from this sec­tor. Agri­cul­tur­al coop­er­a­tives are crit­i­cal to the suc­cess of small­hold­er farm­ing, allow­ing inde­pen­dent farm­ers to remain com­pet­i­tive through col­lec­tive pur­chas­ing and dis­tri­b­u­tion net­works. Cli­mate action that sup­ports agri­cul­tur­al coop­er­a­tives and low-emis­sion, cli­mate-proof farm­ing meth­ods could have pos­i­tive eco­nom­ic, food secu­ri­ty and cli­mate outcomes.
Action on cli­mate change could both sup­port and ben­e­fit from a more sta­ble and demo­c­ra­t­ic econ­o­my. Cli­mate finance and sub­si­dies cur­rent­ly being swal­lowed by the fos­sil fuel indus­try could be redi­rect­ed to pro­mote local­ly owned and man­aged ener­gy and farm­ing, using social­ly respon­si­ble finan­cial insti­tu­tions to man­age these funds. The result could be a stronger econ­o­my that works bet­ter for both peo­ple and the climate.
In his encycli­cal, the Pope entreat­ed us to ​"seek oth­er ways of under­stand­ing the econ­o­my and progress". A frame­work for a more demo­c­ra­t­ic, col­lec­tive­ly owned and man­aged econ­o­my could be part of this. The re-imag­i­na­tion of the econ­o­my is already in motion. It's time for the cli­mate move­ment to get on board.
Gaya Sriskan­than
has over a decade of expe­ri­ence work­ing on cli­mate change, envi­ron­men­tal pro­tec­tion, and sus­tain­able devel­op­ment with a range of orga­ni­za­tions includ­ing the Unit­ed Nations and the UK Depart­ment for Inter­na­tion­al Devel­op­ment. She cur­rent­ly focus­es on indige­nous peo­ples' rights and civ­il soci­ety inclu­sion in cli­mate change action. Fol­low her on Twit­ter: @gayasktn.