The Portland Killings Show Why We Need a Robust Antifascist Movement
It is time to find common cause in anti-fascist action. The stakes couldn't be higher.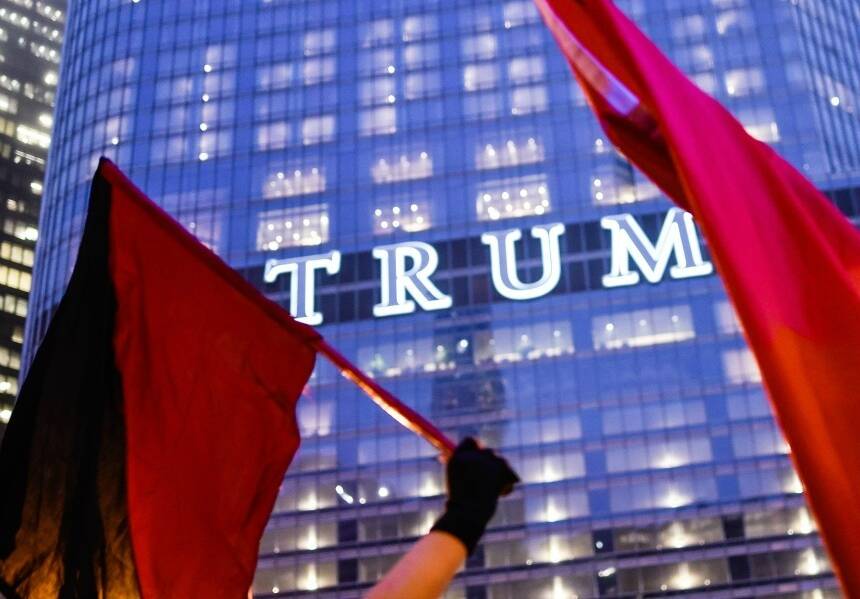 The sense­less killing of two Port­landers on pub­lic tran­sit has shak­en the nation. On Fri­day, May 26, a white nation­al­ist named Jere­my Chris­t­ian ver­bal­ly assault­ed two teenage women of col­or. When three men approached him to inter­vene, he stabbed them in the neck, killing two and crit­i­cal­ly injur­ing the third. The mur­ders led many to con­tem­plate what led Chris­t­ian to such a heinous act and how to pre­vent such events in the future. Such sober reflec­tions on a robust and strate­gic antifas­cist resis­tance require a care­ful account­ing of antifas­cist for­ma­tions that have years of expe­ri­ence orga­niz­ing against fig­ures like Chris­t­ian despite con­tin­ued mar­gin­al­iza­tion by the broad­er left.
Every lone wolf attack requires the overwhelming power of unity to disperse the collective shock and regenerate ties of love and mutual aid.
At first, the police attempt­ed to play down the Islam­o­pho­bic con­tent of Christian's attack. ​"He was talk­ing about a lot of dif­fer­ent things, not just specif­i­cal­ly anti-Mus­lim," Sergeant Pete Simp­son said. ​"We don't know if he's got men­tal health issues, we don't know if he's under the influ­ence of drugs or alco­hol or all of the above." Sim­i­lar­ly, the media in Port­land ini­tial­ly empha­sized that, while Chris­t­ian had joined a recent alt-right ral­ly in Port­land, he ​"appears to sup­port an array of caus­es, some of which are violent."
After local jour­nal­ists dug into Christian's biog­ra­phy and social media pro­file, a more accu­rate pic­ture was exposed. Chris­t­ian spent a life-chang­ing peri­od of time in jail. When he came out, his friends said he was a changed man.
"He was pret­ty hard to miss if you're involved with the met­al scene in Port­land," accord­ing to one for­mer friend of Christian's who asked not to be named. ​"He wasn't polit­i­cal at all." He would get obses­sive about com­ic books and heavy met­al, but ​"I've nev­er seen him get vio­lent," his friend told In These Times. ​"I did get wor­ried when he start­ed get­ting involved in those free speech ral­lies. I have no idea when he got sucked into that."
Accord­ing to his Face­book page, Chris­t­ian sup­port­ed Bernie Sanders and loathed both Hillary Clin­ton and Don­ald Trump. He also sup­port­ed the idea of ​"Cas­ca­dia," a bio-region­al­ist term indi­cat­ing that the phys­i­cal geog­ra­phy of the Pacif­ic North­west gives it a spe­cif­ic iden­ti­ty. How­ev­er, when Clin­ton defeat­ed Sanders, it seems to have trig­gered a base­line misogyny.
As the illib­er­al cur­rent of Christian's thought brought him to sup­port Trump's cam­paign, he became increas­ing­ly obsessed with fas­cist pol­i­tics. His rejec­tion of monothe­is­tic reli­gion, com­mon in the met­al com­mu­ni­ty, became an avenue for anti-Semit­ic rants. His pri­or ​"anar­chist-nihilism," a kind of lib­er­tar­i­an rejec­tion of soci­ety com­mon in sub­cul­tur­al milieus, turned toward fas­cist recruit­ment avail­able through the black met­al scene and white suprema­cist ​"pan-seces­sion­ism."
By Octo­ber, he had start­ed iden­ti­fy­ing as an indige­nous Viking and insist­ing that the Pacif­ic North­west should be made into a ​"whites' only zone." He clear­ly par­rot­ed white nation­al­ist ideas about racial sep­a­ra­tion through region­al­ist seces­sion move­ments, call­ing his fan­ta­sy land ​"Vin­land" and say­ing he would stab pro­tes­tors out­side of a show by a fas­cist met­al band boy­cotted by local antifas­cist group, Rose City Antifa (RCA). Through his belief in the spir­i­tu­al rebirth of an ultra­na­tion­al­ist com­mu­ni­ty based on Viking her­itage in a recon­struct­ed white ter­ri­to­ry of the Pacif­ic North­west, Chris­t­ian had made the tran­si­tion from an anar­cho-nihilist met­al head to a full-fledged Nazi.
As Chris­t­ian grew increas­ing­ly angry with the resis­tance to Trump, he came to sup­port the ​"free speech" move­ment as a thin­ly veiled excuse to insti­gate vio­lence against antifas­cists. After Portland's 82nd Avenue Rose Parade was can­celed for fear of protests against a Repub­li­can con­tin­gent that had staged a vio­lent ral­ly in Lake Oswego weeks pri­or, a local far-right group called War­riors for Free­dom, also known under leader Joey Gib­son's video blog han­dle, ​"Patri­ot Prayer," held a ral­ly to chal­lenge antifas­cists to open con­flict. This was Christian's moment.
Counter-demon­stra­tors instead dressed as clowns and pro­ceed­ed to ridicule the angry far-right pro­tes­tors for hours. Draped in an Amer­i­can flag and bran­dish­ing a base­ball bat, Chris­t­ian made a bee-line direct­ly toward the clowns but was inter­cept­ed by police. He spent the rest of the time scream­ing and sig heil­ing.
While mem­bers of the alt-right attempt­ed to deflect crit­i­cism by dis­own­ing Chris­t­ian and call­ing him a ​"Bernie Bro," the neo-Nazi seces­sion­ist Harold Cov­ing­ton post­ed online that ​"it does look like he was one of ​'our' many fringe char­ac­ters, not Bernie Bro." Accord­ing to for­mer friends, the Trump cam­paign was respon­si­ble for rad­i­cal­iz­ing him and lead­ing him to the fas­cist movement.
The con­ver­gence of fas­cist met­al bands, biore­gion­al white nation­al­ist pol­i­tics and the far-right Patri­ot move­ment is pre­cise­ly the milieu warned against by antifas­cist groups like RCA that have been mar­gin­al­ized and upbraid­ed over the past ten years for being ​"alarmists" or ​"hys­ter­ics." Many Port­landers are today com­ing to the real­iza­tion that sore­ly need­ed antifas­cist efforts have lacked robust soci­etal support.
A num­ber of peo­ple of both left and lib­er­al per­sua­sions ask, ​"have the antifa groups played a role in esca­lat­ing these vio­lent con­flicts." The alt-right open­ly hopes to insti­gate vio­lence in order to build up pop­u­lar sym­pa­thy while bru­tal­iz­ing those who dis­agree with them. Yet, when one rec­og­nizes that the most recent antifas­cist demon­stra­tion in Port­land con­sist­ed of a group of clowns play­ing games in the park, it becomes obvi­ous that the far right has been using a straw­man of antifa oppres­sion as a foil. When their demon­stra­tions are approached peace­ful­ly and with satire, vicious mur­ders still ensue and fas­cists con­tin­ue to esca­late their ​"ral­lies" under the aegis of lib­er­al uni­ver­sal­ism, free speech and self defense.
Some false­ly iden­ti­fy all antifas­cism with the black bloc tac­tic and anar­chist ide­ol­o­gy. In real­i­ty, antifas­cism is autonomous from polit­i­cal ide­ol­o­gy and its meth­ods are far more diverse and involved. Antifas­cists gen­er­al­ly do not denounce acts like prop­er­ty dam­age, but open dis­cus­sion on strat­e­gy remains impor­tant. In a recent state­ment about a planned counter-protest against the com­ing far-right demon­stra­tion in down­town Port­land this Sun­day, RCA actu­al­ly indi­cat­ed that tac­tics like prop­er­ty dam­age may not prove wise in the cur­rent cli­mate of state repres­sion. ​"Putting our­selves at risk for mass arrests for very lit­tle tan­gi­ble vic­to­ry is not a sus­tain­able mod­el," the col­lec­tive states. Mean­while, a sec­ond coun­ter­demon­stra­tion is being planned by social­ists and allies nearby.
To defeat fas­cism and pre­vent attacks like Christian's, lib­er­als and left­ists must agree that antifas­cist work is valu­able and refuse to endorse the smear cam­paigns against antifas­cist groups and indi­vid­u­als launched by the far right. Too often, lib­er­als and left­ists adopt strate­gies from oth­er move­ments, dis­re­gard­ing and even dis­count­ing those who have more expe­ri­ence in the strug­gle against creep­ing fas­cism. To stop fas­cism, com­mu­ni­ty groups must break this trend and ral­ly around antifas­cist action to find com­mon cause, rec­og­niz­ing that every lone wolf attack requires the over­whelm­ing pow­er of uni­ty to dis­perse the col­lec­tive shock and regen­er­ate ties of love and mutu­al aid.
Alexan­der Reid Ross
is a lec­tur­er in geog­ra­phy at Port­land State Uni­ver­si­ty and the author of Against the Fas­cist Creep (AK Press,
2017
). His arti­cles have been pub­lished in ROAR Mag­a­zine, Wag­ing Non­vi­o­lence, Think Progress, and Truthout.