Post Traumatic Slave Syndrome
Dr. Joy DeGruy Leary talks about her provocative new book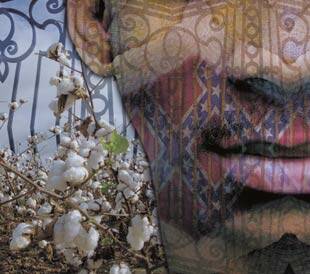 Racism erodes our very human­i­ty. No one can be tru­ly lib­er­at­ed while liv­ing under the weight of oppres­sion, argues Dr. Joy DeGruy Leary in her new book, Post Trau­mat­ic Slave Syn­drome: America's Lega­cy of Endur­ing Injury and Heal­ing.
Leary, who teach­es social work at Port­land State Uni­ver­si­ty, traces the way that both overt and sub­tle forms of racism have dam­aged the col­lec­tive African-Amer­i­can psy­che – harm man­i­fest­ed through poor men­tal and phys­i­cal health, fam­i­ly and rela­tion­ship dys­func­tion, and self-destruc­tive impulses.
Leary adapts our under­stand­ing of Post Trau­mat­ic Stress Dis­or­der to pro­pose that African Amer­i­cans today suf­fer from a par­tic­u­lar kind of inter­gen­er­a­tional trau­ma: Post Trau­mat­ic Slave Syn­drome (PTSS).
The sys­tem­at­ic dehu­man­iza­tion of African slaves was the ini­tial trau­ma, explains Leary, and gen­er­a­tions of their descen­dents have borne the scars. Since that time, Amer­i­cans of all eth­nic back­grounds have been incul­cat­ed and immersed in a fab­ri­cat­ed (but effec­tive) sys­tem of race ​"hier­ar­chy," where light-skin priv­i­lege still dra­mat­i­cal­ly affects the like­li­hood of suc­ceed­ing in Amer­i­can society.
Leary sug­gests that African Amer­i­cans (and oth­er peo­ple of col­or) can ill afford to wait for the dom­i­nant cul­ture to real­ize the qual­i­ta­tive ben­e­fits of undo­ing racism. The real recov­ery from the ongo­ing trau­ma of slav­ery and racism has to start from with­in, she says, begin­ning with a true acknowl­edg­ment of the resilience of African-Amer­i­can culture.
"The nature of this work," Leary writes in her pro­logue, ​"is such that each group first must see to their own heal­ing, because no group can do another's work."
What kind of reac­tion have you received to your book? And has that reac­tion dif­fered based on who is in the audience?
Over­all, the response has been very pos­i­tive, although I'm sure the naysay­ers are out there. The dif­fer­ence in reac­tion is notice­able when I deal with grass­roots folks in the African-Amer­i­can com­mu­ni­ty. With them, the response has been extreme­ly emo­tion­al. It's as though I'm speak­ing people's per­son­al sto­ries, which seems to give them a feel­ing of hope.
Of course, I'm not the first per­son to ini­ti­ate this kind of work into the inter­gen­er­a­tional nature of trau­ma in the African-Amer­i­can com­mu­ni­ty … What I did dif­fer­ent­ly is that I pulled from many dif­fer­ent his­tor­i­cal sources and schol­ar­ly dis­ci­plines. In essence, I cre­at­ed a ​"map" of knowl­edge so that peo­ple could see how African-Amer­i­can self-per­cep­tion has been shaped.
Through­out your book, you empha­size that an acute, social denial of both his­tor­i­cal and present-day racism has tak­en on patho­log­i­cal dimen­sions. You write that this coun­try is ​"sick with the issue of race."
The root of this denial for the dom­i­nant cul­ture is fear, and fear mutates into all kinds of things: psy­cho­log­i­cal pro­jec­tion, dis­tort­ed and sen­sa­tion­al­ized rep­re­sen­ta­tions in the media, and the manip­u­la­tion of sci­ence to jus­ti­fy the legal rights and treat­ment of peo­ple. That's why it's become so hard to unravel.
Unfor­tu­nate­ly, many Euro­pean Amer­i­cans have a very hard time even hear­ing a per­son of col­or express their expe­ri­ences. The pre­vail­ing psy­cho­log­i­cal mech­a­nism is the idea, ​"I've not expe­ri­enced it, so it can­not be hap­pen­ing for you."
Tru­ly, how can any­one tell me what I have and have not expe­ri­enced? This is a very pater­nal­is­tic man­i­fes­ta­tion of white suprema­cy, the idea that African Amer­i­cans and oth­er peo­ple of col­or can be told, with great author­i­ty, what their ancestor's lives were like and even what their own, present-day lives are like. The result for those on the receiv­ing end of this kind of dis­tor­tion is an aspect of PTSS. Peo­ple begin to doubt them­selves, their expe­ri­ences, and their worth in soci­ety because they have been so inval­i­dat­ed their whole lives, in so many ways.
Attempts to encour­age Euro­pean Amer­i­cans to join in on a more hon­est, nation­al dia­logue about ​"race" and racism often results in defen­sive pos­tur­ing and posi­tion­ing. Com­mon respons­es include ​"slav­ery hap­pened a long time ago," or peo­ple say­ing that they're tired of being made to feel guilty about some­thing they didn't do. How do we respond to this detach­ment from the cru­cial issues of the lega­cy of slavery?
It's irrel­e­vant that you weren't alive dur­ing slav­ery days. I wasn't there either! But what we as a nation face today has been heav­i­ly impact­ed by our his­to­ry, whether we're talk­ing in the gulf between the haves and have-nots; edu­ca­tion gaps between white and black chil­dren; or the racial dis­par­i­ties in our prisons.
I don't believe in mak­ing peo­ple feel ​"guilty." We have to rec­og­nize that rem­nants of racist oppres­sion con­tin­ue to impact peo­ple in this country.
Much of my work real­ly is about black peo­ple look­ing at our­selves and under­stand­ing how our lives have been shaped by what we've been dealt. I don't want to wait for per­mis­sion to exam­ine this or to hear that look­ing back into our his­to­ries is some­how counterproductive.
An eye-open­ing expe­ri­ence for you was your first vis­it to New York's largest and most over­pop­u­lat­ed jail facil­i­ty, Rik­ers Island. What kinds of insights did you gain about PTSS from talk­ing to impris­oned African-Amer­i­can young men about their lives?
It was remark­able to see their phys­i­cal dis­po­si­tion. They walked into the room with their heads held low, shuf­fled in … for lack of a bet­ter word, [they looked like] slaves. They had lost their way, and there was no light in their eyes what­so­ev­er. Young peo­ple typ­i­cal­ly have a high lev­el of ener­gy. While there was a feel­ing of angry rebel­lious­ness, the pre­vail­ing feel­ing of hope­less­ness was staggering.
It's also sig­nif­i­cant that it took about a half-hour for them to real­ize that I was talk­ing to them, not at them. In that brief moment, I felt as though I gave them hope. Their body lan­guage had already changed by the time they were get­ting ready to leave. They had become stu­dents by the end of our time together.
These young peo­ple are being raised by these insti­tu­tions, and then unleashed back into their com­mu­ni­ties to wreak hav­oc. Most of these young men grew up in pover­ty, and they have the expe­ri­ence of being black and poor in a mate­ri­al­is­tic soci­ety that says if you have noth­ing, you are noth­ing. In com­par­i­son, when I was in Africa I wit­nessed incred­i­ble pover­ty unlike any­thing I had ever seen before. I always talk about how tall and proud the peo­ple walked. Their great­est shame was their lack of edu­ca­tion, not their lack of wealth. But in Amer­i­ca, you are what you have, what you wear.
You write about the fear that many African Amer­i­cans have of being ​"exposed" or hav­ing fam­i­ly or com­mu­ni­ty ​"dirty laun­dry" aired. ​"Nev­er let them see you sweat," as the expres­sion goes.
Shame is such a big issue in our soci­ety in gen­er­al. What many African Amer­i­cans have inter­nal­ized is a sense of shame about just not being ​"good enough." That's a hor­ri­ble thing to be sen­tenced to for your life.
When a per­son walks around with that sense of shame and self-hatred, they are like­ly to func­tion poor­ly in soci­ety, no mat­ter who they are. Add the extra lay­er of racist social­iza­tion, of being deval­ued, and what it means to be just human in Amer­i­ca, and all those things just makes the shame worse. We as African Amer­i­cans don't get a pass on all the prob­lems that humans have to deal with in life: finances, career choic­es, per­son­al crises, rela­tion­ships, and so forth. But when we add that to this inter­gen­er­a­tional trau­ma in the con­text of a soci­ety that is in denial about its racism, people's lives can become over­whelmed, even frozen in place.
I'm say­ing let's just take a few of those bur­dens off of people's shoul­ders. Look at what we, as African Amer­i­cans, have been able to do even with those bur­dens on our shoul­ders. Can you imag­ine what we could accom­plish if some of those bur­dens were removed?
Sil­ja J.A. Talvi
, a senior edi­tor at In These Times, is an inves­tiga­tive jour­nal­ist and essay­ist with cred­its in many dozens of news­pa­pers and mag­a­zines nation­wide, includ­ing The Nation, Salon, San­ta Fe Reporter, Utne, and the Chris­t­ian Sci­ence Monitor.