The Postal Service Is the Most Popular Federal Agency in America. Let's Massively Expand It.
Americans love the postal service. From banking to combating climate change, the public agency could be used to provide so much more.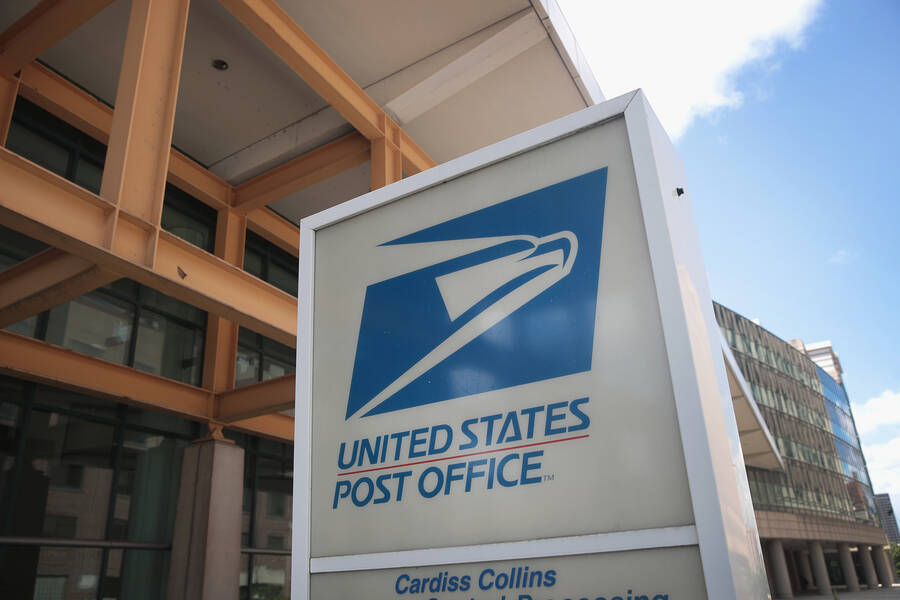 For most of its 244-year exis­tence, the Unit­ed States Postal Ser­vice (USPS) was wide­ly con­sid­ered as an inno­v­a­tive pow­er­house bind­ing the Amer­i­can exper­i­ment togeth­er. Alex­is de Toc­queville, the French diplo­mat who toured Amer­i­ca in the 1830s, called it a ​"great link between minds." Dur­ing World War I, the post office teamed with the Depart­ment of Agri­cul­ture to insti­tute a ​"Farm to Table" pro­gram to help dis­trib­ute pro­duce and oth­er nutri­ent-rich foods across the coun­try. Today, USPS stands as Amer­i­cans' favorite fed­er­al agency.
True modernization would expand the agency's ability to serve the common good, not undermine it.
Since the 1970s, how­ev­er, a com­bi­na­tion of finan­cial woes and polit­i­cal attacks have wound­ed the post office. What would it take to return USPS to a pio­neer­ing force capa­ble of address­ing our country's mul­ti­ple crises? Why not lever­age the near­ly 250,000 let­ter car­ri­ers and over 30,000 post offices that blan­ket all 50 states for more than just mail deliv­ery? Why not expand the work­force and pres­ence of the Amer­i­can public's most favored gov­ern­ment agency?
With mega com­pa­nies like Ama­zon vying for the future of deliv­ery, and con­ser­v­a­tives increas­ing­ly call­ing for pri­va­ti­za­tion, the U.S. Postal Ser­vice needs a makeover, not a dismantling.
In an era of lit­tle faith in gov­ern­ment, a reimag­ined postal ser­vice could demon­strate how pub­lic solu­tions can solve many of our col­lec­tive prob­lems, from cli­mate change to a preda­to­ry finan­cial indus­try. That's exact­ly what the post office did in the country's ear­ly days.
As jour­nal­ist Winifred Gal­lagher describes in her 2016 book How the Post Office Cre­at­ed Amer­i­ca, uni­ver­sal mail ser­vice helped spark a com­mu­ni­ca­tions rev­o­lu­tion rival­ing that of the tele­graph through slash­ing the price of cor­re­spon­dence and buoy­ing west­ward expan­sion. The 1792 Postal Act effec­tive­ly under­wrote news­pa­per cir­cu­la­tion, spread­ing nation­al and glob­al news across the new­ly formed states and territories.
In 1897, a res­i­dent of the Ari­zona Ter­ri­to­ry wrote to the Post­mas­ter Gen­er­al, ​"I am more than ever proud of being an Amer­i­can cit­i­zen. I live three and a half miles from the Tempe post office, and have been sick for a week past, yet my mail is brought to my door every morn­ing, except Sun­day." The abo­li­tion­ist John Brown served as a local post­mas­ter before mak­ing his con­tri­bu­tion to eman­ci­pa­tion, just as did Abra­ham Lincoln.
But by 2001, as first-class mail usage began to decline, and scares of anthrax increased fol­low­ing the 9⁄11 ter­ror­ist attacks, USPS's finan­cial loss­es were grow­ing. Five years lat­er, the Repub­li­can-con­trolled Con­gress passed the Postal Account­abil­i­ty and Enhance­ment Act, lim­it­ing its abil­i­ty to inno­vate beyond the deliv­ery of mail and pack­ages, just as the inter­net began to boom. The law also required the agency, which receives no tax­pay­er dol­lars, to make annu­al pay­ments of $5.5 bil­lion for ten years to fund the health­care of its future retirees. Today, the postal ser­vice con­tin­ues to bleed mon­ey despite deliv­er­ing more pack­ages than ever due to e‑commerce.
As calls for pri­va­ti­za­tion mount, the agency still man­ages to inno­vate with­in its lim­it­ed man­date. Let­ter car­ri­ers deliv­er ​"last mile" parcels for FedEx and UPS, help­ing keep both cor­po­ra­tions' ser­vices afford­able. The agency has also built the world's largest gantry robot­ic fleet, which moves 314,000 mail trays per day.
Hand­ing over the keys to the pri­vate sec­tor would run counter to USPS's stat­ed pur­pose of con­nect­ing every Amer­i­can home and busi­ness, no mat­ter how remote. Pri­vate cor­po­ra­tions, fol­low­ing the whims of the mar­ket, would like­ly charge more for deliv­ery in less dense, rur­al areas, while pric­ing out low-income res­i­dents everywhere.
True mod­ern­iza­tion would expand the agency's abil­i­ty to serve the com­mon good, not under­mine it.
Post office loca­tions could pro­vide free Wi-Fi access, com­put­ers with access to gov­ern­ment ser­vices, print­ers, and pub­lic meet­ing rooms. Clerks could pro­vide dri­vers' license renew­al, mul­ti­lin­gual trans­la­tion, help with immi­gra­tion pro­cess­ing and oth­er ser­vices. The Amer­i­can Postal Work­ers Union (APWU) has pro­posed expand­ing vote by mail, pro­vid­ing fol­low-up cen­sus ser­vices, and notary, among oth­er services.
The build­ings them­selves could be used to extend broad­band infra­struc­ture and be fit­ted with green tech­nol­o­gy like solar pan­els, elec­tric car charg­ing sta­tions and rooftop farms. USPS's Los Ange­les mail pro­cess­ing facil­i­ty has 31,000 solar pan­els, mak­ing it one of the city's largest build­ings gen­er­at­ing elec­tric­i­ty through solar. Depend­ing on their loca­tion, some build­ings could even be rebuilt as com­mu­ni­ty-con­trolled, mixed-use devel­op­ment, to include afford­able housing.
USPS could also return to pro­vid­ing afford­able bank­ing ser­vices, as it did from 1911 to 1967. In addi­tion to the inter­na­tion­al and domes­tic mon­ey orders it already sells, the post office could allow Amer­i­cans to col­lect sav­ings, cash pay­checks, trans­fer mon­ey elec­tron­i­cal­ly and pay bills. Sen. Bernie Sanders (I‑Vt.) and Rep. Alexan­dria Oca­sio-Cortez (D‑N.Y.) recent­ly intro­duced such postal bank­ing leg­is­la­tion aimed at curb­ing preda­to­ry lend­ing prac­tices. Such a move would help catch the coun­try up with the rest of the world: Less than 10% of post offices across the globe do not cur­rent­ly offer basic finan­cial services.
None of these ideas are as rev­o­lu­tion­ary as it was to blan­ket the coun­try with post offices. Yet, a tru­ly mod­ern postal ser­vice would be more than the sum of its parts. It would help restore con­fi­dence in the pub­lic sector's role in serv­ing the com­mon good, at a time when faith in gov­ern­ment seems so hard to come by.
Jere­my Mohler
is a Wash­ing­ton D.C.-based polit­i­cal writer with In the Pub­lic Inter­est and a med­i­ta­tion teacher.