Postal Workers Push Back Against Privatization and Post Office Closures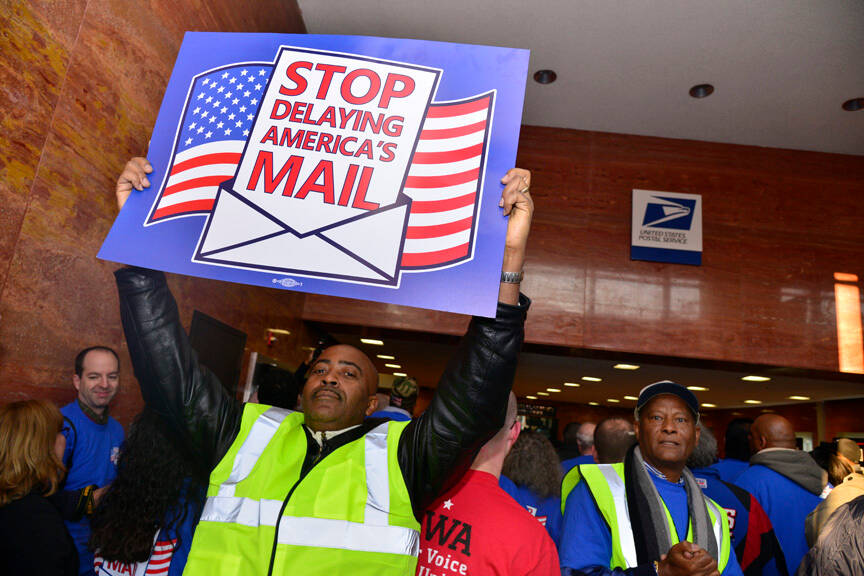 Union workers at the U.S. Postal Service staged one of their largest national demonstrations to date November 14, protesting fresh job cuts and continuing efforts to privatize some post office operations.
With rallies at more than 150 locations nationwide, the American Postal Workers Union (APWU) called for a cancellation of plans to close 82 mail processing centers early next year and the reversal of broader privatization efforts that eliminate good union jobs.
The flash point of the demonstrations was in Washington, D.C., where some 250 union members and supporters led by APWU President Mark Dimondstein sought to enter the public meeting of the USPS Board of Governors. The demonstrators were denied entrance, but they kept up a loud demonstration at the entrance to the USPS headquarters to make their anger known to the Board members inside, according to union spokesperson Sally Davidow. Protesting in solidarity with APWU were representatives of several other unions, and Sen. Jon Tester (D-Montana) and Rep. Eleanor Holmes Norton (D-D.C.) gave supporting speeches.
A moment of dark levity came when the Board announced that it had accepted the resignation of Postmaster General Patrick Donahoe, a development that was cheered by the union members. While Donahoe's resignation was not tied directly to the plan to close the 82 processing centers or other specific job-cutting plans, the union has been focusing much of its criticism on Donahoe as the author of many of those initiatives. Earlier this year, for example, APWU launched a nationwide boycott of the Staples office supplies chain for its part in a Donahoe-engineered plan to shift some postal operations into the hands of the privately owned, non-union company.
"I think the resignation will be significant only it represents a policy change [at USPS]. If not, we are in the same fight, the same battle" with new Postmaster General Megan Brennan, Dimondstein says. ​"We want the policies of privatization reversed."
"She can't possibly be any worse" than Donahoe, ​"so there is some hope" for a policy change, says George Askew, President of Baltimore-based APWU Local 181. Leading a group of about 30 protestors at the city's main post office November 14, Askew said Donahoe's four-year tenure has been marked by attacks on union jobs and increasing anxiety and disaffection among union members.
APWU's immediate demand is for a one-year moratorium on the processing center closures now scheduled for 2015. According to Dimondstein, APWU and the other postal unions have gathered the support of 51 U.S. Senators in favor of the moratorium, and Brennan should take this expression of public sentiment into account.
"The Postmaster General has the authority to make the determination," to order a moratorium, and Brennan should do so when she officially takes office Feb.1, Dimondstein says.
At the informational picket line in Baltimore, Local 181 Shop Steward Courtney Jenkins stated that USPS privatization policy ​"impacts people like me, who will have to find work elsewhere. It affects hundreds of thousands of us" across the country.
A six-year veteran at the USPS mail facility in Linthicum Heights, Maryland, Jenkins said talk among his co-workers is ​"apprehensive and stressful" over the potential for job cuts. ​"People are afraid. They want to know: ​'Is it coming here?'"
Jenkins said he was not hopeful that the appointment of a new Postmaster General would bring any immediate change.
"All of the [recent job cuts and moves towards privatization] have happened under her watch," he said, in reference to Brennan's current position as the chief operating officer of USPS. ​"She was successful at USPS [in earning promotion] by following along with Donahoe the whole time. She would have to change her stripes," to agree with the union demands for policy changes, he says.
Bruce Vail
is a Baltimore-based freelance writer with decades of experience covering labor and business stories for newspapers, magazines and new media. He was a reporter for Bloomberg BNA's Daily Labor Report, covering collective bargaining issues in a wide range of industries, and a maritime industry reporter and editor for the Journal of Commerce, serving both in the newspaper's New York City headquarters and in the Washington, D.C. bureau.