When Anti-Poverty Programs for Immigrants Are Used to Bolster the Surveillance State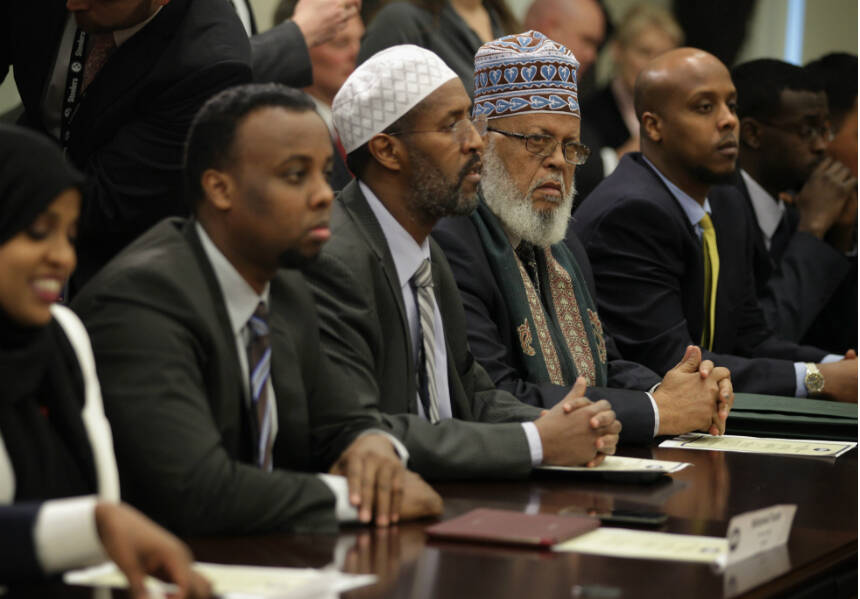 Don­ald Trump's cam­paign rhetoric demo­niz­ing refugees and immi­grants reached its apoth­e­o­sis as he arrived in the state of Min­neso­ta last Novem­ber. Dur­ing a ral­ly, the then-can­di­date decried the pres­ence of Soma­li refugees in the state, declar­ing that Min­nesotans had ​"suf­fered enough" from admit­ting them. ​"Here in Min­neso­ta you have seen first­hand the prob­lems caused with faulty refugee vet­ting, with large num­bers of Soma­li refugees com­ing into your state, with­out your knowl­edge, with­out your sup­port or approval," Trump said.
While Trump's brazen fear mon­ger­ing was con­sis­tent with his cam­paign rhetoric, his tone was noth­ing new for the state's Soma­li com­mu­ni­ties — long tar­get­ed by insti­tu­tion­al racism and stigmatization.
Min­neso­ta is host to the largest Soma­li pop­u­la­tion in the coun­try, con­cen­trat­ed most­ly in the Twin Cities of Min­neapo­lis and St. Paul. Like many oth­er immi­grant com­mu­ni­ties of col­or, Soma­lis in the state are con­front­ed with a pletho­ra of social and eco­nom­ic needs and receive lit­tle-to-no help from state and fed­er­al gov­ern­ment agen­cies. Com­mu­ni­ty-led orga­ni­za­tions that seek to fill the gap con­stant­ly strug­gle with a lack of fund­ing and resources.
After nine young men in Min­neso­ta were charged with involve­ment with the Islam­ic State, law­mak­ers seized on the devel­op­ment to ramp up a ​"counter-ter­ror" crack­down on the state's most vul­ner­a­ble res­i­dents by tar­get­ing their very means of sur­vival. Some state and fed­er­al gov­ern­ment offi­cials argued that social ser­vice pro­vi­sion may pro­vide an answer to pre­vent­ing ​"extrem­ism" with­in the Soma­li community.
In March 2016, six groups work­ing on con­flict pre­ven­tion, employ­ment edu­ca­tion and train­ing, men­tal health, restora­tive jus­tice, and after-school sports were award­ed fed­er­al and pri­vate grants under the Oba­ma administration's Coun­ter­ing Vio­lent Extrem­ism (CVE) ini­tia­tive. A bill cur­rent­ly being con­sid­ered by the state's law­mak­ers seeks to invest $2 mil­lion in youth devel­op­ment ini­tia­tives with the hopes that it would ​"pre­vent ter­ror­ist recruit­ment in the state."
The fund­ing under CVE has had to con­tend with harsh crit­i­cism from the same Soma­li com­mu­ni­ty it is sup­posed to help. Last year, the West Bank Com­mu­ni­ty Coali­tion, an orga­ni­za­tion rep­re­sent­ing the Cedar-River­side neigh­bor­hood of Min­neso­ta, pub­lished an open let­ter denounc­ing CVE fund­ing for ​"stig­ma­tiz­ing us as a result of the false premise that a person's Islam­ic faith deter­mines their propen­si­ty toward vio­lence." It demand­ed that the Soma­li com­mu­ni­ty receive fund­ing and social ser­vices ​"the same way every oth­er Min­neso­ta com­mu­ni­ty receives them," rather than ​"through law enforce­ment agencies."
Local activists also charge that fund­ing under CVE has not only made no appre­cia­ble dif­fer­ence in assist­ing the Soma­li com­mu­ni­ty, but has instead per­pet­u­at­ed the sys­temic bar­ri­ers to their suc­cess. Accord­ing to Ayaan Dahir, a local orga­niz­er with the Young Mus­lim Col­lec­tive, ​"CVE has­n't been that help­ful to the gen­er­al pub­lic. Pure­ly from a finan­cial point of view, it's a very small amount of mon­ey for a large num­ber of peo­ple." The orga­ni­za­tions that have tak­en CVE fund­ing, like Big Broth­er, Big Sis­ter which promised to pro­vide youth men­tor­ing pro­grams, have so far failed to offer any­thing of sub­stance. ​"I can­not tell you of a sin­gle per­son who has ben­e­fit­ted from CVE," Dahir Says.
Sim­i­lar­ly, Burhan Israfael Isaaq, anoth­er local orga­niz­er with Peo­ple Pow­ered Progress, believes CVE is ​"tar­get­ing the spe­cif­ic issue [of extrem­ism]," and there is no real effort to fund and sup­port orga­ni­za­tions which have deep roots with­in the local Soma­li com­mu­ni­ty and the capac­i­ty to make a dif­fer­ence. ​"The com­mu­ni­ty is not being heard," he says.
More wor­ry­ing­ly, both orga­niz­ers point out that fund­ing under CVE has an extreme­ly detri­men­tal impact on the lives of Soma­lis in the state. ​"I think pro­vid­ing social ser­vices under CVE is dan­ger­ous and irre­spon­si­ble," says Isaaq. Instead of ​"gen­uine­ly solv­ing any prob­lems [the com­mu­ni­ty] may have," says Isaaq, such fund­ing instead high­lights the com­mu­ni­ty itself as a prob­lem and as unique­ly sus­cep­ti­ble to vio­lent extremism.
Dahir adds that this ​"cre­ates a real­ly skewed, one-dimen­sion­al per­cep­tion of the Soma­li com­mu­ni­ty" to the point that ​"any time our name comes up, it's always about ter­ror­ism or extrem­ism." Such stigma­ti­za­tion ​"then trans­lates over to how peo­ple are able to get work or hous­ing, or access health­care, when you're labeled a ter­ror­ist or extrem­ist. It trick­les down to every oth­er facet of your life."
Remark­ably, the fund­ing is con­tin­u­ing apace with­out any evi­dence of its effec­tive­ness. As the for­mer U.S. Attor­ney for Min­neso­ta Andrew Luger put it in an inter­view, ​"We had to try some­thing that would at least help the com­mu­ni­ty. If it helps lessen ter­ror recruit­ing, obvi­ous­ly that was the goal, but if it did­n't, it was still good for an impor­tant and vital part of the over­all Twin Cities community."
CVE-relat­ed fund­ing is only meant to address the eco­nom­ic and social needs of the Soma­li com­mu­ni­ty inso­far as it would pre­vent extrem­ism. It under­mines the actu­al needs of a mar­gin­al­ized and under­served pop­u­la­tion by sub­sum­ing it under the rubric of nation­al secu­ri­ty. The prob­lems of lack of hous­ing or men­tal health ser­vices are no longer con­sid­ered issues of social and eco­nom­ic need when they con­cern the Soma­li com­mu­ni­ty. They are instead looked at as nation­al secu­ri­ty threats. Soma­li Mus­lims are marked as excep­tion­al, deserv­ing of eco­nom­ic secu­ri­ty and social ser­vices only because they may become vio­lent otherwise.
Such an approach also allows for the con­tin­u­ing retreat of the state from uni­ver­sal wel­fare poli­cies while under­min­ing the basis for sol­i­dar­i­ty between Soma­lis and oth­er com­mu­ni­ties. Ade­quate health care, men­tal health ser­vices and edu­ca­tion and employ­ment oppor­tu­ni­ties are con­ceived of not as rights but as ways to solve a problem.
Waqas Mirza
is a writer and activist based in Mass­a­chu­setts. Fol­low him on Twit­ter at @waqasahmi.