Pow! Shazaam! Its ғMinoriteam!
Behind the scenes of a controversial new Cartoon Network show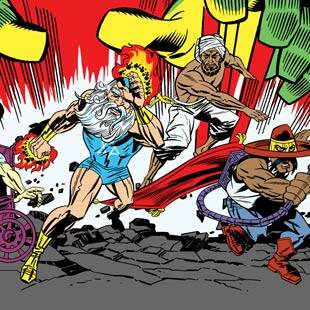 We wanted to make sure you didn't miss the announcement of our new Sustainer program. Once you've finished reading, take a moment to check out the new program, as well as all the benefits of becoming a Sustainer.

Dr. Wang is the epitome of nearly every Asian stereotype etched into American consciousness. His skin has a bright yellow cast; his eyes are set in an exaggerated slant. He owns a laundromat, speaks with a ludicrous accent, drives poorly and is incredibly good at math.
But Dr. Wang is more than just your garden-variety racial caricature. On ​"Minoriteam," he is a crusading, wheelchair-bound superhero with a 40-pound brain, who uses profits from his laundromat to head up an equally preposterous group of ethnic superheroes devoted to overthrowing their nemesis: the omnipresent White Shadow.
"We use power of racial stereotype to destroy White Shadow," he cries out during one of the episodes. It's Dr. Wang's way of saying, perhaps, that Minoriteam is using the master's tools to dismantle the master's house.
"Minoriteam" debuted in March 2006 on Cartoon Network's late-night Adult Swim line-up. It's the collective, nerdy brainchild of a bi-coastal trio of successful artistic misfits who share a love for ​'60s and ​'70s-era Marvel superhero comics.
The creative group consists of 30-year-old writer/​actor/​director Adam de la Peña (whose TV credits include ​"Jimmy Kimmel Live" and ​"I'm With Busey," among other projects); Peter Girardi, 39, who rose from his humble subway graffitti roots to earn widespread respect in the digital media and design world; and Todd James, 36, who also used subway cars as his artistic medium as a youngster, and then transformed those skills into a lucrative career in logo design for the cream of the hip-hop crop.
All three worked together on the absurdist Comedy Central hit, ​"Crank Yankers," before coming up with the Minoriteam concept. To their initial surprise, Adult Swim executives jumped on their provocative pitch, green-lighting what has now turned out to be a two-year period of development and production.
Girardi, James and Peña knew that they were likely to take some heat from media and viewers for ​"Minoriteam's" edgy content. But from the beginning of development to the end, they stress, they were never asked to tone down or censor any of the content by the head honchos at Adult Swim. That artistic freedom – and the general outrageousness of the other late-night adult cartoons on this station – is why all three creators say they can't imagine ​"Minoriteam" finding a home on any other cable station.
The show was designed to provoke audiences with a heady combination of crass imagery and clever racial commentary – heavily sprinkled with the silly and ridiculous plot twists Adult Swim fans have grown to love. The late night block of programs features Aaron McGruder's ​"Boondocks" on one end of the spectrum, with its vivid animation, political sophistication, and dark cynicism; at the other end is the wildly popular ​"Aqua Team Hunger Force," which stars a talking wad of meat. (Sound bizarre? Consider that the piece of talking meat is a member of a nihilist household of fast-food characters who go on nonsensical adventures together.)
"There's a way that people think we're over all this [race] stuff, but we're not," says de la Peña. ​"We are still [facing] huge and tremendous issues – from race issues to the power of large corporations – and how all of that relates to personal identity. We still need to see that represented."
"Minoriteam" tackles these issues via a motley group of superheroes modeled after the creative output of prolific writer and comic book artist Jack Kirby (1917−1994). Born Jacob Kurtzberg, Kirby was known in the comic book world as ​"The King" for his work on such influential characters as the Avengers, the Fantastic Four, the Incredible Hulk, superheroes who typically rose up to defend the defenseless underdogs of society.
The ​"Minoriteam" style of animation mirrors Kirby's use of bold contrasting colors, sharp angles, and jagged exclamation bubbles. But the comparisons end there, for what an over-the-top bunch they are. Forget the sexy-but-alienated X‑Men, who use their mutations to control the weather, teleport, or rip through flesh and steel with wolverine-like claws. Members of the crude looking-and-talking Minoriteam have a set of stereotype-inspired superhuman strengths all their own.
There's the sombrero-wearing El Jefe, a wealthy oil tycoon by day, who drinks tequila and uses the Leaf Blower 3000 to alternately propel him into flight or to vacuum up Minoriteam's enemies. The shirtless Nonstop (ex-pro skateboarder and part-time convenience store clerk Dave Raj) wears a giant turban, flies on a magic carpet and has been shot so many times that he is now impervious to bullets altogether. Fasto is the Minoriteam's superfly superhero; his tight shorts and duct-taped shoes enable him to move at lightning speeds and dance to distract and wow the white women thrown in his path. (By day, he is the nerdy Professor Dutton, who teaches Women's Studies at Male University.) And then there's the conflicted Neil Horvitz, a mailroom worker and avid student of Black culture, history, soul food and statuesque Black women. Horvitz spends most of his time just trying to get on with his life. Unfortunately for him, an incident of racial oppression is all it takes for him to morph into Jewcano, a 63-year-old Moses lookalike, with rippling muscles and an awe-inspiring ability to spew boiling lava.
The object of Minoriteam's hatred is White Shadow, a one-eyed, floating pyramid (reminiscent of a certain design on the back of U.S. currency) who is driven by one nefarious goal: to ensure that political and economic power remain in the hands of the very few – and the very white.
Part-man, part-corporation, White Shadow needs his own band of anti-heroes (his ​"minions") to combat the Minoriteam. Among the regulars who line up to ensure continued white supremacy: a brutish Racist Frankenstein, the notoriously hard-to-climb Corporate Ladder and the race-biased Standardized Test.
The outrageous scenes that emerge from the collusion of these forces are the furthest thing from what anyone would expect, and therein lies the draw. ​"Silly is subversive," de la Peña says.
In ​"Operation Blackout," White Shadow gets tired of African American-owned businesses, and hatches a scheme to kidnap the highly successful, utterly narcissistic black entrepreneur, Sebastian Jefferson. When the Minoriteam finally frees him in the show's hilariously climactic end, Jefferson distances himself quickly from his rescuers because he thinks it's bad for his status-and class-conscious image. ​"You look like a racist A‑Team," he says with disgust.
What's up next for Minoriteam? The show is introducing its first female superhero, stronger and smarter than any of the males. It should come as no surprise, the creators divulge, that Dr. Wang and his cohort take all the credit for her hard work and superhero accomplishments.
Even the Minoriteam superheroes have some of their own issues to overcome.
Become a Sustainer
We surveyed thousands of readers and asked what they would like to see in a monthly giving program. Many of you expressed interest in magazine subscriptions, gift subscriptions, tote bags, events and books —and we've added all of those. Some of you said that cost was an issue, so we've kept our starting tier at just $5 a month—less than 17 cents a day.

Now, for the first time, we're offering three different levels of support, with unique rewards at each level, for you to choose from. Check out the new Sustainer program.
Silja J.A. Talvi
, a senior editor at In These Times, is an investigative journalist and essayist with credits in many dozens of newspapers and magazines nationwide, including The Nation, Salon, Santa Fe Reporter, Utne, and the Christian Science Monitor.